Mobile games by publishers based in China are topping the charts locally and internationally. See how these app publishers are making an impact across borders.
China Headquartered Game Publishers Level Up on the World Stage
In recent years, the global mobile gaming market continued to rapidly expand. In 2016, mobile gaming apps increased their lead over both home game consoles and PC and Mac gaming for consumer spend.
China's mobile gaming market has grown rapidly over the years to become the world's largest. With mobile gaming giants Tencent and Netease continuing to dominate the domestic mobile gaming market, overseas markets will provide opportunities for international expansion and monetization for smaller and medium-sized publishers, especially when up against the marketing power and reach of the larger players .
According to App Annie Intelligence data, from H1 2016 to H1 2017, gaming revenue generated in overseas markets by publishers headquartered in China (inclusive of subsidiaries located in China and overseas subsidiaries such as Tencent's Supercell) grew over 100%. However if games published by overseas subsidiaries are excluded, revenue by publishers headquartered in China  grew by around 40%. For China domestic market itself, iOS Games revenue by publishers based in China grew by about 90%.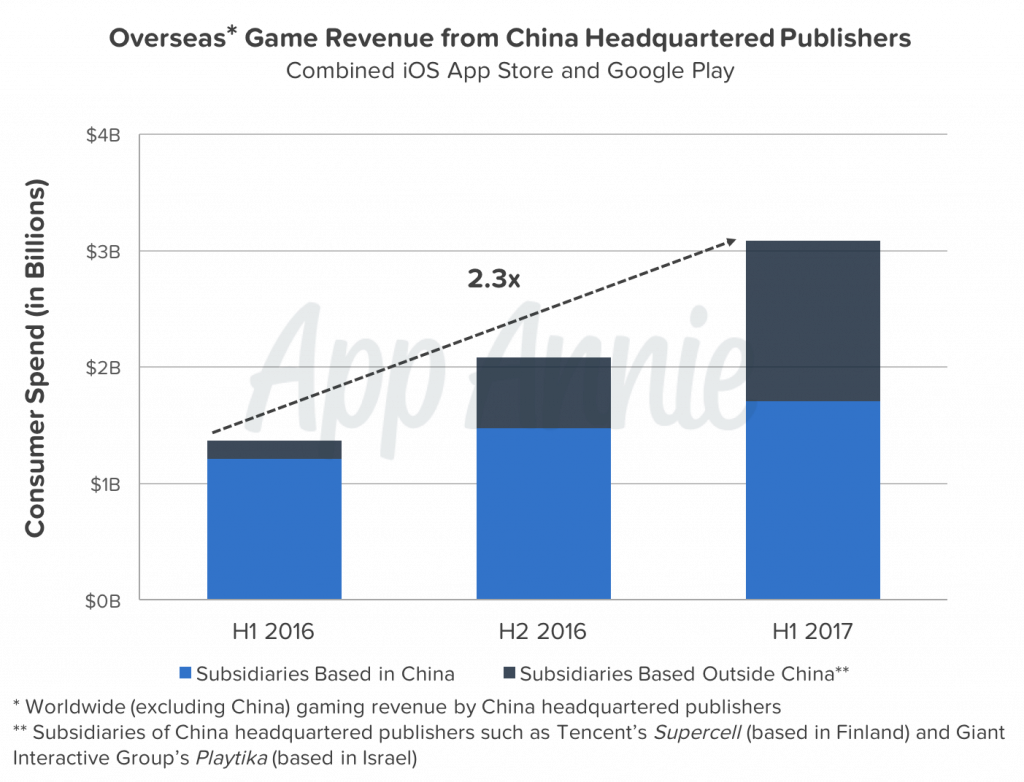 In the first half of 2017, the top three markets for China game publishers included the United States, Japan and Taiwan. In fact, the US remains to be the largest and most important market accounting for approximately 15% of overseas downloads and 35% of overseas revenue.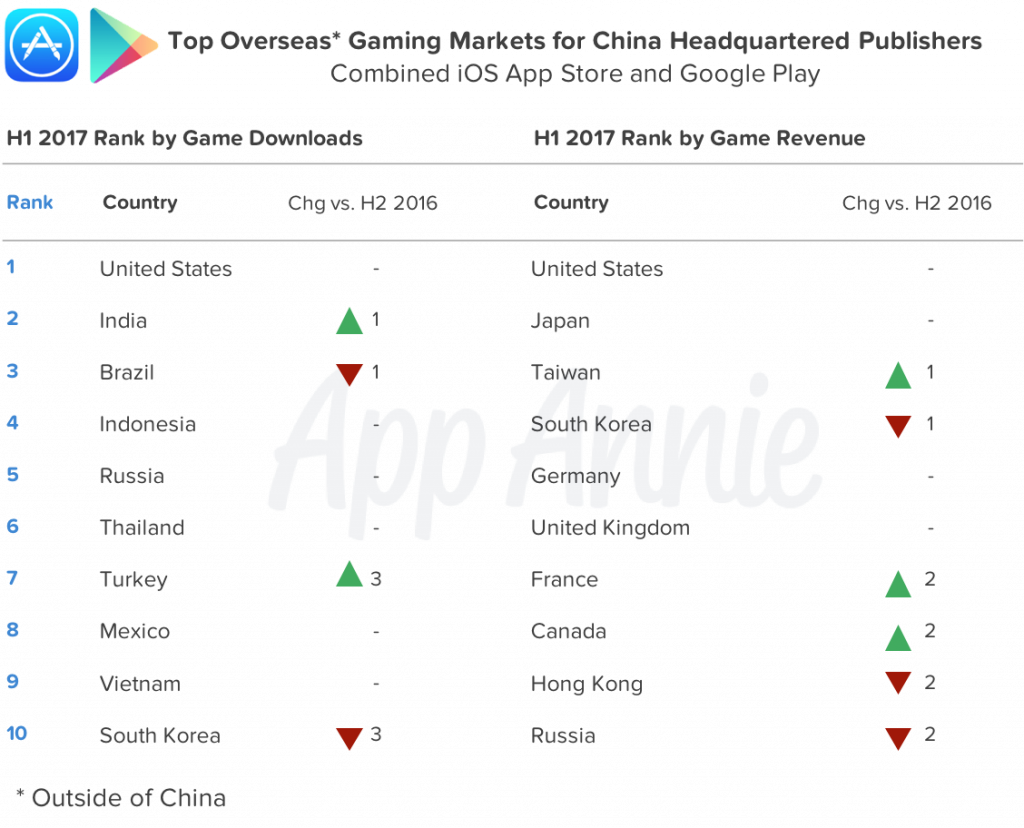 Preferences in Gaming Genres Varies by Country

Across countries, we also see significant differences in the genre preference for games from China published games. For instance, in markets such as Germany and the United States, strategy games such as Castle Clash and Lords Mobile captured more than half of the revenue share combined, while in neighboring countries like Japan, South Korea and other East Asian markets, role-playing games such as MU Origin and Onmyoji took up a significant share.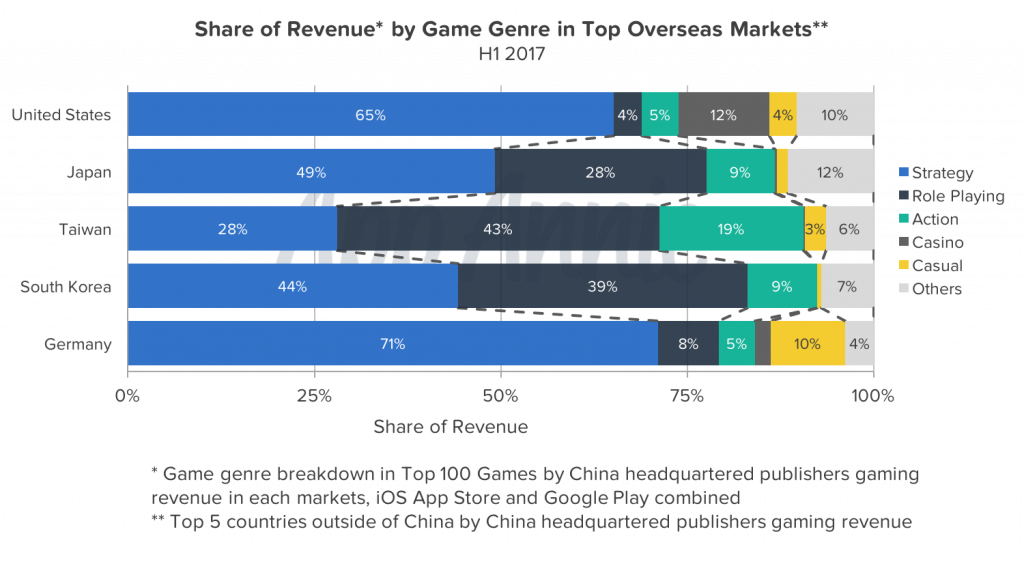 Traditionally, major game publishers in China have found success with their home audience by incorporating gameplay, visual and social elements that are targeted specifically towards the preferences  of the domestic audience. Sometimes this could mean incorporating folk stories, history, myths and traditional characters that are not widely recognizable internationally. By contrast, China headquartered publishers that are successful in outside markets tend to design games with visual styles and themes that have a wider appeal internationally, taking references from popular culture such as movies and television.  One such example is King of Avalon: Dragon Warfare by FunPlus, which reached the #1 iOS overall grossing daily rank in the US and Australia in November 2016. The game achieved broad success by utilizing familiar elements such as city building, resource management and multiplayer battle, set in a fantasy medieval-themed presentation style with the added ability of breeding dragons, a much sought-after objective that received favorable reviews and long term engagement.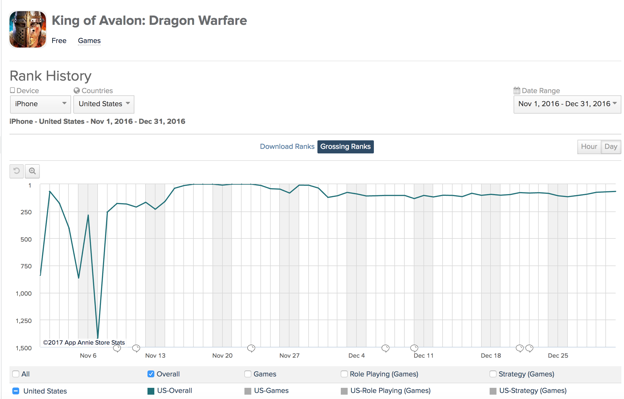 Established and New Players Continue to Expand Global Footprint
A rising number of game publishers in China are finding incredible success both within and outside their borders. Top gaming giant Tencent has maintained its leadership at home, and its acquisition of gaming giant Supercell will further boost its global expansion. Other established publishers such as Elex Technology and IGG have focused on overseas markets for years and have performed consistently across a variety of genres, but ambitious new players continue to emerge. For example, Youzu has stood out for its recent success. Among the top China headquartered publishers by overseas games download and revenue, Youzu's download ranking moved up by 22 spots during H1 2017 compared to H2 2016, while its revenue ranking moved up by 9.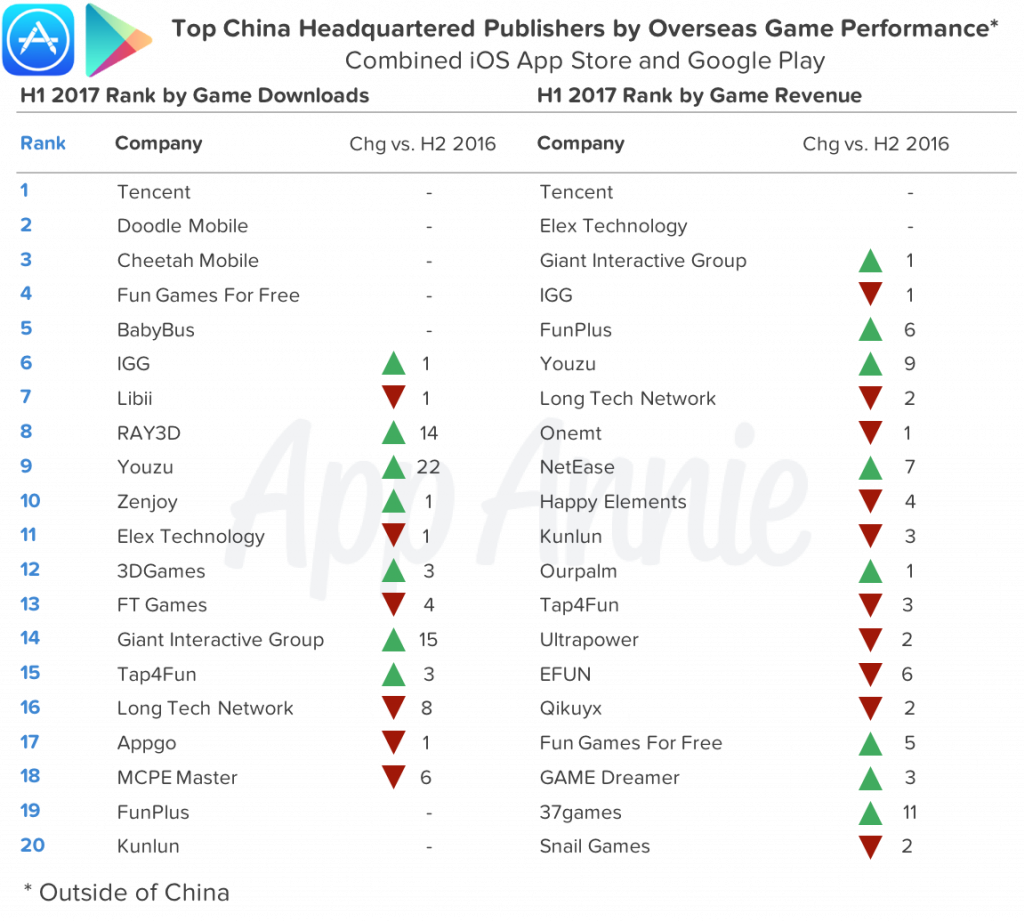 In H1 2017, Youzu's strategy game Legacy of Discord  experienced impressive growth and has already achieved the #1 iOS overall grossing daily rank in 32 countries. Its success demonstrates that there is ample opportunity for new China headquartered publishers to compete against the global heavyweights.
Games continue to represent the majority of app store monetization growth, which is forecast to more than double over the next four years. For game publishers around the world, looking abroad to carve out new markets will become a crucial component for growth and expansion. For a closer look into the countries leading in app usage discover which countries spend the most time in games, you can also check out our full report on consumer app usage.
Report methodology and updates are available here.