By any measure, China's app market is both enormous and filled with homegrown top apps
Following the release of our 2017 Retrospective Report, the industry's largest and most trusted analysis of the state of the app economy, we'll be highlighting some key areas of the report in an ongoing series. In our previous posts we looked at consumer spend, downloads and engagement. Now we'll turn our attention to China's exploding app economy. Simply put, China's mobile market towers over most other markets. By any measure, China represents enormous opportunity when it comes to mobile. It has over one billion mobile devices, and accounts for $1 out of every $4 dollars generated globally across the app stores, in-app ads and mobile commerce. In Q4 2017 alone, app users in China spent well over 200 billion hours in apps. More than 4.5x the next largest market.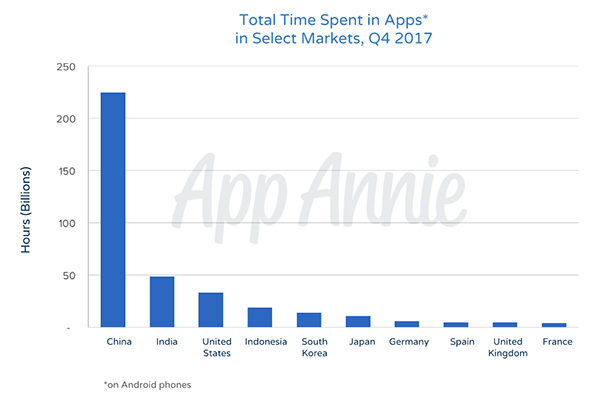 Notably, while the Games market in China is certainly enormous, app users in China are spending over 90% of their time in apps outside of games. App use was particularly concentrated in the Communication category, largely driven by the ubiquitous WeChat platform. Video Players & Editors have also become a well used and exceptionally lucrative category in China, with 6 of the top 10 non-gaming apps by Google Play and iOS App Store consumer spend in Q4 2017 offering video or live streaming streaming services. Notably, a vast number of unique homegrown apps have emerged in China, creating one of the world's largest and fastest growing app economies.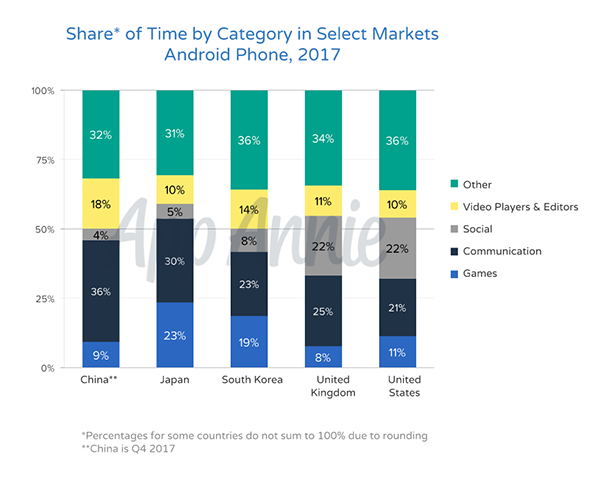 All of this time spent is strikingly native as the overwhelming majority of China's most used apps are published by homegrown publishers. This makes China a tricky proposition for international publishers. Careful localization, strong market knowledge and local partners are key strategies for those looking to break into China's app market.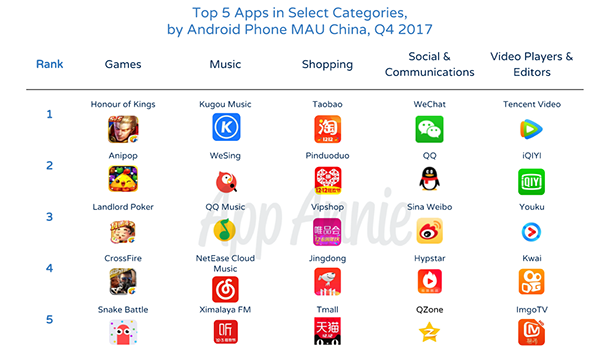 This focus on China is only a sliver of the total report. For much more, including in-depth analysis of the year's biggest apps and stories, download the App Annie 2017 Retrospective Report directly on the page by filling out the form below. Customers who log-in can download immediately.