We're excited to offer the first-ever China App Annie Index for Games! Each month, the Index will reveal insights into the hottest mobile game properties for the iOS App Store in China. The China App Annie Index highlights app movements that reflect larger macro trends in the Chinese economy, as well as key traits unique to the Chinese market, like the proliferation of local publishers in the Top 10. Incredibly, only four of the twenty games featured in the June 2014 index were published by non-Chinese companies.
To find out what's hot in China in other app categories, please check out the China App Annie Index for Apps. For more information on global top apps and publishers, see the Worldwide, United Kingdom and United States charts for June.
TABLE OF CONTENTS
1. The Technology Behind the Index
The information contained in this report was compiled from App Annie Intelligence, the leading market data solution for the app store economy. To see how our app store download and revenue estimates can help guide your critical business decisions, take a tour or request a demo today.
---

---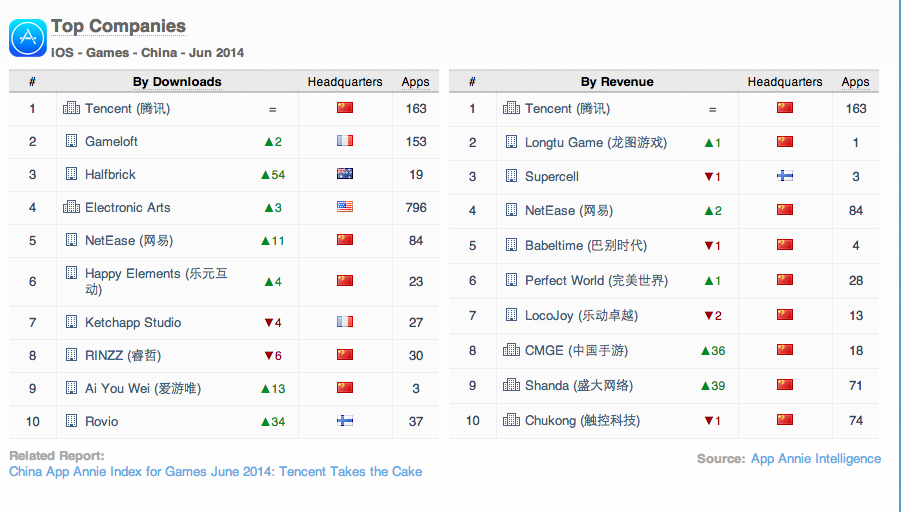 For the complete list of June's top apps and publishers, click the chart above.
2. This Month's App Superstars
Tencent Takes the Cake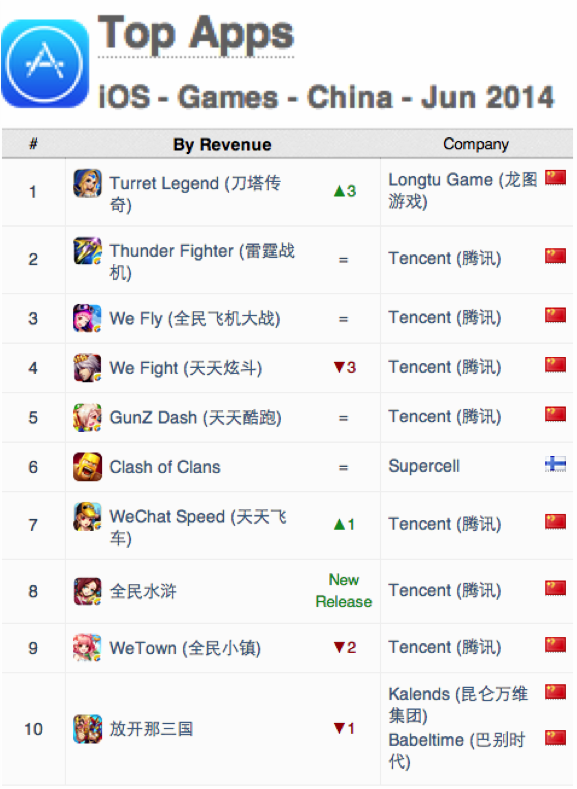 While Longtu Game's Turret Legend (刀塔传奇) managed to snag the top spot from Tencent, the Chinese mobile titan still retained seven out of the June Top 10 iOS games by revenue. Their portfolio of games in the Top 10 was bolstered by new release Water Margin (全民水浒), a strategy card game based on one of ancient China's greatest novels. Water Margin features Chinese folklore heroes, a rich storyline and various game modes.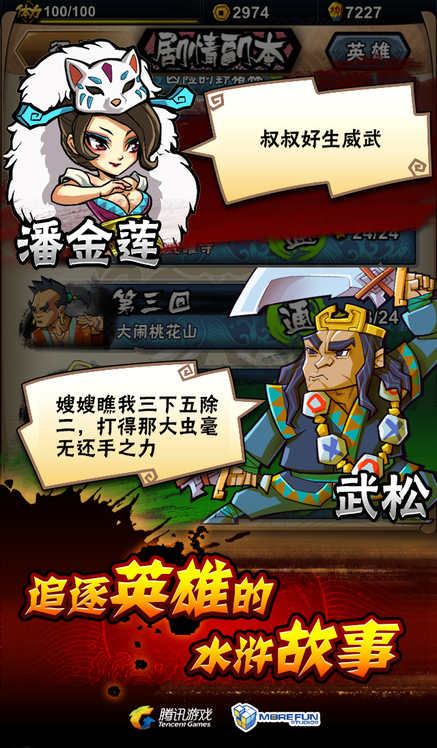 Tencent's Water Margin reimagines the Chinese literary classic as a strategy card game.
Water Margin quickly broke into the Top 5 overall grossing apps in China, finishing as the #8 ranked game in iOS revenue for the entire month despite being released in the middle of June. With Tencent's broad distribution platform and a continued presence in the Top 10 in June, Water Margin looks like it has what it takes to stick around.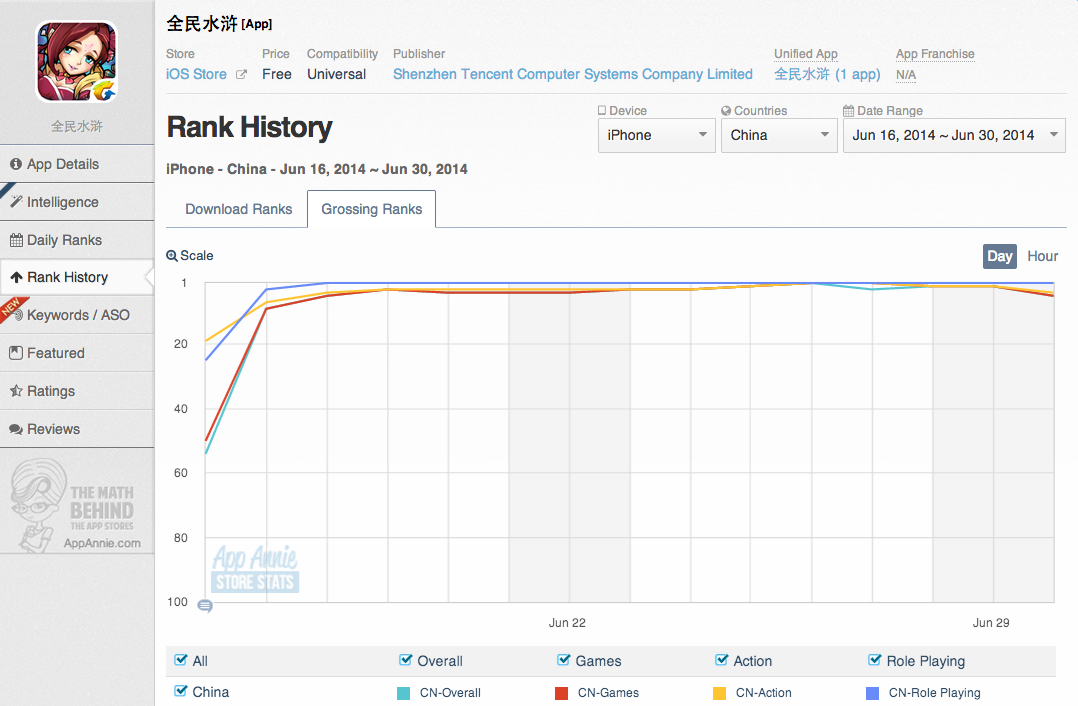 Water Margin rose into the Top 5 overall grossing games in China immediately upon launch.
New Apps Shake Up The iOS Top 10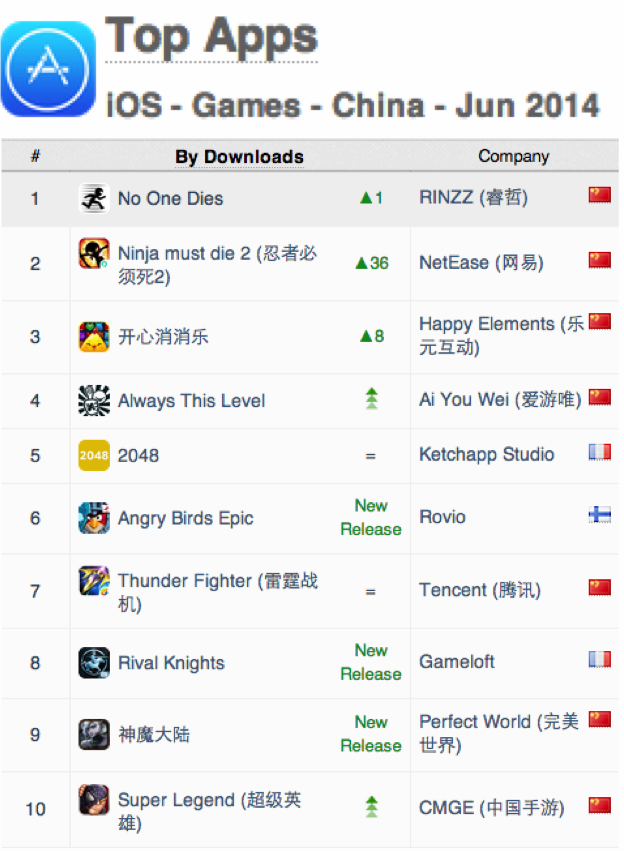 It was a coup in China's iOS Top 10 games downloads for June, with seven new entrants moving into the Top 10. Only RINZZ's endless runner No One Dies, Ketchapp's number puzzle hit 2048, and Tencent's popular galactic RPG shooter Thunder Fighter (雷霆战机) carried over from May's Top 10.
Of the seven new games in June's Top 10, three were new releases: Rovio released Angry Birds Epic, an RPG adaptation of its Angry Birds series, Gameloft published medieval jouster Rival Knights, and Perfect World launched their fantasy MMORPG Forsaken World (神魔大陆). The Angry Birds franchise continued succeeding in China, as Angry Birds Epic had a 4.7 average rating in June as well as strong review totals.
Of the four previously released apps that made it into the June Top 10, NetEase's Ninja Must Die 2 (忍者必须死2)finished the highest at #2, featuring vivid graphics and special power-ups. Happy Elements (开心消消乐) utilized catchy tunes with puzzle-matching gameplay to jump eight spots into #3, while out-of-the-box strategy game Always This Level (只此一关) leapt over 100 slots in a month. Always This Level features hand-drawn scenarios that require users to come up with inventive solutions to various challenges.
Turret Legend Launches Its Way to #1
Turret Legend (刀塔传奇) from LongTu Games (龙图游戏) rose three spots from May 2014 and ended June 2014 as the #1 iOS game by revenue in China, leapfrogging Tencent veterans Thunder Fighter (雷霆战机)and We Fly (全民飞机大战). Turret Legend is a unique spin on the classic card game genre featuring upgradeable hero classes and multiplayer guilds. It also boasts 43 million players across all platforms, an impressive number considering it was released exclusively in China at the end of February 2014.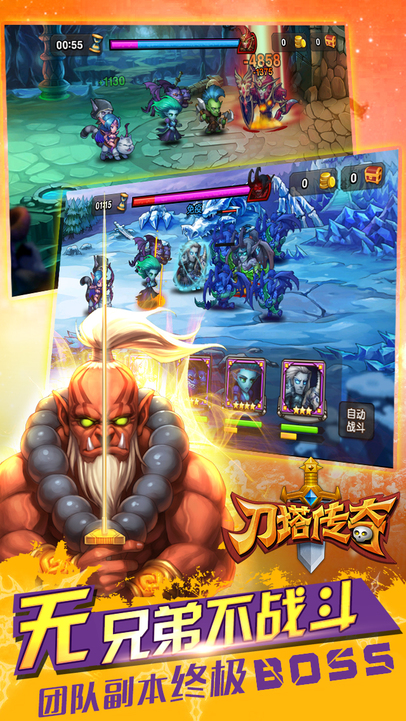 Turret Legend combines aspects of card-based strategy with real-time action.
Turret Legend has had an impressive and sustained run to the top of the iOS grossing charts, breaking into the Top 10 early March and maintaining a gradual rise over the past four months. The game's growing success is what moved Longtu ahead of Supercell into the #2 spot of the Top 10 game publishers by monthly revenue in China.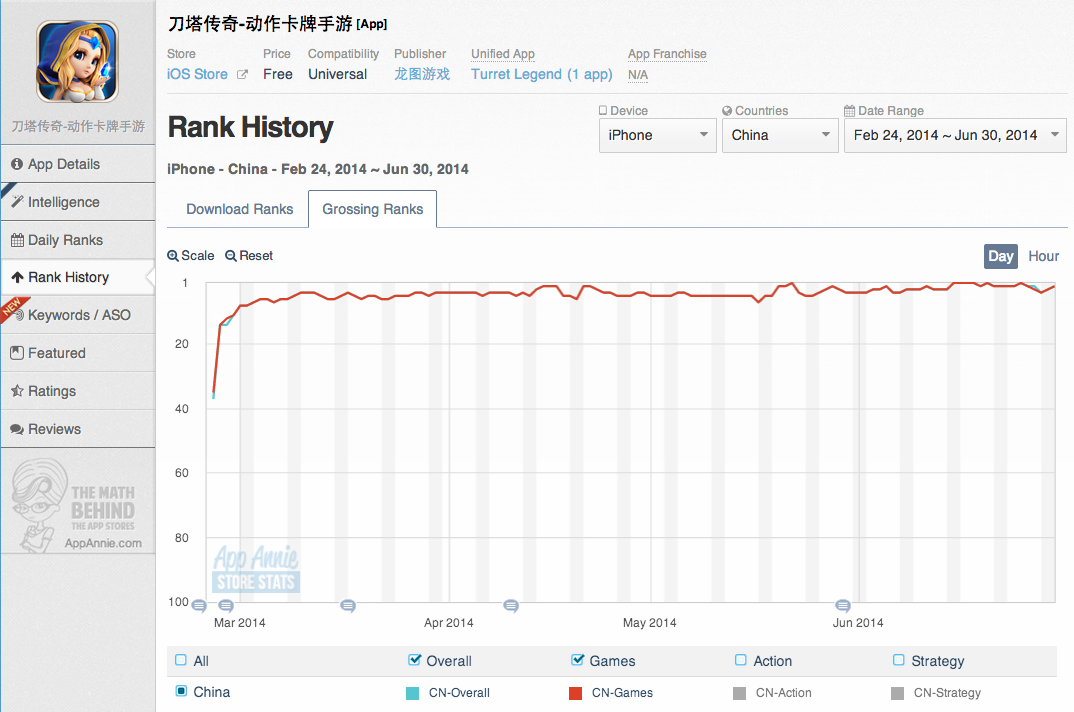 Turret Legend had a remarkably consistent rise to the top of China's grossing ranks.
Supercell's Secret Sauce
China's June iOS Top 10 Games are dominated by domestic publishers. Three games published by foreign companies made it onto the top download lists: 2048, Angry Birds Epic and Rival Knights, but only Clash of Clans and its publisher Supercell ranked in the Top 10 for revenue for games and publishers, respectively.
Since releasing in China nearly two years ago, Clash of Clans has regularly stayed in China's iOS Top 10 grossing games despite the numerous challenges from large and independent publishers, both domestic and foreign.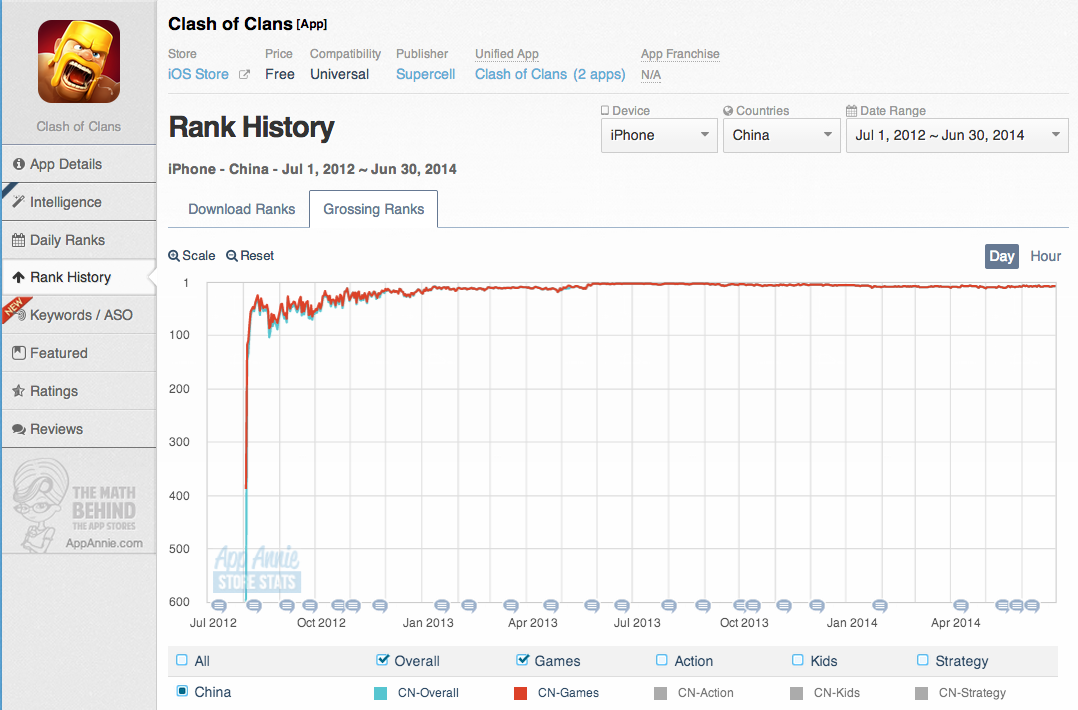 Clash of Clans has persistently maintained a top rank in China for iOS game revenue.
Supercell has enjoyed consistent worldwide success, ending June 2014 as the #1 ranked iOS game publisher by revenue. Having established their foothold in China, it'll be interesting to see if Supercell can boost Clash of Clans into the China iOS Top 5 grossing games.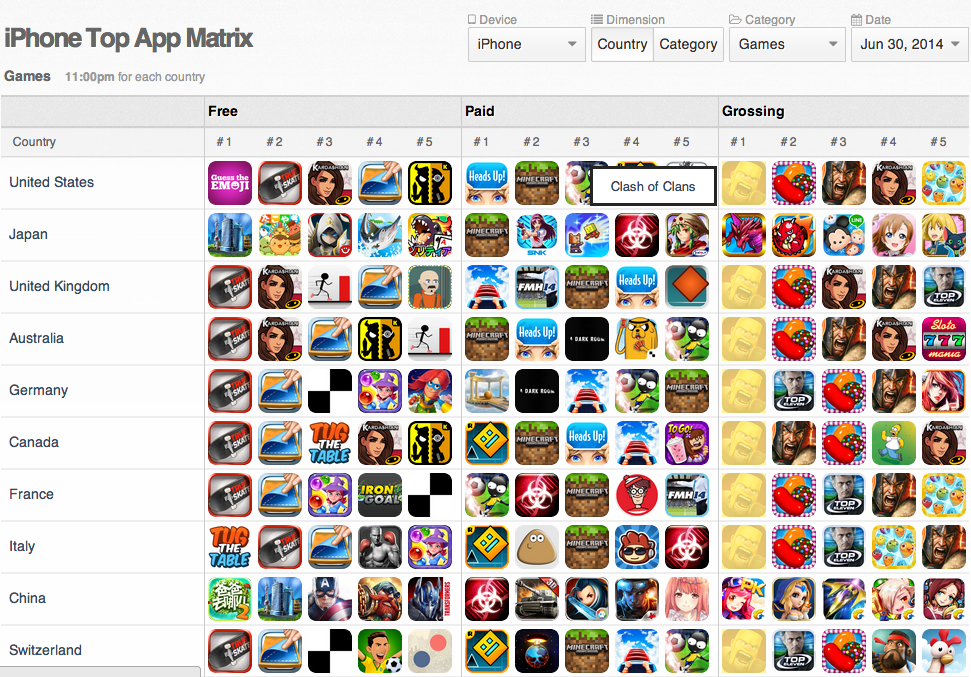 Clash of Clans already occupies the top spot for most major countries; is China next?
3. More Movers and Shakers
CMGE Lands in Top 10 on Shoulders of Super Legend
Publisher CMGE (中国手游) rose 36 spots to #8 in the iOS Top 10 publishers by monthly revenue due in part to Super Legend (超级英雄), their addition to the immensely popular strategy card genre. Players can choose from an array of famous superheroes that span multiple comic book and animated universes. While Super Legend didn't crack the Top 10, it immediately made an impact upon releasing mid-June, appearing daily in the Top 15 iPhone revenue ranks for the rest of June.
Chain Chronicle Lifts Shanda into Top 10
Similar to CMGE, publisher Shanda (盛大网络) also rose in the ranks significantly to join the iOS Top 10 grossing publishers on the back of their licensed Chinese version of SEGA's Japanese RPG hit Chain Chronicle (锁链战记). Combining aspects of tower defense with upgradeable characters, Chain Chronicle was a significant portion of Shanda's June 2014 iOS game revenue.
---
| | |
| --- | --- |
| | Want to get even more advanced with your app store market analysis? Check out our enterprise product App Annie Intelligence. |
---
For those of you who are also looking for an update on top apps outside of games, please check out the China App Annie Index for Apps. To keep up-to-date with all the changes at the top of the app and publisher charts, check out the complete set of App Annie Index tables.
Notes:
The publisher and app rankings reported in the App Annie Index are based on the download and revenue estimates available through App Annie

Intelligence

. The daily rank history charts and the home page feature app data are available to all users through App Annie's app tracker solution,

Store Stats

.

While the Index for Games covers games, the Index for Apps provides app tracking on everything but games. Note that the Top Company rankings in the Index for Games are based solely on the publishers' games downloads and revenue, while the Top Company rankings in the Index for Apps are based on the company's downloads and revenue from apps excluding games.

Through September 2013, similar versions of the same app with different names (e.g., QQ and QQ HD 2014) were ranked separately. Effective with October data, similar versions of the same app with different names will be unified (e.g., QQ and QQ HD 2014 are now aggregated and ranked as a single QQ unified app).

Company and unified app rankings in the App Annie Index for Games and Index for Apps are based on individual apps that ranked in the Top 1,000.

In the first month in which an app becomes unified, its rank change in the Index will compare the unified app that month vs. its highest-ranking individual app in the month prior. As a result, rank changes for newly unified apps may overstate ranking increases from May 2014 to June 2014.

In the iOS App Store, an app can be categorized under a Primary Category as well as an optional Secondary Category. If an app has a Primary Category of Games and a Secondary Category of Entertainment, it is a candidate to be included in this Index for Games. If the app's Primary Category is Entertainment and its Secondary Category is Games, then it will not be included in this Index for Games; it is a candidate for the Index for Apps.

Note that the ranking approach used in the App Annie Index differs from that used in the iOS App Store. In the latter, app rankings for a given category will include all apps whose Primary Category or Secondary Category matches that given category. So an app can appear in the rankings for more than one category within the iOS App Store or in App Annie Store Stats rankings.

Occasionally, a publisher may decide to shift an existing app from one category to another category. In these cases, the App Annie Index will rank that app based on its categorization in the subsequent month. Given that the App Annie Index has a Games report and an Apps report, the only scenario where an app's recategorization could shift it from one Index to another is if its category changes from Games to a category other than Games or vice versa.
In the App Annie Index, all apps and publishers are reported under their parent company, where available; for example, the WeChat app is reported under its parent company Tencent, rather than its direct publisher WeChat. Note that if you view the Tencent parent company page on Store Stats, you will see the publishers under the parent company Tencent, including WeChat. The WeChat app will be listed under the WeChat

publisher page.

Company and app rankings are based on the App Annie DNA relationships at the time of publications. App Annie DNA relationships are subject to change over time.

App Annie Index revenue rankings are based on revenue that the iOS App Store earned from paid downloads and in-app purchases. They do not include revenue earned from in-app advertising.

Certain trademarks and/or images used in this report may belong to third parties and are the property of their respective owners. App Annie claims no rights in such trademarks or images.