We're excited to offer the first-ever China App Annie Index for Apps! Each month, the China App Annie Index will reveal insights into the hottest mobile app properties outside of games for the iOS App Store in China. This report highlights app movements that reflect larger macro trends in the Chinese economy, as well as key traits unique to the Chinese market, like the proliferation of local publishers in the Top 10. In fact, every single app and publisher featured in the June Top 10 for apps outside of games is Chinese.
To find out what's hot in China in games, please check out the China App Annie Index for Games.For more information on global top apps and publishers, see the Worldwide, United Kingdom and United States charts for June.
TABLE OF CONTENTS
1. The Technology Behind the Index
The information contained in this report was compiled from App Annie Intelligence, the leading market data solution for the app store economy. To see how our app store download and revenue estimates can help guide your critical business decisions, take a tour or request a demo today.
---

---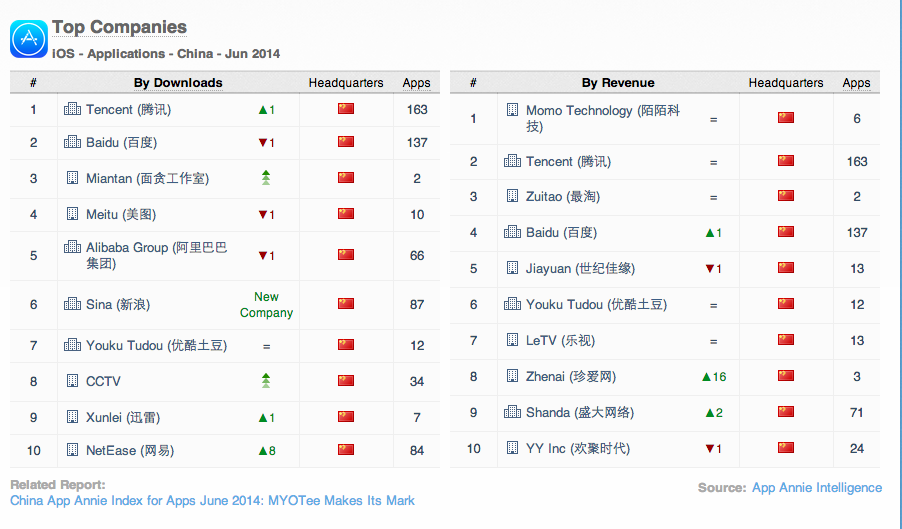 For the complete list of June's top apps and publishers, click the chart above.
2. This Month's App Superstars
MYOTee Makes Its Mark
Avatar creation app MYOTee (脸萌) shot to the top of China's iOS download rankings in June rising up from well outside the top 100 in May. The brainchild of big-dreaming former Tencent product manager Lie Guo, MYOTee allows users to design custom avatars which can then be shared via messaging and social media apps.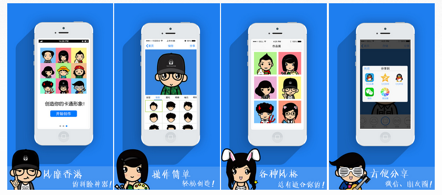 Users choose from a variety of facial structures and add-ons to design their avatars.
MYOTee enjoyed significant download growth after releasing a new update including a cleaner interface and new character models in May 2014. Incredibly, MYOTee recorded more than 1 million downloads during China's annual Dragon Boat Festival Holiday (May 31 - June 2), and has seen widespread coverage across social media platforms QQ, WeChat and Weibo. Thanks to its exceptional download growth in China, MYOTee finished #1 among iOS apps excluding games worldwide.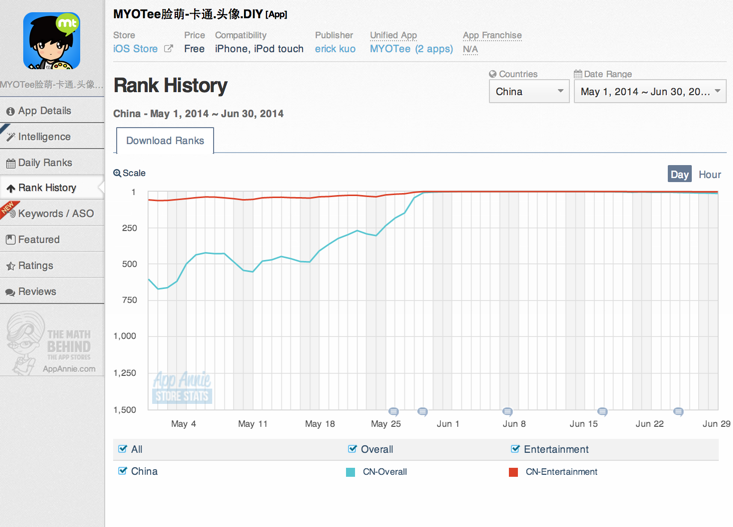 MYOTee was the most downloaded Overall app in China for June 2014.
Taobao and JingDong Vie for E-Commerce Supremacy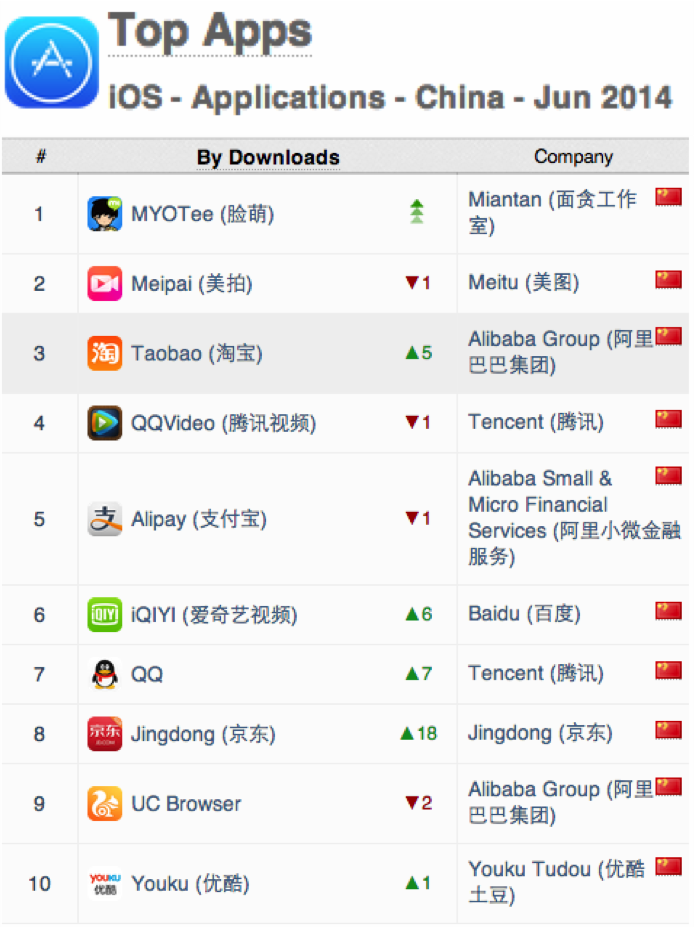 In the retail sector, Taobao and JingDong both rose significantly from May 2014 to June 2014, capturing the #5 and #8 spots in the iOS Top 10 apps excluding games by monthly downloads.Alibaba's Taobao and Jingdong's self-named app are China's largest e-commerce companies, with the former focusing on consumer-to-consumer transactions, and the latter traditionally focusing on business-to-consumer sales. Much of JingDong's success in June can be attributed to their 11th annual "618" promotion, which has evolved into a promotional war among numerous Chinese e-commerce retailers. However, after raising $1.78B in an IPO earlier this year and assuming control of Tencent's e-commerce operations via strategic partnership, Jingdong relaunched Tencent's PaiPai online C2C marketplace in a direct attempt to compete with Alibaba's Taobao and Tmall. The presence of Taobao and Jingdong in China's June iOS Top 10 apps by downloads differed from worldwide rankings, where no e-retailers made the Top 10.
Chinese Users Can't Get Enough Mobile Video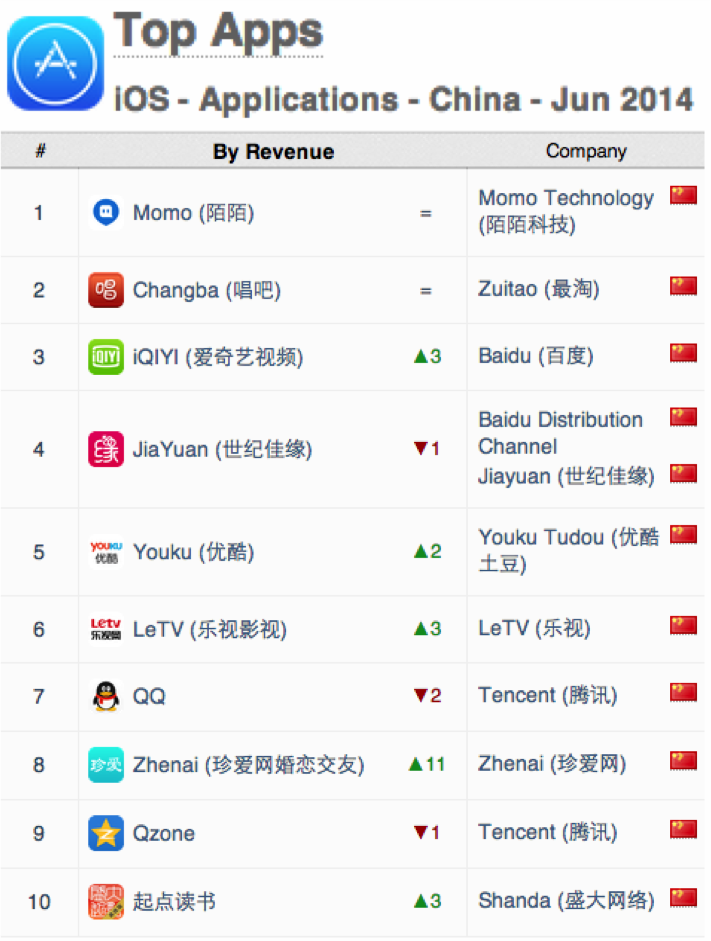 In June 2014, iQIYI, Youku and LeTV all rose month-over-month in the Top 10 iOS apps by revenue, which can be attributed to several key factors. While China's smartphone market continues growing, demand for mobile video content also continues rising, as Chinese users watch mobile videos on their phone at a higher frequency than users from other countries. According to research, the biggest drivers for mobile video consumption were screen size, 4G networks and video quality. That's great news for subscription-based video content apps like iQIYI, Youku and LeTV, since phablets comprising nearly 40% of smartphone sales in China in Q1 2014. Couple that data point with Chinese carriers' long-term commitment to building out 4G infrastructure, and it doesn't seem like Chinese consumption of mobile videos is going to slow down anytime soon. Apple appears to be planning an entrance into the phablet feeding frenzy as well, with Taiwan's Economic Daily News citing rumors that 5.5-inch iPhone 6 production will begin in mid-August.
3. More Movers and Shakers
Made in China
As mentioned in the June 2014 China Games Index, Chinese companies and apps comprised a large portion of China's top games charts in the iOS store in June 2014. However, the domestic dominance is even more pronounced in apps outside of games, where Chinese companies occupied every single spot in the June Top 10 for both apps and publishers. In China, the closest a foreign company came to cracking the Top 10 in Q2 2014 was Microsoft with its Microsoft Word app, which got as high as #14 in the iOS revenue rankings for April 2014.
Love is in the App Store
Dating apps continued their success in China, with Zhenai joining mainstays JiaYuan and Momo in the June 2014 iOS Top 10 Apps by monthly revenue. Jiayuan's titular publisher also leapt into the Top 10 thanks to the app's strong performance. Whereas Zhenai and JiaYuan focus more on long-term relationship matchmaking, Momo has gained widespread traction through its find-and-flirt capabilities.
Reading Origin (起点读书)
Reading Origin rose three spots to finish at #10 in the Top 10 Apps by monthly revenue. Reading Origin offers a massive library available for offline reading, exclusive content and a reader rating system. It has consistently been one of China's top-grossing apps in the Books category.
---
| | |
| --- | --- |
| | Want to get even more advanced with your app store market analysis? Check out our enterprise product App Annie Intelligence. |
---
For those of you who also are looking for an update on top apps in gaming, please check out the China App Annie Index for Games. To keep up-to-date with all the changes at the top of the app and publisher charts, check out the complete set of App Annie Index tables.
Notes:
The company and app rankings reported in the App Annie Index are based on the download and revenue estimates available through App Annie

Intelligence

. The daily rank history charts and the home page feature app data are available to all users through App Annie's app tracker solution,

Store Stats

.

While in many countries, Google Play represents a significant portion of the app market, that is not the case for China, which has a number of sizable third-party Android app stores.

While the Index for Games covers games, the Index for Apps provides app tracking on everything but games. Note that the Top Company rankings in the Index for Games are based solely on the company's games downloads and revenue, while the Top Company rankings in the Index for Apps are based on the company's downloads and revenue from apps excluding games.

Through September 2013, similar versions of the same app with different names (e.g., QQ and QQ HD 2014) were ranked separately. Effective with October data, similar versions of the same app with different names will be unified (e.g., QQ and QQ HD 2014 are now aggregated and ranked as a single QQ unified app).

Company and unified app rankings in the App Annie Index for Games and Index for Apps are based on individual apps that ranked in the Top 1,000.

In the first month in which an app becomes unified, its rank change in the Index will compare the unified app that month vs. its highest-ranking individual app in the month prior. As a result, rank changes for newly unified apps may overstate ranking increases from May 2014 to June 2014.

In the iOS App Store, an app can be categorized under a Primary Category as well as an optional Secondary Category. If an app has a Primary Category of Entertainment and a Secondary Category of Games, it is a candidate to be included in this Index for Apps. If the app's Primary Category is Games and its Secondary Category is Entertainment, then it will not be included in this Index for Apps; it is a candidate for the Index for Games.

Note that the ranking approach used in the App Annie Index differs from that used in the iOS App Store. In the latter, app rankings for a given category will include all apps whose Primary Category or Secondary Category matches that given category. So an app can appear in the rankings for more than one category within the iOS App Store or in App Annie Store Stats rankings.

Occasionally, a publisher may decide to shift an existing app from one category to another category. In these cases, the App Annie Index will rank that app based on how it is categorized in the subsequent month. Given that the App Annie Index has a Games report and an Apps report, the scenario where an app's recategorization could shift it from one Index to another is if its category changes from the Games category to a category other than Games or vice versa.
In the App Annie Index, all apps and publishers are reported under their parent company, where available; for example, the WeChat app is reported under its parent company Tencent, rather than its direct publisher WeChat. Note that if you view the Tencent parent company page on Store Stats, you will see the publishers under the parent company Tencent, including WeChat. The WeChat app will be listed under the WeChat

publisher page.

Company and app rankings are based on the App Annie DNA relationships at the time of publications. App Annie DNA relationships are subject to change over time.

App Annie Index revenue rankings are based on revenue that the iOS App Store earned from paid downloads and in-app purchases. They do not include revenue earned from in-app advertising.

Certain trademarks and/or images used in this report may belong to third parties and are the property of their respective owners. App Annie claims no rights in such trademarks or images.