Calm was the #1 meditation app of all time by global downloads and app store consumer spend
Calm has surpassed 100 million downloads worldwide as of Aug 31, 2021 — solidifying its position as the world's most downloaded meditation app. Demand for mindfulness support has grown steadily over the last 8 years, and accelerated during the pandemic as consumers turned to apps for on-demand mental health and mediation services. In the most recent months, Calm ranked #1 among meditation apps by global downloads during H1 2021 and #9 among all Health and Fitness apps, showing that consumers are prioritizing not only their physical health, but also their mental health especially as the effects of the pandemic linger on. 
It is notable that Calm is also not only the #1 meditation app by global app store consumer spend of all time, but also #1 among all Health and Fitness apps (July 1, 2010 - Aug 31, 2021 on iOS and Jan 1, 2012 - Aug 31, 2021 on Google Play).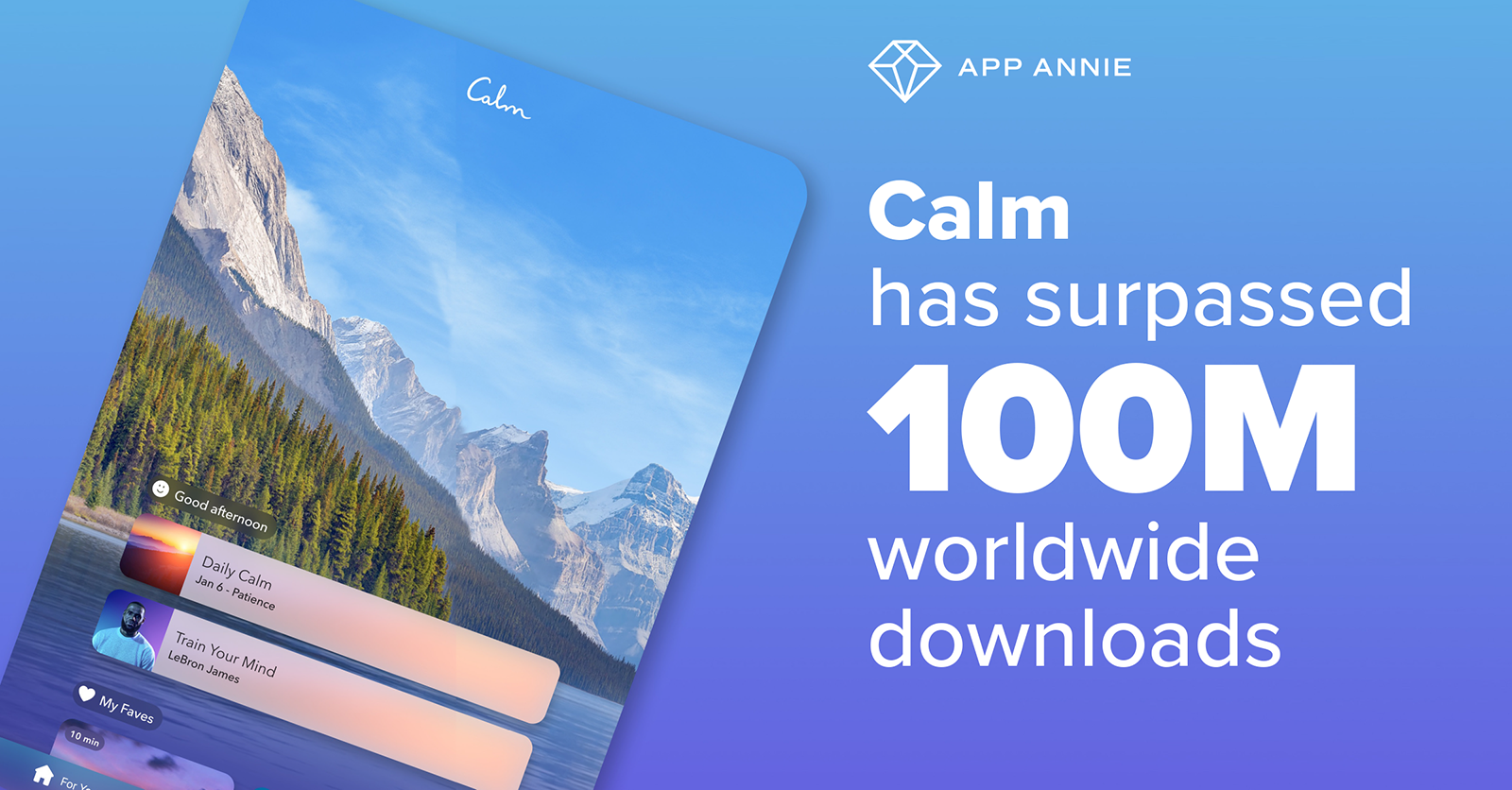 The app first launched in 2013, and the top markets by spend include the US, UK, Brazil, Canada and India. Calm leverages guided meditations, sleep stories, masterclasses, breathing exercises and other features all aimed at providing support for users to find relaxation and a point of calm in their day. They offer varying lengths of guided meditation sessions to help consumers squeeze into their day, whenever they are in need of mindfulness moments. They also include features to track your daily progress which encourages users to form a healthy habit. 
It's clear that Calm's offerings are resonating with its users, as Calm was the #1 Health and Fitness app worldwide during H1 2021, and all time, for that matter. In H1 2021, Calm was the #1 Health and Fitness app by consumer spend in the US, Canada and India, and the #1 meditation app in the UK. Calm monetizes through in-app subscriptions and it's clear users are benefiting from the simple, on-the-go meditation and mindfulness services by choosing to pay for monthly or yearly subscriptions. This is part of a growing trend for consumers to purchase in-app subscriptions and organize their lives through mobile services, which are accessible, personal and on trusted. It is also important to note that some meditation apps monetize outside the app stores such as through in-app advertising.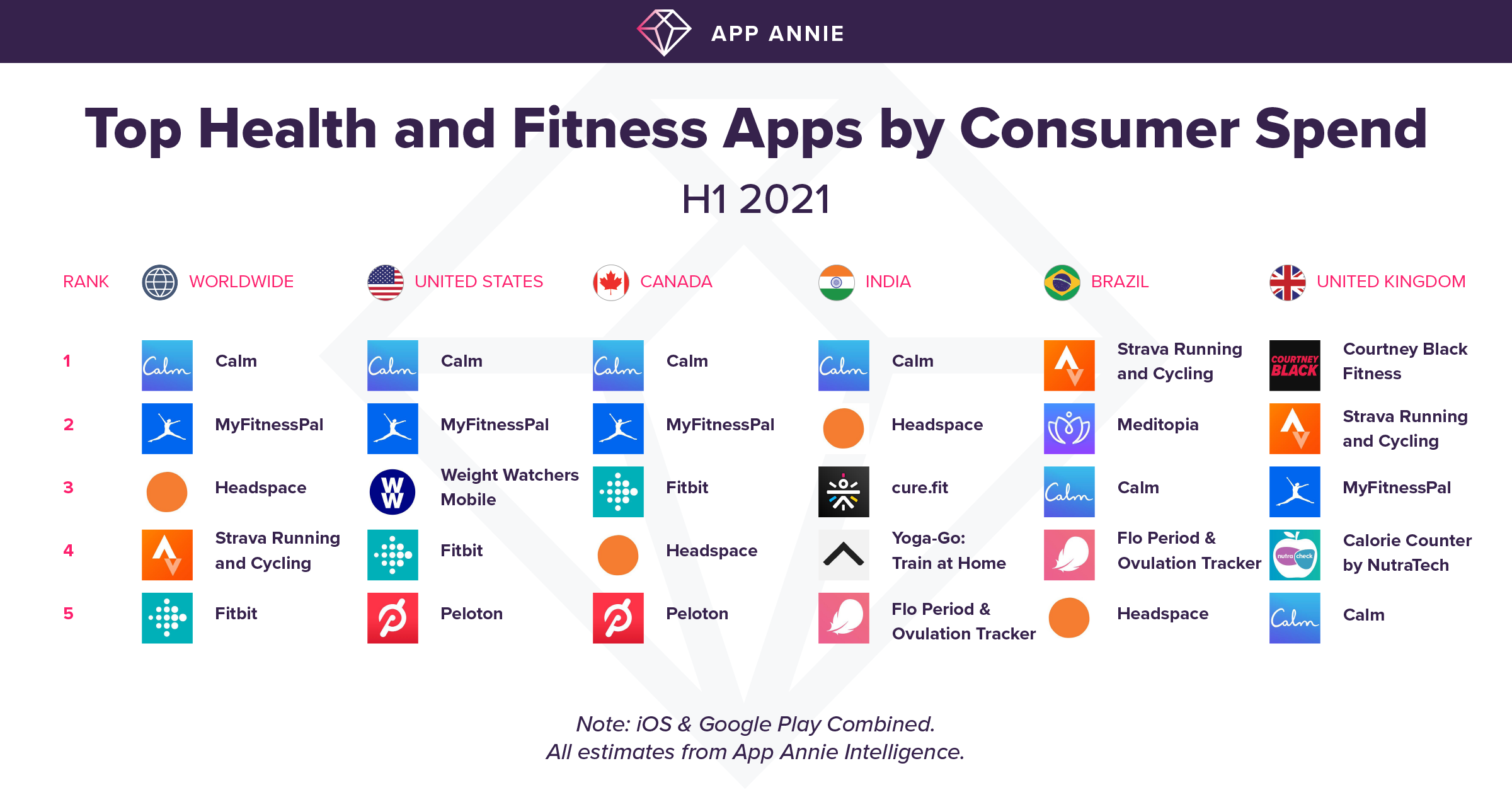 Looking for more mobile insights? Download App Annie's industry-leading State of Mobile report, covering everything you need to know about how to win on mobile in 2021.
Looking to make more of the mobile opportunity? Talk to an expert today.
DISCLAIMER: 
App Annie is a mobile market estimate service provider. App Annie is not registered in any investment advisory capacity in any jurisdiction globally, and does not offer any legal, financial, investment or business advice. Nothing contained in this communication, or in any App Annie products, services, communications, or other offerings, should be construed as an offer, recommendation, or solicitation to buy or sell any security or investment, or to make any investment decisions. Any reference to past or potential performance is not, and should not, be construed as a recommendation or as a guarantee of any specific outcome. You should always consult your own professional legal, financial, investment and business advisors. Additionally, by providing the information herein, App Annie does not make any representations or warranties and does not undertake any legal or contractual obligations whatsoever. No liability may accrue to App Annie as a result of providing this information to you.