Monthly downloads leapt as high as 700 million as working from home became increasingly common.
With 2020 in the rear-view mirror, we can gauge the true impact of COVID-19 on the Business & Productivity app space, and it was truly remarkable. Our State of Mobile Report reveals that consumers across the world installed Business and Productivity apps 7.1 billion times in 2020 – up 35% from 2019.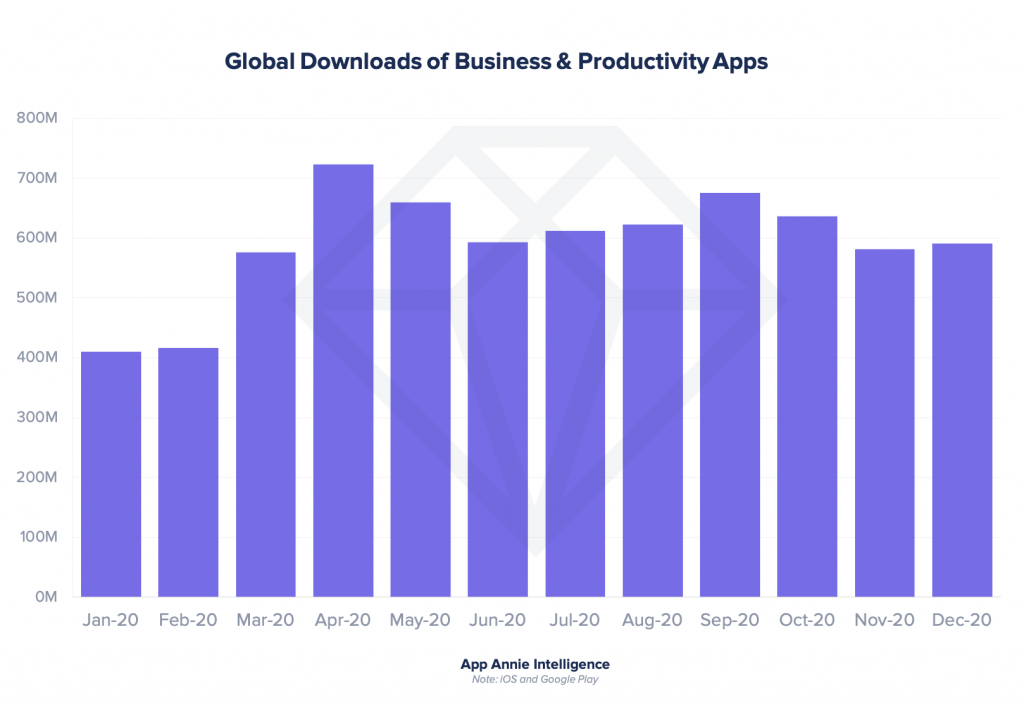 Predictably, the biggest surge began in mid-March 2020 when shelter-in-place became the norm across many regions. At this time, millions of employees were restricted from visiting their offices and had to find new ways of collaborating from home. While there was a surge in the spring, Business & Productivity app downloads remained high, as they were a consistent area of focus for the rest of the year and beyond.
Change at the Top: Video Meeting Apps Dominate the 2020 Rankings
Work from home orders didn't just impact the volume of downloads. They also changed the type of apps people installed. In 2019, the chart was dominated by perennial products such as WhatsApp Business, Gmail, Chrome and Microsoft Word. 
But in 2020, the top three apps of 2020 all enabled video calling: Zoom Cloud Meetings, Google Meet and Microsoft Teams. This was clearly due to new ways of working and socializing at home. Not one of these three appeared in the top 20 Business or Productivity apps by downloads in 2019. Zoom's own numbers reflect the phenomenal surge in demand. In January 2020, it was hosting 10 million video meeting participants a day. By March, it was up to 200 million daily meeting participants. Zoom did well to remain in the #1 slot given that Google decided to make all meetings free in April. Its Meet product was already adding more than 2 million new users a day before Google made this decision.
Google, Microsoft, ZOOM and Adobe Drove the Most Downloads of Business and Productivity Apps in 2020 
While top publishers indeed mirrored top apps — Zoom Cloud Meetings, Google Meet and Microsoft Teams — Adobe rounded out the top 4 publishers with the largest download footprint of Business and Productivity apps in 2020 due to longstanding success in its desktop-turned mobile document cloud apps.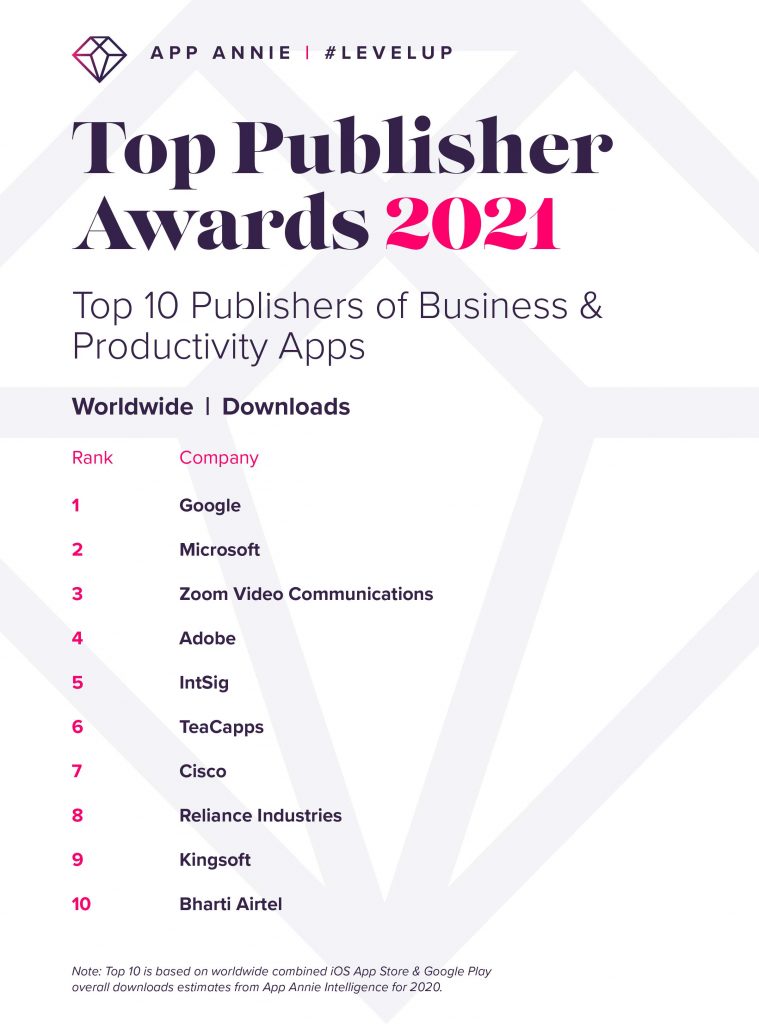 Cisco and Adobe are incumbent companies in the productivity space prior to smartphones that made good progress modifying their historic products for the mobile channel. Cisco's big success was Cisco WebEx Meetings. Meanwhile, Adobe reached #14 in the 2020 chart with its Adobe Acrobat Reader app. The importance of mobile to the company's long-term strategy was unveiled in September when Adobe announced '"the first step in a multi-year vision for PDF". The update introduced breakthrough new tech that landed first in the free Adobe Acrobat Reader mobile app.
To learn more about Adobe's mobile strategy and vision, and to see how other companies could apply their best practices, we chatted with Kevin Shankar, Product Marketing Manager, at Adobe. 
A Strategy for Paper-to-Desktop-to-Mobile Revolution in Business: Q&A With Adobe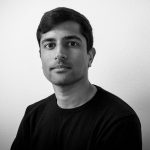 Kevin is a product marketing manager at Adobe focused on its quickly growing Document Cloud mobile app and innovation portfolio. He has a history of success scaling software adoption across a variety of industries through the design and execution of innovative marketing strategies as a senior consultant at Deloitte.
Obviously, Adobe has a strong heritage on desktop. How do you view the mobile channel?
Mobile is extremely important to us. Our customers interact with our services in a variety of ways and we want to make sure they have seamless access across all of their devices. Mobile also adds unique value to the Adobe Acrobat ecosystem. For example, scanning is a popular use case that takes advantage of the unique features of a phone. As a result, we have well-established apps in all of our key areas of business: Adobe Acrobat Reader, Adobe Scan, Adobe Fill & Sign, and Adobe Sign. We're delighted that Acrobat Reader mobile was the 14th most downloaded business app of 2020.
What about internally?
Mobile is a unique beast. There are different competitive dynamics at play, and obviously software development in Android and iOS is quite distinct from desktop and web. For these reasons, we have dedicated teams focused on mobile – though we make sure all parts of the business talk to each other. 
How have you iterated your monetization strategy for the mobile generation?
Our strategy complements the cloud model we have pioneered in the desktop space. We offer a free tier without login, a free tier with login, and premium tier (using an in-app purchase subscription). In the case of the Adobe Acrobat Reader app, it's always free for viewing, annotating and signing PDFs. But logging in gives the user some storage access, while the premium tier unlocks features such as editing and organizing. We're aiming to add more features all the time. In fact, last year we introduced Liquid Mode, which uses AI to make lengthy PDF files - such as books and contracts - easier to read on small screen sizes. We made it free for all users of the mobile app.
As a publisher in the Business space, who are your customers?
Mostly, it's consumers and small businesses. In 2020, we saw a big rise in the numbers of teachers, students, and parents using our apps. They were looking for tools to make it easier to scan and share homework. This was a niche use case before, but due to shelter-in-place, it boomed across 2020. The government sector also grew. Government departments were sending people PDFs to edit and sign at home – especially in Europe. 
What does success look like for Adobe in mobile? Which KPIs do you prioritize?
We always look to optimize our monthly active users (MAU) among our suite of apps, including a separate breakout for paid MAU. User retention is another important metric. Since our free trial ends after 7 days, we look closely at retention after day 8 and beyond. We also analyze user feedback and reviews for indications of enhancements we should consider adding to our roadmap, existing features we should highlight for users, and any bugs to fix quickly. 
What's your plan for continued growth?
We pay close attention to App Store Optimization (ASO) and the return on investment from paid media. In terms of expanding to other markets, we strategically look at both places currently generating revenue and emerging markets. This is a key area we use App Annie for — monitoring market movements, upcoming opportunities, and baking this into our strategy. Adobe is a global based business and we recognize the huge potential in other parts of the world. One of the benefits of mobile is our ability to connect with a lot of people we might not otherwise reach. We want all of our users — free or paid — to be able to access the great experiences provided by our services. Of course, we will continue to develop new features for mobile-centric use cases and expose our customers to the full power of Acrobat across desktop, web, and mobile. 
Thank you for your time.
This analysis of the business and productivity app market is drawn from App Annie's State of Mobile 2021 report. For more insights on the industry as a whole and other app categories, sign up for the full report:
DISCLAIMER
App Annie is a mobile market estimate service provider. App Annie is not registered in any investment advisory capacity in any jurisdiction globally, and does not offer any legal, financial, investment or business advice. Nothing contained in this communication, or in any App Annie products, services, communications, or other offerings, should be construed as an offer, recommendation, or solicitation to buy or sell any security or investment, or to make any investment decisions. Any reference to past or potential performance is not, and should not, be construed as a recommendation or as a guarantee of any specific outcome. You should always consult your own professional legal, financial, investment and business advisors.
Additionally, by providing the information herein, App Annie does not make any representations or warranties and does not undertake any legal or contractual obligations whatsoever. No liability may accrue to App Annie as a result of providing this information to you.