Opportunities abound for Europe's leading bricks-and-clicks retailers to learn from online-first retailers; here we examine trends in France, Germany and the UK.
In mobile commerce, the retailer with the best mobile app often takes a significantly larger share of the rewards — more downloads, more users and more revenue. Our latest report, The Growth of Retail Apps — What Retailers Can Learn From Top Apps, highlights best practices from retailers around the world, including opportunities where Europe's bricks-and-clicks retailers — apps from retailers with an extensive brick-and-mortar presence— can expand their offerings.
Overall, Europe's mobile retail market has a lot of room to grow; in France, for example, it's estimated that only 24% of online retailers have a transactional mobile app.
The most popular European bricks-and-clicks apps (based on monthly active users) are in grocery, pharmacy and clothing retail. Naturally, mobile operators like Apple, Google and Samsung, also rank very high in usage, but we won't dwell on them here.
Let's take a closer look at the performance of some of the top retail apps in France, Germany and the United Kingdom, and see what retailers in these regions are doing to drive engagement.
France's Traditional Retailers Use Mobile to Drive Sales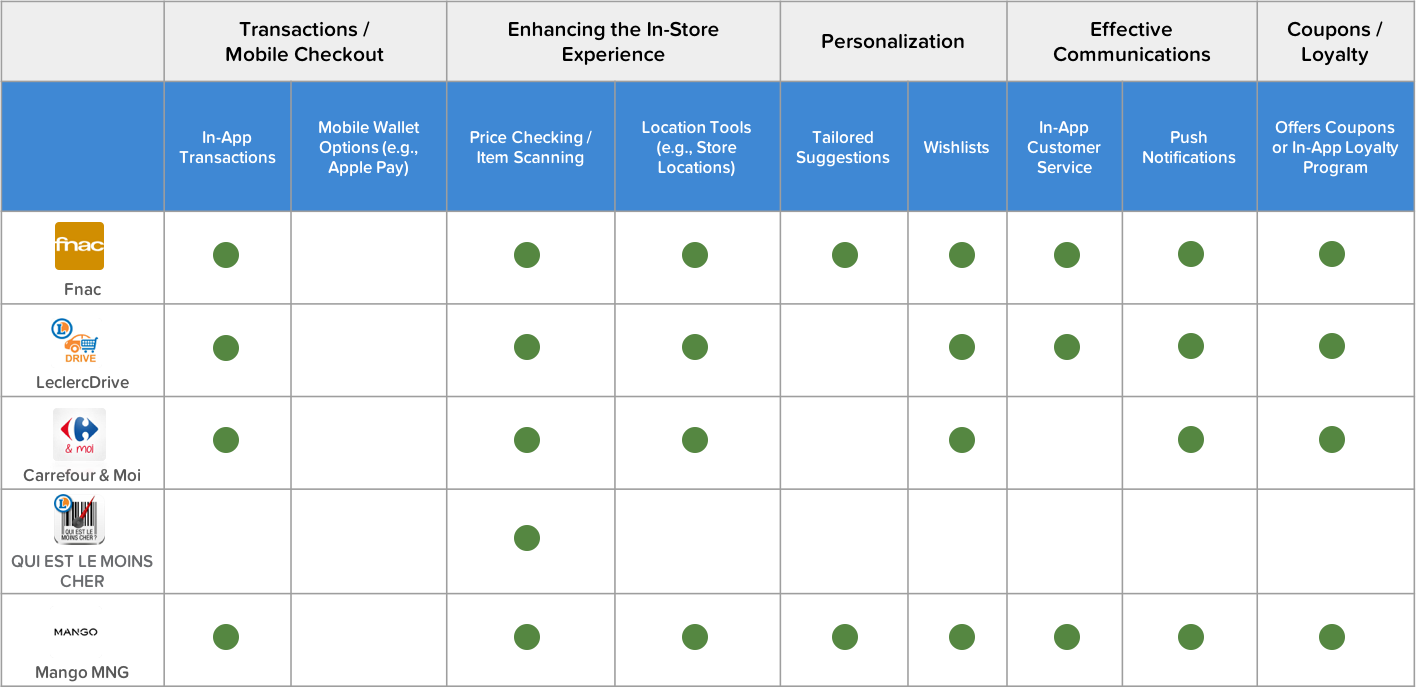 France had the lowest average sessions for bricks-and-clicks apps; however, with the second highest growth in sessions for online-first apps, it's clear there is demand that traditional retailers can explore. Online-first apps like Vente Prive and showroomprive, that offer member-only flash sales, are leading the way — perhaps presenting a model others can emulate.
Right now, we see the most innovation in the online fashion space. Mango Mng makes it easy to find an item in a different size while in store — just scan the barcode to see if it's available in a different size. Users can also scan print ads to make a quick purchase or save details to their wishlist (which can also be emailed to friends).
The Fnac app highlights in-store sales and promotions, and also acts as a digital membership card — users simply need to show the screen of the app at checkout to collect points.
Conservative German Market Appears Ready to Grow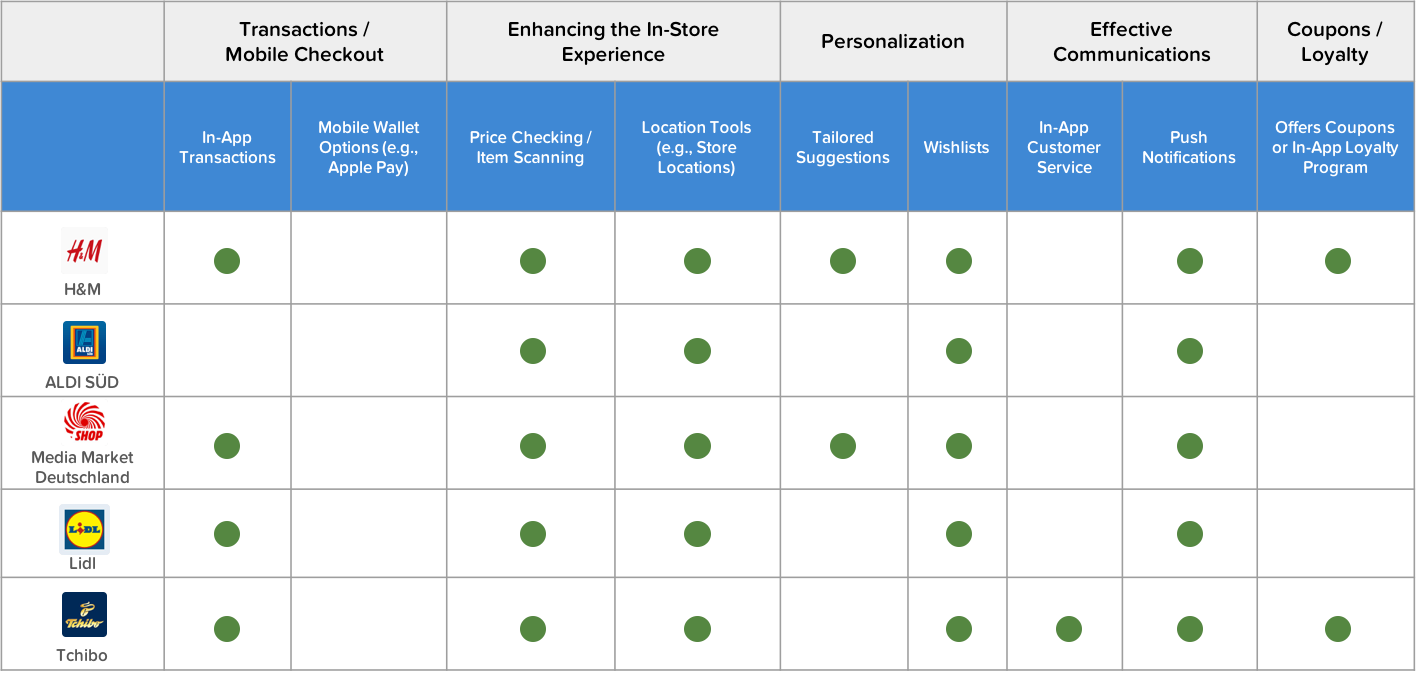 Germany is a market that's traditionally fairly conservative when engaging in electronic transactions, but in the last year, the country has experienced rapid growth — especially from big international retailers such as Amazon, Wish and Geek.
In the bricks-and-clicks category, all of the top ranking apps feature push notifications, price checking, location services and some personalization, such as wishlists. These features closely align the app with its brick-and-mortar properties, but we see plenty of room to personalize the experience and give users more of a reason to purchase.
The most innovative app in this category is Tchibo. In store, users can uncover more information about products by scanning a QR code; users receive vouchers directly to the app, and can use them to make purchases via the app, the web or in store.
UK Retailers Aim for Faster, Smarter Shopping via Mobile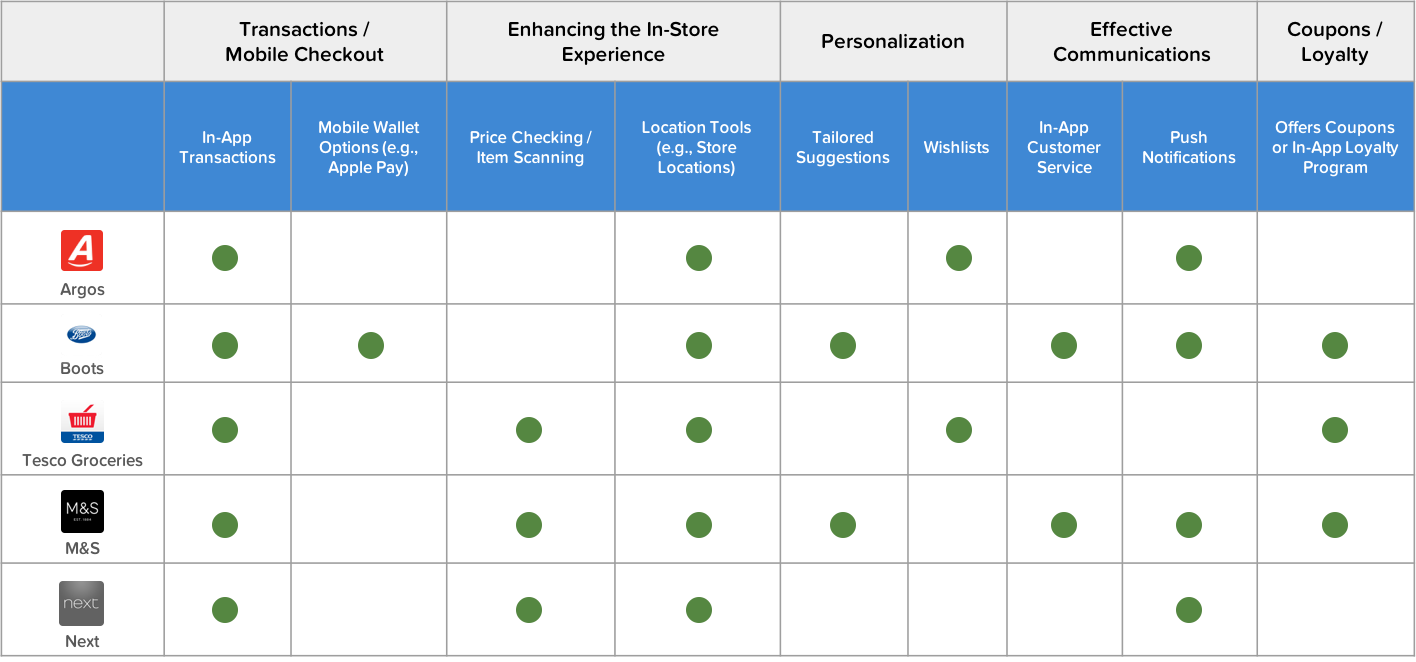 Top bricks-and-clicks apps in the UK are, for the most part, designed to echo and enhance both in-store and online shopping. The Argos app allows users to pre-check stock and to organize a  fast-track collection in store. Boots, a massive pharmacy chain in the UK, makes it easy to book in-store flu shots, print photos or schedule home delivery.
Both the Tesco and M&S (Marks & Spencers) apps keep track of users' favorites for future purchases. M&S also includes an "inspire me" section that draws content from the company's Style & Living magazine. Every article includes direct links to purchase.
Many apps in this space now offer dedicated live chat. Since a mobile device will be the contact channel of choice for many users, adding this feature is another way to grow loyalty between the store and its customer.
Apply Best Practices to Your Retail App Business
To ensure your team is following best practices of top retailers around the world, download our latest report, The Growth of Retail Apps.
And stay tuned for our follow-up on top retailers in Asia and the United States.