Crypto was one of the biggest stories of 2017, and that story was told through the parallel rise of crypto apps
Following the release of our 2017 Retrospective Report, the industry's largest and most trusted analysis of the state of the app economy, we'll be highlighting some key areas of the report in an ongoing series. In our previous posts we looked at consumer spend, downloads, engagement China's massive app economy and video streaming. Now we'll turn our attention to the world of cryptocurrencies.
Cryptocurrency dominated headlines throughout 2017 as busts and booms set off wave of interest, and so fittingly cryptocurrency management apps have seen a significant boost in the face of growing market excitement.
By allowing users to monitor, store and trade currency at any time or place, these apps have become a critical tool for currency traders. The performance of cryptocurrency management apps is tied closely to currency values and consumer excitement. Peaks and troughs in trading values will continue to be reflected in app usage.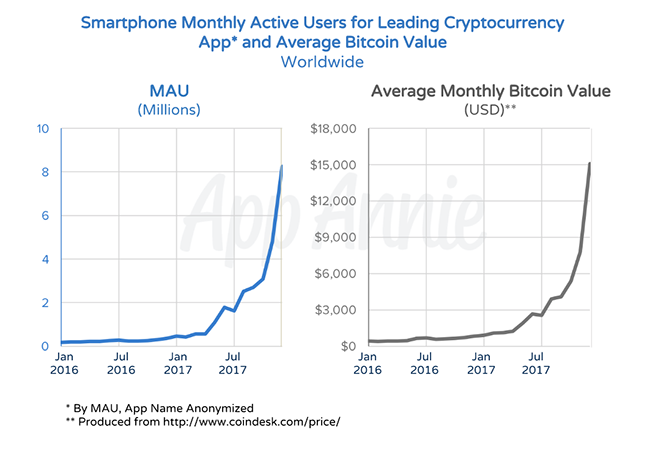 In 2018, those closely following interest in cryptocurrency would do well to also monitor the usage of crypto apps.
This focus on cryptocurrencies is only a sliver of the total report. For much more, including in-depth analysis of the year's biggest apps and stories, download the App Annie 2017 Retrospective Report directly on the page by filling out the form below. Customers who log-in can download immediately.