Black Friday set new time spent in-app records, but it was Singles Day that led app downloads and spend.
While Black Friday reached new heights in the United States in 2017, Cyber Monday stole the show for mobile shopping. Cyber Monday 2017 was the first $2 billion mobile shopping day in the US, doubling the $1 billion mobile shopping day record set a year prior on Black Friday 2016.
On a global scale, however, both Black Friday and Cyber Monday were dwarfed by China's Singles Day 2017 on November 11, 2017. A national holiday when consumers are encouraged to buy gifts for themselves, Singles Day made the biggest splash for online shopping setting a record $25.3 billion in sales, with 90% of transactions coming from mobile. That being said, Black Friday still remains the anchor of the largest shopping period in Western countries like the US and the United Kingdom.
Considering the massive opportunity presented by special shopping days like these, it is important for retailers to carefully consider app strategies that lead to success during the holiday season in order to capitalize on attracting new users and re-engaging existing users. Each user represents a potential customer that can be reached on their most personalized and connected device.
Singles Day Was The Largest Day for Worldwide Shopping App Downloads
Singles Day, Black Friday and Cyber Monday were key days for companies to increase app downloads, grow their mobile shopping base and ultimately increase revenue. While all three days fared well in the US, Singles Day was the #1 day for iOS and Google Play combined Shopping app downloads as of November 28, 2017 saw over 2.7 million downloads on just one day. Black Friday came in second by a narrow 1% margin.
Singles Day and the days surrounding Singles Day accounted for all but one of the top two ranks for daily Shopping app downloads across China, the UK, the US and worldwide rankings. Notably, Alibaba's global expansion of Singles Day is seen in the download spikes surrounding Singles Day in the US and the UK.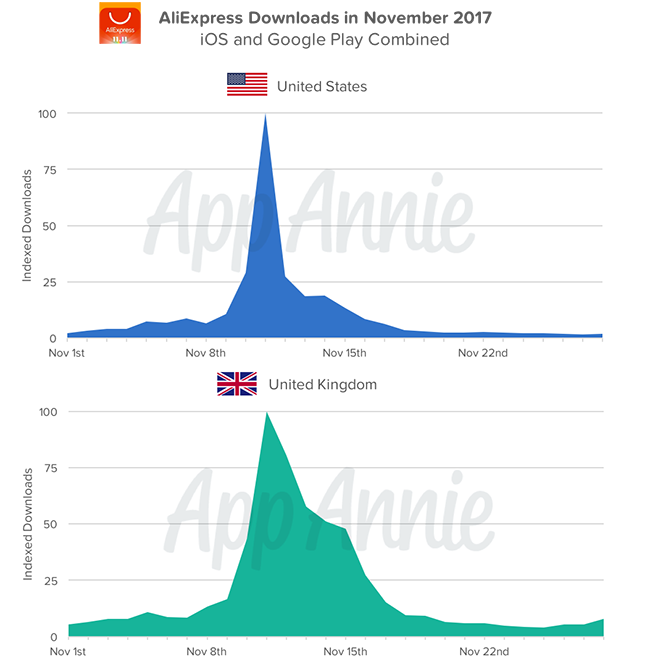 Alibaba was able to use Singles Day 2017 to dramatically increase its user base in the US. AliExpress alone contributed 50% of the iOS and Google Play Shopping app downloads for the top 10 apps on Singles Day in the US and had a 300% lead over the next largest app on this day. While a similar story is true of Amazon's download performance on Black Friday, its download lead was not as stark since Amazon already has a large download base in the US.
Amazon Dominated For Shopping App Downloads on Black Friday
Amazon alone accounted for 20% of the total iOS and Google Play combined Shopping app downloads in the US on Black Friday. This was 30% more daily downloads than the next largest competitor. While Amazon also claimed the top downloads spot on Black Friday in the UK, JD Sports stands out for its growth in downloads. Across iOS and Google Play, the app saw 4x more downloads on Black Friday than the previous Friday.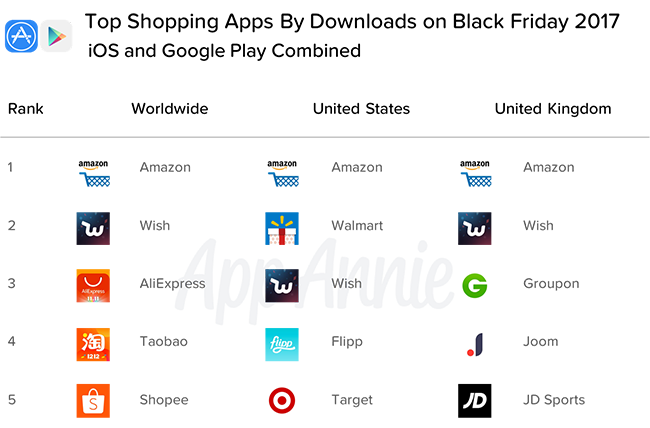 Black Friday Week Saw the Most Time Spent in Shopping Apps in the US
Despite Singles Day generating the most Shopping app downloads ever in the US, the week of Black Friday 2017 drove the most app usage.
American consumers spent over 47 million hours in Shopping apps on Android phone alone during the week of Black Friday 2017 (November 19 through 25). This was a 45% increase over the average weekly time spent during the prior four weeks prior. UK consumers spent more than 6 million hours in Shopping apps on Android phone alone during the week of Black Friday, up 25% from the average of the four weeks prior.
During this week, Amazon's Android apps accounted for 55% of all time spent in the top 10 Shopping apps by time spent in the US. In the UK, however, eBay captured 45% of total time spent in the top 10 Shopping apps on Android phone, followed by Amazon's apps at 35%.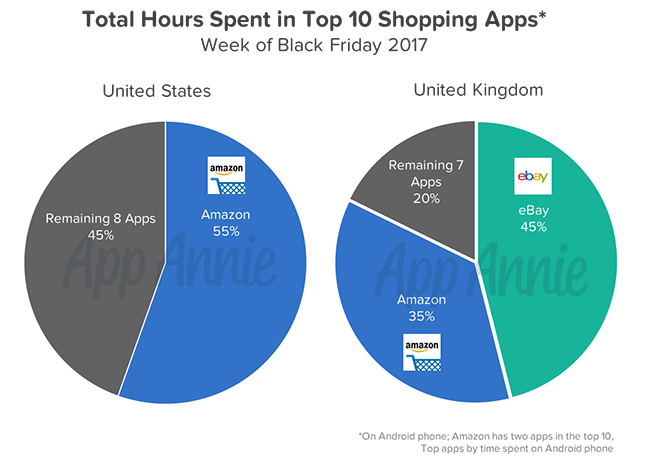 We've seen Black Friday and Cyber Monday extend its influence throughout the month of November over the past few years. In 2017, Singles Day kicked off the holiday season even earlier in the US and the UK. We expect to see Black Friday and Cyber Monday's influence extend throughout December with gains to active users and user engagement. This creates more opportunities to generate sales throughout December and into the new year.
Mobile is instrumental to a retailer's success, impacting all stages of a shopper's journey from initial research, to coupons and loyalty programs and ultimately to purchase. With the holiday shopping season starting even earlier and influencing mobile shoppers long after, it is imperative for retailers to reflect on and analyze 2017's Black Friday performance in order to capitalize on new users going into 2018 and to prepare for next year's holiday season.
To track downloads around the holiday season and gain access to data for millions of apps, sign-up for App Annie Intelligence for free right now.