Mobile fuels the omnichannel evolution of Black Friday and Cyber Monday shopping in 2018.
Singles' Day 2018 set new records in mobile shopping, seeing $30.8 billion in consumer spend worldwide on 11/11/2018. While that figure is impressive on its own, Singles' Day sales hit $1 billion in consumer spend in the first 1 minute and 25 seconds — a total that trumps Black Friday's total mobile sales in 2016 across 24 hours. While the lion's share of sales comes from China, Alibaba has successfully grown Singles' Day into a global shopping phenomenon across its suite of apps, including Tmall, TaoBao, AliExpress, Lazada, ele.me, Alibaba.com app and more. In fact, many other players in the space — including Shopee, an e-commerce app with a large focus on Southeast Asia — have prioritized sales on 11/11.
In 2017, we saw AliExpress place a substantial effort on gaining traction in the United States and United Kingdom, resulting in strong surges in app downloads on Singles' Day 2017. This expanded user base is likely to have contributed to growth in 2018; however, we did not see the same dramatic increase in downloads of AliExpress in the US or UK this year surrounding 11/11. Rather, Black Friday and Cyber Monday are poised to maintain their position as the flagship shopping days in the United States this holiday season.
Black Friday and Cyber Monday Mobile Activity Poised to Grow 25% in 2018
As the US market heads into Thanksgiving, Black Friday and Cyber Monday, we predict a 25% increase in time spent in shopping apps during these two weeks on Android phones and tablets. This is nearly double from four years prior.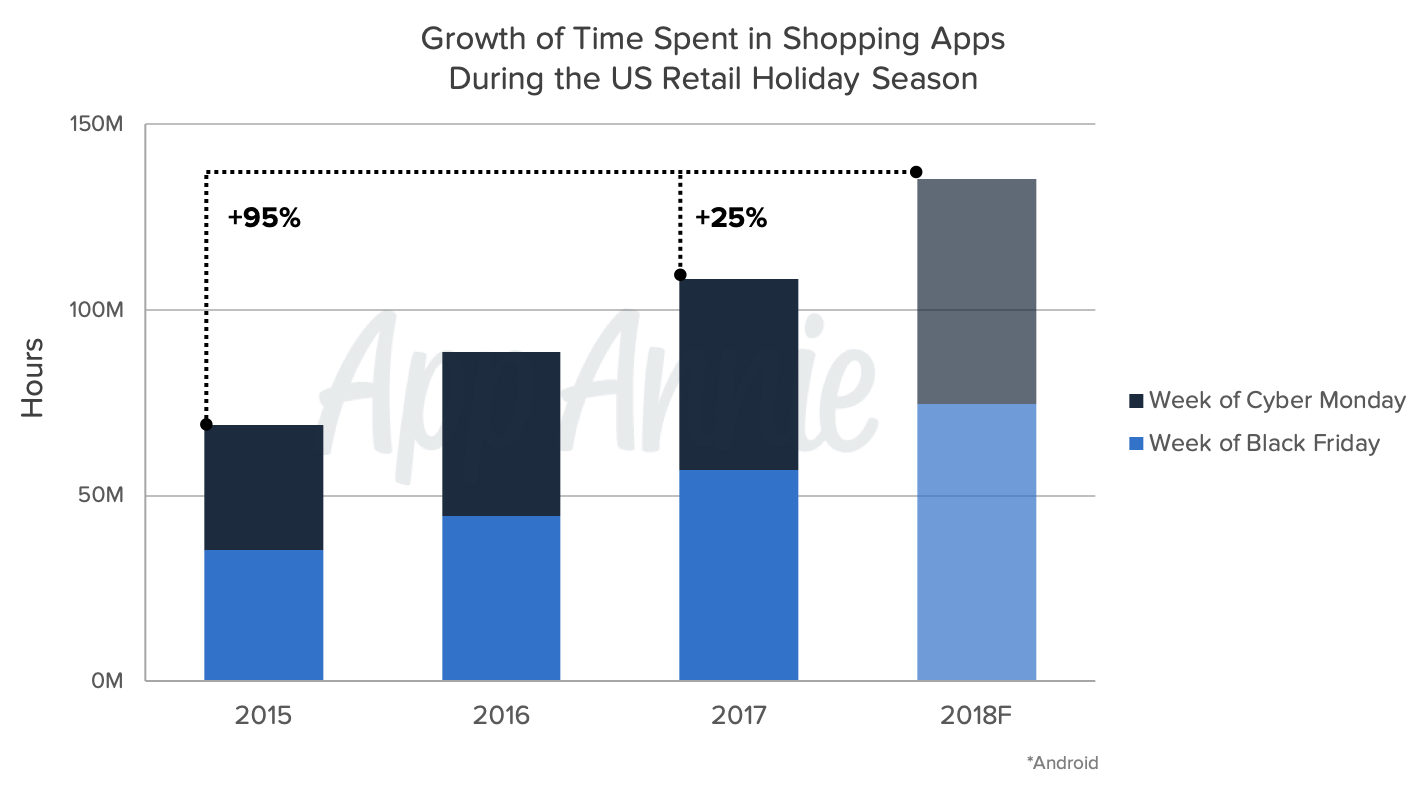 While Black Friday and Cyber Monday 2018 are still poised to see the most time spent in Shopping apps for the holiday season, Thanksgiving day is also expected to see monumental growth. As Black Friday deals continue to start earlier every year, Americans are expected to turn to mobile after their turkey dinners to capitalize on deals from the comfort of their homes.
We predict Thanksgiving day — compared to Black Friday and Cyber Monday — will see the the largest growth in time spent in Shopping apps this year in the US at 30% growth year-over-year among the top 150 Shopping apps on Android phone.
Mobile Fuels In-Store and Online Shopping Growth For Weeks
Mobile is uniquely positioned to fuel both in-store and online commerce. For example, the Target app leverages map mode — for charting your path to Black Friday deals in-store — along with the ability to to scan the retailer's holiday gift catalogue and identify the toys on that page in the Target app for easy shopping. For smoother in-store operations, Target and Walmart are both leveraging employees with smartphones equipped with mobile checkout to combat long lines.
These enhanced mobile features implemented to drive in-store and online sales, are a key contributor for predicted growth in time spent in Shopping apps. Specifically, the week of Black Friday — known for its heavy in-store foot traffic — will contribute to 55% of time spent among the two weeks encompassing Black Friday and Cyber Monday as promotional periods start earlier, shoppers leverage in-store features and more Americans turn to their smartphones on Thanksgiving.
We also predict time spent in the two weeks following the week of Cyber Monday will increase year over year. This speaks to a greater trend of the increasing length of the holiday shopping season. We have seen mobile shopping increase in the lead up to Black Friday and Cyber Monday, and this is a trend we expect will hold true this year. However, contrary to what many may think, the weeks after Black Friday and Cyber Monday are poised to see strong growth and are expected to rank in the top 5 for weekly time spent in Shopping apps ever in the US.
This demonstrates the need for retailers to prioritize mobile this November and December, since retailers are likely to see a strong lift in the weeks after Thanksgiving, Black Friday and Cyber Monday have passed. We are excited to see how retailers capitalize on mobile's ability to drive top-line growth this holiday season.
For more insights on how mobile market data can help navigate the competitive landscape in retail — particularly during the holiday season — download our guide to mobile: