2017 Black Friday will push mobile shopping to levels we've never seen before
The holidays are right around the corner and Americans are poised to spend nearly 45 million hours this year in Shopping apps on Android phones alone during the week of Black Friday.
Alibaba's record $25 billion in Singles' Day sales is the harbinger of mobile commerce records during this year's Black Friday week. With holiday promotion periods starting earlier and consumers continuing to shift to mobile as their primary channel, retailers would be remiss not to capitalize on the high-intent shopping period combined with the personal, direct and 'always-on' channel that mobile phones provide.
Black Friday 2017 is Set to Reach New Heights
Black Friday has been a staple of the holiday season in the United States for the last thirty years, driving spikes in foot traffic, followed by web traffic and now app traffic. In fact, Black Friday 2016 was the first $1 billion mobile shopping day in the US.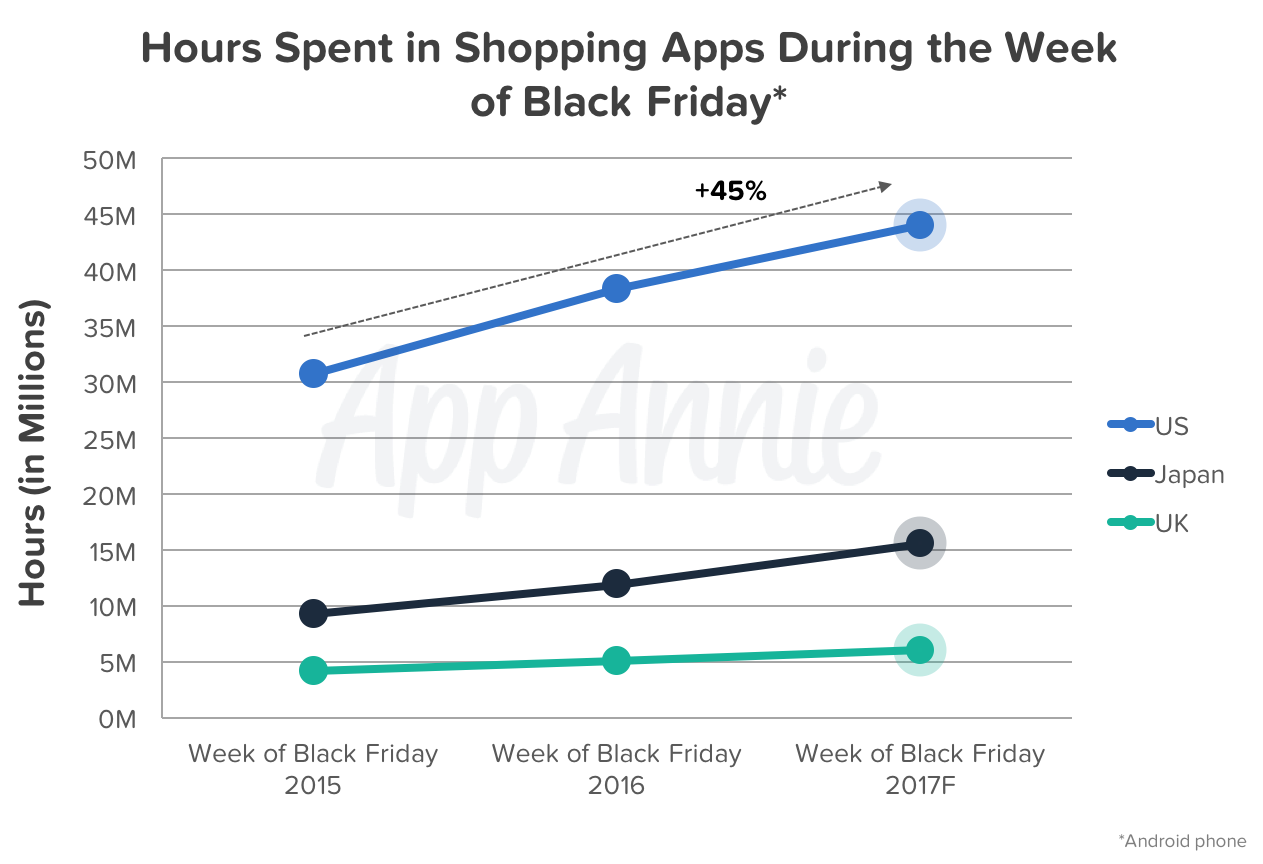 This year, we predict total time spent in Shopping apps on Android phone to grow over 45% in the US from two years prior during the week of Black Friday, and we expect revenue to follow, setting new mobile commerce records in the process. More time spent in-app equates to more dollars spent, as users browse products, collate wish lists, unlock deals, access loyalty programs and ultimately move the consumer one step closer to purchase.
Drilling down to performance on Black Friday alone – this year falling on November 24, 2017 – we expect to see well over 6 million hours spent in the top five Digital-First apps* on Android phone in the US, a 40% increase compared to last year's Black Friday. This means that on November 24th alone, these apps would account for 15% of the total time spent in Shopping apps during the full week of Black Friday, spanning November 19th through 25th. While we predict the top five Bricks-and-Clicks apps** on Android phone won't see the same level of time spent as Digital-First apps, we do expect they will see 30% growth in time spent on Black Friday year over year.
In order to be competitive with sophisticated Digital-First players, traditional retailers need to prioritize mobile during this shopping period. It is imperative to leverage their physical locations as unique assets to complement user's in-app experiences. Partnered with app-exclusive deals, this could drive app engagement, in-store foot traffic and ultimately leave the consumer with a better brand experience.
Black Friday is Poised to Make Waves Overseas in 2017
As we saw with Amazon's Prime Day in July, mobile is a prime channel for driving growth in overseas markets. During this year's Black Friday week, we also expect to see significant gains to total time spent in Shopping apps outside the US. In Japan, we predict total time in Shopping apps on Android phone to grow 65% from two years prior to well over 15 million hours, and in the United Kingdom we expect 45% growth from two years prior to over 6 million hours.
Looking specifically at Europe, AliExpress is poised to make its mark on mobile shopping during the week of Black Friday 2017. Seeing strong gains in downloads leading up to Singles' Day on November 11th, AliExpress claimed the #1 spot for Shopping apps by daily iOS and Google Play combined downloads in the UK, France and Germany on November 11th. This could bode well for AliExpress during Black Friday, as its app is top of mind for consumers.
What Can Retailers Do to Make the Most of Black Friday 2017?
Black Friday presents an excellent time for retailers to consider prioritizing their User Acquisition (UA) strategy to either acquire new downloads or re-engage existing users. We are already seeing retailers like Macy's and Walmart make App Store Optimization (ASO) updates to their description, screenshots, logos and version updates to capitalize on app store search traffic.
Walmart's changes on iOS have already paid off, placing the app in the top 10 for the keyword "black friday" as of November 12, 2017. To complement ASO, it is also important for retailers to consider app store search ads – particularly on their branded keywords. During this time of year, we see many retailers advertising on their own branded keywords to retain the top spot for their branded search terms, which represent high intent traffic to their respective app store pages.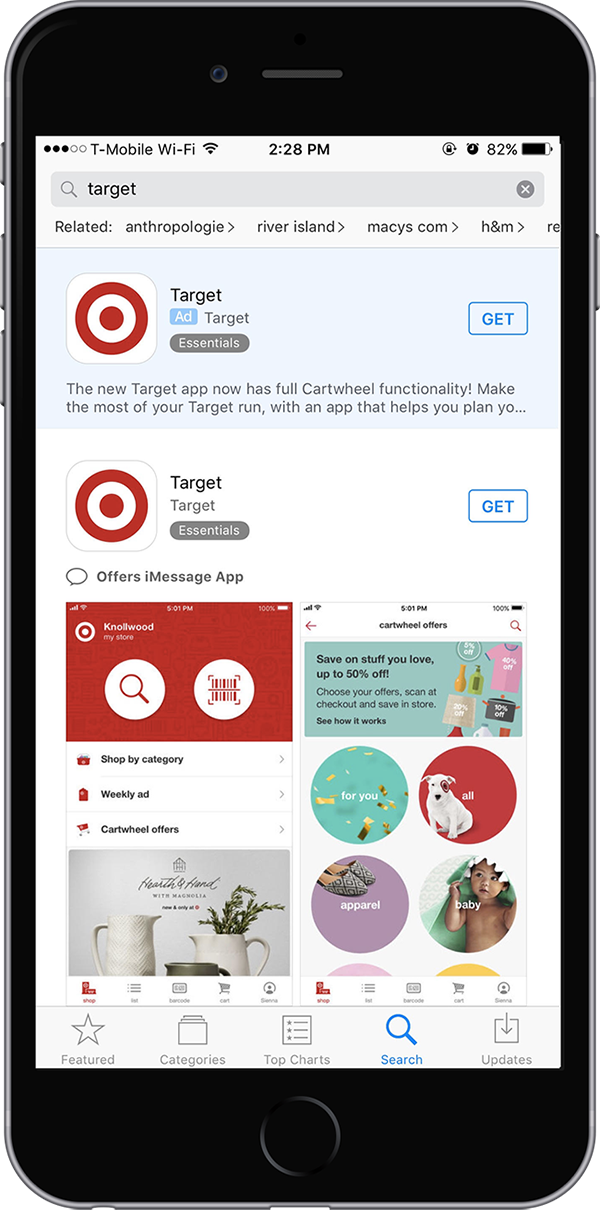 Target advertised on its own name to ensure it secured the top spot for searches of "Target" on the iOS App Store.
Furthermore, capitalizing on Black Friday traffic can give sustained lifts to retail apps throughout December. Last year, retailers like Sephora and Walmart prioritized app-exclusive deals during Black Friday in 2016 and saw lasting gains in app engagement weeks after the promotional period ended.
Across the board, we expect retailers to double-down on mobile this year, leveraging app-exclusive deals, prioritizing longer lead time for advertising and encouraging app use in-stores to complement traditional brick-and-mortar shopping. It will be interesting to see how retailers push app innovation even further this holiday season.
To monitor mobile trends and start tracking specific app performance across countries, sign-up for App Annie Intelligence for free right now.
*Top 5 Digital-First apps by time spent on Android phone in the US in H1 2017. Digital-First apps come from organizations with no, or limited, brick-and-mortar presence. Typically, these organizations began selling solely via web or mobile.
** Top 5 Bricks-and-Clicks apps by time spent on Android phone in the US in H1 2017. The Bricks-and-Clicks subcategory of retail apps includes apps from retailers with an extensive brick-and-mortar presence.