From the growth of on device sales, to couponing and local marketplaces, Black Friday 2016 proved that retail must go mobile.
Over the past month, it has become clear that mobile is the future of Black Friday and holiday shopping. According to Adobe, mobile shopping in the United States grew 33% year over year for this shopping holiday, accounting for 55% of overall visits to retail websites. While mobile directly drove 36% of online Black Friday sales, it also played a key role in product research prior to transactions carried out through other channels, both online and offline. This makes activity in mobile shopping apps a key indicator for the industry.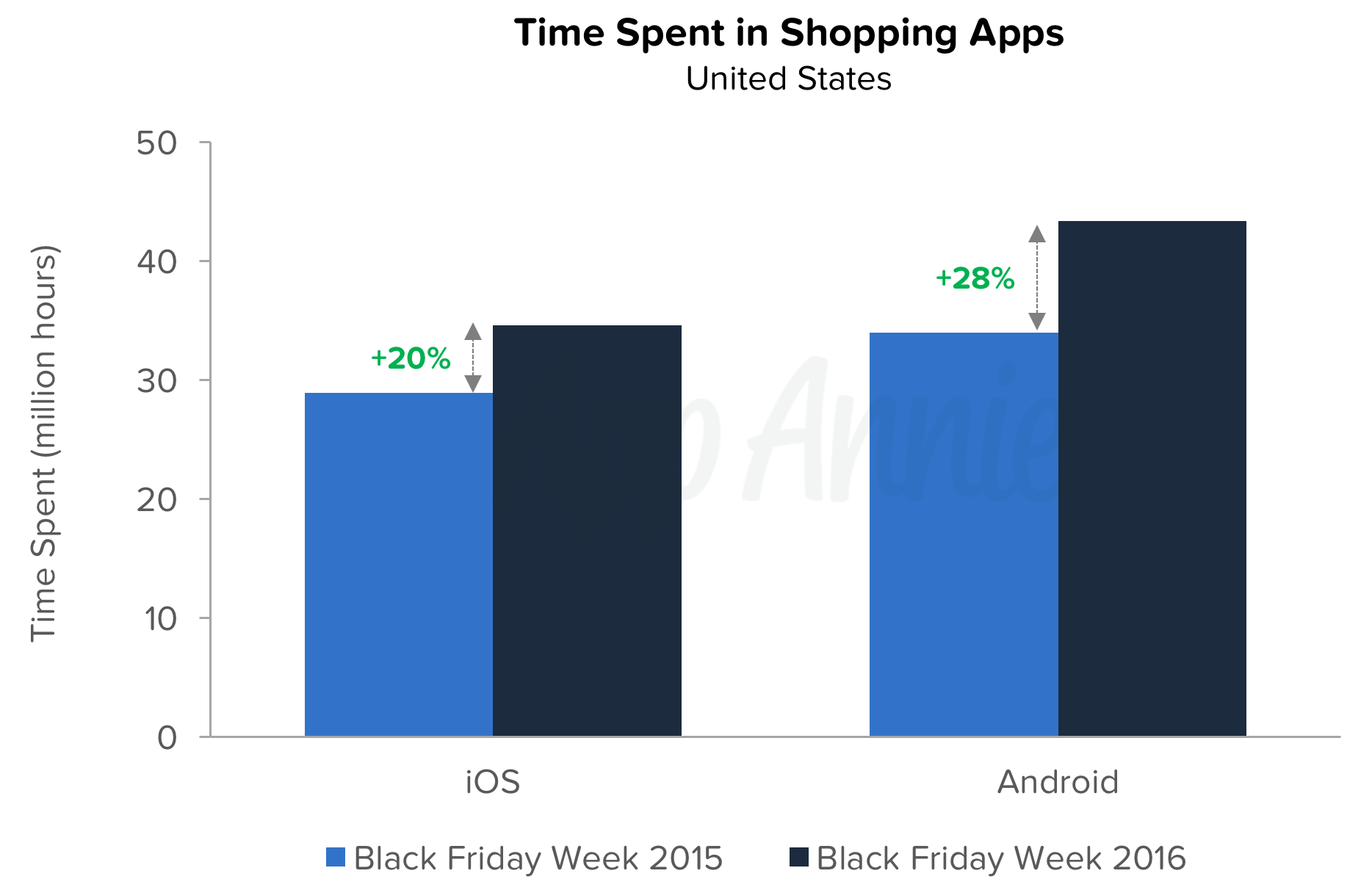 Time spent in shopping apps on iOS and Android grew by 20% and 28% year over year during the week of Black Friday.
iOS and Android users in the US spent a combined 80 million hours in shopping apps during the week of Black Friday 2016, up 24% year over year. Android held a larger share of time thanks to the size of its installed base relative to iOS. Despite a lower proportion of early adopters and tech-savvy users, time spent in shopping apps grew faster on Android. This suggests that more and more mainstream users are taking to mobile shopping as a way to avoid long lines and crowded stores.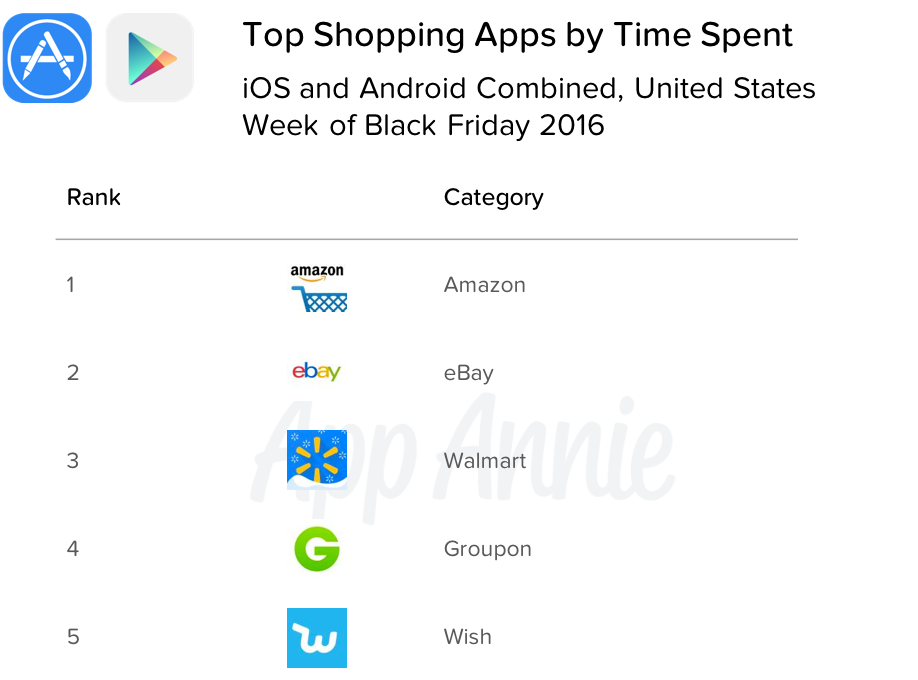 Amazon was the leading shopping app by a wide margin.
Unsurprisingly, Amazon was the leading shopping app on both iOS and Android during the week of Black Friday 2016, with users spending more than twice as much time in it as the next leading app. Despite its scale, Amazon still managed to increase its share of time spent in the shopping category year over year. Part of this was because of a significant jump in daily active users (DAU) in the run up to Black Friday.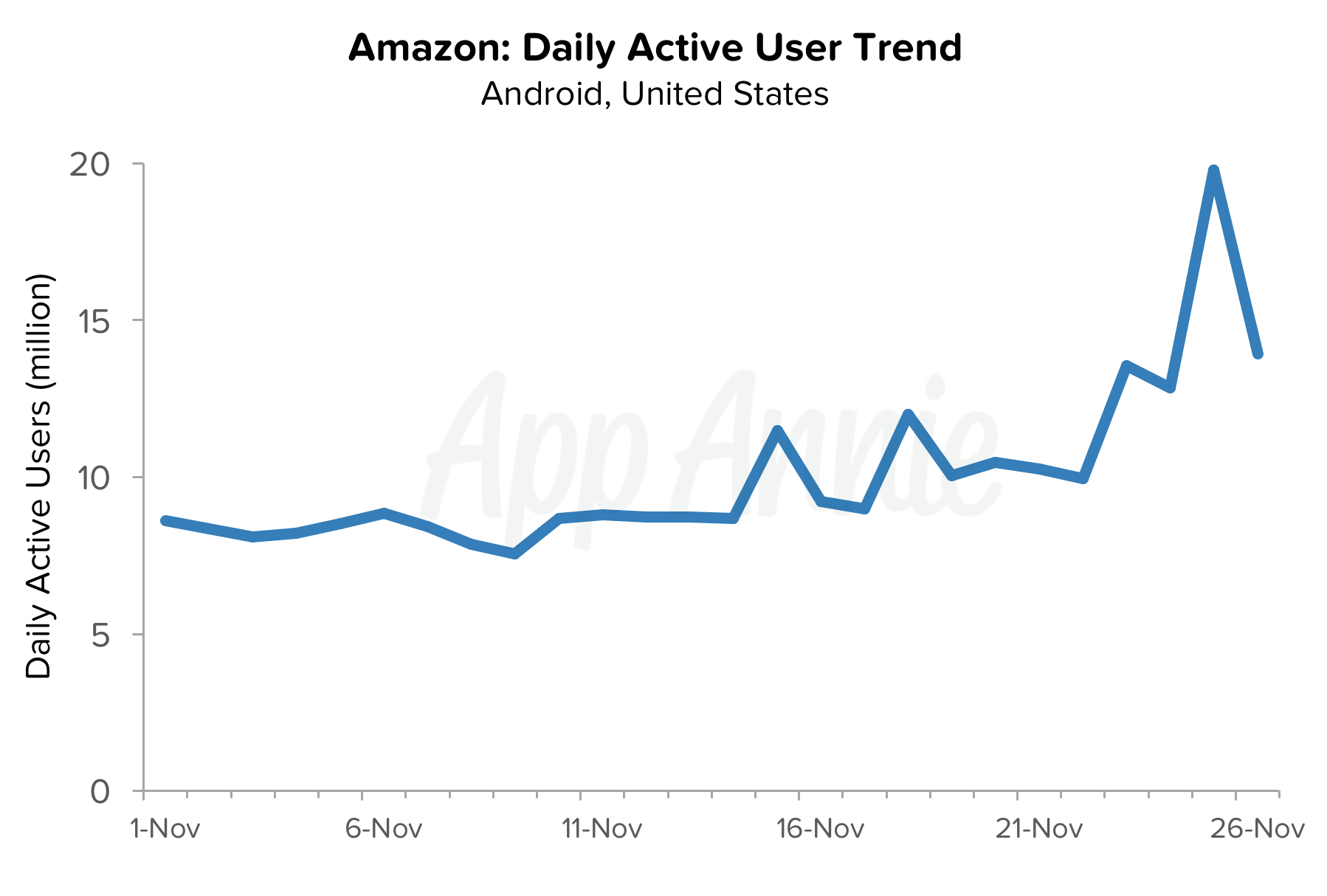 Amazon's daily active users continued to climb through the month of November and peaked on Black Friday.
Amazon itself was quite vocal about getting the word out about its Black Friday discounts to both new and existing users. We saw a spike in advertising activity for the Amazon app well before Black Friday, at the beginning of November, on both the iPhone and on Android phones. Leading up to Black Friday, Amazon's share of ad network impressions has grown over 15 ranks on Facebook (on Android phones) and over 100 ranks on Admob (on iPhone).
Of course, Amazon wasn't the only app that saw a surge in activity during this year's Black Friday. Among the top 10 apps by time spent*, Flipp, a couponing app, and letgo, a local marketplace, saw growth in excess of 400% year over year. This shows that the growth of shopping apps extends beyond mobile commerce. According to one survey, more than 70% of consumers have searched for coupons in-store using their mobile device. This clearly positions mobile as a key platform driving purchase decisions, even at the point of sale, with apps like Flipp are playing an important role. Of course, mobile introduces not just new opportunities but also potential competitors. The popularity of letgo during a shopping event shows that traditional retailers do not just compete with e-commerce giants like Amazon, but also the neighborhood (digital) garage sale. This new landscape presents numerous challenges, but it also gives retailers enormous opportunities to leverage app-driven convenience and spur in store sales.
Start Building Your Mobile Business
Subscribe to our weekly digest to see more app industry reports, conference updates and guides.
Want to take your app business to the next level? Track the performance of millions of apps across the world with download, revenue, demographic and usage estimates from App Annie Intelligence. Request a demo today.
Notes:
App Annie Intelligence is currently available for the iOS App Store and Google Play. It does not currently provide estimates for other app stores, such as the Amazon Appstore.
App Annie Usage Intelligence data for smartphones and tablets were derived from mobile usage data collected from a large sample of real-world users, combined with additional proprietary data sets.
Ad impressions rankings are available through App Annie Marketing Intelligence and are based on in-app install advertising estimates generated from creative impressions collected at scale across hundreds of thousands of publisher apps on a daily basis across the countries, devices, platforms and networks we support.
Ad impression rankings do not include any impressions from mobile web advertisements or beyond in-app install advertisements.
App Annie tracks usage at the device level using a privacy-protective hashed device ID. Data is only reported to third parties in aggregated format.
*For iOS and Android users in the US