South Korean mobile users lead the pack in terms of time spent in mobile apps, but everyone is bracing for Singles Day spend
As we head into the last, busy months of the biggest year in shopping on mobile, we're spotlighting key portions of the data to highlight the opportunity for mobile retailers.
In Retailers: Why Data Should Drive Your Mobile Strategy, we drilled down into various aspects of the boom in mobile retail and established that worldwide, shopping app downloads grew 20% year over year in H1 2017 across iOS and Google Play, and that the average Android user turns to shopping apps for more than half an hour each month. We also discovered that users turn to between two and four shopping apps per month (of the roughly 30 total apps they use per month).
But one of the most interesting things to emerge from our study of the data is that when it comes to mobile retail, there are dramatic differences among regions — and APAC is way ahead by a host of indicators. While mobile shopping is certainly healthy and growing in the Americas and Europe — Black Friday 2016 marked the first billion-dollar mobile shopping day, and in Germany, users spend an average of an hour and fifteen minutes per month shopping in apps — Asian markets are perhaps the best indicator of what's possible with mobile retail and where it's headed elsewhere. It makes sense given that the projected increases in time spent in mobile apps (which will surpass 3.5 trillion hours worldwide in 2021) are rooted in skyrocketing usage in APAC.
Here are a few particulars to be aware of when it comes to mobile retail in APAC:
South Korean retailers are embracing mobile with resounding success.
South Korea ranks #1 among selected countries for average monthly time spent in shopping apps, per user: just over 100 minutes per month. In H1 2017 in South Korea, bricks-and-clicks and digital-first apps saw 15% and 20% year over year growth respectively. Although some bricks-and-clicks apps are doing comparatively well, digital-first shopping apps are ahead, as is the case nearly everywhere: In South Korea they saw 2x the average monthly sessions per user than bricks-and-clicks apps in H1 2017. Still, as we've covered elsewhere, a few bricks-and-clicks retailers in South Korea have gone the distance to make sure that their apps complement the in-store experience. Hi-Mart, which ranks in the Top 5 Shopping apps on Android in South Korea and SSG.com are good examples.
Mobile retail is heating up in Southeast Asia, with Indonesia leading in terms of time spent shopping on mobile.
In Indonesia, which has a population of 261 million and a burgeoning middle class, users spend an average of just over 90 minutes per month, placing it at #2 after South Korea. In Southeast Asia overall, Lazada (of which Alibaba has an 83% stake) dominated in the six largest markets (Indonesia, Malaysia, the Philippines, Singapore, Thailand and Vietnam) in Q2, and its average MAU exceeded the next top shopping app by at least twice over the same period. Meanwhile, as we covered in another recent post on global retail, Amazon is setting its sights on Southeast Asia, starting with establishing a foothold in Singapore — as of now Amazon Prime Now ranks in the Top 10 shopping apps on Android there. (Interestingly, Wish, an American digital-first shopping app, currently ranks #1 in Singapore on Android, further proof that the market is heating up partly due to successful forays from western mobile retailers).
Australia demonstrates the gap between the performance of digital-first versus bricks-and-clicks.
One thing that we continually track is the comparative performance of digital-first shopping apps versus bricks-and-clicks apps. Generally speaking, digital-first shopping apps out-perform bricks-and-clicks apps, and in Australia, we saw evidence of this almost to the extreme: The country ranked #3 among selected countries for average monthly sessions in digital-first apps in H1 2017 (more than 30), but last among bricks-and-clicks apps. This is indicative of a worrisome disparity — bricks-and-clicks need to step it up in order to remain competitive. Indeed, if you look at the graphs below, you'll see that while digital-first apps in Australia made gains in terms of average monthly sessions from H1 2016 to H1 2017, those made by bricks-and clicks apps were marginal.
And, as is the case in Singapore, Wish is doing well, ranking in Australia in the Top 5 Shopping apps on both platforms.
And then there's China…
As we've noted elsewhere, the growth of mobile in China is driving both regional and global growth as the largest market in the world and one of the fastest growing middle classes embraces smartphones. When you talk about mobile retail in China, however, you have to talk about Singles Day, which has been transformative thanks to its appropriation by Alibaba: Singles Day sales have skyrocketed from a modest 52 million (USD $7.6 million) in 2009 to CNY 120.7 billion (USD $17.7 billion) seven years later. And just around the corner, we anticipate that Singles Day consumer spend on mobile will top CNY 150 billion (USD $22 billion).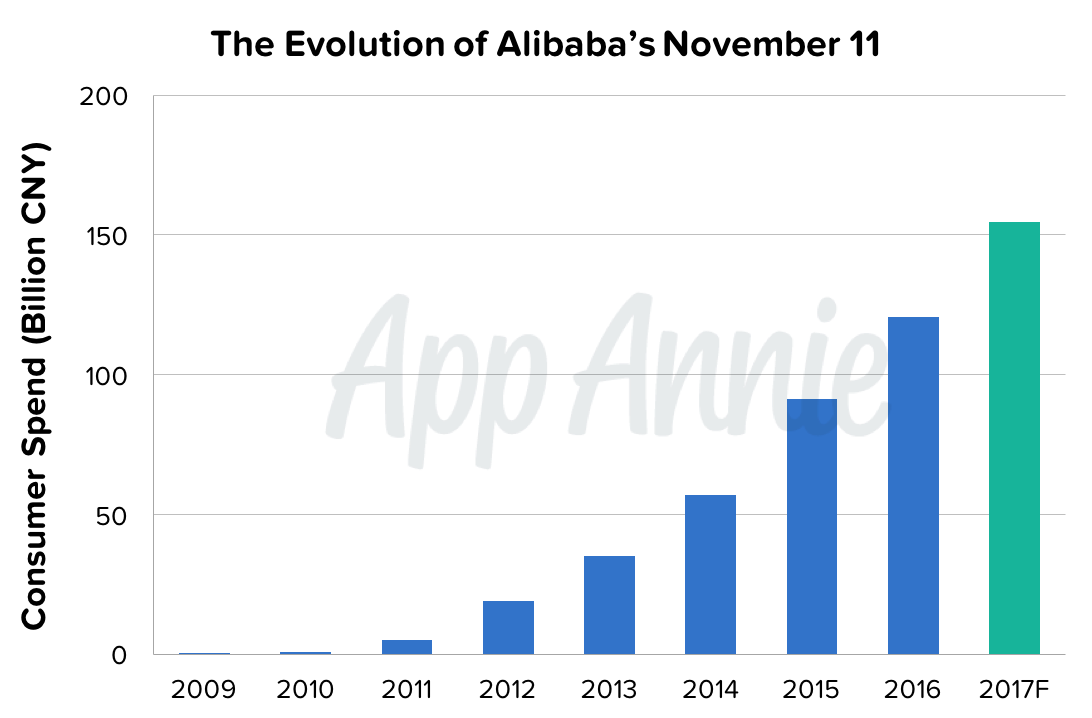 We'll be sure to follow up with more information on how Singles Day and other trends unfold in APAC's mobile retail scene, but in the meantime, download Retailers: Why Data Should Drive Your Mobile Strategy for more information on mobile retail around the world as well as best practices for app savvy retailers.
Fill out the form below, or log-in to download the report immediately.