data.ai's latest analysis shows BeReal – the latest social media frenzy – saw a surge in mobile app downloads worldwide in 2022 thanks to popularity among Gen Z
New Social App on the Scene: BeReal Takes the World by Storm
BeReal is the latest innovation in social media — with over 10 million lifetime downloads to date (May 10, 2022).  In Q1 2022 alone, BeReal saw 3.3 million downloads worldwide, up 390% from Q4 2021. Founded by a former GoPro employee, Alexis Barreyat, the French-based app was first released on iOS and Google Play stores in January 2020 and is focused on fostering 'real' connections, championing a return to simplicity and authenticity — which is similar to growing interest in TikTok among younger audiences as a counter to the perceived 'staged' and 'filtered' content on other platforms. In fact, BeReal is the very opposite of that, with its tagline in the iOS store shown as "Your friends for real. Not another social network."
According to data.ai's App IQ, the app falls under the Media Sharing Network subgenre within the Social Media genre, and ranks 4th by downloads in the US, the UK and France for Q1 2022 to date after Instagram, Snapchat and Pinterest. In fact, BeReal has ranked among the top 10 Social Networking apps everyday in France from January to April 2022, except for March 9. In the US, BeReal has reached a high of #2 in April 2022.
Follow along to see BeReal's daily rankings with a free data.ai account.
BeReal highlights a similar trend seen in the rise of live streaming — such as from TikTok, also an indicator of the shift towards authentic social connections. BeReal fosters a sense of scarcity and spontaneity by limiting the supply for engagement. Users can only take 1 photo per day at a random time each day, and the photo must be taken within 2 minutes of the app notification. A 'front' and 'back' photo will be taken and shared with friends, highlighting whatever your friends are doing at that moment whether it's something exhilarating or mundane — bringing back tech popularized by the Frontback Photo App 10 years ago.
BeReal Garners Widespread Global Traction — Fueled Initially by Interest From Its Home Market: France
The United States, Spain, and the United Kingdom saw surges in BeReal app downloads quarter-over-quarter in Q1 2022. See which markets saw the highest average monthly active users (MAU) in Q1 2022 in data.ai.
Within the first 2 years since launch, BeReal has primarily gained traction first among French users, making up 62% of its historical lifetime downloads worldwide. However, the app quickly caught on outside of its home market, with Q1 2022 quarter-over-quarter growth spurred by the US, the UK, Spain, Denmark, France, and Mexico. As of May 10, 2022, the US represents the largest market for cumulative downloads at 27% followed by France at 17% due to the surge in popularity in 2022 thus far. The app has also gained traction with a broader audience outside of its home market, especially among students at college campuses in the US as it quickly takes a foothold in their campus social life.
Unique Demographic Base: Skewing More Female and Often More Gen Z, But Country-Level Differences Emerge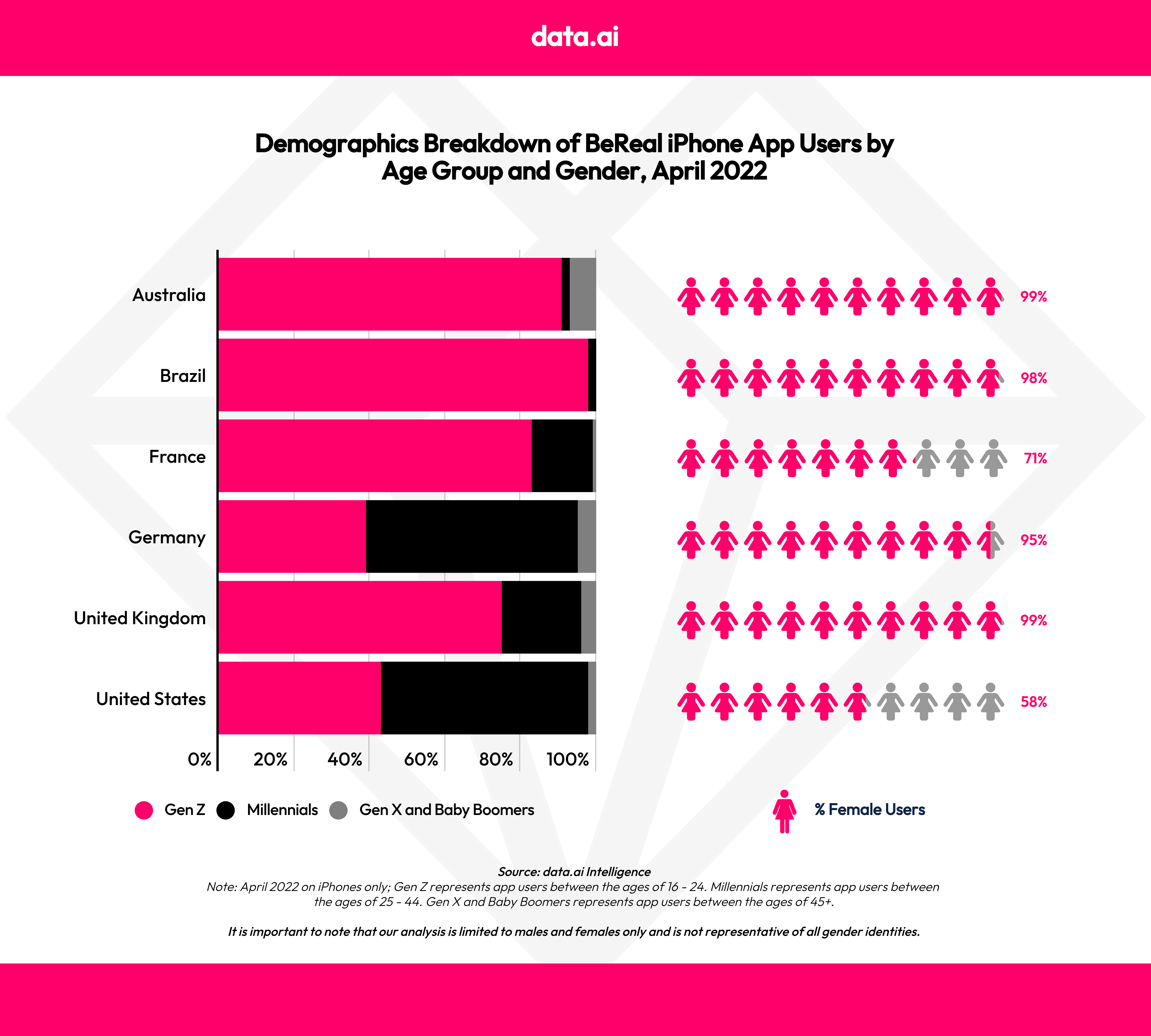 BeReal's iPhone app users skew more towards Gen Z females, although Germany and the United States bucked the trend with more Millennials using the app.
BeReal users skew heavily Gen Z across most regions, with Australia, Brazil, and France seeing over 80% of its iPhone user base aged 16-24 as of April 2022. In fact, the Gen Z population in France were 187% more likely to use BeReal's iPhone app compared to the general population. Germany and the United States bucked the trend, seeing more than half of their BeReal users coming from Millennials at 56% and 55% of the total, respectively. Although the app skews more female across most regions, the United States saw the highest percentage of male users at 42%, followed by France with 29% male users in April 2022 (it is important to note that our analysis is limited to males and females only and is not representative of all gender identities).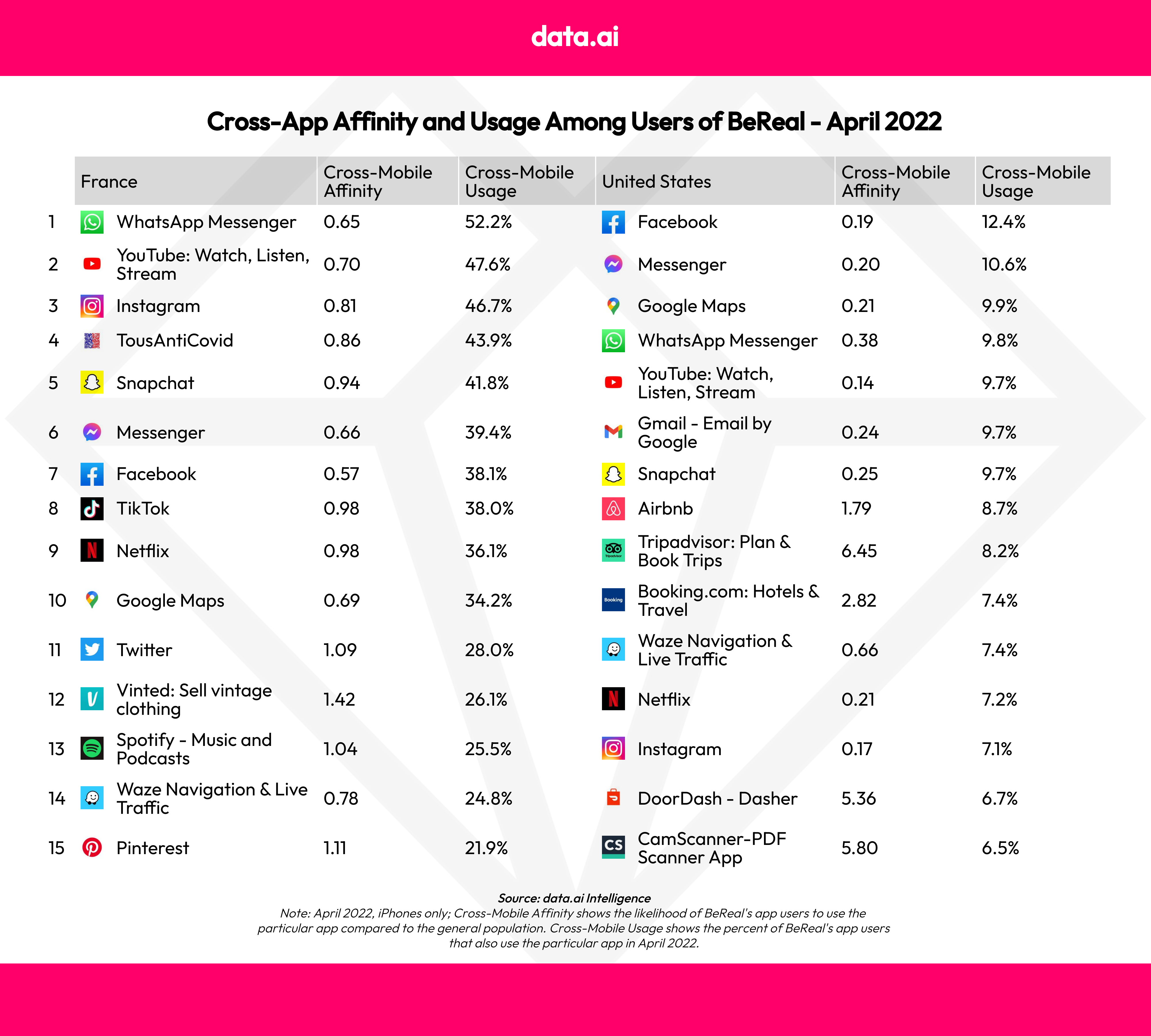 Compare BeReal's cross-app usage for France with its cross-app usage for the United States in data.ai.
According to data.ai's cross-app usage, we also see very different usage habits emerging based on geography. In France, we see BeReal users on iPhones tend to also use other social media apps like WhatsApp Messenger (52% of BeReal users also use WhatsApp), Instagram (48%), Snapchat (42%), Facebook (38%), TikTok (38%) and Twitter (28%), although they are less likely than the average person to use these apps. By contrast, in the US, only 12% of BeReal's users used Facebook, 10% for WhatsApp and Snapchat, 7% for Instagram, and 5% for Twitter and TikTok. We've seen that niche markets can be incredibly powerful — such as in the case of Anime gamers which contribute to 20% of spend in the global gaming market, but have a usage penetration of <3%.
As an app that is meant to be the very opposite of curated social media platforms, BeReal is a refreshing way for friends and family to keep in touch with each other on mobile with authenticity at the forefront, no matter where they are or what they are doing.
Looking for More Mobile Insights?
Sign up here to claim a copy of data.ai's industry-leading State of Mobile Report:
Looking to make more of the mobile opportunity? Talk to an expert today.
DISCLAIMER: 
data.ai is a mobile market estimate service provider. data.ai is not registered in any investment advisory capacity in any jurisdiction globally, and does not offer any legal, financial, investment or business advice. Nothing contained in this communication, or in any data.ai products, services, communications, or other offerings, should be construed as an offer, recommendation, or solicitation to buy or sell any security or investment, or to make any investment decisions. Any reference to past or potential performance is not, and should not, be construed as a recommendation or as a guarantee of any specific outcome. You should always consult your own professional legal, financial, investment and business advisors. Additionally, by providing the information herein, data.ai does not make any representations or warranties and does not undertake any legal or contractual obligations whatsoever. No liability may accrue to data.ai as a result of providing this information to you.