Banks and fintech startups are competing for market share worldwide. However, individual countries and their cultural preferences have complicated the battlelines.
Retail banking is undergoing a revolution: Citi found that 91% of mobile banking users prefer banking with their app rather than going to a physical branch. Bank of America estimated that customers conduct more than 98%of their transactions online or electronically.
For further reading on mobile's transformative role in banking in finance, download our State of Mobile 2019: Banking & Finance report:
This shift to mobile disrupted an industry where the ATM machine seemed to be the most innovative breakthrough for decades. But banks are being forced to adapt to new players on the fintech front, from cryptocurrency to lending startups to peer-to-peer payment platforms and more. Further complicating the landscape are specific cultural factors that impact how financial mobile apps are adopted and leveraged on a country-by-country basis. We recently explained the dynamics between emerging and maturing markets and their impact on apps, but when it comes to money, most countries have their own specific set of preferences that define how they bank.
Our 2019 State of the Mobile Report found that users in the United Kingdom checked their banking apps more than 7 times per week, which reflects the notion that London and the UK is considered an epicenter of fintech. Brazil, Canada, France and South Korea followed behind the UK. Japan, a fully mature mobile market, saw roughly one-third the amount of engagement of the UK. That's likely due to cultural factors — as Japanese banking apps largely offer wire transfers versus peer-to-peer payments, for instance. Users in Australia, where peer-to-peer payments within their primary banking app are a part of everyday life, checked their bank apps nearly 10 times per week on average.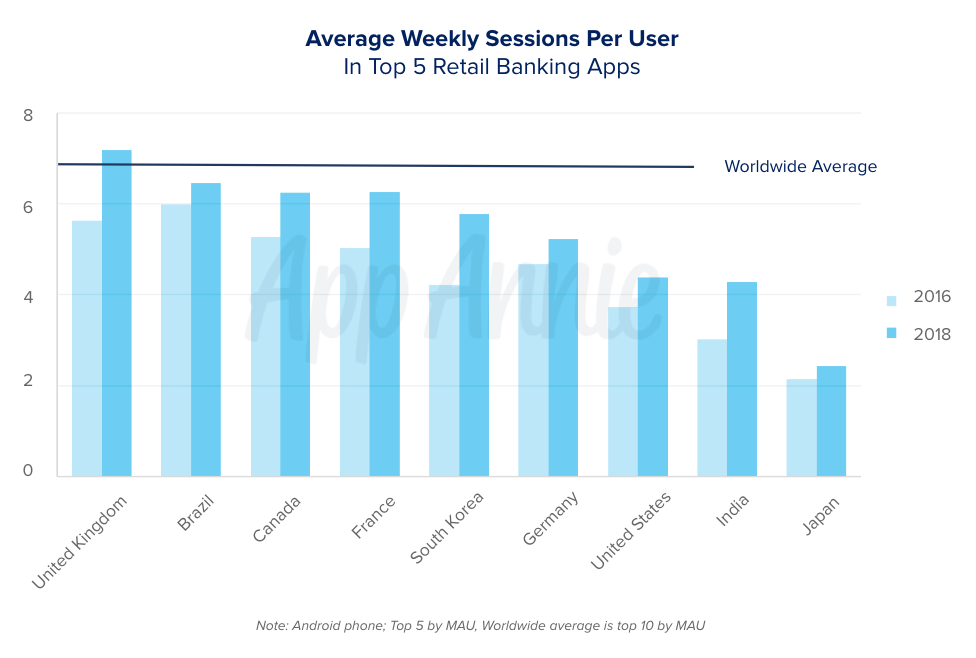 Newcomers have also carved out a role in smartphone users daily lives. The rise of peer-to-peer payment apps (Venmo, Paypal, Square's Cash App), lending apps (Lending Club Invest) and even investment apps (Robinhood, Acorns) threaten market share worldwide for traditional big banks. Accenture found that already these upstarts have captured one-third of new revenue globally.
The good news for traditional banks is that investing in mobile offers the industry a rare win-win: a good mobile app will create more frequent touchpoints with a customer, while simultaneously reducing the need for employees to staff brick and mortar branches. In fact, mobile is the cheapest transaction channel for banking, according to PwC. The average in-person branch transaction costs banks $4 while the average mobile transaction costs banks just 10 cents — a 98% savings increase.
Consumers' familiarity and trust with big banks may also pay long-term dividends — especially in a world with a growing risk of cyber attacks. In the US, one novel approach by established banks who were threatened by the likes of PayPal and Venmo was to launch their own mobile peer-to-peer payment service, Zelle, which brought together banking behemoths (and usual competitors) like Chase, Wells Fargo, Bank of America, and Citi. Part of Zelle's appeal is that the functionality is both incorporated into a bank's normal app as well as exists as a standalone app. Integrating into existing banking apps gives them access to a large existing user base.
Overall, the global growth of finance apps is strong: it has increased 75% since 2016 and is up to 3.4 billion downloads worldwide as of 2018. In 2019, we can expect to see the war between traditional banks and startups escalate when it comes to fighting for market share in the peer-to-peer payments, lending, point of sale and investment spaces. Who will come out on top remains to be seen — but one thing is clear: the winners will be those who win on mobile.
For more insights on mobile's transformation of banking and finance, download our State of Mobile 2019: Banking & Finance Report: