Apps are becoming increasingly integral to users' lives as they access almost 40 a month and spend three hours a day in apps.
Following the release of our 2017 Retrospective Report, the industry's largest and most trusted analysis of the state of the app economy, we'll be highlighting some key areas of the report in an ongoing series. In our previous posts we looked at consumer spend and downloads in app stores and now we'll turn our attention to user engagement.
Users aren't just downloading record numbers of apps, they're using them. In most markets analyzed, the average smartphone user has more than 80 apps on their phone and uses close to 40 of them each month. This roughly equates to between one-third and one-half of the apps on users' phones used each month on average.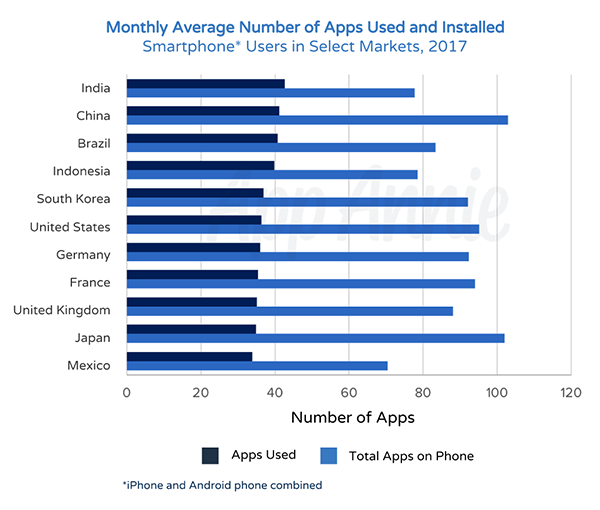 Looking closer at that usage, in 2017 consumers spent nearly three hours in app each day on average.
Drilling down further, the markets analyzed averaged nearly 30% growth in average daily time spent in apps vs 2015. Notably, higher use is emerging in mobile-first markets. Mobile is truly the first screen in these markets as many users have skipped the desktop generation entirely.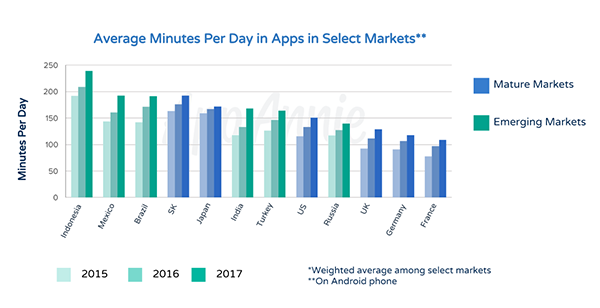 For publishers, it's important to note here that apps' share of consumer attention continues to grow and has become the most critical channel for customer interactions. This level of app engagement will result in more contact with customers, increased customer satisfaction and higher lifetime value (LTV).
This focus on user engagement is only a sliver of the total report. For much more, including in-depth analysis of the year's biggest apps and stories, download the App Annie 2017 Retrospective Report directly on the page by filling out the form below. Customers who log-in can download immediately.