App Annie is excited to announce the release of its newest report outlining the state of mobile video content distribution in Europe. This summer, we explored the top apps for connected devices, including those in entertainment and media, with Spotlight on Connected Devices: Welcome to Your Wired Life. In Apps and the Evolution of Video Content Distribution in Europe, we focus entirely on video content distribution service apps and how their rise is fundamentally changing how viewers consume content.
Video viewing on mobile devices is growing faster than the US, increasing over 130% from Q1 2013 to Q1 2014. Short-form video comprises the majority of views, however long-form is also popular among consumers: more than ⅓  of the videos watched on one's smartphone are more than 30 minutes long. For app executives looking to stay ahead of consumer viewing trends, this report will help them assess the competitive landscape before launching their own video content distribution app in the marketplace.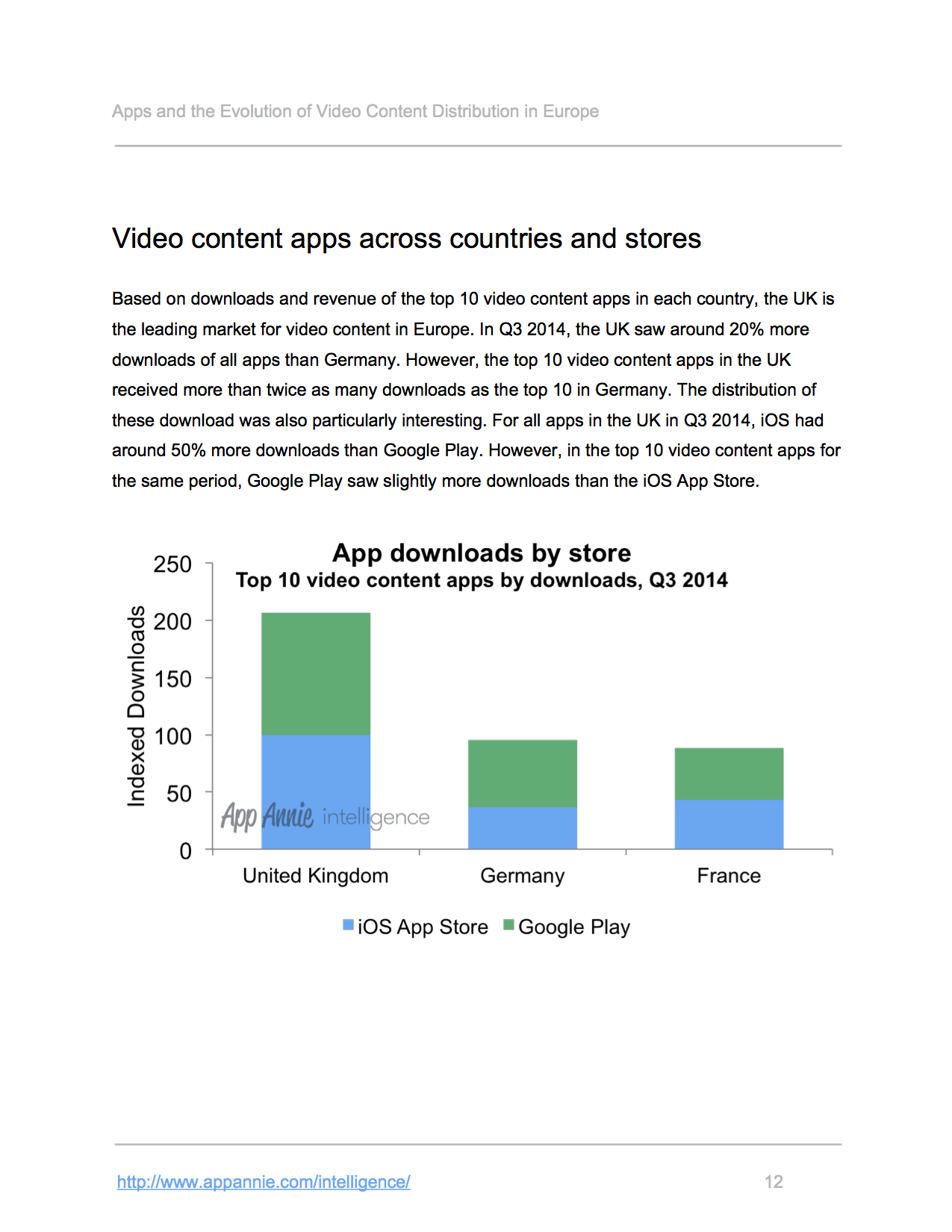 Discover which video content distribution apps are gaining traction in the largest European markets.
Below are some of the key takeaways from our free report:
Top 10 Video Content Distribution Apps for the Three Largest European Markets
App Annie provides custom-built rankings tables unveiling the top video-on-demand and live streaming apps in the UK, France and Germany.
Biggest Trends in Video Content Apps
Dissect the reasons behind why traditional pay TV providers have invested in mobile, and whether their goal is to increase viewer loyalty or to explore new revenue streams.
Monetization Opportunities on Google Play
Google Play currently represents only a small fraction of the revenue earned for video content apps, leading us to believe there might be a significant opportunity for publishers to monetize on this platform.
To gain access to the full 23-page report, click the download button below:
Want More? App Annie Has It
Subscribe to our blog to see more app industry reports, conference updates and product news. We love hearing from our readers, so share your questions and comments below or on Twitter.
Want to perform your own analysis? Create a free App Annie Store Stats account or request an Intelligence demo today.