The fourth-generation Apple TV ended long-running speculation and finally turned its streaming entertainment box into an app platform. In doing so, the company challenges a long legacy of attempts that has mostly eluded broad app store development. Amazon and Google both opened a door for native Android apps on the TV with their Fire TV and Android TV-powered Nexus Player products. However, while we are still in the early days of those products, Apple's history of building rich app ecosystems in challenging device environments bodes well for its new platform.
While the new Apple TV costs more than twice as much as its streaming-focused predecessor, it still featured prominently in many holiday shoppers' gift plans and has become the least expensive way for many to enter the Apple app ecosystem. With that in mind, App Annie looked at the top 100 free tvOS apps by downloads in Japan, the United Kingdom and the United States on Christmas Day. These insights come from the latest enhancement to App Annie's free product, Store Stats, which today added the tvOS store to its growing list of platforms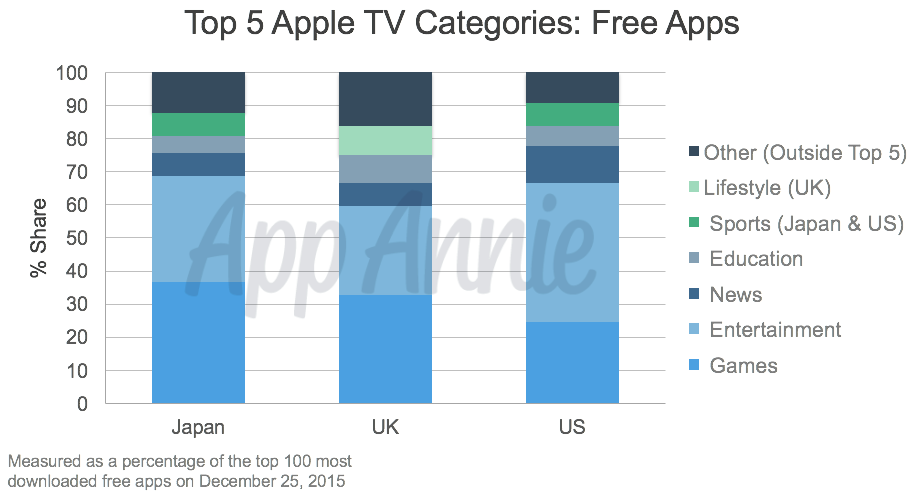 The top five categories comprising the 100 most downloaded free apps accounted for the overwhelming majority of free apps downloaded by Apple TV owners. Their collective share ranged from 84% (UK) to 91% (US). While the Apple Watch supports far more categories than Apple TV at this time, this represented a higher degree of category consolidation than we saw from the top five Apple Watch categories in December (57%).
In all three cases, Games and Entertainment accounted for a majority of the top 100 free apps by downloads, with the US being the only one where Entertainment apps outnumbered Games. Factors contributing to the disparity include the vast number of broadcasters and pay-TV providers serving the US and the relative ease of moving a video app to the tvOS platform. Stacking the deck with a cable distribution mentality, many of the early broadcast supporters of Apple TV (notably the major over-the-air networks such as ABC, NBC, CBS and Fox) have quickly added apps focusing on news or sports properties under similar branding.
Apple TV and the Three App Classes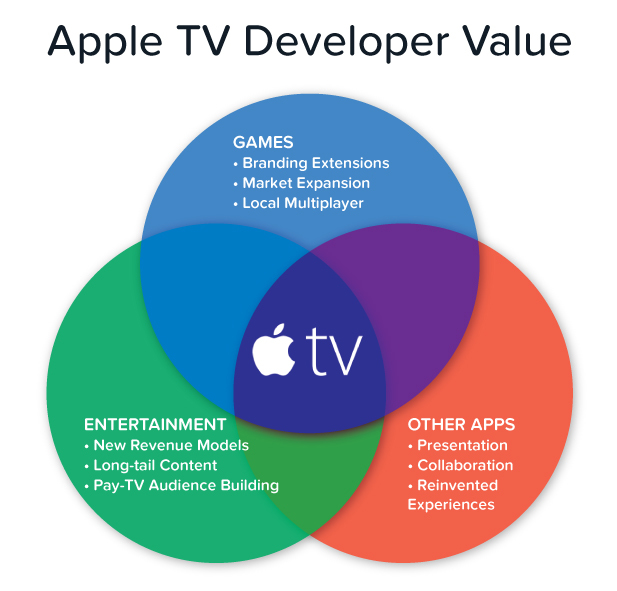 The new Apple TV presents different opportunities for different kinds of apps.
Entertainment apps. For advertising-based models focused on raw viewership, the higher price of the new Apple TV compared to its predecessors or competitors such as the Roku is a strike. However, video content providers won't want to abandon upgrading consumers, particularly when Apple TV can now accommodate new revenue streams such as subscriptions and in-app purchases. Indeed, HBO Now and Hulu have been among Apple TV's early top-grossing apps.
Games. The new Apple TV sits at the intersection of console gaming — characterized by advanced graphics and a shared experience — and mobile gaming — characterized by rapid development and touch-screen controls. Apple has been discreetly prepping developers for this opportunity, playing up high-quality graphics and the MFi program. With the company's more rapid revision cycle versus consoles, game developers will have to constantly re-evaluate the potential of the small box. But the early prevalence of games makes expanding to TV a natural progression for iOS game developers.
Other apps. Just as sophisticated desktop apps like Adobe Photoshop had to rethink their approach for the mobile age, popular mobile apps will need to tailor their experience for the TV. For example, the portrait-oriented Duet Game has had to adjust to the TV's permanent landscape orientation by pillarboxing the screen borders. Rather than recreate the microblogging environment on the TV, the Yahoo property Tumblr has experimented with a Tumblr TV app that mines the service's vast animated GIF repository for a more visual experience with mixed results. That said, we've seen apps such as Gilt on TV and Zillow demonstrate that tvOS can provide engaging shopping and reference experiences.
Category Share vs. iPad
Television itself has evolved in the years leading to the fourth-generation Apple TV as broadcasters, pay-TV providers and video-centric web properties have flocked to deliver video content to mobile devices such as tablets. Faster broadband, larger screen sizes and cord cutting laid the foundation for movies and TV shows on Apple's tablet. Indeed, prior to the release of the latest Apple TV, the iPad was Apple's de facto TV platform. Similarly, more powerful processors, revamped controls and new APIs such as Apple's Metal are now driving game expansion to Apple TV.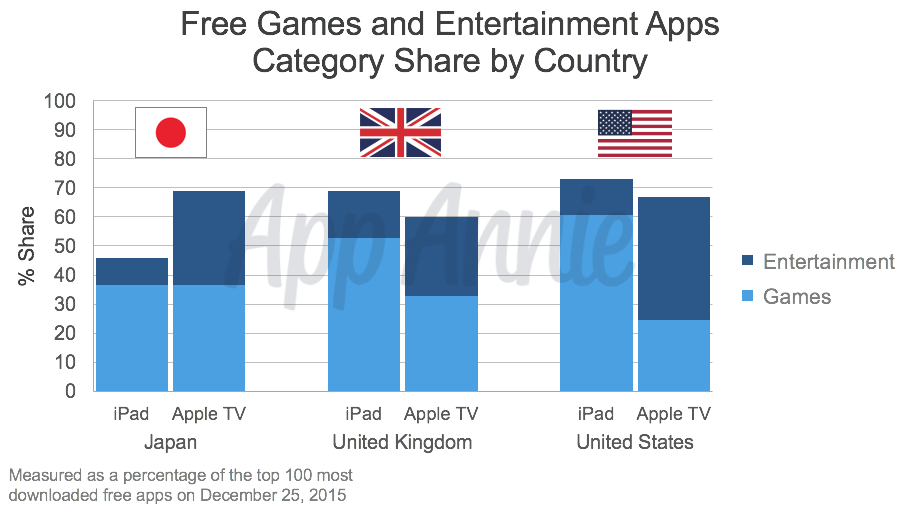 In Japan, the percentage of Apple TV games among the top 100 free apps by downloads has been consistent with what we've seen from the iPad. In contrast, in the UK and especially in the US, we've seen a broader disparity between free Games and free Entertainment share. As with Apple Watch, the share of Games should grow as more game developers build support. Not only have many of the most popular iOS games not yet made the jump, but a successful Apple TV would attract more or better crossovers of console titles.
That said, many well-known console crossovers would likely require an upfront purchase and the limitations of even the new Apple remote would all but require a controller purchase for many. The Guitar Hero Live controller bundle has been an early example in which game publisher Activision has straddled Apple TV and consoles.
In contrast, while Entertainment apps are sure to grow on Apple TV, they would be aimed at the iPad as well. This is not to say the two platforms are mirror images. Apple has sought to make Apple TV's control similar to that of its other products via its touchpad controller, However, the iPad remains a personal, portable device with a directly manipulated multi-touch display and a strong productivity story; television more often delivers a passive, shared experience. Indeed, the aggregate third-, fourth- and fifth-place categories of free iPad apps of Japan, the UK and US combined are Social Networking, Productivity and Utilities. None are particularly TV-friendly.
It is unreasonable to think that all new platforms will yield the diversity of apps of that we've seen on the generalist smartphone and tablet. TVs have proven particularly challenging. However, while Games and Entertainment have captured a majority of the Apple TV free catalog, the path for the tvOS app mix blends flexibility and focus. That a third of the top 100 free apps by downloads in the US represent emerging TV app categories provides early justification for Apple TV's platform transformation.
You can start exploring the performance of tvOS in Store Stats today. Not an App Annie user? Sign up for a free account for instant access.
| | |
| --- | --- |
| | Ross Rubin is Senior Director of Industry Analysis at App Annie. |
Notes:
The daily rank history charts are available to all users through App Annie's app tracker solution,

Store Stats

.
When publishers submit a tvOS app, they can select from the same set of category options as with iOS apps. However, Apple only showed a subset of these categories to users in the tvOS App Store during the time period covered in this post. These include: Overall, Games, Education, Entertainment, Health & Fitness, Kids, Lifestyle, News and Sports.
During the time period covered in this post, the tvOS App Store only offered users Top Charts for the Overall category. However, App Annie offers Top Chart rankings for each category Apple shows in the tvOS App Store. Apps featured in a particular category's section of the App Store may not necessarily rank in that particular category's corresponding Top Chart on App Annie.