If you want to maximize your app's revenue, then understanding how users interact with apps — both yours and your competitors' — is crucial. In the span of a year, we saw both app store and in-app advertising revenue grow a staggering 70%, and signs point to those numbers increasing even more. As a publisher, getting insight into users' behaviors (through metrics like app reach, engagement and retention) can be a key tool to forming your monetization, product and marketing strategies.
On the heels of Usage Intelligence's full release, we're excited to announce our first-ever report that delves into usage-level information, Insights Into App Engagement: Q1 2015. Inside you can see how users in some of mobile's key countries — including the United States, the United Kingdom, Germany, Japan and South Korea — are consuming apps. See the most addictive apps, "stickiest" categories and much more.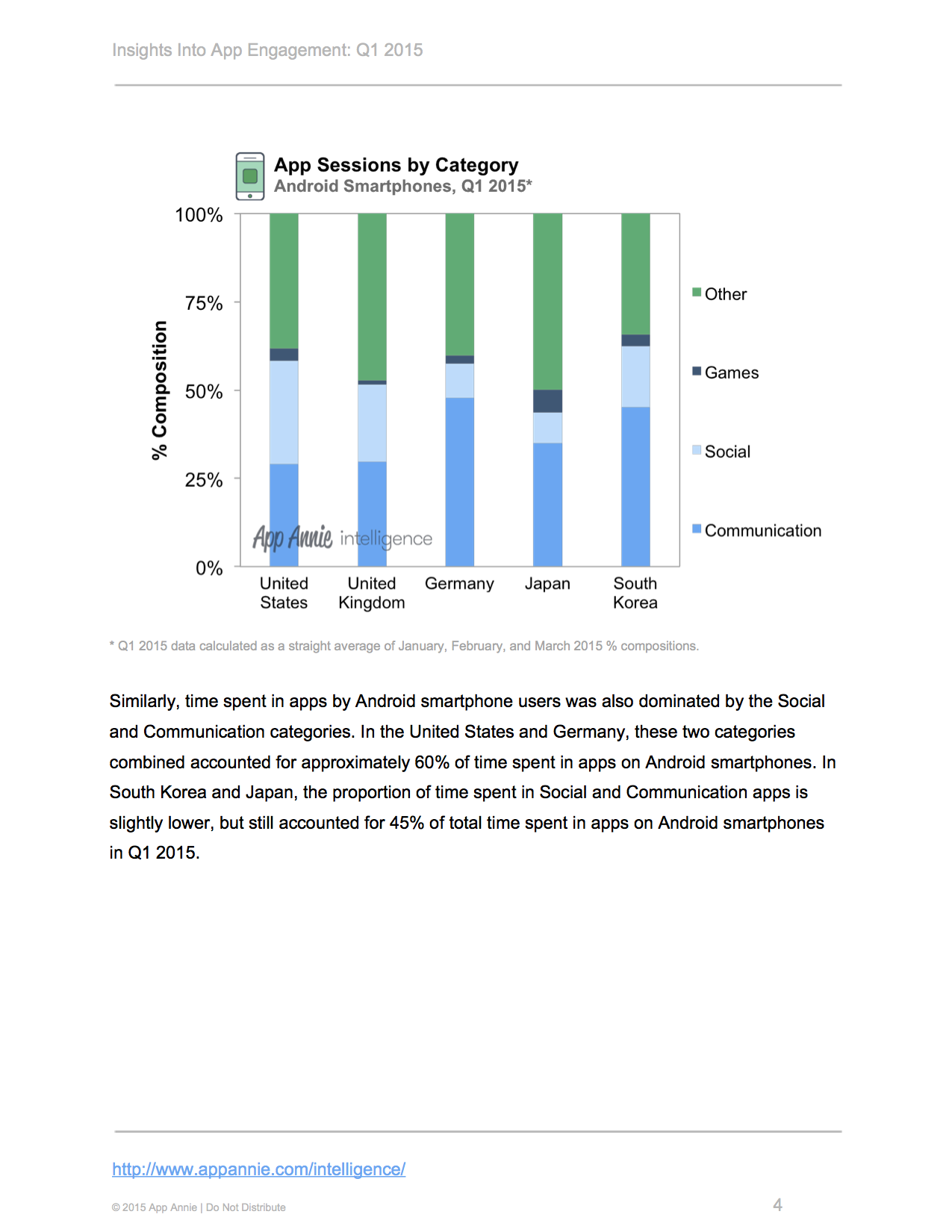 Across the board, users run Communication and Social apps on their Android smartphones the most.
Below is what you can learn from our free report:
Communication and Social Categories Dominate
In every key market within this report, apps in the Communication and Social categories accounted for at least 40% of Android smartphone sessions. It was a similar story when we looked at how users spent their time. Learn which apps are most popular in each country, plus other messaging-related insights.
Asia Loves Mobile Games
When it comes to who spends more time playing mobile games, it's no contest: Japanese and South Korean gamers dominate. But just how big is this gap, and how should you tap into this passion for social gaming?
Mobile Data Consumption Insights
Curious which country has the highest mobile data usage? How about which apps use the most data? Data consumption is ramping up, and this information can help you see which countries are okay to target for your data-heavy apps (and which countries require more data rate optimization).
To gain access to the full report, click the download button below:
Want More? App Annie Has It
Subscribe to our blog to see more app industry reports, conference updates and product news. We love hearing from our readers, so share your questions and comments below or on Twitter.
Want to perform your own analysis? Create a free Store Stats account or request an Intelligence demo today.