Read key takeaways about app store revenues including 2021 projects, the rise of Android and China's massive growth potential.
No matter how your business monetizes within the app economy, the app stores are where all revenue originates. App store revenue trends, in particular, are key indicators that right now the market only shows signs of accelerating. App store trends also shed light on patterns among platforms, regions and categories, and offer collective evidence of how quickly the app economy is becoming integral to the global economy.
Here are a few key takeaways about the app store revenues that we covered in detail in our recent forecast on the app economy.
In four years, consumer spend in app stores is forecast to reach $139 billion
In 2016, consumers around the world spent about $62 billion in app stores; by 2021, we expect that figure to have more than doubled to $139 billion. That number's based on a CAGR of 18% — a healthy growth rate by any standard. This growth is fueled by an incredible paradigm shift taking place globally: mobile apps increasing touch just about every bit of consumers' lives as they continually download, experiment with and become enamoured by new and evolving apps.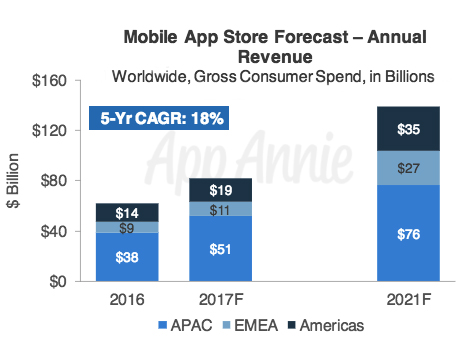 We're on the cusp of the Android tipping point
The iOS store is still the largest single store in terms of consumer spend, but when you compare platforms rather than stores, it's clear that iOS not going to dominate for much longer. We project that this year, Google Play plus third-party Android stores will overtake iOS in terms of consumer spend in the app stores, with iOS bringing in $40 billion and Android bringing in $41 billion. That trend will only continue: In 2021, the iOS store will still be very healthy with $60 billion in gross consumer spend, but collectively Google Play and third-party Android stores will bring in $78 billion.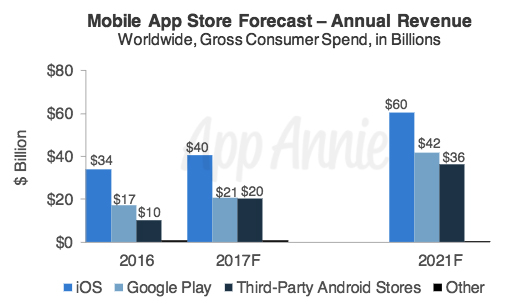 There's no ignoring China
The steady swelling of spend on Android is largely due to dramatic changes in the massive Chinese market, where lower-priced Android devices are popular with the burgeoning middle class. China drives much of the increase in consumer spend in app stores not just in APAC, but globally as well. We anticipate that by 2021, China will generate over $56 billion in app store spend — 40% of global annual revenue.
Non-gaming is growing, but gaming will still dominate
When it comes to consumer spend within the app stores, gaming will remain dominant in terms of monetization. We project that it will more than double from $50 billion in 2016 to $105 billion in 2021. This growth will be partly fueled by gaming downloads growing in India and other markets like China where Android adoption is moving at a brisk clip. But while non-gaming may seem to lag in terms of revenues generated, it's actually also seeing remarkable growth: non-gaming in app store spend will triple from $11.5 billion in 2016 to over $34 billion in 2021. There's evidence of this growth all around us: travel apps are booming, as are subscription apps like Netflix and Spotify, which in 2016 were among the top three apps globally across both platforms.
It's invigorating to see the incredible growth rate in the app store revenues. Looking ahead this year, keep an eye out for when Android revenues from the stores officially overtake those of iOS. Longer term, watch how China's market exerts a massive influence on the entire ecosystem, and don't get distracted by the seeming dominance of the gaming category, because non-gaming is also showing incredible growth in the stores.
Read our full report on the the exploding app economy, where you'll find information on growth of annual spend per user, forecasts covering in-app advertising and mobile commerce, and data on regional markets.