Emerging and maturing markets are shaping the future of the app economy.
Mobile apps are a daily constant. And their influence will only continue to grow. As mentioned in our App Market Forecast, we're projecting mobile app store revenue to exceed $139 billion in 2021, and downloads to top 352 billion. It's not just the major markets driving growth —  newer, emerging markets will help lead the way.
By 2021, several markets that today do not generate a significant number of downloads will rise to be one of the top five drivers. We're projecting that Indonesia, Brazil and India will join two of the top market leaders: China and the United States. These five countries will contribute 54% of all worldwide downloads.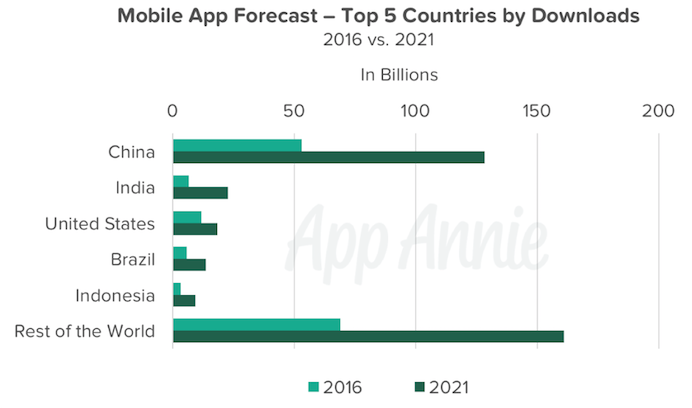 India is an especially interesting market to examine. A large uptake of smartphones in India will help contribute to the staggering growth the region will experience in just five years. The country is not yet at the point that it will contribute significant app store revenue, but is poised to grow at a rate of 75% annually — reaching $2.1 billion in 2021. The purchasing power in India is much lower than mature markets, which is rooted in the Indian cultural norms that lean toward saving versus discretionary spending on entertainment. The country harbors great potential for app publishers in the coming years, but gaming developers should keep alternative methods of monetization in mind, like advertising, in order to find success in this region.
China is expecting to maintain a steady growth at an annualized rate of 19%, with consumer spend growing 24% from 2016–2021. China is in a unique position where its purchasing power isn't as high as in mature markets, but still noticeably higher than other emerging regions. Additionally, consumers have a greater tendency to spend on entertainment — and more specifically — games. Chinese smartphone gamers skew to supporting local publishers, so those looking to enter their market should focus on thorough localization and local partnerships to bridge these Western cultural differences.
For more insights on the global scope of the app economy's maturation in the next five years, download our App Annie Forecast 2016–2021: