Power users spend a huge amount of time in apps daily as engagement across all groups continues to grow
Successful businesses typically rely on segmenting their audiences into user groups in order to identify the audiences that will move the needle for their business and then deliver just the right messaging and campaigns to the needs of each group. If you work in mobile, you've probably already identified 'power users' — those who spend hours per day on their smartphones — as key drivers of the app economy, and target them in your user acquisition or re-engagement campaigns. However, data from App Annie's recent report on consumer app usage reveals that users who spend the most time in apps aren't the only ones worth working to engage.
Here's what you need to know now about how much time Android users (a far larger group than iOS users globally) spend in apps in top countries around the world, and how those figures relate to marketing strategies.
In South Korea, Mexico, Japan, and India, power users spend over four hours per day in apps
We looked at the top nine countries in terms of total hours spent in apps on Android phones and found that in half of those countries ( South Korea, Mexico, Brazil, Japan, and India), the top 20% (meaning the most active users) spent over four hours per day in apps — that's the equivalent of half a standard workday.
Games rank #1 in terms of gross revenues in each of these countries across the board (on Google Play, not accounting for third-party Android stores). In South Korea, the RPG Lineage M leads, while in Mexico, Brazil, and India, Clash Royale tends to dominate. In Japan, RPG Fate/Grand Order is in the top slot. If you're going for power users on a global level, those are good countries to explore.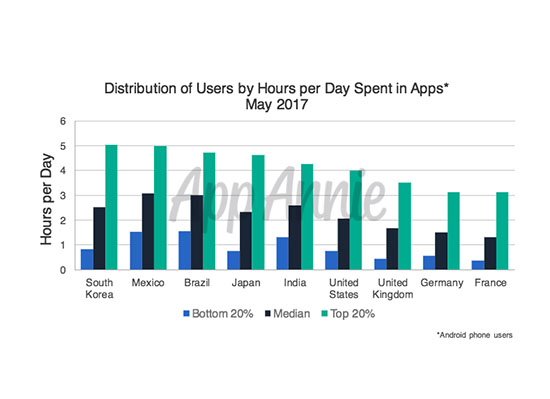 The emerging markets of Mexico, Brazil, and India had the highest time for users at the median and bottom 20 percent
In Mexico and Brazil, users at the median spent three hours per day in apps. In India, users at the median spent slightly less — a bit more than 2.5 hours per day. In all three countries, those at the bottom 20 percent still spent 1.5 hours per day in apps. This is hard evidence of what we know already: When a mobile market is "emerging," that doesn't mean it's inactive or significantly behind, or that it's not yet ripe with opportunity. An hour and a half to three hours per day in apps is still a lot of time that marketers can leverage to access valuable users — and they are figures that established markets tell us will only increase. If you're interested in capturing the attention of users who are likely headed in the direction of becoming power users, consider these emerging markets.
No matter where you market your app, it's worth thinking of the value users spend in apps in moments, not total hours
There will always be varying rates at which users engage with and rely on apps. After all, how a particular culture or user takes to using a smartphone is dependent on a host of complex factors. Still, as infrastructure improves, devices become less expensive, and smartphone adoption rates surge around the world, you have to keep the big picture in mind: smartphones transform how people spend their time.
Once people have smartphones, they use them, and they typically embrace a variety of apps, such as texting apps that simply improve communication but are useful all day long, banking apps that users sign in and out of for seconds to perform transactions, or RPGs or dating apps that are very specific in what they deliver and can absorb users for long stretches of time. No matter how much or how little time a given user spends on his or her smartphone in apps, they are often singularly focused when they are in those apps. If you're a marketer, every moment a user spends in-app counts as an opportunity in and of itself.
The countries that qualify as leaders in terms of time spent on Android phones are important to look at because they represent a wide range of markets, from well-established ones such as the United States, South Korea, and the United Kingdom, to those that qualify as "emerging" — Mexico, Brazil, and India. However, when you're studying time spent in apps in order to segment, note that when it comes to mobile, all time spent by all types of users in apps is valuable — not just the time spent by power users — because in-app marketing is so highly targeted. So when it comes to your mobile marketing efforts, don't neglect users who are at the median or below in terms of usage. Always keep in mind the power of targeting, even among less avid users, as well as the established pattern of users engaging with their smartphones more per day as they become more accustomed just how the devices can transform daily life.
Read our full report on consumer app usage for more information on variations among countries and categories.