See the drivers behind the growing monetization opportunity for app publishers.
Mobile apps are increasingly at the center of the digital economy. Communication, entertainment, shopping and productivity are several of the many consumer categories apps have begun to flourish. Consequently, the time consumers spend in apps has skyrocketed, and our forecast reveals things won't be slowing down. As the install base of smartphones and tablets continues to surge, publishers are honing in on app monetization opportunities, such as monetizing apps with ads and have ambitious goals of driving more downloads and revenue.
In order to fully capitalize on the app economy's exceptional growth, it is vital for digital strategists and app creators to peer into future market opportunities when planning for a variety of business scenarios, including product launches, performance goals, international expansion and portfolio management.
To help showcase the opportunities for publishers, we've published App Annie App Monetization Report: Publishers to Earn $189 Billion from Stores and Ads in 2020. Key insights include:
Combined worldwide in-app advertising and net-to-publisher app store revenue is forecast to grow by 2.7x — from $70 billion in 2015 to $189 billion in 2020.
Though games will continue to capture the majority of revenue, advertising will help apps (excluding games) increase their share through 2020.
In-app advertising and freemium will continue to dominate other business models and subscriptions will continue to be an increasingly important type of in-app purchase, as publishers continue to monetize apps with ads
The Americas, APAC and EMEA will experience significant revenue growth from 2015 to 2020, with China driving APAC's particularly strong growth.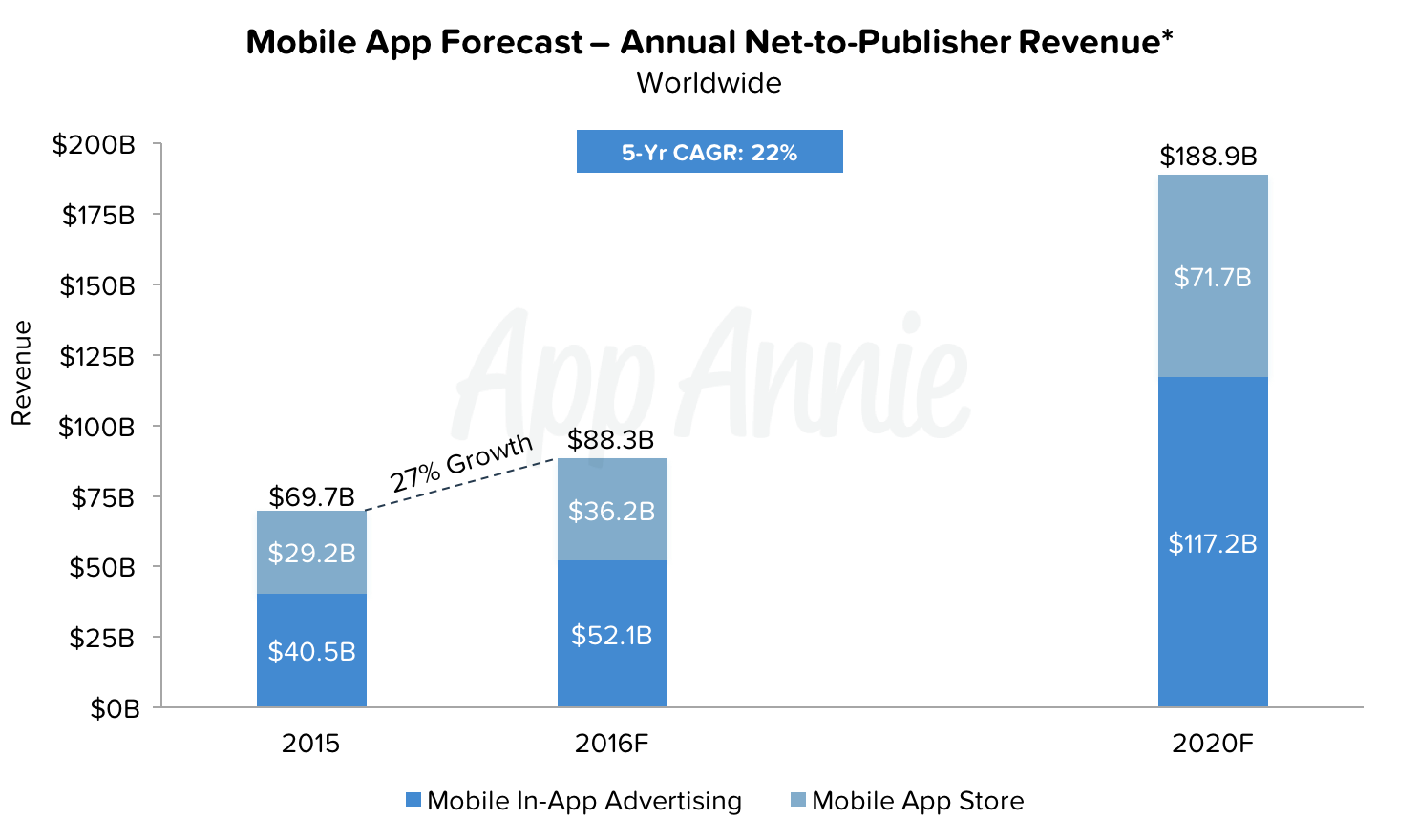 We arrived at our app monetization forecast using our industry-leading data, app market expertise and cutting-edge data science. This data provides marketers, CFOs, strategists, investors and other professionals with insights about where the app economy is going next so they can make sound decisions and investments.
Download our complimentary report to see into the future of the digital app economy and learn all the key app monetization insights. Gain the information you need to help position your app business to best take advantage of the growing revenue opportunity.
Build a Better App Business
Subscribe to our newsletter to see more app industry reports, conference updates and guides.
Want to take your app business to the next level? Create a free account to dive deeper into Store Stats or request an Intelligence demo.
Notes: In this report, App Annie shares its outlook and forecasts publishers' revenue to be earned via all mobile app stores and through in-app advertising. This report excludes mobile commerce revenue that occurs outside of app stores. The reader should note that consumer spend on apps via app stores and gross advertiser spend on in-app ads is significantly higher (to read our reports on gross app store revenue, please see our App Annie Mobile App Forecast and June forecast announcement).