Looking ahead to the year 2021, App Annie forecasts that the app economy will be worth trillions as users globally spend more time in apps, smartphone use booms in developing regions and robust in-app advertising and mobile commerce spend become core parts of daily mobile life.
The mobile app economy is undeniably booming. In fact, App Annie estimates that in 2016 the global app economy was worth $1.3 trillion across the three major types of monetization: all mobile app stores, in-app advertising and mobile commerce. That's the opportunity in play right now for businesses, but how big will that opportunity become?
In our latest report, we forecast that by the year 2021, the global app economy will expand an additional $5 trillion to reach an astounding $6.3 trillion in 2021. This growth will be driven primarily by two factors: a device user base that will nearly double and increased time spent in apps as mobile continues to play an increasingly integral part in daily life across the globe.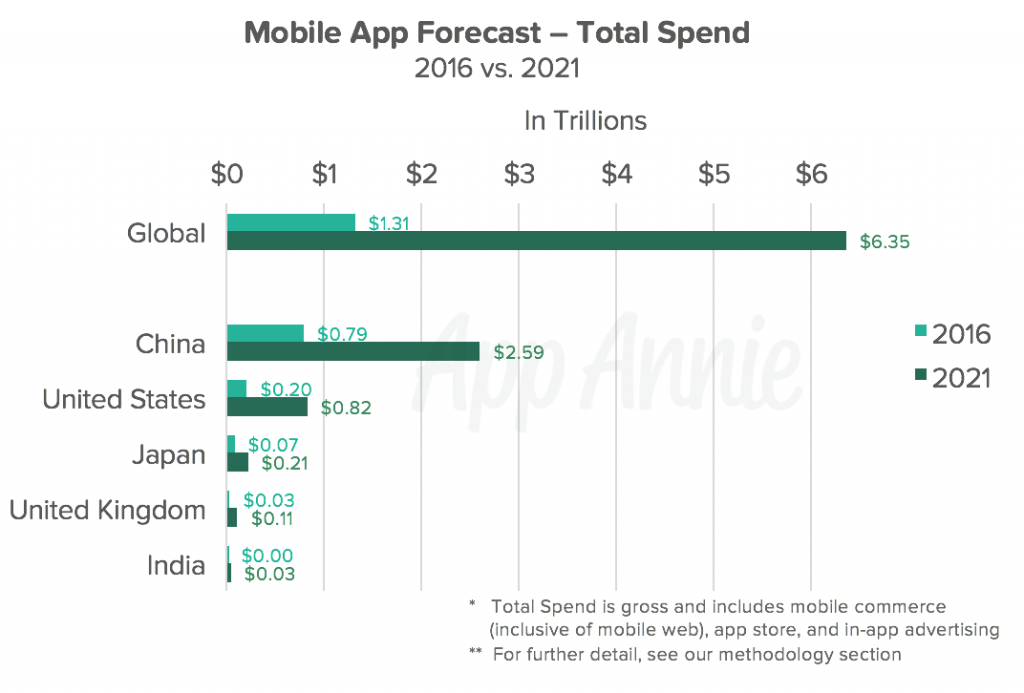 In addition, this report compares and contrasts forecasted spend among major regions, most notably delving into contrasts between the US and China, and takes a close look at different monetization channels including in-app advertising and mobile commerce.
Download now to learn:
Our projections for the app economy over the next five years

The size of the global mobile user base by 2021

The upcoming growth of spend in app stores, in-app advertising and mobile commerce
Interested in learning how many users download at least one app per month or spend four hours per day in apps? Take a look at our new App Usage Report.