We rounded out 2017 with yet another quarter of record-breaking growth as Apple and Google continue to battle for app store supremacy.
The app economy set records across the board in 2017, and that explosive growth was especially true at the end of the year as users rushed to the holiday season – fueling peak interest in Shopping, Entertainment and other apps. In fact, in Q4 2017, people downloaded more apps than ever before at nearly 27 billion across iOS and Google Play worldwide, a growth of 7% year over year. Furthermore, apps are delivering more value to users than ever before as consumer spend across iOS and Google Play reached new heights surpassing $17 billion worldwide in Q4 2017, 20% growth year over year.
Google Play's Download Lead Was Largest Ever
In Q4 2017, worldwide downloads on Google Play exceeded 19 billion, its highest quarter ever, widening its lead over the iOS App Store to 145%. This number is particularly notable as it includes only new downloads and does not count re-installs or app updates.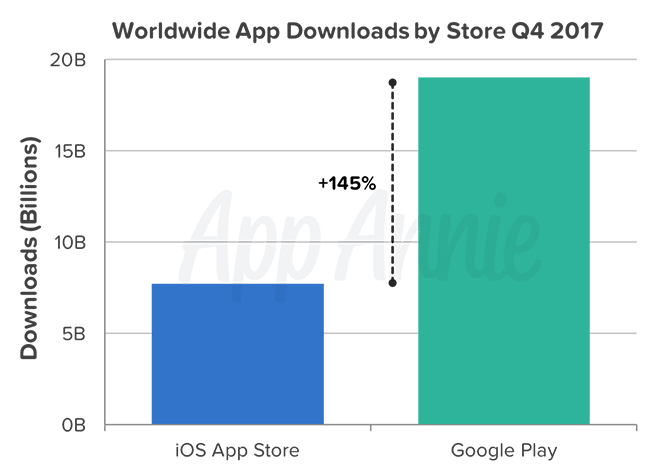 Not surprisingly, emerging markets were a large driver of Google Play's 10% year-over-year growth in total downloads. Specifically, India, Indonesia and Brazil were the top three countries for year-over-year market share growth. In fact, strong levels of Google Play downloads in India during Q4 helped India surpass the US for combined iOS and Google Play downloads in 2017.
Globally, Games, Finance and Personalization led on Google Play for year-over-year category share growth in Q4 2017. Finance also ranked second on iOS in Q4 2017, pointing to the larger industry trend of consumers migrating their banking and investment activities to apps, as well as the booming interest in cryptocurrency. We expect Finance apps to maintain its strong momentum in Q1 2018, fueled by tax season in the US and banks' continued investment in mobile as a primary channel.
On iOS, Shopping led in Q4 2017 with the strongest year-over-year category share growth.This is in-line with the m-commerce records set during Alibaba's Singles Day and Cyber Monday in November and further demonstrates that mobile is increasingly becoming the primary channel for a customer-centric retail strategy.
iOS App Store Consumer Spend Hits Record Levels
Both iOS and Google Play saw 20% year-over-year growth in worldwide consumer spend in Q4 2017. In particular, iOS accounted for $11.5 billion of worldwide consumer spend in Q4 2017 and maintained its nearly 2x lead over Google Play.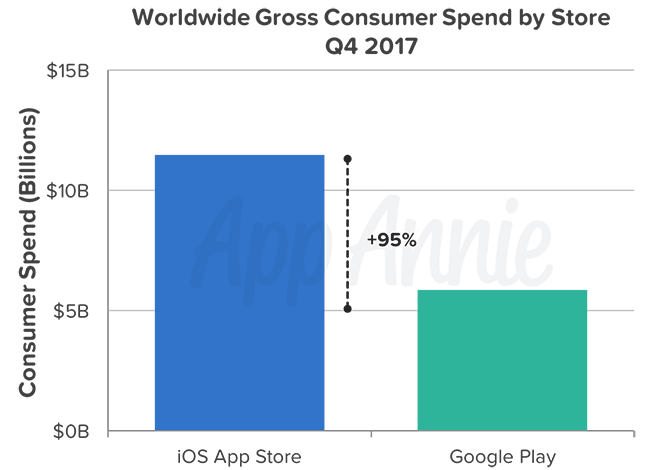 The US had the strongest year-over-year growth in consumer spend market share on both iOS and Google Play in Q4 2017. In addition, Germany was the #3 country on both app stores. The app stores diverged on the #2 country with Taiwan ranking for iOS and South Korea for Google Play. This comes as no surprise given South Korea's Android dominance from homegrown companies like Samsung.
As we highlighted in our 2017 Retrospective, worldwide consumer spend on Entertainment apps across iOS and Google Play grew more than 4x from 2015 to 2017, driven largely by in-app subscriptions in video streaming apps. This was evident in Q4 2017 as Entertainment led year-over-year category share growth for consumer spend on iOS. In-app subscriptions also fueled consumer spend on Google Play, particularly for Productivity apps. In Q4 2017, Productivity led Google Play for year-over-year category share growth. A significant portion of this growth was due to Google Drive's introduction of in-app subscriptions for storage.
Q4 2017 saw new records for the app economy which significantly contributed to a monumental 2017. Download our 2017 Retrospective, the industry's largest and most trusted analysis of the state of the app economy, to unlock essential insights and data on video streaming, cryptocurrency and third-party Android stores in China: