App Annie, in partnership with MEF, is excited to announce the release of its inaugural App Annie & MEF Global App Economy report, focusing on market-level app store growth for iOS and Google Play. Thanks to this partnership, we were able to take a close look at the countries shaping the app economy's future, illustrated with a variety of charts. This report also provides a sneak peek of the top trends in September's App Annie Index for Games and Apps.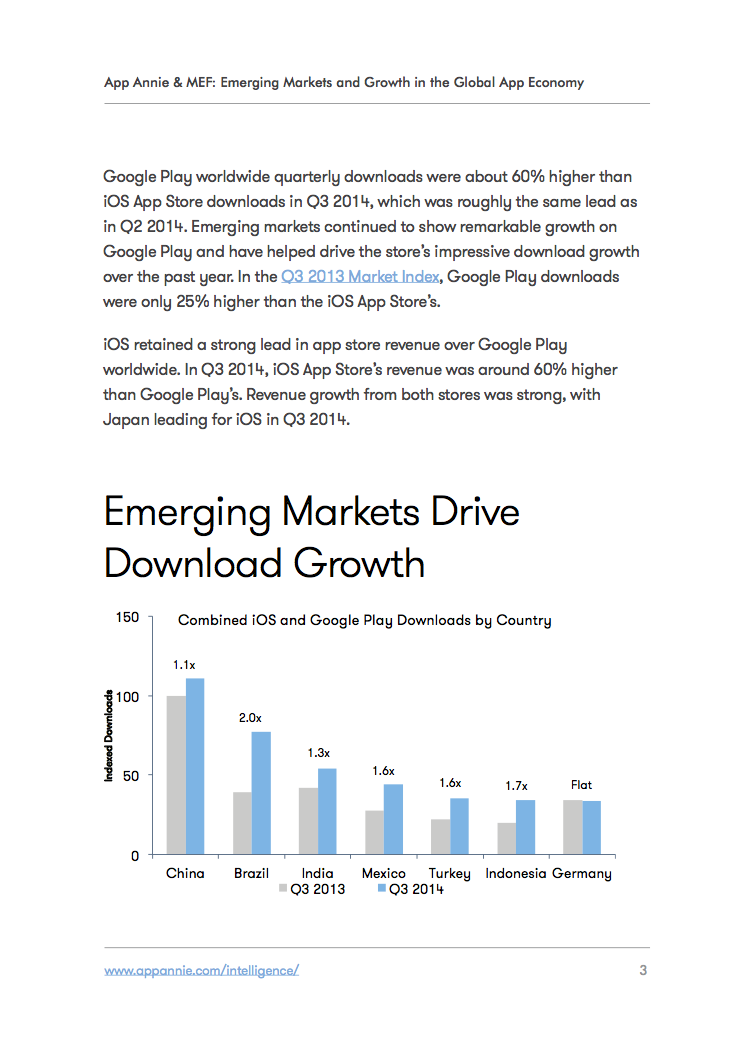 Emerging markets are growing quickly: Brazil exhibited impressive country-level download growth, as did Indonesia, Turkey and Mexico.
Below are some of the key takeaways from our free report:
Emerging Markets Drive Download Growth
If you're looking for high-growth countries, look at emerging markets. Some countries that weren't even a blip on the radar a year ago are growing at breakneck speeds. Our report highlights which countries are becoming huge -- and why.
Established Markets See Revenue Soaring
When it comes to monetization, established markets with widespread smartphone adoption and users familiar with paying for apps are the clear leaders. See which countries are topping earnings growth and which may be revenue leaders tomorrow.
Implications for App Developers
Learn why monitoring these country-level trends are crucial for app developers and publishers.
To gain access to the full 13-page report, click the download button below:

The MEF Global Forum

MEF Global Forum 2014 returns to Silicon Valley on November 17-19, bringing together international leaders from mobile's most influential companies along with emerging stars at the forefront of the global mobile ecosystem. Taking place over 3 days, it delivers a uniquely international perspective with a 60+ speaker lineup and representatives from 30 countries.
The program focuses on international mobile trends and innovation with expert keynotes, start-up pitches and dedicated regional tracks on Asia, EMEA and LTAM. #MEFGF14 also features the Meffys Awards Gala Dinner celebrating the last 12 months of success and innovation, as well as a pre-conference Pitch & Match session to schedule 1-on-1 meetings with international delegates.
All #MEFGF14 delegates will receive a copy of the joint MEF / App Annie report on Emerging Markets and Growth in the Global App Economy, and the findings will be discussed as part of the Global Day's App Economy session. Register now.
Want More? App Annie Has It
Subscribe to our blog to see more app industry reports, conference updates and product news. We love hearing from our readers, so share your questions and comments below or on Twitter.
Want to perform your own analysis? Create a free App Annie Store Stats account or request an Intelligence demo today.