App Annie, in partnership with Kantar Retail, is excited to announce the release of its newest report exploring the state of retail mobile apps in the United Kingdom. This free report looks at how retail mobile apps and technology are reshaping the UK's retail industry, along with emerging trends and opportunities. For insights into France and Germany's retail apps, see the other reports in this series.
Mobile users in Europe are increasingly turning to apps to do their shopping. In fact, mobile devices now account for around a quarter of total online retail sales in the UK and raked in £8 billion [!usd!] in sales during this Christmas alone. Mobile is a crucial area of focus for both retail giants and new entrants. Learn about the challenges and opportunities ahead in the UK in our latest report.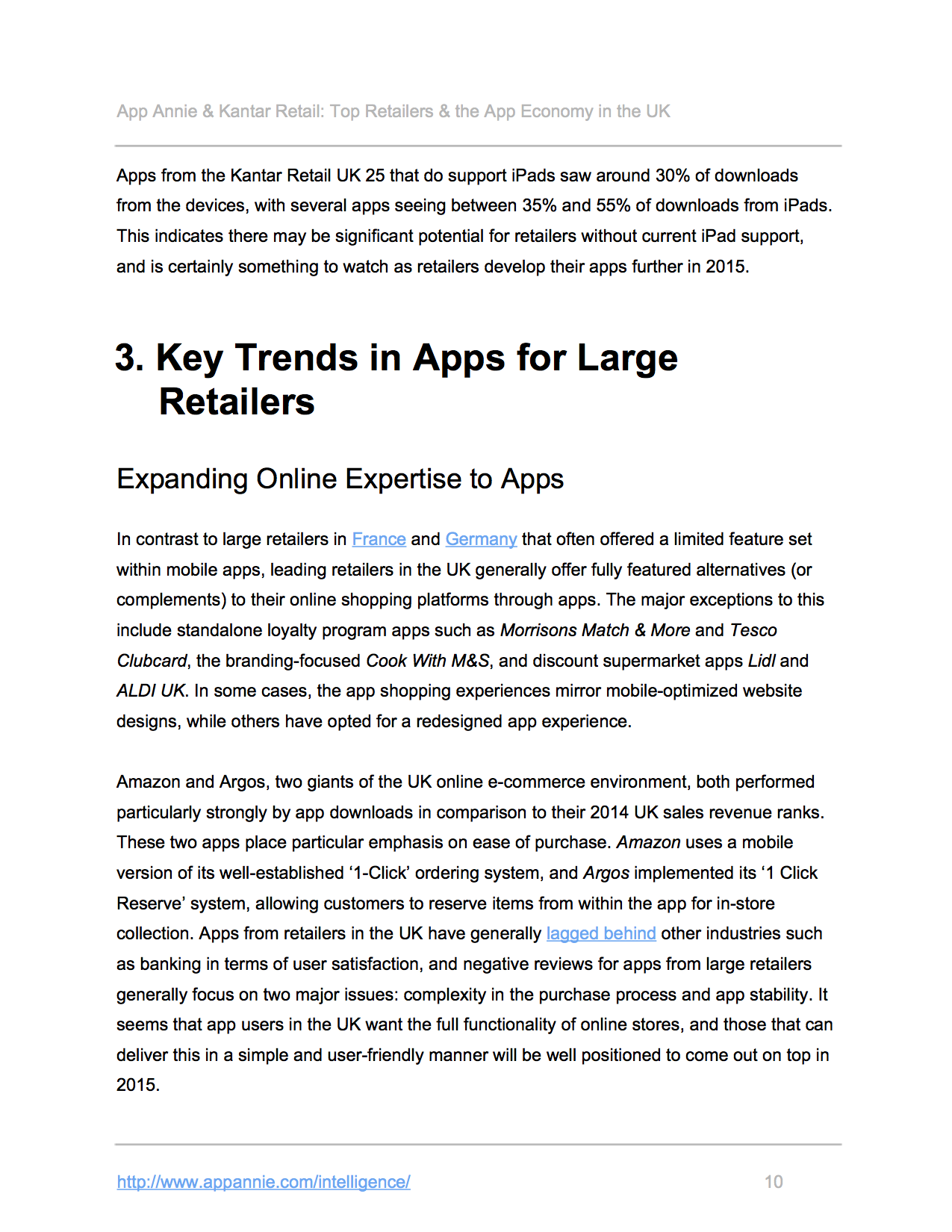 Learn about the key trends for retail apps for large retailers, such as click-and-collect, omni-channel experiences, personalization and more.
Below are some of the key takeaways from our free report:
The Top 25 Retailers & Apps From Retailers in the UK
App Annie and Kantar Retail's custom-built rankings tables unveiling the UK's top retailers and apps.
The Need for Omni-Channel Strategies
Learn why apps are key for an omni-channel strategy, what today's European consumer expects during their shopping experience, and which retailers are successfully adapting to the changing marketplace.
The Future of Apps and In-Store Shopping
Don't abandon your physical store just yet. We explore emerging technologies that blend the digital and physical world together through apps, a potential role for bluetooth in the shopping experience, and potential rise of mobile payments.
To gain access to the full 18-page report, click the download button below:
Want More? App Annie Has It
Subscribe to our blog to see more app industry reports, conference updates and product news. We love hearing from our readers, so share your questions and comments below or on Twitter.
Want to perform your own analysis? Create a free Store Stats account or request an Intelligence demo today.