App Annie, in partnership with Kantar Retail, is excited to announce the release of its newest report exploring the state of retail mobile apps in Germany. Our last report with Kantar Retail looked at the state of retail apps in France. This time we turn our eyes to Germany in our first-ever App Annie & Kantar Retail: Top Retailers & The App Economy in Germany report, where we once again investigate how retail mobile apps and technology are reshaping the retail industry.
The European online retail market is expected to hit $212.8 billion in 2014, and mobile is taking more of the online retail market pie. Germany alone accounts for 27% of all online retail transactions in Europe, and has proven itself to be one of the most popular global retail markets. This report will be essential for retailers — traditional and modern alike — launching or expanding their apps into Germany's app stores.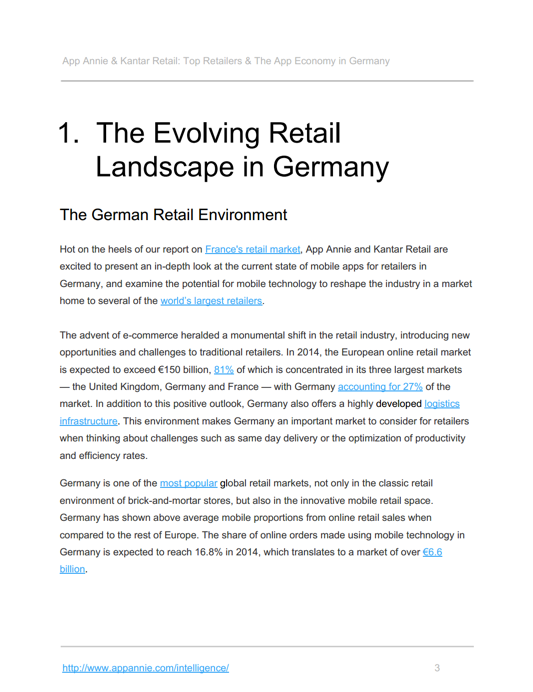 Our ongoing partnership with Kantar Retail gives us an in-depth look into Germany's retail market.
Below are some of the key takeaways from our free report:
Top 25 Retailers & Apps From Top Retailers in Germany
App Annie and Kantar Retail's custom-built rankings tables unveiling Germany's top retailers and apps.
Primary Feature Sets of Retail Apps in Germany
Learn about the features retail shoppers care about most in Germany and see how market leaders are leveraging these features to capture a spot on shoppers' smartphones.
Mobile Opportunities and Challenges for Retailers in Germany
Germany has a unique app store ecosystem, and mobile users have certain expectations about what an ideal app should have. We outline what we expect to be the 'next big app,' plus missing features that could serve as big opportunities for apps aimed at German shoppers.
To gain access to the full 25-page report, click the download button below:


Want More? App Annie Has It
Subscribe to our blog to see more app industry reports, conference updates and product news. We love hearing from our readers, so share your questions and comments below or on Twitter.
Want to perform your own analysis? Create a free App Annie Store Stats account or request an Intelligence demo today.