Welcome to the App Annie & Internet Retailer Index, where we bring you the hottest mobile apps in the retail category across the iOS App Store and Google Play. This report highlights key trends that are currently shaping the state of mobile apps in the United States retail industry. To find out what's hot in games and other types of apps, please check out App Annie's April 2014 Index for Games and Index for Apps.
Notes:
- Retail apps were identified by App Annie from the iOS Lifestyle category and the Google Play Lifestyle and Shopping categories, and limited to those published by companies listed in The Internet Retailer 2014 Mobile 500.
- The Company column reflects the app publisher's parent company; for example, Zappos is reported under its parent company Amazon, rather than its direct publisher Zappos.
- iPhone and iPad App Availability columns indicate whether the app has been optimized specifically for that device.
TABLE OF CONTENTS


1. The Technology Behind the Index
The information contained in this report was compiled from App Annie Intelligence, the leading market data solution for the app store economy. To see how our app store download and revenue estimates can help guide your critical business decisions, take the tour or request a demo today.
---

---
2. Mobile Commerce Nears a Tipping Point
For the retail industry, having an effective online presence has gone from a luxury to a necessity. Thousands of retailers, including many iconic American brands, collapsed because they failed to keep up with a market that shifted spending online. Other more agile retailers were able to adapt to rapid changes in consumer behavior, and to competitive pressure from e-commerce giants such as Amazon.
Although it seems retailers have barely had a chance to catch their breath, the industry is shifting again. Mobile commerce is growing exponentially as smartphone and tablet penetration skyrockets. Revenue from US smartphone commerce is forecasted by Forrester Research to increase from $16 billion to $46 billion from 2013 to 2018. The forecast for tablet commerce is even more dramatic -- a fivefold increase from $34 billion to $176 billion.
Today's consumers are always connected and expect to access content on their own terms, whether at home, at work or on the go. Retail apps, when well-designed and leveraged effectively, can be influential at all points of the shopping experience -- from awareness and engagement to purchase and retention. Mobile has fundamentally changed the way people shop, and once again, retailers must adapt to survive.
3. Key Trends
Apps Drive Shoppers Back In-Store
Given higher overhead costs, brick-and-mortar retailers have consistently struggled to match e-commerce in pricing, selection and convenience. Many consumers will browse products in-store only to purchase them later online at a lower price. To combat this trend of "showrooming," some of the most successful brick-and-mortar retailers are flipping the script and using apps to drive consumers in-store.
Walgreens (3), Walmart (6), Target (7) and The Home Depot (16) have enhanced their mobile apps with sophisticated tools that connect shoppers with physical storefronts. Built-in scanners enable easy product search, GPS functionality prompts location-based coupons and product suggestions, and shopping lists linked to store maps enable efficient shopping. These tools bring consumers in-store by combining the convenience of e-commerce with the tactile experience of in-person shopping. Research shows that this interactive combination can drive up to five times as much engagement, which ultimately increases loyalty and sales.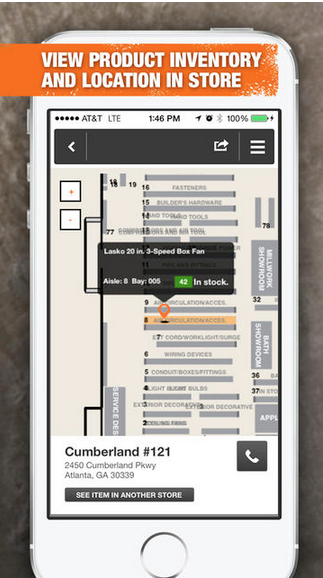 Users view product inventory and in-store location with The Home Depot app.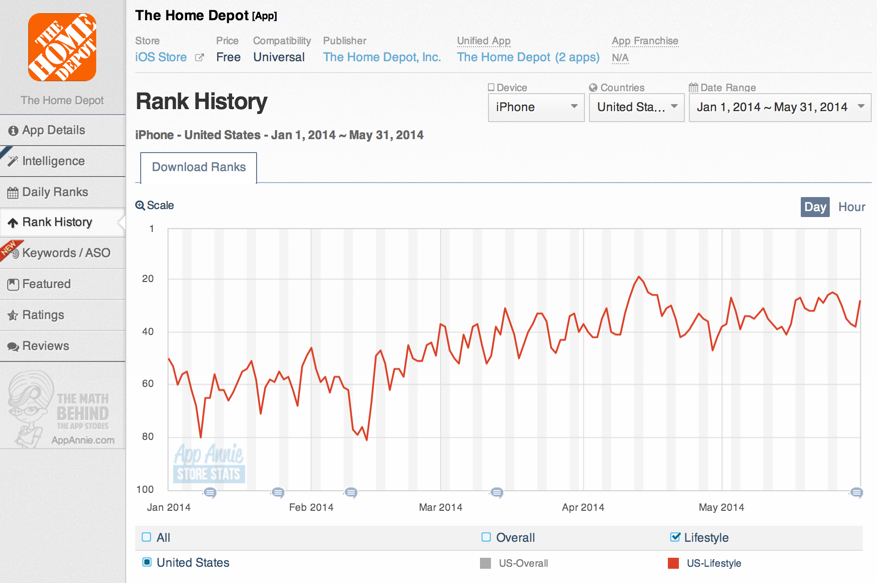 The Home Depot is steadily improving its ranking among iOS Lifestyle apps.
Walmart's Vice President of Mobile & Digital Strategy spoke with App Annie and highlighted the relevance and popularity of these in-store integration tools:
"We know that 50% of Walmart smartphone users have used their device in our stores to assist with a shopping decision…. We have such a big opportunity to provide our customers with indispensable shopping tools to better shop in our stores and online."
-Wendy Bergh, Vice President, Mobile & Digital Strategy, Walmart
Top-performing retailers also keep a close eye on mobile innovation and customer feedback to continuously improve the shopping experience. Walgreens' Senior Director of Mobile Solutions shared the following with App Annie:
"We pay particularly close attention to our customer feedback and measure it at several points throughout the [!mobile!] experience. So much of our success stems from this intense focus and responding to customer needs with innovative yet simple solutions."
-Tim McCauley, Senior Director of Mobile Solutions, Walgreens
Gamification Increases Engagement and Loyalty
Despite the long shadow cast by e-commerce giants such as Amazon, retailers Macy's (22) and PINK Nation (23) have found success in the mobile marketplace by experimenting with highly creative marketing campaigns. These retailers use thoughtfully designed apps to solidify their brand identity and build customer loyalty. This is in contrast to many other retailers who look to apps as simply another avenue for sales.
For example, PINK Nation runs interactive seasonal campaigns to keep its core demographic engaged and excited about the brand. In Q1, PINK launched a social in-app scavenger hunt and gave out promotions and freebies relating to spring break. Last year, the retailer ran an in-app gaming campaign that offered customers daily chances to play and win prizes. Parent company L Brands reported PINK as one of the main drivers behind Victoria's Secret's 2% sales growth in May, and the retailer plans to open 32 new stores this year. Other retailers may benefit similarly from engaging users outside of the traditional retail mold.
Interactive games from PINK Nation. (Image Source: Left, Right)
Life Beyond Daily Deals: Retailers Pivot Business Strategies
Daily deal and flash sale sites disrupted the retail industry in the late 2000s and were massively popular as recently as three years ago. Who can forget Groupon's triumphant IPO in 2011 with a valuation of almost $13 billion? While the immediacy and excitement of flash sales still exist, the appeal of these sites faded as the market saturated and the economy improved.
Top retailers Groupon (2), LivingSocial (10) and JackThreads (15) have stayed relevant by expanding beyond the traditional flash sale model and exploring new business strategies. Groupon integrated an online marketplace that prioritizes personalization and search. It also acquired several companies to diversify its product offerings and has ventured into new industries, such as bulk shopping. LivingSocial similarly pivoted to a local deals marketplace, while JackThreads added non-flash sale inventory and search.
When speaking with App Annie about what drove the success of the JackThreads mobile app, Thrillist's Director of Product had this recommendation:
"Stay focused on the core elements a user needs to find and buy what they're looking for; everything else is a distraction."
-Annie Trombatore, Director of Product, Thrillist
---
| | |
| --- | --- |
| | Want to do some of your own analysis? Create a free App Annie Store Stats account today. For even more advanced analysis, check out our enterprise product App Annie Intelligence. |
---
To see more worldwide app market reports, conference updates and product releases, check our blog. Share your questions or comments below or on Twitter.
Notes:
The app rankings reported in the App Annie Index are based on the download and revenue estimates available through App Annie

Intelligence

. The daily rank history charts are available to all users through App Annie's app tracker solution,

Store Stats

.

Retail apps were identified by App Annie from the iOS Lifestyle category and the Google Play Lifestyle and Shopping categories, and limited to those published by companies listed in The Internet Retailer 2014 Mobile 500

.

Similar versions of the same app with different names are unified (e.g., Walgreens and Walgreens for iPad are aggregated and ranked as a single Walgreens unified app).

Unified app rankings in the App Annie & Internet Retailer Index: Q1 2014 report are based on individual apps that ranked in the Top 1,000 by downloads for each the individual months from January through March 2014.

In the App Annie Index, all apps and publishers are reported under their parent company, where available; for example, the Zappos app is reported under its parent company Amazon, rather than its direct publisher Zappos. Note that if you view the Amazon parent company page on Store Stats, you will see the publishers under the parent company Amazon, including Zappos. The Zappos app will be listed under the Zappos

publisher page.

App rankings and company names are based on the App Annie DNA relationships at the time of publications. App Annie DNA relationships are subject to change over time.

Certain trademarks and/or images used in this report may belong to third parties and are the property of their respective owners. App Annie and Internet Retailer claim no rights in such trademarks or images.