We're excited to offer the second App Annie Index for Travel & Transportation! In this Index we provide a comprehensive view of top apps in the Travel & Transportation category, which App Annie has defined across both the iOS App Store and Google Play. You'll find out which players are leading this industry in the United States and how they've been trending over the past month. This month's Index focuses on the Hotel & Lodging subcategory.
If this is your first time reading this industry report, check out our  inaugural June 2014 Travel & Transportation Index. Be sure to check back in September for the next installment so you can stay up-to-date on the industry!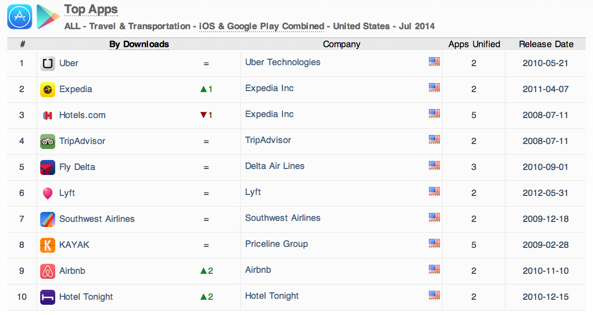 The top 10 downloaded Travel & Transportation apps in July.
TABLE OF CONTENTS
1. The Technology Behind the Index
The information contained in this report was compiled from App Annie Intelligence, the leading market data solution for the app store economy. To see how our app store download and revenue estimates can help guide your critical business decisions, take a tour or request a demo today.
---

---
2. Key Highlights
Top Hotel & Lodging Apps Boost Monthly Downloads by 30%, Led by Airbnb and Hilton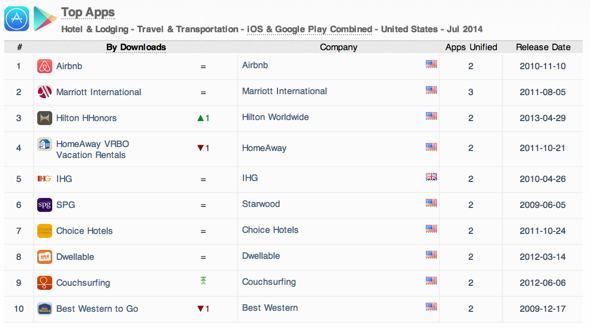 The top 10 downloaded Hotel & Lodging apps in July. To see more top 10 rankings (for Airline, Ground Transportation and Aggregators), click the chart above.
Mobile apps in the Travel & Transportation category are growing quickly month-over-month. From June to July in the United States, the top 10 apps in each of the travel sectors (Airline, Hotel & Lodging, Ground Transportation and Aggregator) collectively grew over 15% in monthly downloads. The top 10 Hotel apps grew at a particularly fast rate of over 30%.
While nearly all the top Hotel & Lodging apps increased in downloads since last month, Airbnb and Hilton HHonors saw exceptional growth. Airbnb retained its #1 rank from June, supported by a spike in downloads following the highly publicized rebrand on July 16. While search and booking features remain the same, richer photos and the new Bélo logo highlight the company's focus on relationships and community. Airbnb's significant growth in July helped it crack the top 10 Travel & Transportation rankings. It is currently the only Hotel & Lodging app on the list.
In July, about a quarter of Airbnb downloads were in the United States, and the remainder were spread across more than 100 other countries. Following Airbnb's partnership with Chinese online travel agency Qyer at the end of May, China is now second behind the United States in Airbnb iOS downloads -- a fourteen-fold increase since June. It's possible the company's recent partnership with business travel platform Concur may have a similar synergistic effect on app downloads.
Hilton HHonors also saw considerable growth in July, jumping one spot in the rankings to #3. The app's downloads were concentrated on Google Play following a new version release at the beginning of the month. Hilton's mobile revenue has increased more than eightfold since 2010, and the app upgrade was just the beginning of the company's strategic mobile agenda for 2014. On July 28 the company rolled out additional upgrades that enable guests to select rooms and order special amenities to be delivered before arrival. These types of mobile initiatives -- emphasizing convenience and personalization -- are attractive to today's consumers, as they allow more choice and control when traveling.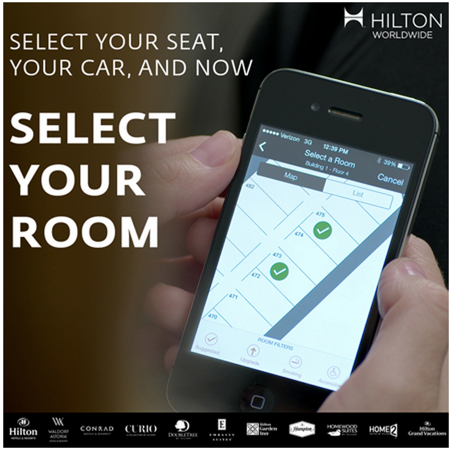 Guests select specific rooms through the Hilton HHonors app.
New Entrant Couchsurfing Finds Success with Mobile Revamp
In July, hospitality exchange app Couchsurfing catapulted to #9 in the Hotel & Lodging charts despite ranking well outside the top 100 in June. Its impressive ascent followed the release of two revamped apps mid-June. Couchsurfing first launched iOS and Google Play apps more than two years ago, yet their features were limited to basic search and messaging. The current versions take the couchsurfing experience to a new level with photo uploads, upgraded notifications and conversations, and event search to connect with hosts and fellow travelers. Daily mobile usage has already tripled.
Initially launched in 2004 as a community-sourced non-profit, Couchsurfing has already enjoyed international success. Currently the network includes more than 9 million members in over 120,000 cities. With its existing user base and refreshed mobile apps, the company is well-positioned as it continues its transition into a sustainable and profitable technology company. With new entrant Couchsurfing joining June leaders Airbnb, Homeaway VRBO and Dwellable, sharing economy services now constitute more than half of top 10 downloads in the Hotel & Lodging subcategory.
---
| | |
| --- | --- |
| | Want to do some of your own analysis? Create a free App Annie Store Stats account today. For even more advanced analysis, check out our enterprise product App Annie Intelligence. |
---
To find out about current trends in other markets and app categories, please check out the Russia Index, the Japan Index for Apps, the Worldwide Index for Games, and the Index for General & Business News. To see more app market reports, conference updates and product releases, check the rest of our blog. Share your questions or comments below or on Twitter.
Notes:
This Travel & Transportation Index includes apps that were identified by App Annie as providing information and services related to the travel and transportation industries.

The Hotel & Lodging subcategory within the Travel & Transportation Index includes apps published by hotel and lodging companies, including peer-to-peer lodging services. It does not include aggregators that search across multiple hotel and lodging companies.

The Airline subcategory within the Travel & Transportation Index includes apps published by airline companies. It does not include aggregators that search across multiple airline companies.

The Ground Transportation subcategory within the Travel & Transportation Index includes apps related to ground transportation, including apps for car rentals, commuter transit, and on demand taxi or rideshare services. It does not include aggregators that search across multiple companies.

The Aggregator subcategory within the Travel & Transportation Index includes apps published by companies that consolidate search results from multiple travel companies or travel brands. It includes apps that search multiple travel services (hotels, flights, car rentals, etc.) as well as aggregators that are limited to only one service.

The app rankings reported in the App Annie Index are based on the download and revenue estimates available through App Annie

Intelligence

. The daily rank history charts and the home page feature app data are available to all users through App Annie's app tracker solution,

Store Stats

.

The apps in this Index are ranked based on unified apps made possible by App Annie's exclusive

DNA

. In unified apps, similar versions of the same app with different names and on different platforms are unified. For example, Lufthansa on Google Play, Lufthansa on iOS and Lufthansa for iPad are aggregated and ranked as a single Lufthansa unified app.

In the App Annie Index, all apps and publishers are reported under their parent publishers, where available; for example, the Kayak app is reported under its parent publisher Priceline Group, rather than its direct publisher Kayak. Note that if you view the Priceline Group parent publisher page on Store Stats, you will see the publishers under the parent publisher Priceline Group, including Kayak. The Kayak app will be listed under the Kayak

publisher page.

App Annie Index revenue rankings are based on revenue that the iOS App Store and Google Play earned from paid downloads and in-app purchases. They do not include revenue earned from in-app advertising.

Certain trademarks and/or images used in this report may belong to third parties and are the property of their respective owners. App Annie claims no rights in such trademarks or images.