The App Annie Index: 2014 Retrospective is finally upon us, and we're excited to bring you several of the top trends from last year, as well as over 25 pages of rankings featuring 2014's top performers. This annual report looks back on 2014, but make no mistake — the past certainly influences the future. Get key app store insights to guide your business decisions in 2015.
In 2014, we saw the rise of 'super casual' gaming apps like Flappy Bird, massive growth in the 'sharing' economy with apps like Uber and Airbnb, and messaging apps like LINE and WhatsApp Messenger evolve from simple texting apps to multi-functional platforms. Last year was full of surprising developments that drastically changed the app industry, and we're excited to bring them to you in one comprehensive report.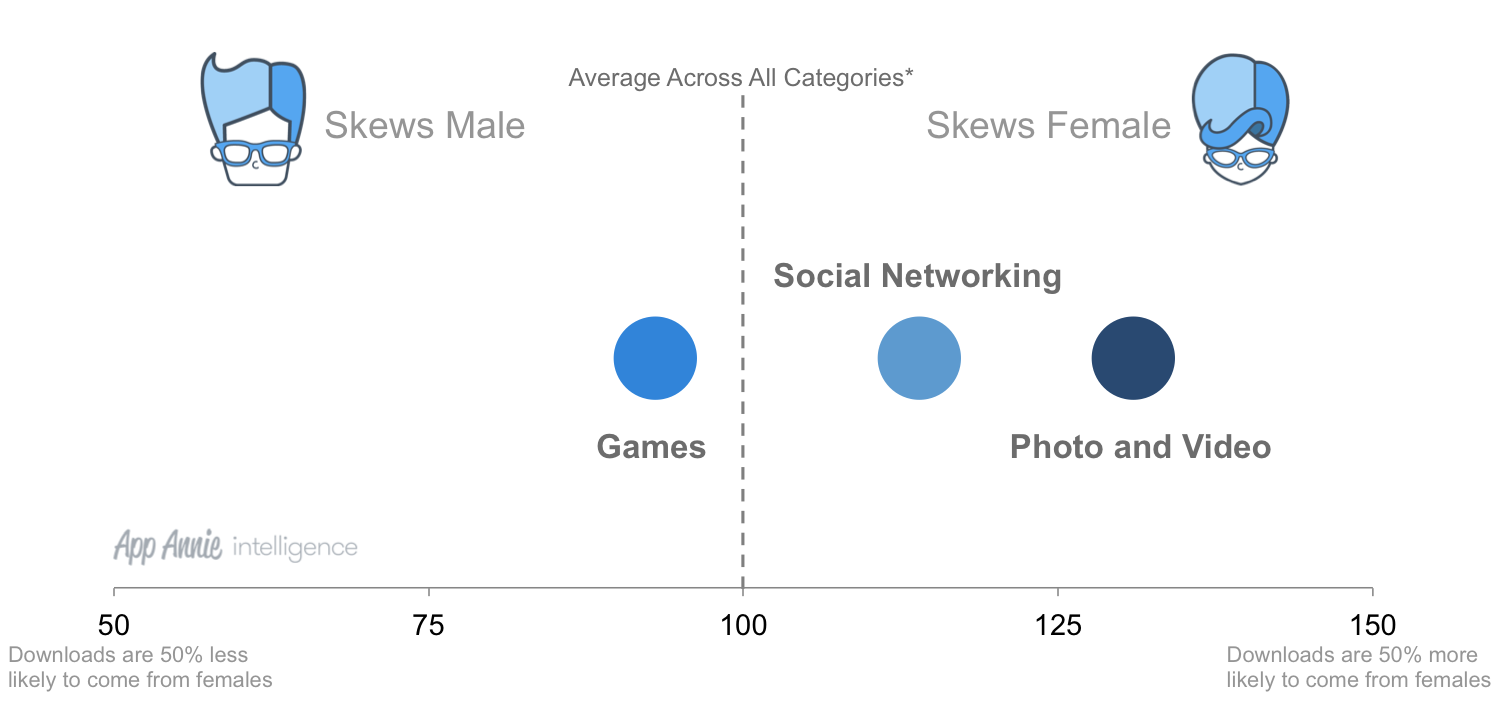 Interested in the female demographic for your mobile ads? Categories like Social Networking and Photo & Video were clear winners for targeting them in 2014.
Some key trends from this 2014 Retrospective include:
App Superpowers' Revenue Soared in 2014, While BRIC Looks to Rock in 2015
App store superpowers Japan, South Korea and the United States generated a staggering amount of revenue. But if download growth is important to you, BRIC countries performed impressively in 2014. We outline the countries to watch this year.
Mobile Video Streaming Moved Up in Popularity
Learn about the handful of factors that contributed to video streaming's surge in popularity in 2014, plus our prediction for where the category is headed in 2015.
'Super Casual' Gaming Had a Superb Year
Last year, quick-consumption 'super casual' games were red-hot. See just how much this category impacted the App Annie Index and the publishers that took advantage of this bite-sized gaming trend.
Top Rankings for Apps, Publishers, Countries and Categories
We counted each download and dollar across 10 regions (Worldwide, Brazil, China, France, Germany, Japan, Russia, South Korea, United Kingdom, United States) to give you a one-stop shop for 2014's top performers. See what rose up or slid down the rankings in 2014.
Above is just a sample of the highlights available in our free report. Whether you're an indie developer, major publisher or investor, this report has the trends that will guide your decision-making in 2015.
Download this report today to get insights that are shaping the mobile app industry:
This report is available now in Chinese, Japanese, Korean, Russian, German and French. Follow the links to learn about some of 2014's must-know app trends.
Subscribe to our weekly emails to be the first to know about new app industry reports, conferences and product updates. We love hearing from our readers, so share your questions and comments below or on Twitter (@AppAnnie).
Want to perform your own analysis? Monitor top-ranking apps with Store Stats, plug into our App Store Analytics dashboards, or request a demo of App Annie Intelligence — our market intelligence platform — today.