We're excited to offer the first-ever App Annie Index for Music. In this Index, we provide a comprehensive view of the Music app category, which App Annie has defined across both the iOS App Store and Google Play. You'll find out which players are leading the category in the United States and how mobile apps are shaping the industry.
If you're interested in top apps for General & Business News, Maps & Navigation, or Travel & Transportation, please check out our newly released App Annie Index rankings for September. To learn about current trends in other markets, please head over to our Q3 Market Index, Spotlight on Connected Devices, and September App Annie Index reports on Worldwide Games and Worldwide Apps.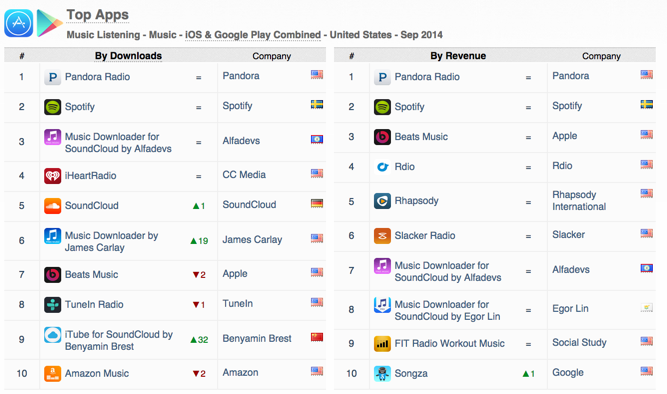 September's top Music Listening apps by downloads and revenue. For additional category rankings, click the chart above.
TABLE OF CONTENTS
1. The Technology Behind the Index
The information contained in this report was compiled from App Annie Intelligence, the leading market data solution for the app store economy. To see how our app store download and revenue estimates can help guide your critical business decisions, take a tour or request a demo today.
---

---
2. Key Highlights
Music Listening Apps Account for More Than 70% of Top 10 Downloads and Revenue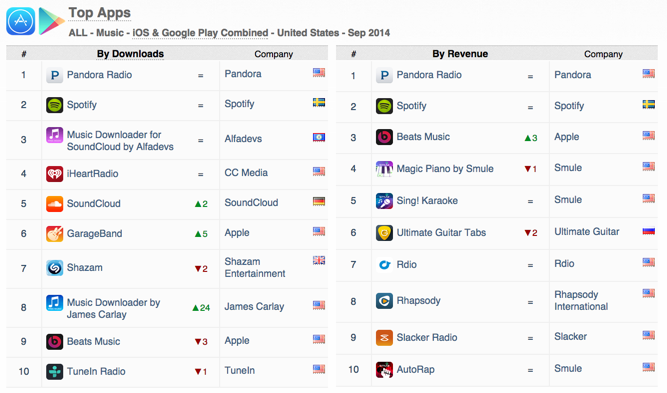 September's top Music apps by downloads and revenue. Subcategories include Music Listening, Music Creation, Artists and Information & Other. For additional category rankings, click the chart above.
In 2013, digital music generated $5.9 billion, or 39%, of the recording industry's global revenue. The United States is currently the largest digital music market, with 60% of industry revenue coming from digital formats. Music downloads continue to bring in the largest share of revenue, but ad-supported and subscription-based streaming are on the rise.
User engagement with music apps has grown rapidly in recent years. From August 2013 to August 2014, time spent in music apps grew 79%, resulting in an increase of 64 minutes per month. This was higher than the increase for other popular categories like Social Networking and Entertainment, and more than triple the 21% increase across all categories. Session length was also longer in music apps compared to other categories. While there has been a general shift of activities from desktop to mobile, music is particularly well-suited to mobile formats given the ubiquitous and passive nature of music listening.
To gain deeper insights into the dynamic music category, App Annie identified four subcategories of music apps within the iOS App Store and Google Play: Music Listening, Music Creation, Artists and Information & Other. In this Index we investigate industry trends around the larger subcategories of Music Listening and Music Creation while highlighting the top ranking apps.
In September, Music Listening apps dominated the overall category's charts and held 8 of the top 10 apps by downloads and 7 of the top 10 apps by revenue.
Network Infrastructure and Cloud Storage Fuel Mobile Music
Improvements in carrier network infrastructure and 4G coverage have dramatically advanced the quality and portability of mobile music. With high quality connections to the cloud, consumers now access vast libraries of music without exhausting limited storage space. Cloud-based access also enables users to enjoy seamless listening experiences across devices.
Carriers have begun targeting music lovers by designing specific data plans to better meet their needs. For example, T-Mobile's "Music Freedom" plan, introduced in June 2014, gives customers unlimited access to 13 popular music streaming services without incurring data charges. Their customers now stream 5 million more songs per day. As mobile infrastructure continues to improve, particularly in developing markets, we expect the shift from music ownership to access to become more prominent across the globe.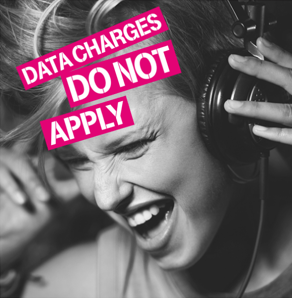 T-Mobile appeals to users by offering music streaming with no overages or data caps. Music services currently included are Pandora, iHeartRadio, iTunes Radio, and many more (click the photo above for the full list).
Publishers Ramp Up Subscriptions and Mobile Ad Targeting to Boost Revenue
It's no secret that music streaming apps can be lucrative. In September 2014, Pandora, Spotify, Beats Music, Rdio, Rhapsody and Slacker Radio were ranked in the top 50 by revenue in the United States for apps outside of games on iOS and Google Play combined.
Digital music services continue to evolve their business models to adapt to changing market conditions and consumer needs. In September, Rdio shifted to a freemium music model, following in the footsteps of revenue-generating leaders Spotify, Pandora and Rhapsody. In a highly crowded market, the freemium approach reduces the barrier to entry that often deters potential new users from trying out the service. In order to attract a larger pool of users, Spotify added family plans in October for $15 per month, which allows up to four family members to share one billing account while retaining separate profiles, playlists and recommendations.
Ad revenue will continue to play a big role in financial sustainability. In multiple earnings calls this year, Pandora emphasized the company's success in driving ad monetization, particularly through targeted ads on mobile devices. In Q3 2014, mobile ad revenue exceeded $100 million for the first time, and reportedly placed Pandora 3rd in this category following Google and Facebook. Total mobile revenue, including revenue from advertising and subscriptions, grew over 2x from Q1 2013 to Q1 2014 -- up to $86.7 million. Other digital music publishers are also embarking on new initiatives to improve mobile ad targeting and increase overall ad revenue.
Music Giants Tap Into Your Location, Weather and Mood
Top music streaming platforms boast over 30 million tracks, with tens of thousands being added every day. Given this enormous amount of content, successful curation is critical to delivering a quality music experience. Artists, especially those that are up-and-coming or outside the mainstream, also benefit from curation as it helps them get discovered by a larger audience.
Music platforms employ a sophisticated combination of algorithms and human curation to personalize playlists and recommend relevant music. Culled together by artists, industry experts and peers, human curated content often reflects a deeper and more emotional understanding of music. However, algorithms are still necessary to scale curation for the greater music market. Recent acquisitions of music intelligence companies point to a newer variable in the recommendation equation -- contextual data. Spotify's acquisition of the Echo Nest, Google's acquisition of Songza, and Rdio's acquisition of TastemakerX are a few prominent examples.
With enhanced music intelligence, these platforms will be able to deliver more relevant music experiences taking cues from the weather, time of day and daily activities. Location-based information will open up opportunities to introduce music based on upcoming performances in the area. Even connected devices are beginning to utilize contextual data. For example, music learning gadget Prizm plugs into speakers and adjusts music according to environmental cues, including the number and preferences of other people in the room.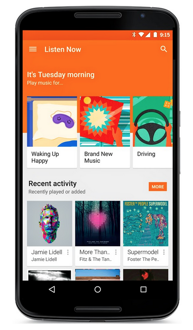 October updates to Google's Play Music app integrate data from Songza to curate personalized stations based on time of day, mood or activity.
Proprietary Apps + Exclusive Artist Content = Hype Machine
Artists are constantly seeking unique ways to reach their fans and maximize publicity, buzz and sales. Beyonce's phenomenal success on iTunes with her spontaneously dropped self-titled album has encouraged other artists like Coldplay to do the same. Thom Yorke, lead singer of Radiohead, generated 1 million downloads in six days after releasing his solo album Tomorrow's Modern Boxes on BitTorrent. BitTorrent Bundles allows artists to publish and sell music content themselves, and has the potential to empower artists to generate significant revenue separately from record labels. Whether for artistic, monetary or philosophical reasons, musicians are becoming more creative and independent in the way they share music with listeners.
An emerging trend is for artists to release exclusive content through proprietary apps. For example, in September, Radiohead released its first new music in three years through the band's own app, PolyFauna. Last fall, EDM superstar Avicii created an exclusive mix for his award-winning game Gravity that can be unlocked as players progress through the game. Grammy nominated singer-songwriter Imogen Heap used Run-Time, a yet-unreleased app she helped design, to compose her most recent single of the same name. The app creates unique, personalized tracks for runners by mixing in sounds from footsteps, breathing patterns and environmental noises. It also adjusts music tempo and intensity to match running speed.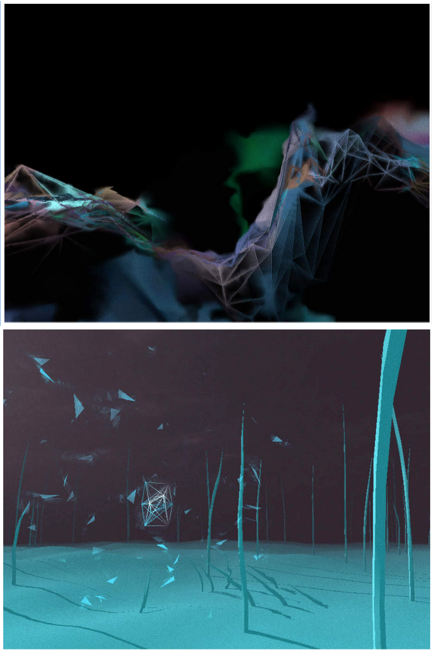 Users explore the mysterious, expressionistic world of Polyfauna while listening to music from Radiohead.
Apps are also being created to help artists distribute promotional content to DJs, journalists and other industry influencers. As an example, Inflyte enables artists to share music seamlessly through the app and receive instant feedback on songs. The app includes Dropbox integration, one-click ratings and campaign monitoring tools.
Music Creation Apps Are an Overlooked Gold Mine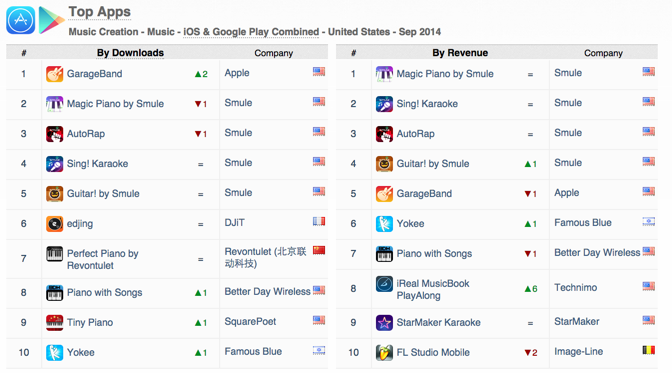 September's top Music Creation apps by downloads and revenue. For additional category rankings, click the chart above.
Mobile apps are an increasingly popular format for creating music. The majority of top Music Creation apps are virtual instruments, karaoke-style singing apps, and digital workstations that mix and edit tracks. These apps are particularly appealing because they provide users an easy and inexpensive way to simulate high-end instruments and recording equipment that might otherwise be inaccessible. The low price point may also encourage users to experiment with a variety of instruments and techniques. Furthermore, the mobile format lends itself well to easy recording and sharing of music, especially while on-the-go.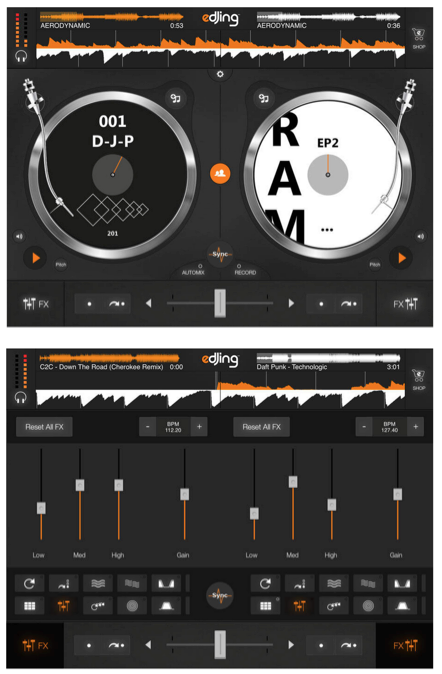 Popular DJ apps like edjing pull in content from streaming services such as SoundCloud and Deezer to provide a library of more than 50 million tracks for users to mix, crossfade and scratch.
Smule is the leading publisher in the Music Creation subcategory, with four of its apps Magic Piano, AutoRap, Sing! Karaoke and Guitar! topping the download and revenue charts in September. Smule has focused on publishing simple and intuitive apps that enable users to make music easily and share their experiences in an active community of music creators. Smule's strong relationships with recording companies have ensured access to a large and up-to-date library of songs. The apps feature different instruments and integrate seamlessly with each other. For example, users can import their recordings from Sing! Karaoke and strum the accompaniment within the Guitar! app.
Smule's in-app purchases offer weekly, monthly or yearly subscriptions that unlock access to the full song catalog. Smule's CEO Jeff Smith mentioned in an interview that the company expects to earn more than $40 million in revenue this year, up from $20.6 million in 2013. This strong performance demonstrates that Music Creation apps have potential to generate significant revenue.
---
| | |
| --- | --- |
| | Want to do some of your own analysis? Create a free App Annie Store Stats account today. For even more advanced analysis, check out our enterprise product App Annie Intelligence. |
---
Notes:
This Music Index includes apps that were identified by App Annie as providing information and content related to the music industry. The overall Music category includes apps from the following subcategories: Music Creation, Music Listening, Artists and Information & Other.

The Music Listening subcategory includes apps that enable users to listen to music content. It includes on-demand and streaming services, as well as apps that download music for offline listening.

The Music Creation subcategory includes apps that enable users to create and edit music. It does not include music services or tools or that do not produce music through the app. It does not include apps designed to create ringtones.

The apps in this Index are ranked based on unified apps made possible by App Annie's exclusive

DNA

. In unified apps, similar versions of the same app with different names and on different platforms are unified. For example, Spotify on Google Play and Spotify on iOS are aggregated and ranked as a single

Spotify

unified app.

The app rankings reported in the App Annie Index are based on the download and revenue estimates available through App Annie

Intelligence

. The daily rank history charts and the home page feature app data are available to all users through App Annie's app tracker solution,

Store Stats

.

In the App Annie Index, all apps and publishers are reported under their parent publishers, where available; for example, the Beats Music app is reported under its parent publisher Apple, rather than its direct publisher Beats Music. Note that if you view the Apple parent publisher page on Store Stats, you will see the publishers under the parent publisher Apple, including Beats Music. The Beats Music app will be listed under the Beats Music

publisher page.

App Annie Index revenue rankings are based on revenue that the iOS App Store and Google Play earned from paid downloads and in-app purchases. They do not include revenue earned from in-app advertising.

Certain trademarks and/or images used in this report may belong to third parties and are the property of their respective owners. App Annie claims no rights in such trademarks or images.