Each quarter, App Annie dives into the app stores, countries and categories to uncover macro industry trends. Our data is sourced from App Annie Intelligence, covering more than 150 countries worldwide on both iOS App Store and Google Play. This allows us to provide the most complete analysis of the global app economy.
The highlights contained within this free report represent the changing tides in mobile content distribution. In this report, we explore how countries like Brazil, Thailand and China helped Google Play downloads skyrocket, in addition to other emerging trends. Read on to learn about the changes shaping the app industry that will inform (and affect) your business decisions in the months to come.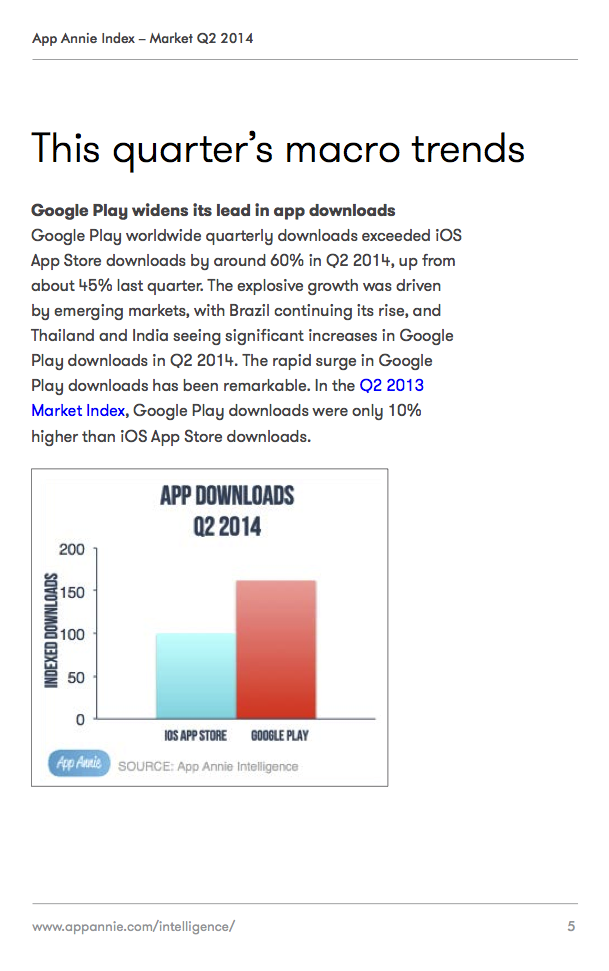 Google Play widens its downloads lead against iOS App Store yet again, largely thanks to emerging markets.
By downloading this free report, you will gain key insights including:
India Moves Into Top 3 for Google Play Downloads
As more smartphones are shipped into India each quarter, India is prime for a comeback on the app store rankings.
Brazil Continues Its Red-Hot Streak
See the impressive growth numbers that make Brazil an attractive investment opportunity for apps.
Top Charts for Countries & Categories
See which countries and categories are rising and falling, so you can make informed decisions on projects and expansion strategies.
The highlights above are just a small sample of the insights contained in this quarter's Market Index. Click the download button below to get access to the full 16-page PDF so you — and your business — can stay on top of the big trends.
The report is available in English today, with additional languages coming soon.
To see more free worldwide app market reports, conference updates and app industry guides, see the rest of our blog. Share your questions or comments below or on Twitter. Want to do some of your own analysis? Create a free Store Stats account today.