Each quarter, App Annie dives into the app stores, countries and categories to uncover macro industry trends. Our data is sourced from App Annie Intelligence, covering more than 150 countries worldwide on both the iOS App Store and Google Play. This allows us to provide the most complete analysis of the global app economy.
This free report helps anyone interested in the mobile ecosystem to see the changing tides in mobile content distribution. We explore the explosive growth of app downloads in China and Mexico, in addition to other emerging trends. Learn about the changes within the app industry that will inform — and affect — your business decisions in the months to come.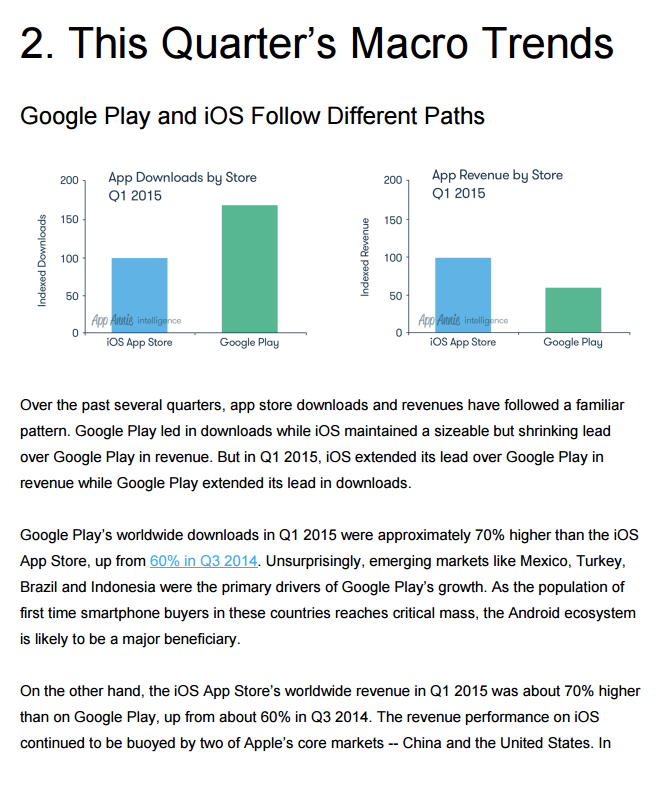 Google Play extended its lead over the iOS App Store in downloads, and iOS extended its lead in monetizing apps.

By downloading this free report, you will gain key insights including:
China Surpasses the US in iOS Downloads
The iPhone 6 launch had a massive impact on the iOS ecosystem in China — learn about the apps and categories driving the growth of the iOS downloads in China.
Mexico Surges on Google Play
Mexico saw a huge jump in Google Play downloads in Q1 2015. See the categories that contributed the most, plus the underlying drivers of Mexico's growth.
Top Charts for Countries & Categories
See which countries and categories are rising and falling, so you can make informed decisions on projects and expansion strategies.
The highlights above are just some of the insights contained in this quarter's Market Index. Download the full 14-page report to access information that will give you and your business a competitive edge.
Want More? App Annie Has It
Subscribe to our blog to see more app industry reports, conference updates and product news. We love hearing from our readers, so share your questions and comments below or on Twitter.
Want to perform your own analysis? Create a free App Annie Store Stats account or request an Intelligence demo today.