We're excited to offer the second App Annie Index for General & Business News! If you missed our first Index, you can read it here.
In this Index, you will get a comprehensive view of apps in the General & Business News category, which App Annie has defined across both the iOS App Store and Google Play. You'll find out who the top players are and how they have been trending over the past month. Be sure to check back in August for the next installment of the General & Business News Index rankings so you can stay up-to-date on the industry.
The Technology Behind the Index

The information contained in this report was compiled from App Annie Intelligence, the leading market data solution for the app store economy. To see how our app store download and revenue estimates can help guide your critical business decisions, take a tour or request a demo today.
---

---
Key Trends
The New York Times Grows Readership on Google Play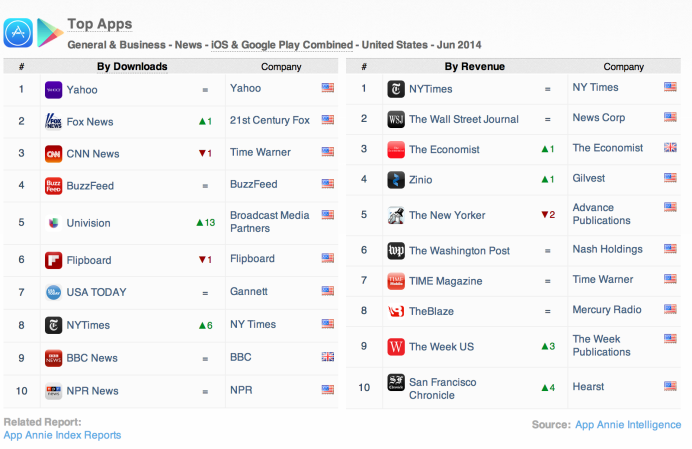 The NYTimes app saw significant download growth on Google Play in June — jumping 7 spots to crack the Top 10. This is interesting given that apps published by the New York Times have historically generated more downloads and revenue on the iOS platform. Growth on Google Play coincided with a substantial upgrade on June 4 that added significant international content to the app. The upgrade enables users to switch seamlessly between the US and International editions to create a fuller, more personalized browsing experience. It will be interesting to see how this surge in downloads on Google Play influences future revenue for the company.
New release NYT Opinion joined NYTimes in the top charts as the #9 most downloaded iOS app in June. NYT Opinion focuses exclusively on news analysis and op-ed pieces, and its launch was part of the company's efforts to provide deeper levels of content to more targeted audiences. Readers can access opinion pieces published in the New York Times, follow favorite columnists and keep a pulse on news commentary around the world.
Univision Jumps Into the Top 5
In June, Univision climbed 13 spots to become the fifth most downloaded app in the category across iOS and Google Play combined. The app experienced a significant boost in downloads aligning with the start of the FIFA World Cup. The network saw even greater success with its sports news app Univision Deportes,  which streamed live coverage and exclusive content for the games. Univision's growth in the mobile arena the reflects the network's increasing share in US television market.
In recent months, Univision has gained considerable ground in both the mobile arena and the US television market. As the Hispanic population increases dramatically, the network looks well-positioned for continued success.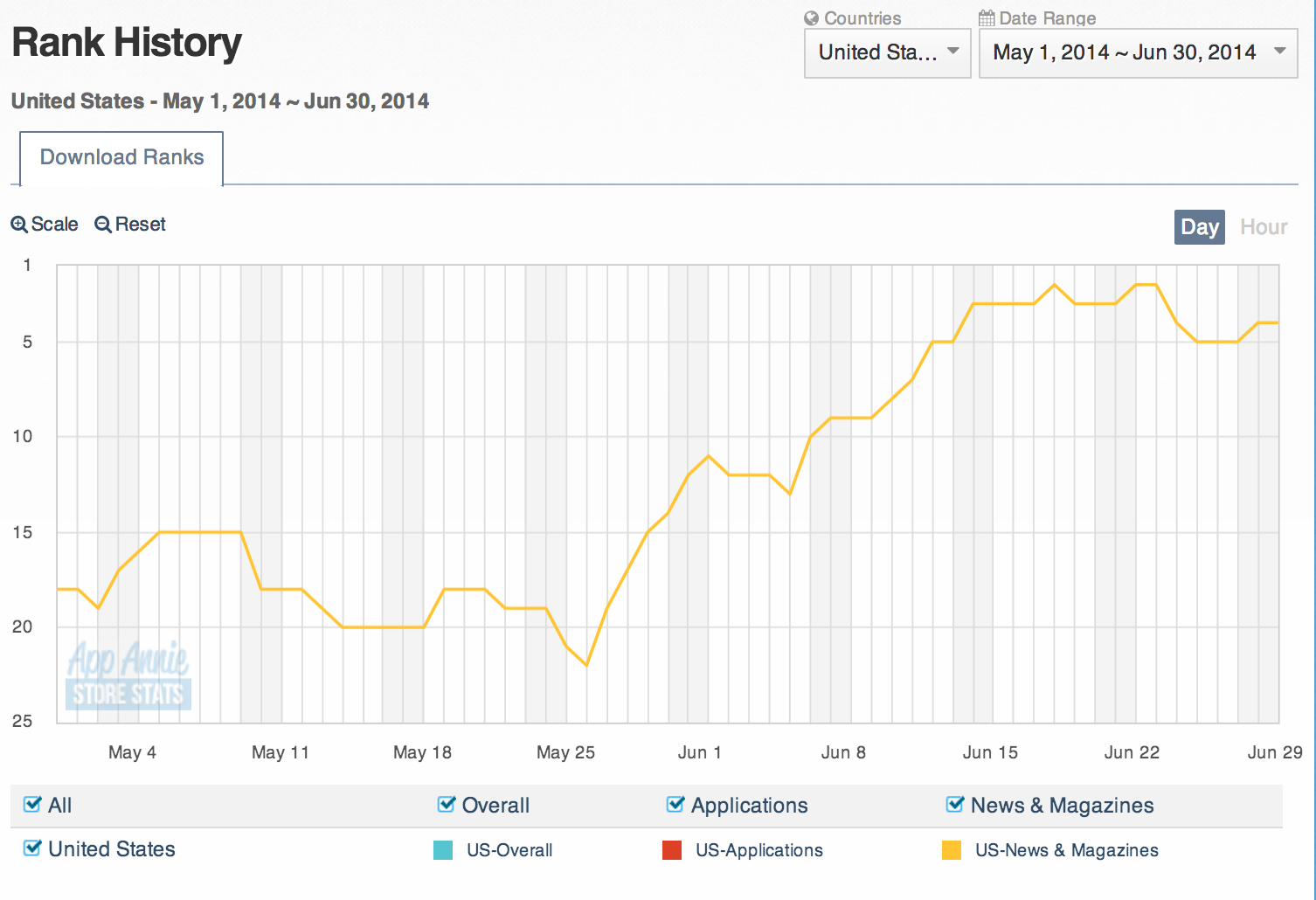 Univision's Google Play app shot up in the rankings as the 2014 FIFA World Cup kicked off.
To find out what's hot in other app categories in the US, please check out this month's App Annie Index for Travel & Transportation and the App Annie Index for Maps & Navigation. For more information on global top apps and publishers, see the Worldwide, China, United Kingdom and United States charts for June 2014.
To see more app market reports, conference updates and product releases, check our blog. Share your questions or comments below or on Twitter.
---
| | |
| --- | --- |
| | Want to do some of your own analysis? Create a free App Annie Store Stats account today. For even more advanced analysis, check out our enterprise product App Annie Intelligence. |
---
Notes:
This General & Business News Index includes apps that were identified by App Annie as providing current events content and information related to general and/or business news via written, audio or video formats. It does not include news apps focused on vertical-specific subcategories. Vertical-specific subcategories include but are not limited to: 

Automotive News, Education News, Entertainment News, Fashion News, Health News, Home and Garden News, Investment & Stock News, Political News, Real Estate News, Science News, Sports News, Tech & Gaming News

The app rankings reported in the App Annie Index are based on the download and revenue estimates available through App Annie

Intelligence

. The daily rank history charts and the home page feature app data are available to all users through App Annie's app tracker solution,

Store Stats

.

In the App Annie Index, all apps and publishers are reported under their parent publishers, where available; for example, the CNN News app is reported under its parent publisher Time Warner, rather than its direct publisher CNN. Note that if you view the Time Warner parent publisher page on Store Stats, you will see the publishers under the parent publisher Time Warner, including CNN. The CNN News app will be listed under the CNN

publisher page.

App Annie Index revenue rankings are based on revenue that the iOS App Store and Google Play earned from paid downloads and in-app purchases. They do not include revenue earned from in-app advertising.

Certain trademarks and/or images used in this report may belong to third parties and are the property of their respective owners. App Annie claims no rights in such trademarks or images.