Worldwide App Annie Index for Games May 2016

App Annie is the industry standard for professionals looking to track the app economy and benchmark performance against leading apps and publishers. Each month, the App Annie Index highlights the top-performing games and apps for the iOS App Store and Google Play. Our analysis covers trends among the leading apps across countries and categories.

You might also be interested in:
This Month's Top Games
Hungry Shark World: Just When You Thought It Was Safe to Go Back in the Water
Ubisoft's Hungry Shark World made a splash this month, coming in at #2 in the worldwide download rankings. A sequel to Hungry Shark Evolution, which was launched in October 2012 and is still regularly updated, Hungry Shark World is the first new game in the franchise since Ubisoft acquired Future Games of London in 2013.
With a greater array of content — including more maps, sharks, accessories and upgrades —  and a more stylized art style, Ubisoft's game is giving players something they can sink their teeth into for a long time to come.
Received positively by players — as of June 14 the game's review scores exceeded four stars on both Google Play and iOS — Hungry Shark World has been especially popular with young male gamers. In May, it was the 7th highest-ranking game by monthly active users (MAUs) among 13–24 year-old males in the United States, a trend we also saw in Ubisoft's native France.
"At FGOL our team is incredibly pleased to see the strong response to the launch of Hungry Shark World. We're now focusing on a fantastic lineup of events for Shark Week (starting this weekend), with heaps more exciting new content coming soon," Ian Harper, Managing Director FGOL – A Ubisoft Studio, shared with App Annie.
With downloads likely to pick up during the ever-popular Shark Week, we think Ubisoft is going to need a bigger boat.
Square Enix Flies Up the Revenue Charts as Dragon Quest's 30th Anniversary Approaches
Square Enix made its way into the top 10 companies by worldwide revenue as excitement built during the 30th anniversary celebration of its hugely popular Dragon Quest franchise.
As the May 27 anniversary approached, which also coincided with the Japanese release of the eagerly anticipated Dragon Quest Heroes 2 on Playstation 4, gaming apps in the franchise saw a marked increase in both downloads and revenue.
A number of Dragon Quest gaming apps, including Hoshi no Dragon Quest, Dragon Quest Monsters Super Light and Dragon Quest IV, saw the halo effect of the new game's ad campaigns, updates and promotions across Square Enix's mobile portfolio. Dragon Quest VIII, for example, experienced a dramatic increase in its revenue rank on iPhone in Japan following a promotional price drop on May 25.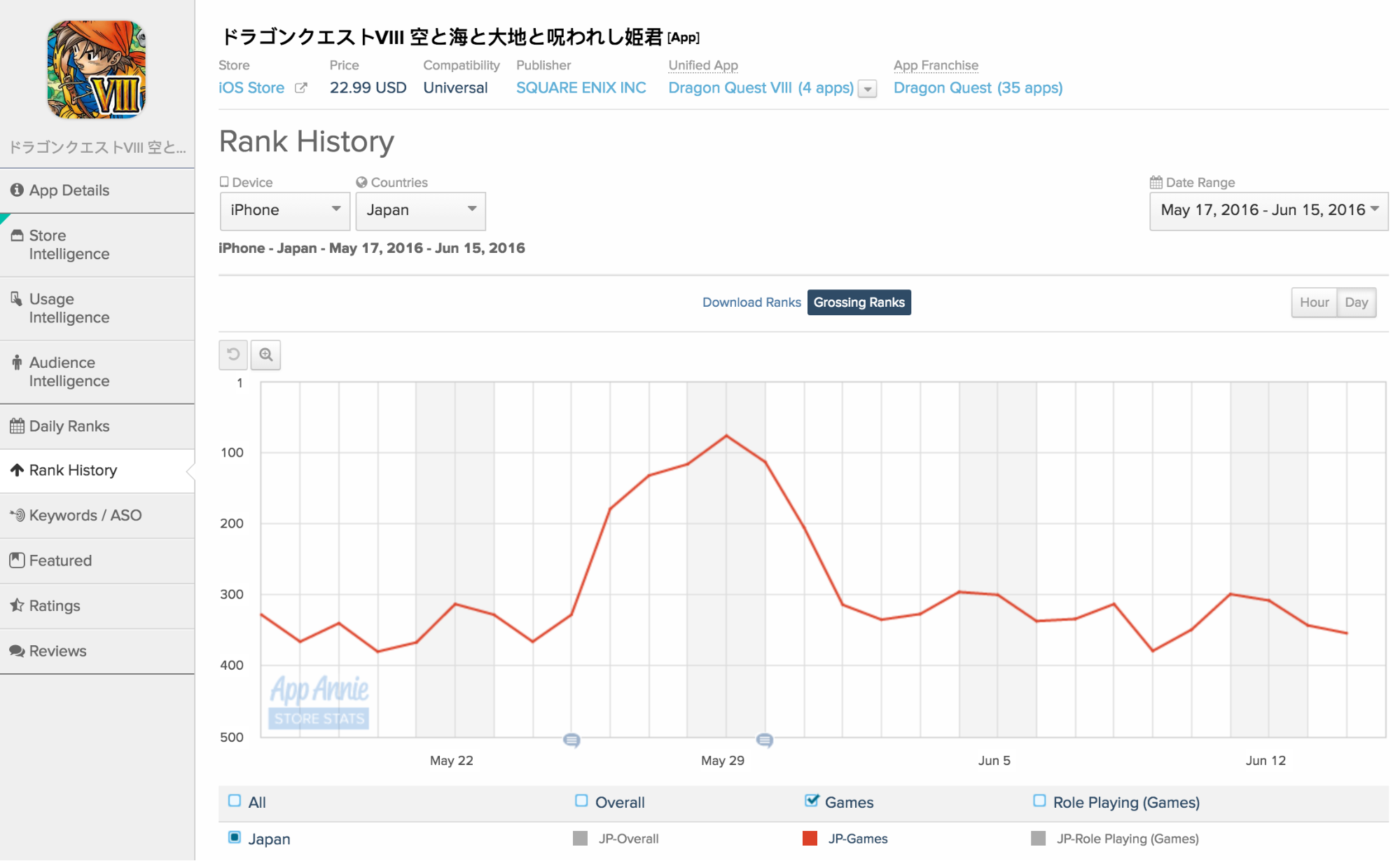 Dragon Quest VIII saw a significant boost in Japanese iPhone revenue following a promotional price drop on May 25.
We'll be keeping an eye out to see if this has a similar effect on Square Enix's Final Fantasy franchise as we approach the console release of Final Fantasy XV at the end of September.
AskTao Is a Win for Mobile Core Gaming
Following its release in late April, G-bit's adaption of their desktop MMORPG, AskTao, entered May's worldwide revenue rankings on iOS — a performance entirely driven by China.
An isometric RPG based on ancient Taoist beliefs, it features a combination of story-based role-playing and PVP gameplay, allowing players to meet and interact with a number of famous figures from Chinese history.
Only available in China, where the classic PC version has a massive player base, AskTao's success is another prime example of core gaming moving to mobile in Asia. This is a trend we've noted in previous monthly Indexes and explored most recently in our review of Japan's mobile gaming industry. As mobile continues to become the first screen worldwide, we may see core gaming continue to grow on mobile platforms.
The Technology Behind the Index
The information contained in this report is compiled from App Annie Intelligence, the leading market data solution for the app store economy. To see how our app store download, revenue, demographic and usage estimates can help guide your critical business decisions, request a demo today.
---
---
For the complete list of May's top apps and app publishers around the world, click the chart above.
Notes:
The publisher and app rankings reported in the App Annie Index are based on the download and revenue estimates available through App Annie Intelligence. The daily rank history charts and the homepage feature app data are available to all users through App Annie's app tracker solution, Store Stats.
App Annie Intelligence is currently available for the iOS App Store and Google Play. It does not currently provide estimates for other app stores, such as the Amazon Appstore. While iOS and Google Play represent a significant portion of the app market in many countries, that is not the case for some countries. For example, China has a number of sizable third-party Android app stores.

While the Index for Games covers games, the Index for Apps provides app tracking on everything but games. Note that the Top Company rankings in the Index for Games are based solely on the publisher's games downloads and revenue, while the Top Company rankings in the Index for Apps are based on the company's downloads and revenue from apps excluding games.

Company and unified app rankings in the App Annie Index for Games and Index for Apps are based on individual apps that ranked in the Top 1,000.

Download rankings are based on individually downloaded apps and exclude downloads of app bundles. Revenue rankings are based on download revenue from individually downloaded paid apps as well as in-app purchase revenue from both individually downloaded apps and app bundles.

In the first month in which an app becomes unified, its rank change in the Index will compare the unified app that month vs. its highest-ranking individual app in the month prior. As a result, rank changes for newly unified apps may overstate ranking increases from April 2016 to May 2016.

In the iOS App Store, an app can be categorized under a Primary Category as well as an optional Secondary Category. If an app has a Primary Category of Games and a Secondary Category of Entertainment, it is a candidate to be included in this Index for Games. If the app's Primary Category is Entertainment and its Secondary Category is Games, then it will not be included in this Index for Games; it is a candidate for the Index for Apps.

Note that the ranking approach used in the App Annie Index differs from that used in the iOS App Store. In the latter, app rankings for a given category will include all apps whose Primary Category or Secondary Category matches that given category. So an app can appear in the rankings for more than one category within the iOS App Store or in App Annie Store Stats rankings.

In Google Play, an app can be categorized under only one category, so there is no double-categorization.

Occasionally, a publisher may decide to shift an existing app from one category to another category. In these cases, the App Annie Index will rank that app based on its categorization in the subsequent month. Given that the App Annie Index has a Games report and an Apps report, the only scenario where an app's recategorization could shift it from one Index to another is if its category changes from Games to a category other than Games or vice versa.
In the App Annie Index, all apps and publishers are reported under their parent companies, where available; for example, the Plants vs. Zombies™ 2 app is reported under its parent company Electronic Arts, rather than its direct publisher PopCap. Note that if you view the Electronic Arts parent company page on Store Stats, you will see the publishers that roll under the parent company Electronic Arts, including PopCap. The Plants vs. Zombies™ 2 app will be listed under the PopCap publisher page.
Company and app rankings are based on the App Annie DNA relationships at the time of publications. App Annie DNA relationships are subject to change over time.

App Annie Usage Intelligence data for smartphones and tablets were derived from mobile usage data collected from a large sample of real-world users, combined with additional proprietary data sets.

App Annie tracks usage at the device level using a privacy-protective hashed device ID. Data is only reported to third parties in aggregated format.

App Annie Index revenue rankings are based on revenue that the iOS App Store and Google Play earned from paid downloads and in-app purchases. They do not include revenue earned from in-app advertising.

Certain trademarks and/or images used in this report may belong to third parties and are the property of their respective owners. App Annie claims no rights to such trademarks or images.