Worldwide App Annie Index for Games March 2016

Each month, the App Annie Index highlights the top-performing games and apps for the iOS App Store and Google Play. Our analysis covers trends among the leading apps across countries and categories, and is the industry standard for professionals looking to compare leading apps and publishers.

You might also be interested in:
This Month's Top Games
Supercell Stacks the Deck With Clash Royale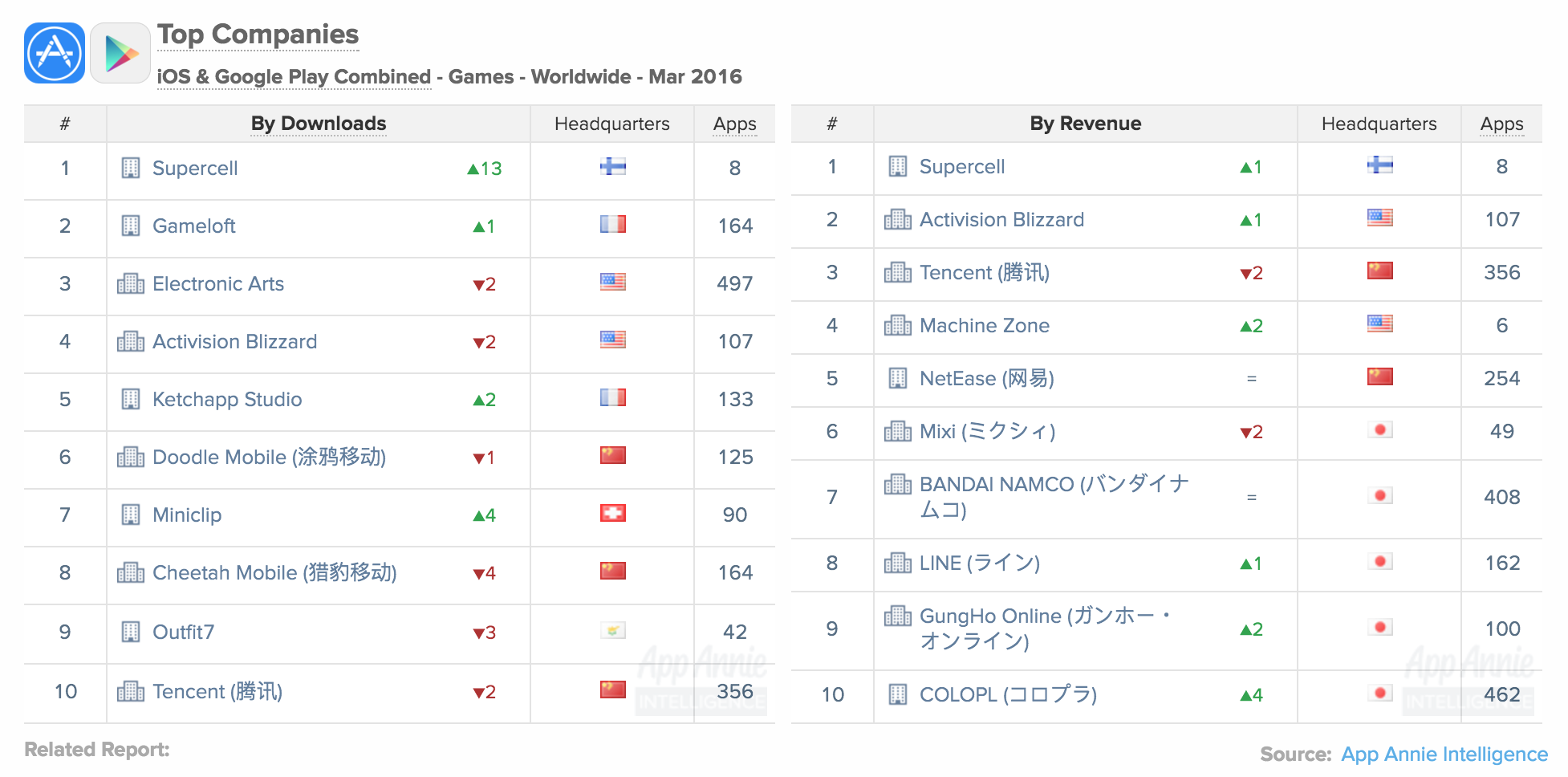 Following initial success in its nine soft-launch markets, Clash Royale made its eagerly anticipated global release in the beginning of March. Clash Royale combines components of Clash of Clans, pulling in its popular characters and settings, along with elements of real-time multiplayer online battle arenas (MOBAs) and collectible card games (CCGs).
The global release quickly accelerated downloads, catapulting Supercell into the #1 spot worldwide across both iOS and Google Play combined for revenue and downloads. While Supercell is a familiar worldwide top-grossing publisher, the company has not hit #1 by monthly downloads since the first App Annie Games Index in February 2013. Doubly impressive is Clash of Clans' simultaneous top-10 ranking by both downloads and revenue, indicating that Clash of Clans' player base hasn't simply transferred to Clash Royale.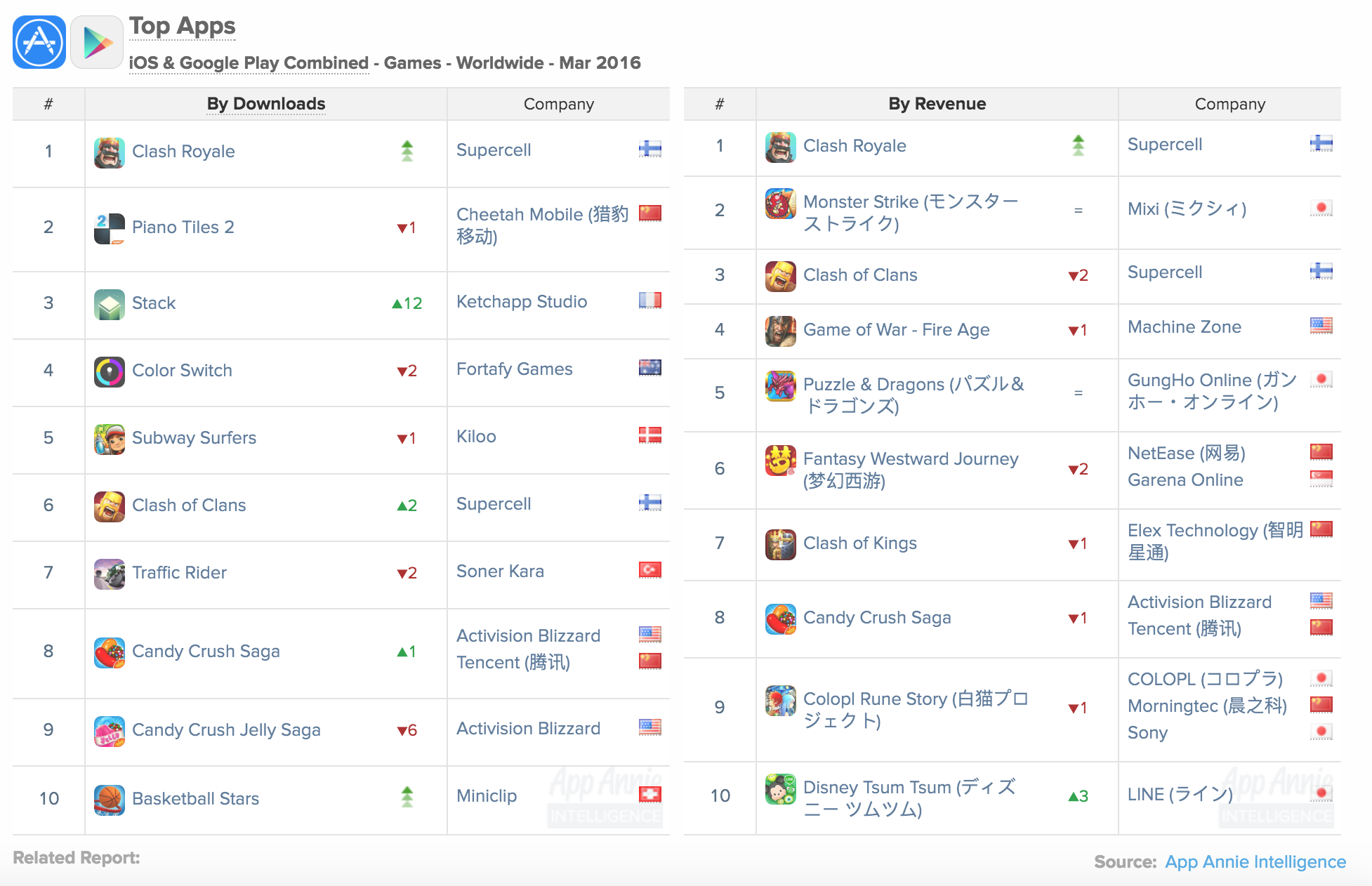 Supercell is used to achieving quick success with its game portfolio, with Boom Beach's rapid success as a prime example; however, Clash Royale took this achievement to a new level. On the first day of its wide release, Clash Royale hit #1 in Games downloads for 60 countries on iOS. To date, the game reached #1 in Games downloads for over 135 countries and #1 in revenue for over 110 countries.
As we previously noted, Clash of Clans leaned on television advertising — including a Super Bowl spot — to drive awareness. And while Supercell has not yet done the same for Clash Royale, it will be interesting to see an advertisement's effects on this already immensely popular mid-core game.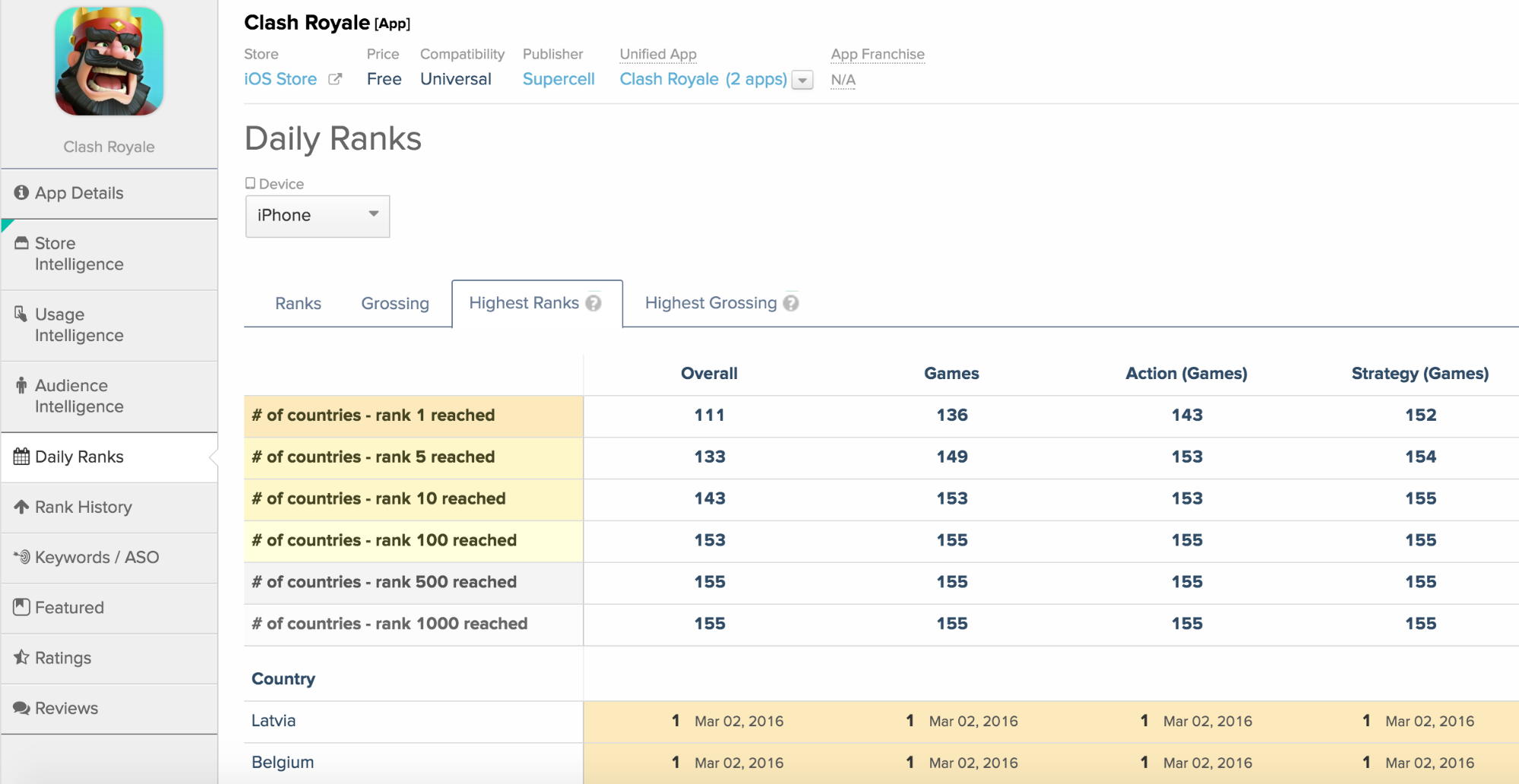 To date, Clash Royale hit #1 in Games downloads in over 135 countries.
Worldwide popularity can be tough to obtain — specifically succeeding in both Western and Eastern markets. Many developers struggle to tap into regions with different languages and cultural preferences. However, Supercell has been able to tap into both. Its hit titles Clash of Clans and Clash Royale have high volumes of monthly active users (MAU) in both the United States and China. Other publishers can look to Supercell for an example of preventing churn and maintaining gamer interest in diverse regions. Additionally, leveraging an existing game's intellectual property and injecting new gameplay can keep users within the publisher's library of games.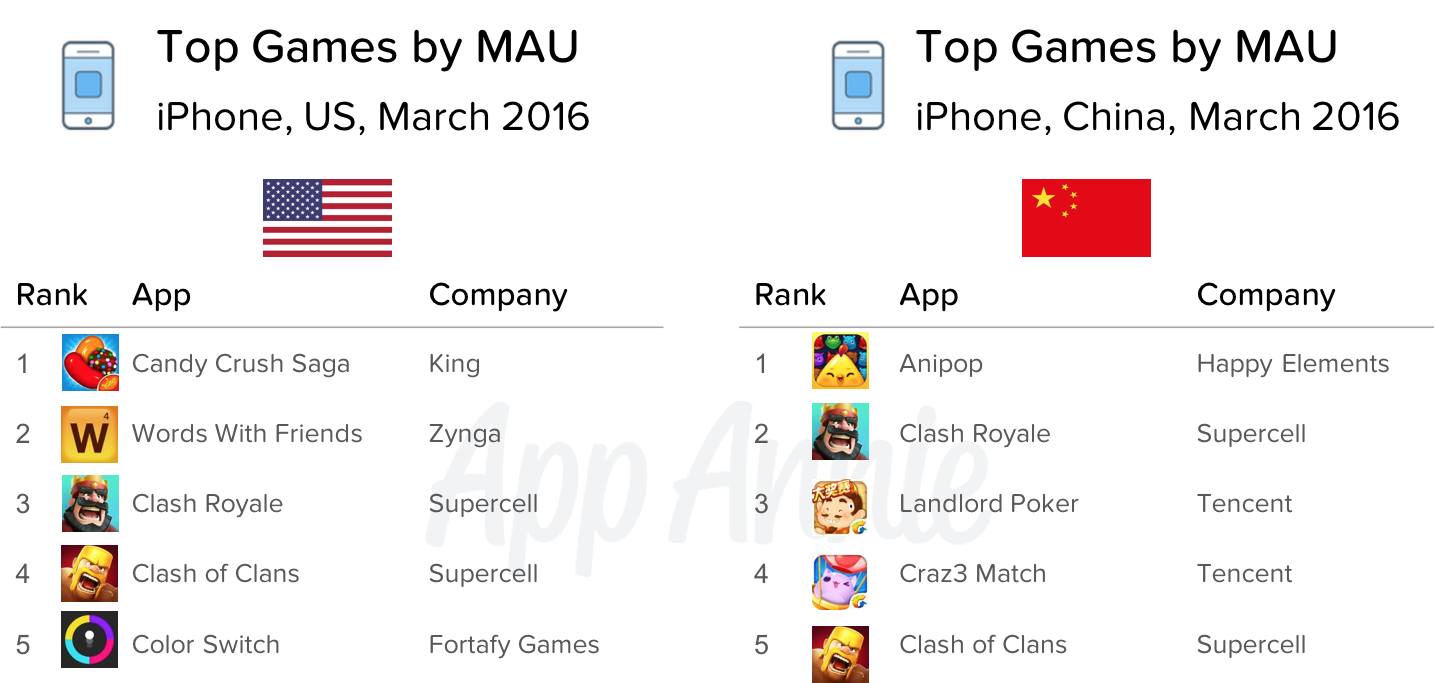 Supercell is the only publisher with a top-5 presence in both the US and China by iPhone MAU.
Basketball Stars is a Slam Dunk for Miniclip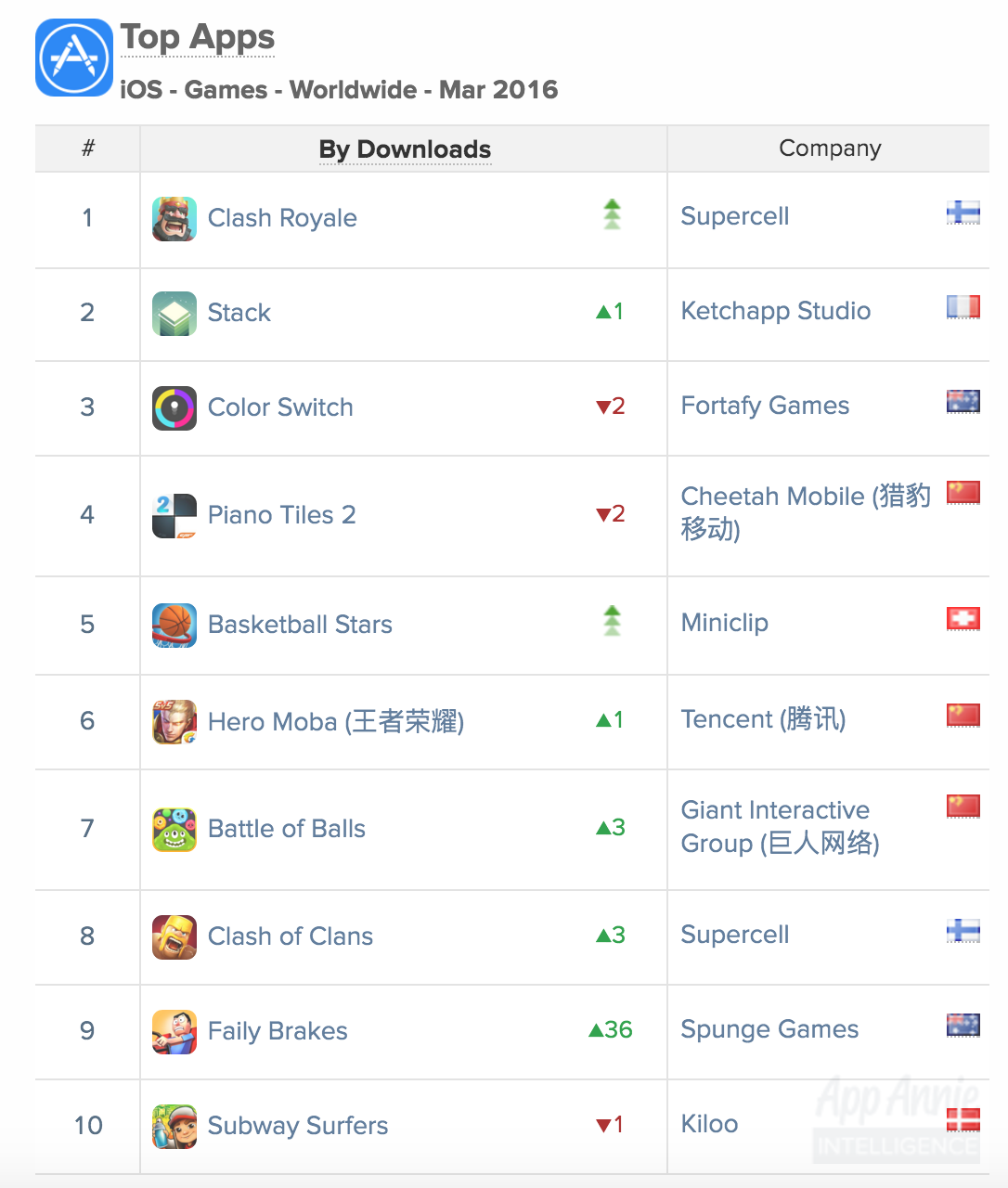 Miniclip's Basketball Stars shot up in popularity with its timely mid-March release, synced with the first game of March Madness, an annual college basketball sporting tournament in the US. The multiplayer game released by the publisher of smash-hit Agar.io allows online one-on-one real-time play.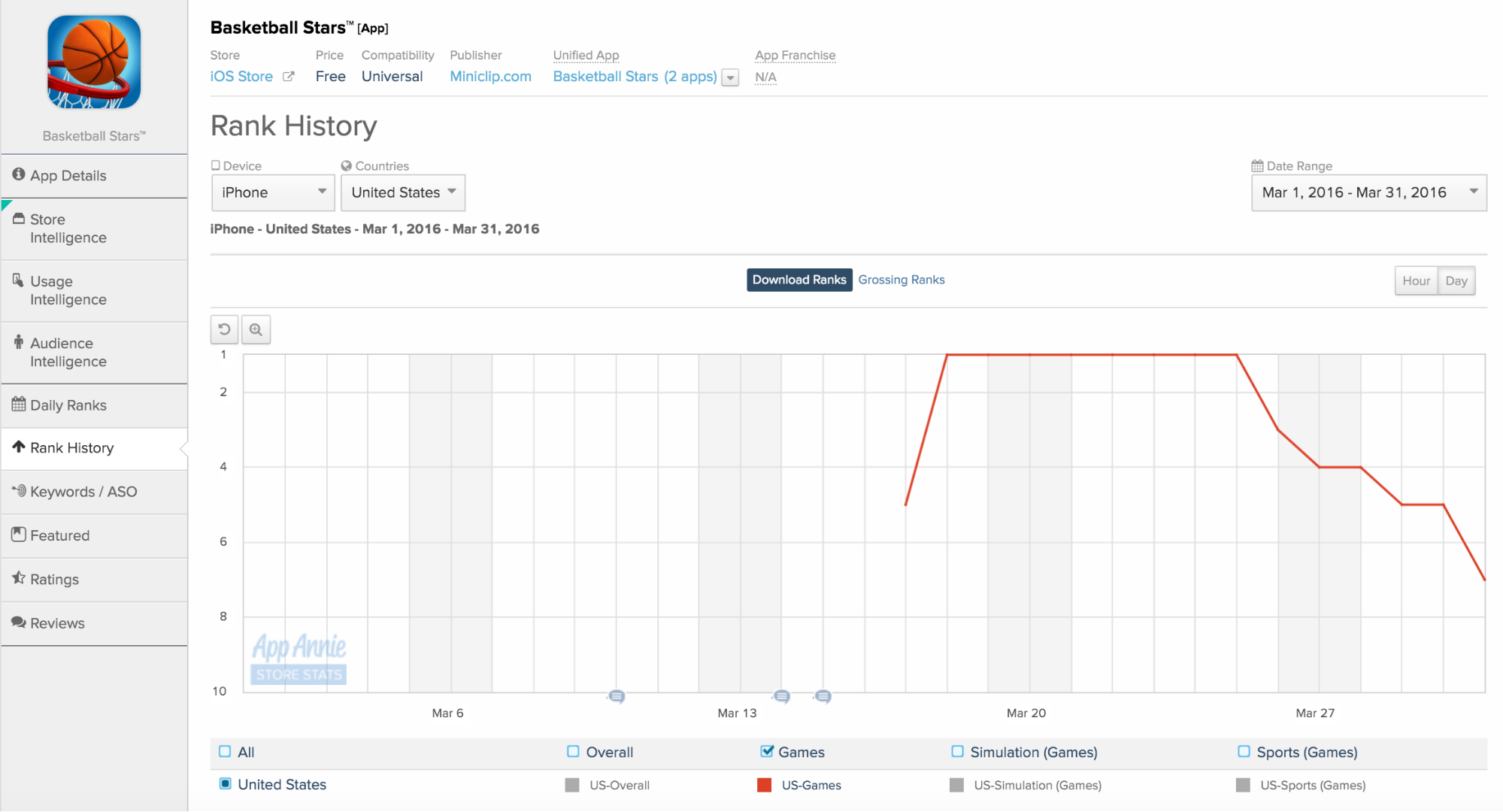 Coinciding with March Madness, Basketball Stars maintained a top-10 ranking in the US by Games downloads on iPhone throughout March.
Miniclip has historically found success when launching an app in conjunction with a major sporting event. For example, in June 2014, the publisher released Soccer Stars to coincide with the World Cup and landed a top-10 spot on iOS's worldwide Games rankings by downloads. The company also has a game called Hockey Stars, and while it has only soft-launched in a few European countries, it might see a download boost around the Stanley Cup playoffs in June.
Basketball Stars was not alone in reaping the benefits of March Madness's popularity - which also had a significant impact on the March 2016 Apps Index. CBS Sports, which allowed users to stream March Madness games, also saw an increase in its download rank, briefly landing within the top 10 overall apps in the US. Not surprisingly, NCAA March Madness showed a similar pattern to CBS Sports and Basketball Stars. This is typically seen with sports apps that have specific triggers for a massive rise in popularity tied to key sporting events, such as the start of baseball season.
This leads us to a key takeaway for publishers: Associating your app with relevant cultural events is recommended for boosting awareness and increasing downloads. While it is not necessarily critical to release a game in parallel to a related cultural event, this may be the best time to target investments in advertising and partnerships. This has been done with games tied to movie releases, such as Star Wars: The Force Awakens and Despicable Me, and has translated well for sporting events. Moving forward, we recommend watching how publishers time their game releases with other popular events.
Stack Towers Above the Competition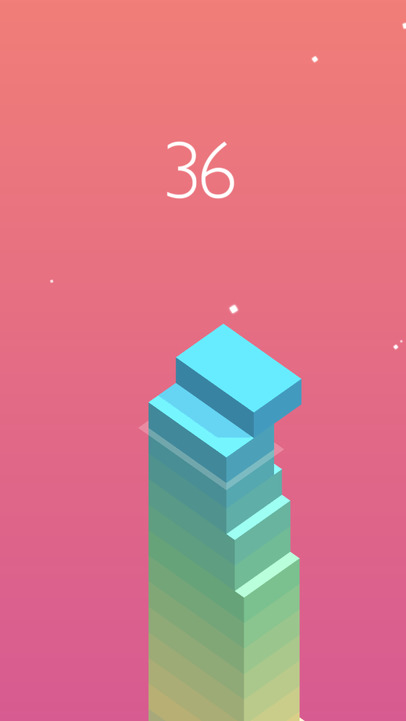 Stack, another successful Ketchapp game, grabbed the #3 spot on the iOS App Store and Google Play worldwide combined download rankings in March following a successful launch in mid-February. Gameplay is addictively simple and reminiscent of other Ketchapp games and captured worldwide appreciation with the tap of a finger, block by block. While the game is enjoyed across age groups, it tends to skew toward the younger age group of 13–24 in the US on iPhone, more so than the majority of top 10 Games which tend to skew toward ages 25–44.
Ketchapp is able to stay in the top ranks by using a strategy that reflects mobile games' short lifecycles. By making simple, addictive games with a frequent release schedule, they're able to transition players within its family of titles rather than losing them to competitors. This is done through a cross-app promotion strategy model, where advertising to users within existing games promotes conversion to new games. Ketchapp's first popular game to achieve top ranks by downloads was 2048 in March 2014, and since then, 58 out of their 79 iOS games and 59 out of their 67 Google Play games have reached a top 10 download ranking in the US.
Ketchapp's continued success goes beyond simple games and strategic cross-app promotion, with organic ASO and social marketing that attracts new players as well. App Annie recently spoke to Antoine Morcos, CEO of Ketchapp, to see his reaction to Stack's performance:
"We're very pleased with the success of Stack this year, and humbly recognize its success as a reflection of its beauty. Expect many more beautiful games from us this year."
App Annie will continue to monitor Ketchapp's releases to see if they can stack up to its other top games.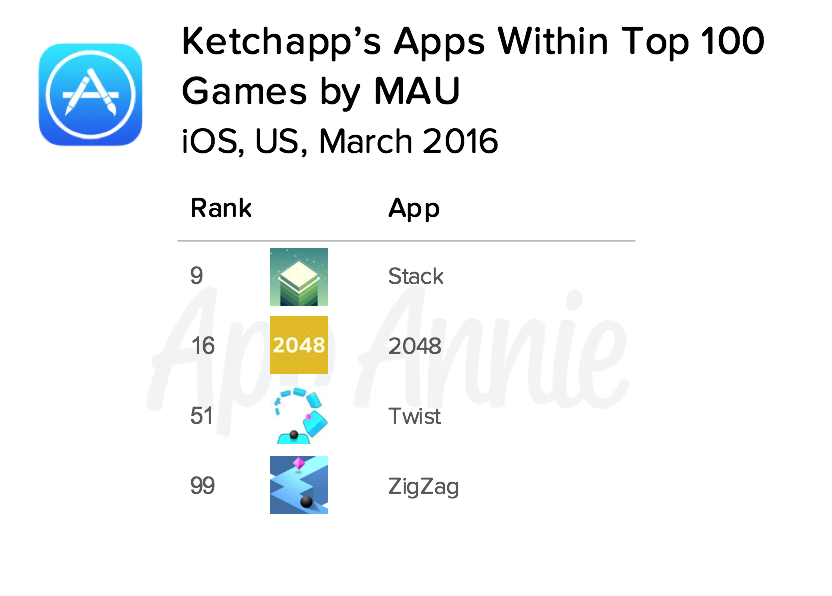 Although mobile games tend to have shorter lifecycles, Ketchapp managed to get 4 apps a spot on the US's iOS Top 100 Games by MAU.
The Technology Behind the Index
The information contained in this report is compiled from App Annie Intelligence, the leading market data solution for the app store economy. To see how our app store download, revenue, demographic and usage estimates can help guide your critical business decisions, request a demo today.
---

---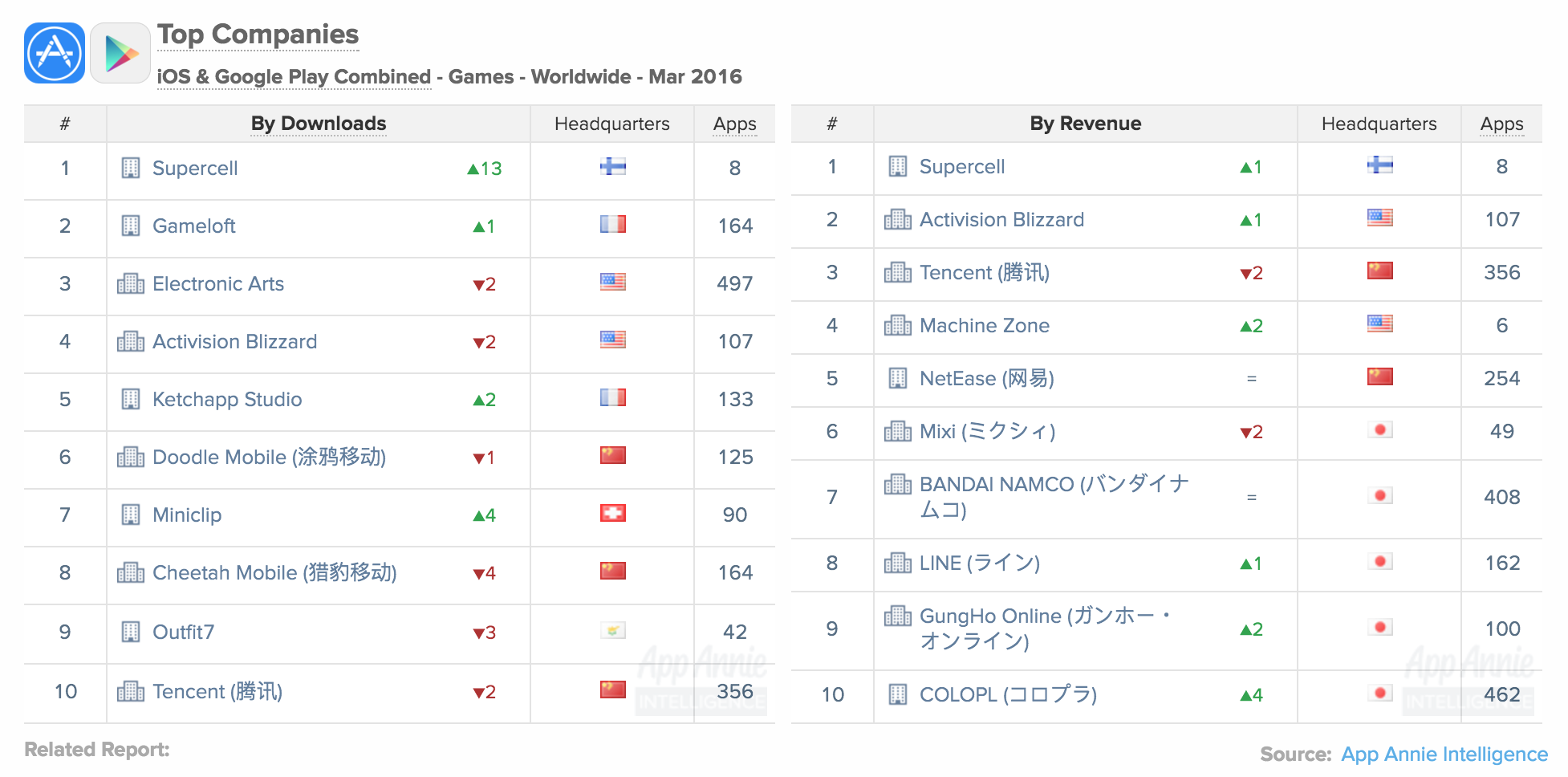 For the complete list of March's top apps and app publishers around the world, click the chart above.
Notes:
The publisher and app rankings reported in the App Annie Index are based on the download and revenue estimates available through App Annie Intelligence. The daily rank history charts and the homepage feature app data are available to all users through App Annie's app tracker solution, Store Stats.
App Annie Intelligence is currently available for the iOS App Store and Google Play. It does not currently provide estimates for other app stores, such as the Amazon Appstore. While iOS and Google Play represent a significant portion of the app market in many countries, that is not the case for some countries. For example, China has a number of sizable third-party Android app stores.

While the Index for Games covers games, the Index for Apps provides app tracking on everything but games. Note that the Top Company rankings in the Index for Games are based solely on the publishers' games downloads and revenue, while the Top Company rankings in the Index for Apps are based on the company's downloads and revenue from apps excluding games.

Company and unified app rankings in the App Annie Index for Games and Index for Apps are based on individual apps that ranked in the Top 1,000.

Download rankings are based on individually downloaded apps and exclude downloads of app bundles. Revenue rankings are based on download revenue from individually downloaded paid apps as well as in-app purchase revenue from both individually downloaded apps and app bundles.

In the first month in which an app becomes unified, its rank change in the Index will compare the unified app that month vs. its highest-ranking individual app in the month prior. As a result, rank changes for newly unified apps may overstate ranking increases from June 2015 to July 2015.

In the iOS App Store, an app can be categorized under a Primary Category as well as an optional Secondary Category. If an app has a Primary Category of Games and a Secondary Category of Entertainment, it is a candidate to be included in this Index for Games. If the app's Primary Category is Entertainment and its Secondary Category is Games, then it will not be included in this Index for Games; it is a candidate for the Index for Apps.

Note that the ranking approach used in the App Annie Index differs from that used in the iOS App Store. In the latter, app rankings for a given category will include all apps whose Primary Category or Secondary Category matches that given category. So an app can appear in the rankings for more than one category within the iOS App Store or in App Annie Store Stats rankings.

In Google Play, an app can be categorized under only one category, so there is no double-categorization.

Occasionally, a publisher may decide to shift an existing app from one category to another category. In these cases, the App Annie Index will rank that app based on its categorization in the subsequent month. Given that the App Annie Index has a Games report and an Apps report, the only scenario where an app's recategorization could shift it from one Index to another is if its category changes from Games to a category other than Games or vice versa.
In the App Annie Index, all apps and publishers are reported under their parent companies, where available; for example, the Plants vs. Zombies™ 2 app is reported under its parent company Electronic Arts, rather than its direct publisher PopCap. Note that if you view the Electronic Arts parent company page on Store Stats, you will see the publishers that roll under the parent company Electronic Arts, including PopCap. The Plants vs. Zombies™ 2 app will be listed under the PopCap publisher page.
Company and app rankings are based on the App Annie DNA relationships at the time of publications. App Annie DNA relationships are subject to change over time.

App Annie Usage Intelligence data for smartphones and tablets were derived from mobile usage data collected from a large sample of real-world users, combined with additional proprietary data sets.

App Annie tracks usage at the device level using a privacy-protective hashed device ID. Data is only reported to third parties in aggregated format.

App Annie Index revenue rankings are based on revenue that the iOS App Store and Google Play earned from paid downloads and in-app purchases. They do not include revenue earned from in-app advertising.

Certain trademarks and/or images used in this report may belong to third parties and are the property of their respective owners. App Annie claims no rights to such trademarks or images.