Longstanding hit Puzzle & Dragons received a revenue boost thanks to an in-game event, while Tencent dominates the iOS charts with both casual and core successes.
Worldwide App Annie Index for Games June 2016

Each month, the App Annie Index highlights the top-performing games and apps for the iOS App Store and Google Play. Our analysis covers trends among the leading apps across countries and categories, and is the industry standard for professionals looking to compare leading apps and publishers.

You might also be interested in:
This Month's Top Games
In-Game Events Boost Puzzle & Dragons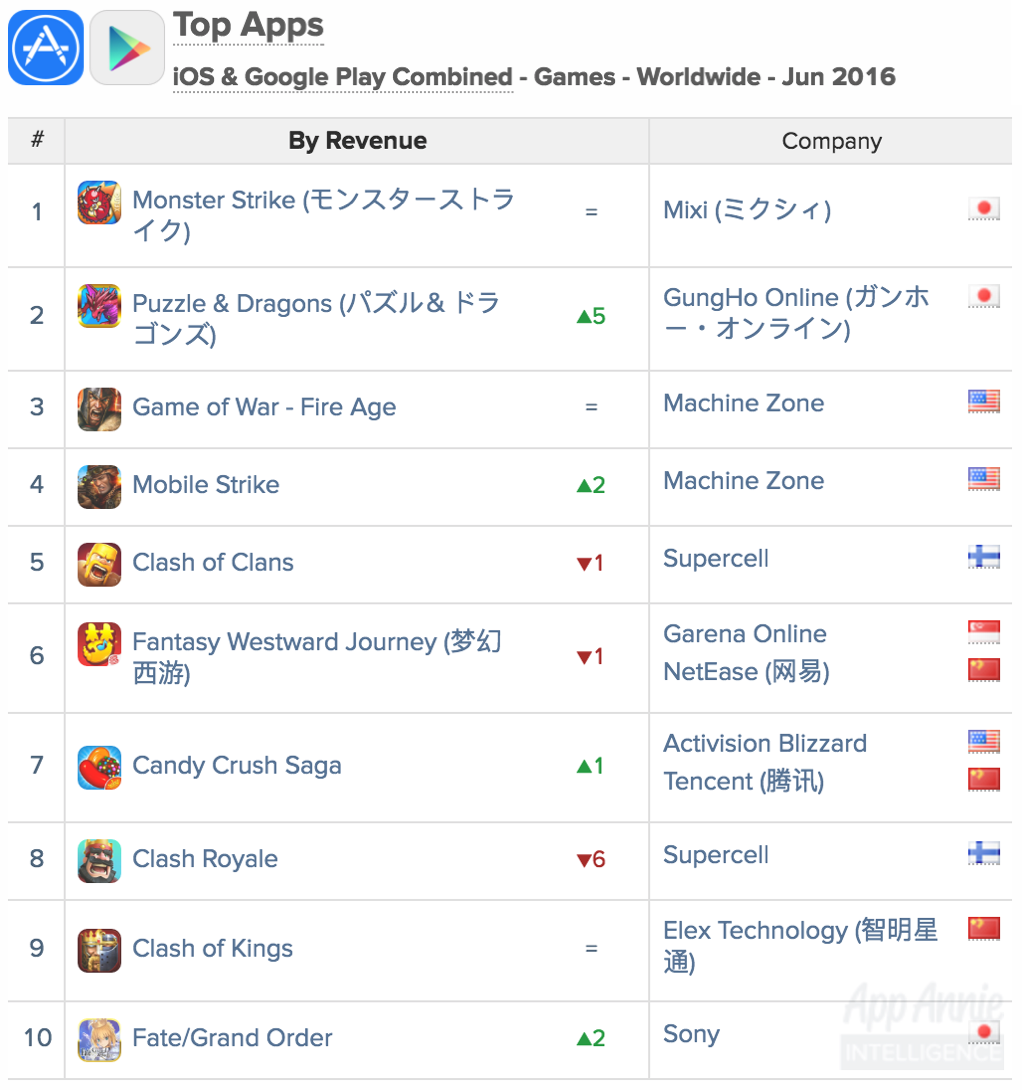 GungHo Online's 2012 hit Puzzle & Dragons was the #2 top-earning game in June (combining iOS and Google Play). The puzzle role-playing game, which took #3 and #1 on our all-time iOS App Store and Google Play revenue rankings, continues to hold its own on the world stage of mobile games, even though nearly all of its revenue comes from Japan.
Puzzle & Dragons' impressive success in June was largely driven by Player's Choice Godfest, which most recently took place from May 31 to June 3. The event, which occurs a few times a year, is a special version of the game's more frequent Godfest, in which players are able to acquire powerful god characters. During Player's Choice Godfest, the community votes on which gods from previous Godfests will be available during the limited event. The chance to acquire some of the most sought-after characters in the game makes this a highly anticipated community event which generates substantial revenue.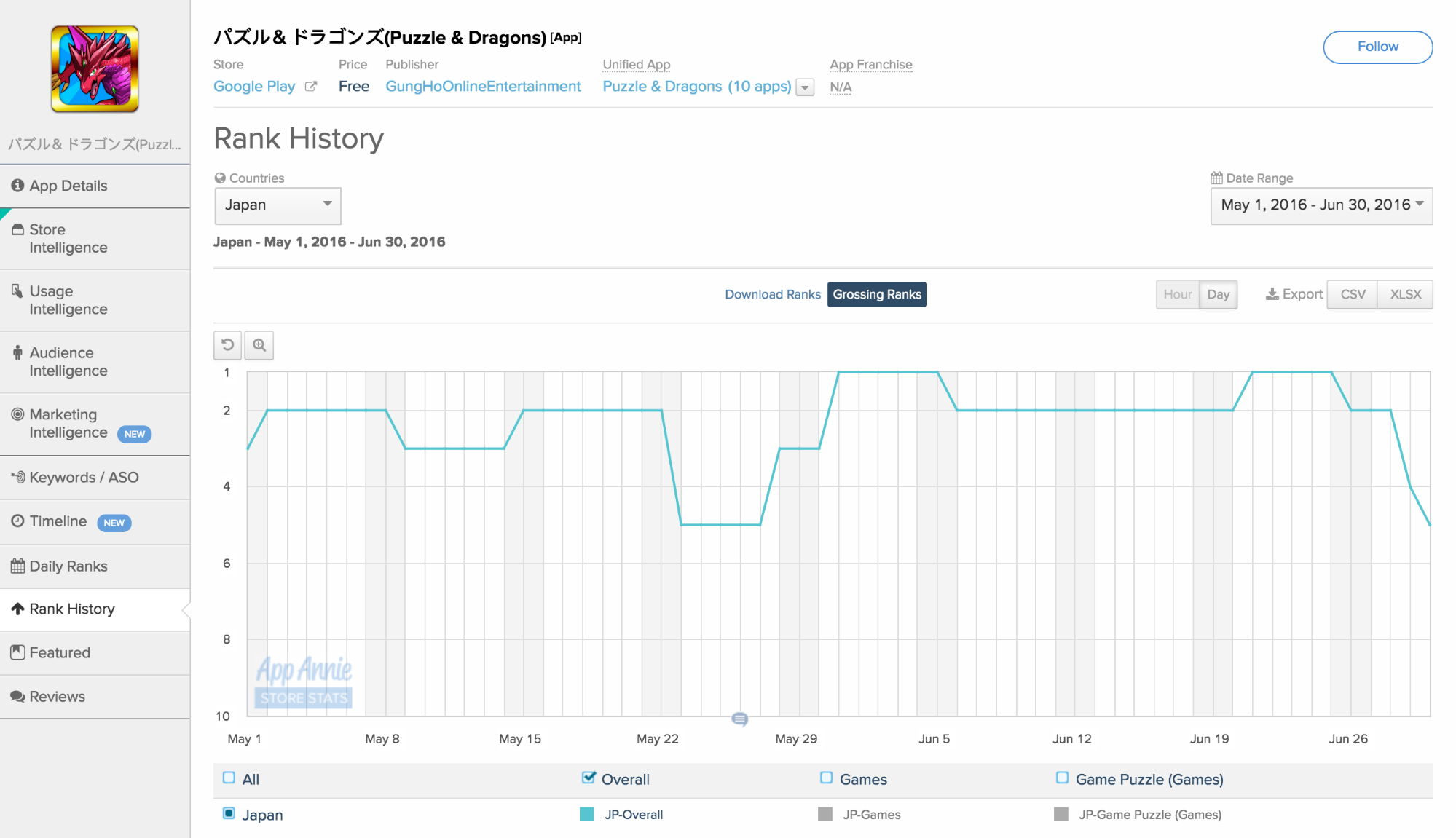 Player's Choice Godfest drove a significant boost in Puzzle & Dragons' Japan iPhone grossing rank.
Player's Choice Godfest generates revenue spikes thanks to the gacha mechanic, which is central to the game's overall monetization. Gacha is a lottery system in which players spend virtual currency with the hope of randomly receiving higher-valued rare or legendary characters. These special events push players to use (and monetize through) the gacha system, but even more interestingly, we noticed increased revenue following the special event period.
Tencent Stays Atop iOS with Casual and Core Successes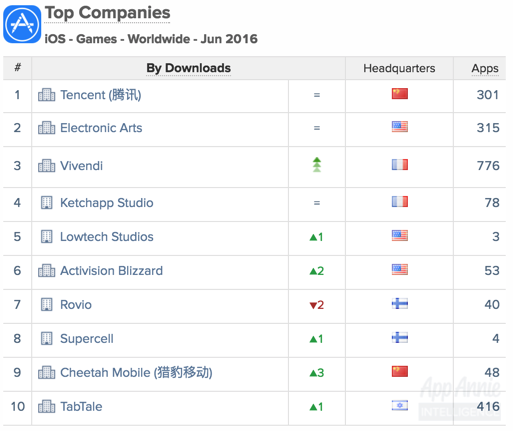 In June, Tencent held on to its #1 spot among companies by worldwide iOS downloads thanks largely to the performance of two games — Hero Moba which reached #2 and Carrot Fantasy 3 which reached #3 — whose downloads mostly came from China.
Released in late 2015, Hero Moba has become perhaps the most successful mobile adaptation of the multiplayer online battle arena (MOBA)  genre, exemplified by PC games Dota 2 and League of Legends. Platform aside, the main difference between these PC MOBA titles and Hero Moba is geography. The former are popular worldwide, while Hero Moba is an entirely Chinese phenomenon. It remains to be seen whether a mobile MOBA can achieve global success on our Index rankings.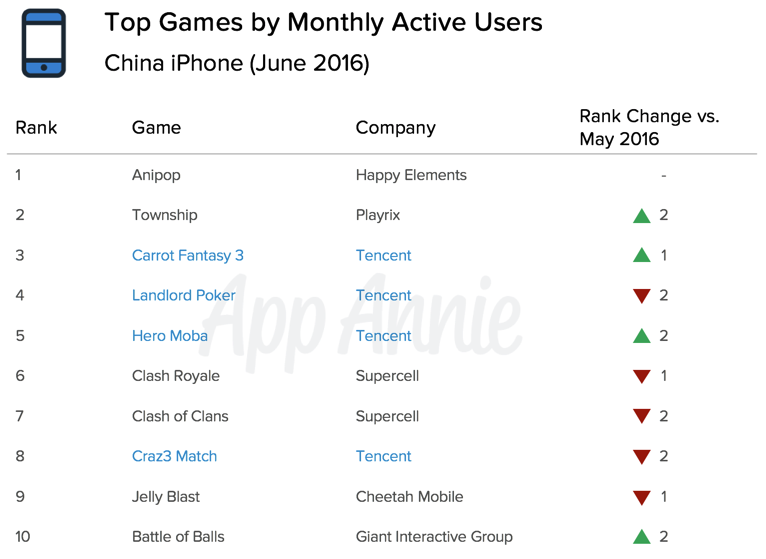 Four of the top 10 games by iPhone monthly active users in China were published by Tencent. Once Tencent completes its purchase of Supercell, a majority of the games on this list will be Tencent's.
While Hero Moba caters to core mobile gamers, Tencent's new June hit Carrot Fantasy 3 appeals to more casual players. It follows the success of the previous two Carrot Fantasy titles, all of which are tower defense games with cute and colorful visuals. Tencent has found a formula for success, shown by the fact that Carrot Fantasy 3 reached #2 by June worldwide iOS game downloads despite only being released midway through the month.
Tencent's successes within China have so far been more than enough to place the company's games in global rankings. They seem poised to go much further, however. With Tencent's purchase of Supercell, the company's place in future Index rankings is all but assured.
Steppy Pants Steps Up on iOS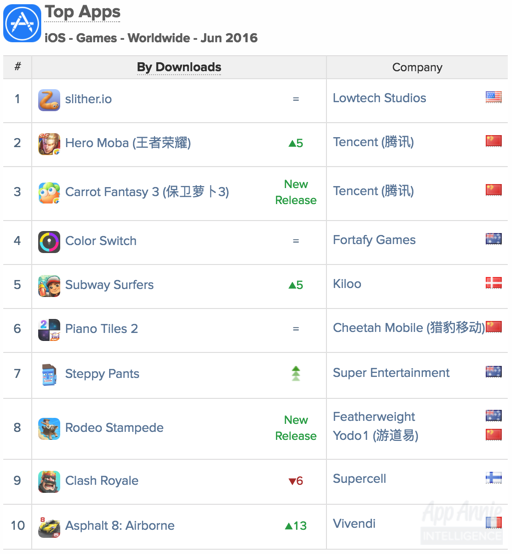 Casual hit Steppy Pants debuted at #7 on our worldwide iOS downloads chart. The game, published by Australian company Super Entertainment, takes inspiration from the retro 8-bit-inspired visual style of Crossy Road, and is described on its app details page as a mash-up between Crossy Road and Flappy Bird. Like these games, Steppy Pants is an "endless" game, meaning that gameplay sessions last as long as the player can survive.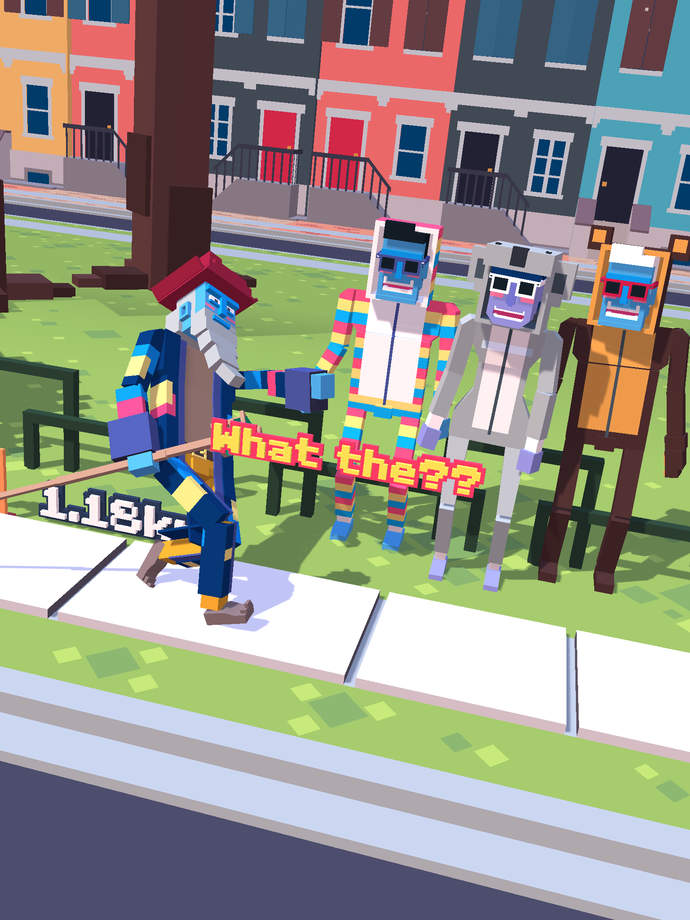 Steppy Pants challenges players to not break their mothers' backs.
In Steppy Pants, the goal is to direct your character to walk while avoiding cracks on the sidewalk. This simple mechanic has caused the game to catch on in both East and West, with Thailand generating the second-most downloads behind the US. The game is currently available on iOS, and we expect its global popularity to broaden if it is released on Google Play.
The Technology Behind the Index
The information contained in this report is compiled from App Annie Intelligence, the leading market data solution for the app store economy. To see how our app store download, revenue, demographic and usage estimates can help guide your critical business decisions, request a demo today.
---

---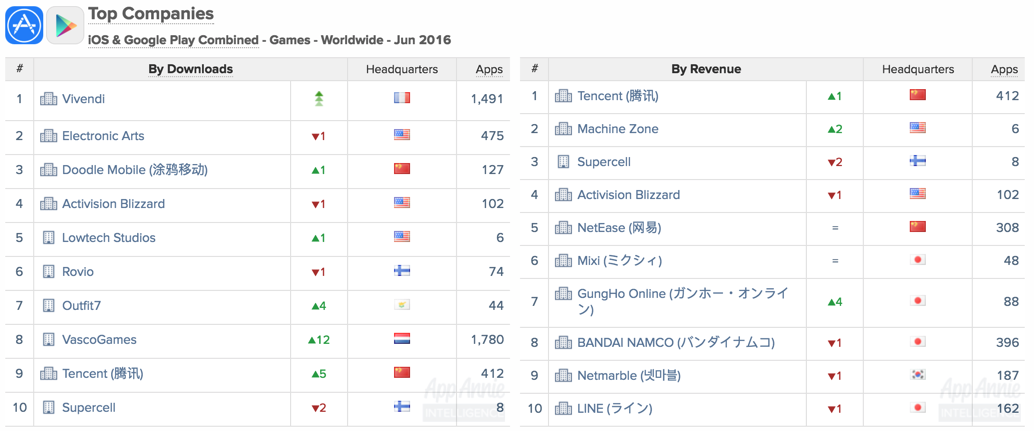 For the complete list of June's top apps and app publishers around the world, click the chart above.
Notes:
The publisher and app rankings reported in the App Annie Index are based on the download and revenue estimates available through App Annie Intelligence. The daily rank history charts and the homepage feature app data are available to all users through App Annie's app tracker solution, Store Stats.
App Annie Intelligence

is currently available for the iOS App Store and Google Play. It does not currently provide estimates for other app stores, such as the Amazon Appstore. While iOS and Google Play represent a significant portion of the app market in many countries, that is not the case for some countries. For example, China has a number of sizable third-party Android app stores.
While the Index for Games covers games, the Index for Apps provides app tracking on everything but games. Note that the Top Company rankings in the Index for Games are based solely on the publisher's games downloads and revenue, while the Top Company rankings in the Index for Apps are based on the company's downloads and revenue from apps excluding games.
Company and unified app rankings in the App Annie Index for Games and Index for Apps are based on individual apps that ranked in the Top 1,000.
Download rankings are based on individually downloaded apps and exclude downloads of app bundles. Revenue rankings are based on download revenue from individually downloaded paid apps as well as in-app purchase revenue from both individually downloaded apps and app bundles.
In the first month in which an app becomes unified, its rank change in the Index will compare the unified app that month vs. its highest-ranking individual app in the month prior. As a result, rank changes for newly unified apps may overstate ranking increases from May 2016 to June 2016.

In the iOS App Store, an app can be categorized under a Primary Category as well as an optional Secondary Category. If an app has a Primary Category of Games and a Secondary Category of Entertainment, it is a candidate to be included in this Index for Games. If the app's Primary Category is Entertainment and its Secondary Category is Games, then it will not be included in this Index for Games; it is a candidate for the Index for Apps.

Note that the ranking approach used in the App Annie Index differs from that used in the iOS App Store. In the latter, app rankings for a given category will include all apps whose Primary Category or Secondary Category matches that given category. So an app can appear in the rankings for more than one category within the iOS App Store or in App Annie Store Stats rankings.

In Google Play, an app can be categorized under only one category, so there is no double-categorization.

Occasionally, a publisher may decide to shift an existing app from one category to another category. In these cases, the App Annie Index will rank that app based on its categorization in the subsequent month. Given that the App Annie Index has a Games report and an Apps report, the only scenario where an app's recategorization could shift it from one Index to another is if its category changes from Games to a category other than Games or vice versa.
In the App Annie Index, all apps and publishers are reported under their parent companies, where available; for example, the Plants vs. Zombies™ 2 app is reported under its parent company Electronic Arts, rather than its direct publisher PopCap. Note that if you view the Electronic Arts parent company page on Store Stats, you will see the publishers that roll under the parent company Electronic Arts, including PopCap. The Plants vs. Zombies™ 2 app will be listed under the PopCap publisher page.
Company and app rankings are based on the App Annie DNA relationships at the time of publications. App Annie DNA relationships are subject to change over time.
App Annie Usage Intelligence data for smartphones and tablets were derived from mobile usage data collected from a large sample of real-world users, combined with additional proprietary data sets.
App Annie tracks usage at the device level using a privacy-protective hashed device ID. Data is only reported to third parties in aggregated format.
App Annie Index revenue rankings are based on revenue that the iOS App Store and Google Play earned from paid downloads and in-app purchases. They do not include revenue earned from in-app advertising.

Certain trademarks and/or images used in this report may belong to third parties and are the property of their respective owners. App Annie claims no rights to such trademarks or images.