The Worldwide App Annie Index for Games highlights the hottest mobile game properties for both the iOS App Store and Google Play. To find out what else is hot in the mobile app economy, please check out the App Annie Index - Market Q2 2014, the Index for General & Business News and the June 2014 Worldwide Index for Apps.
TABLE OF CONTENTS
1. The Technology Behind the Index
The information contained in this report was compiled from App Annie Intelligence, the leading market data solution for the app store economy. To see how our app store download and revenue estimates can help guide your critical business decisions, take a tour or request a demo today.
---

---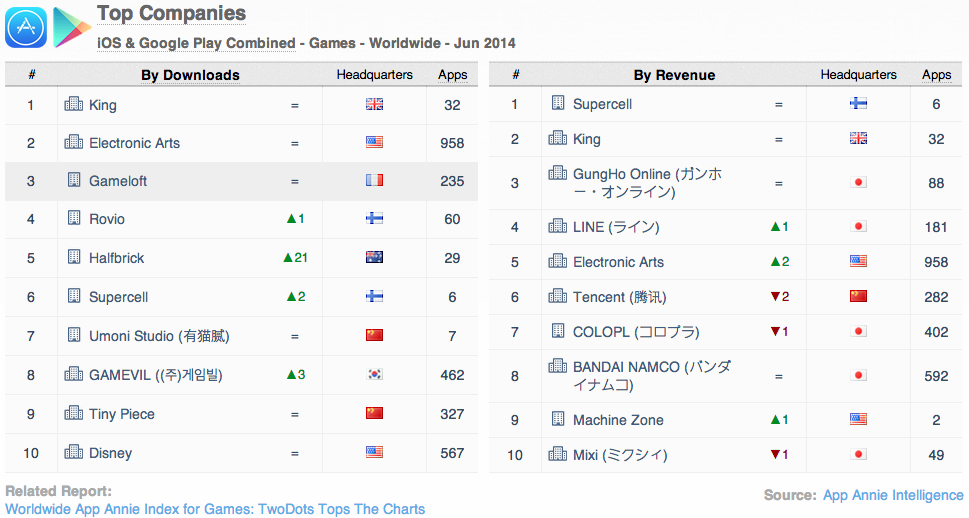 For the complete list of June's top apps and publishers, click the chart above.
2. This Month's App Superstars
TwoDots Leads the New Releases on iOS Downloads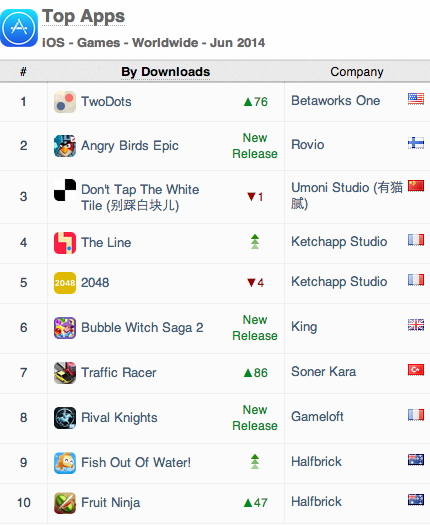 TwoDots led the wave of new entrants that swept through the Top 10 iOS games by monthly downloads in June 2014. Don't Tap the White Tile and 2048 were the only two apps that stayed in the Top 10 from May 2014.
TwoDots is Betaworks One's aptly named sequel to the award-winning 2013 smash hit Dots, jumping into the #1 download spot for iOS games for June. TwoDots supplements the simple dot-connecting puzzle gameplay from the first game with an original storyline that presents different challenges on top of the core gameplay. Users can purchase extra moves or bombs to help them pass particularly difficult levels.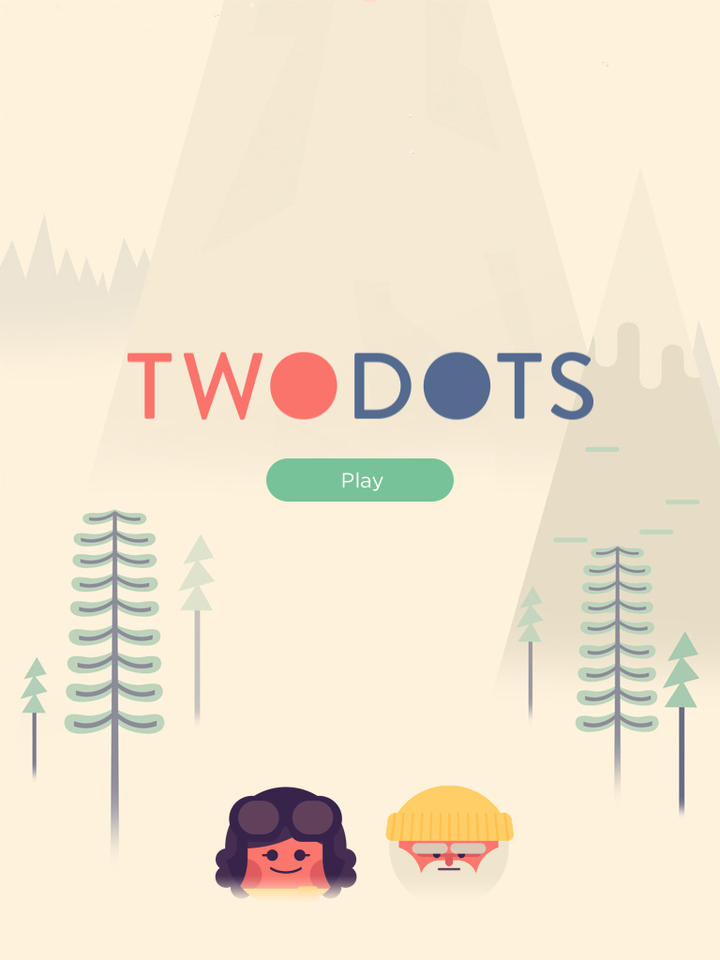 TwoDots found success with a new story arc and characters.
Released in late May, TwoDots quickly laid claim to the #1 overall spot for iOS game downloads worldwide, serving as the main driver for Betaworks One's ascent into the Top 10 for iOS game downloads. TwoDots' US revenue rankings also soared at an impressive clip and held steady for the entire month of June, a positive indicator for future success.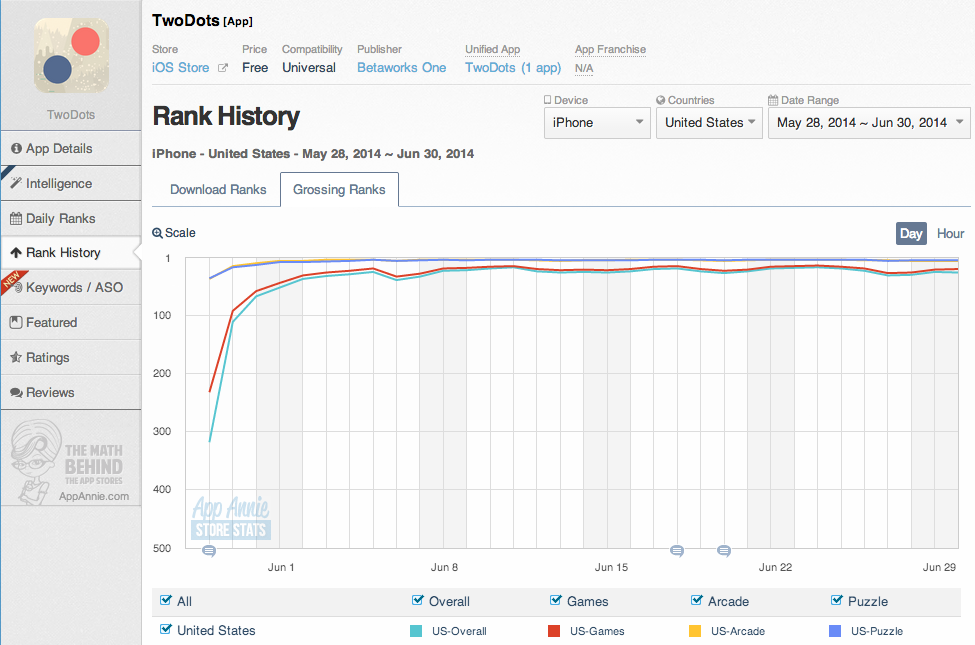 TwoDots climbed rapidly after its release and its revenue ranking held steady in the US iOS App Store.
Halfbrick Games Builds a Solid Freemium Strategy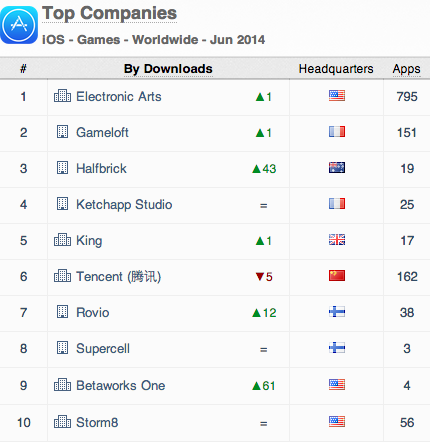 Halfbrick leapt 43 spots and ended June 2014 as the #3 iOS game publisher by downloads due to the strong performance in the second half of month. The Australian game studio sliced the prices for their paid games to free for a limited time, which resulted in substantial growth across their app portfolio. A couple of Halfbrick games rode the free wave all the way into the Top 10 iOS games by monthly downloads -- the fan-favorite Fruit Ninja, and Fish Out of Water!.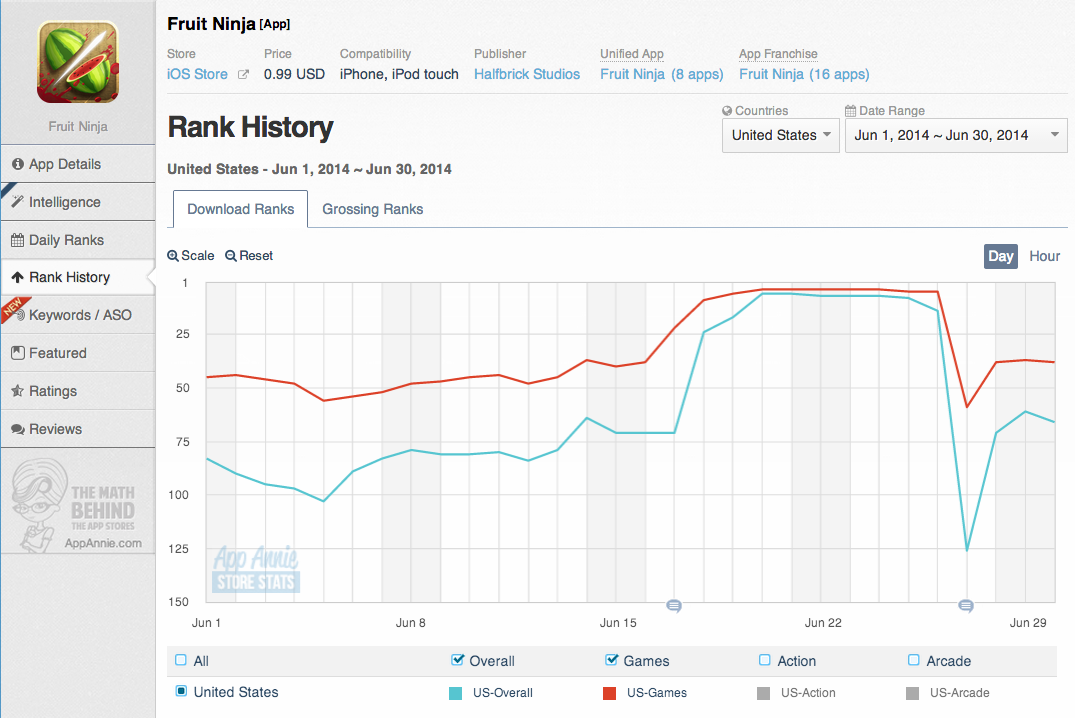 Fruit Ninja sliced its way up the download ranks in June after switching from paid to freemium.
Bubble Witch Saga 2 Bursts into Top 10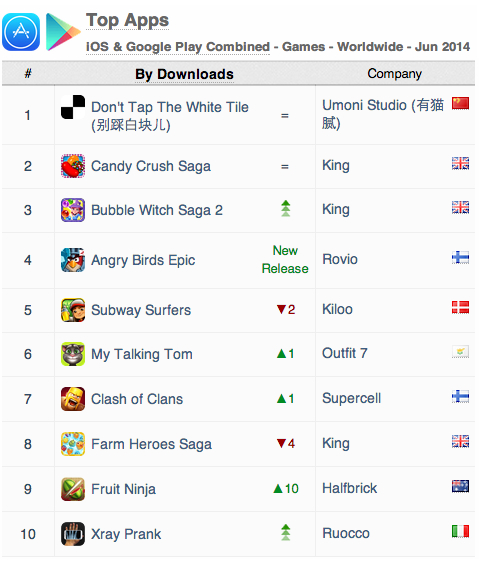 King added Bubble Witch Saga 2 to its smash hit portfolio and it surged to #3 in combined downloads for iOS and Google Play for June. Bubble Witch Saga 2 combines the classic bubble-matching from its 2012 predecessor with enhanced graphics and add-ons such as special boosters, various game modes and leaderboards to compete against friends and family.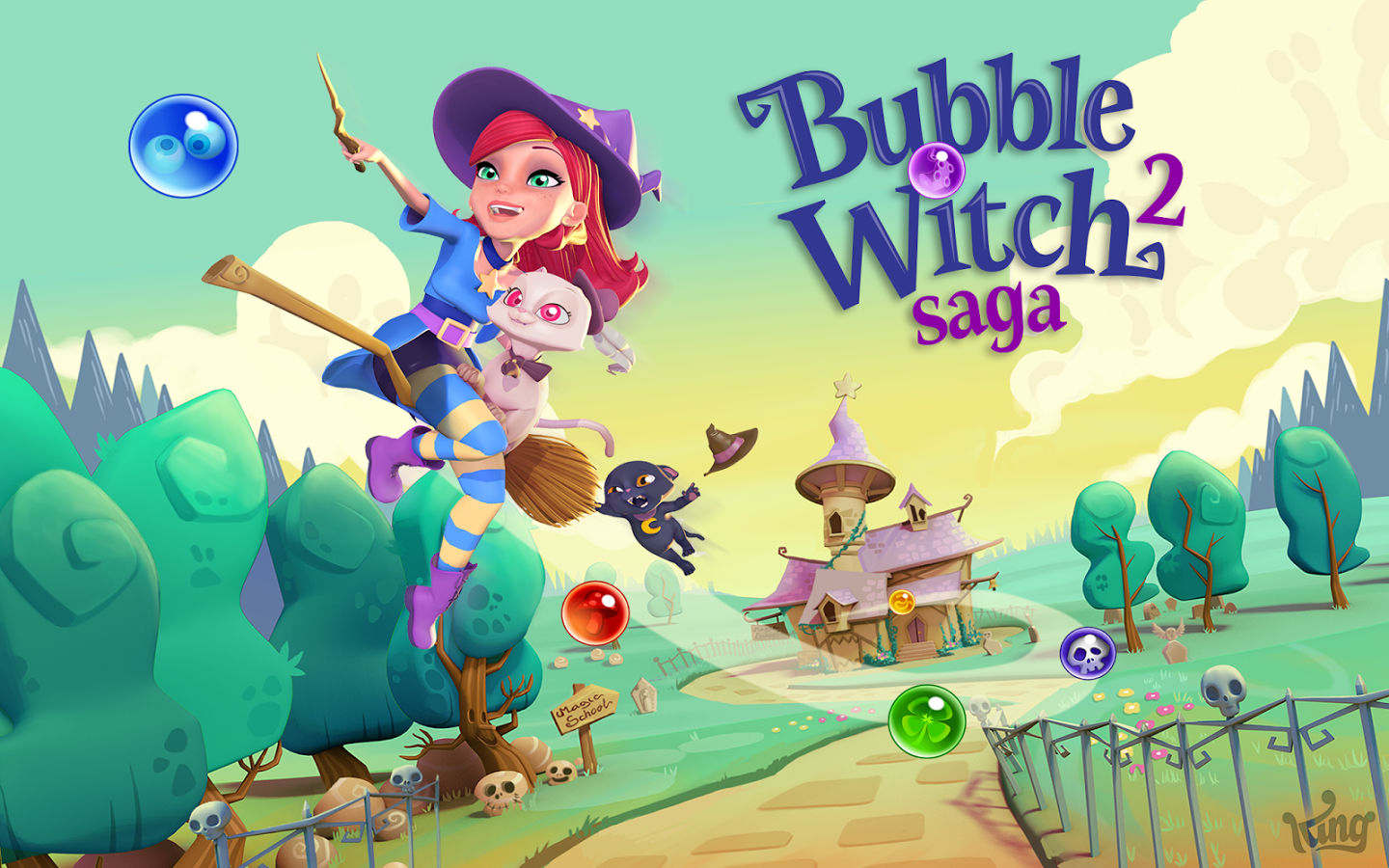 King's Bubble Witch Saga 2 offers classic puzzles with vibrant new graphics.
Unlike some games which are heavily dependent on one platform for success, Bubble Witch Saga 2 did well in both stores, finishing June 2014 as the #6 ranked game by monthly downloads for both iOS and Google Play.
Upon premiering, Bubble Witch Saga 2 did well immediately in both the United States and United Kingdom -- countries that were significant contributors to overall downloads. After seeing the strong return on Candy Crush advertising in Japan, King chose to advertise Bubble Witch Saga 2's release on television in the United States.
Rovio's Angry Birds Epic Slingshots to the Top
Despite releasing on June 12, Angry Birds Epic soared into the Top 5 games for combined iOS and Google Play downloads globally. Expanding on the incredibly popular franchise, Angry Birds Epic ditches bird-slinging arcade action for a turn-based role-playing fantasy game format, battling the infamous pigs across a variety of challenging environments.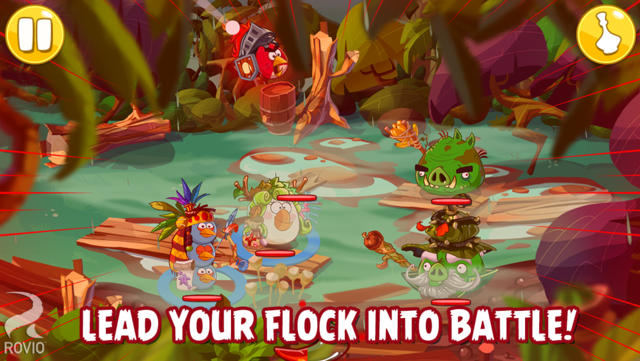 Rovio's Angry Birds Epic offers a new role-playing experience using famous bird heroes.
3. More Movers and Shakers
SEGA Breaks Into Top 10
SEGA rose seven spots and finished in the #9 spot for Google Play revenue due largely to the success of games Chain Chronicle and Puyo Puyo!! Quest. Chain Chronicle combines the aspects of tower defense games with RPG mechanics, and has gained international appeal through licensing agreements. Puyo Puyo!! Quest is a puzzle RPG spin-off of popular bubble-popping Puyo Puyo franchise.
Xray Prank Radiates on Google Play
Ruocco, known for their prank and joke apps, released Xray Prank, an app that displays realistic-looking skeletal scans. The game's surge into the Top 10 in Google Play downloads coincided with a late May update that added many more body part "x-rays." Xray Prank did particularly well in Brazil, Russia and India.
Ketchapp Toes The Line
Known for smash-hit 2048, Ketchapp Studio's new release The Line is the newest addition to the recently popular touch-and-slide endless runners. Its mid-June surge in downloads was spurred on mainly by the United States, United Kingdom and France.
Rival Knights Rides to Glory
Gameloft's new game Rival Knights rammed its way into the top 10 in iOS downloads, finishing at #7 despite releasing nearly a week into June. Players joust for glory and prizes as tournament knights, armed with slick features such as customizable characters, multiplayer options and 3D graphics.
---
| | |
| --- | --- |
| | Want to get even more advanced with your app store market analysis? Check out our enterprise product App Annie Intelligence. |
---
For those of you who are also looking for an update on top apps outside of games, please check out the Worldwide App Annie Index for Apps June 2014. To keep up-to-date with all the changes at the top of the app and publisher charts, check out the complete set of App Annie Index tables.
Notes:
The publisher and app rankings reported in the App Annie Index are based on the download and revenue estimates available through App Annie

Intelligence

. The daily rank history charts and the home page feature app data are available to all users through App Annie's app tracker solution,

Store Stats

.

While the Index for Games covers games, the Index for Apps provides app tracking on everything but games. Note that the Top Company rankings in the Index for Games are based solely on the publishers' games downloads and revenue, while the Top Company rankings in the Index for Apps are based on the company's downloads and revenue from apps excluding games.

Through September 2013, similar versions of the same app with different names (e.g., NYTimes and NYTimes for iPad) were ranked separately. Effective with October data, similar versions of the same app with different names are unified (e.g., NYTimes and NYTimes for iPad are now aggregated and ranked as a single NYTimes unified app).

Company and unified app rankings in the App Annie Index for Games and Index for Apps are based on individual apps that ranked in the Top 1,000.

In the first month in which an app becomes unified, its rank change in the Index will compare the unified app that month vs. its highest-ranking individual app in the month prior. As a result, rank changes for newly unified apps may overstate ranking increases from May 2014 to June 2014.

In the iOS App Store, an app can be categorized under a Primary Category as well as an optional Secondary Category. If an app has a Primary Category of Games and a Secondary Category of Entertainment, it is a candidate to be included in this Index for Games. If the app's Primary Category is Entertainment and its Secondary Category is Games, then it will not be included in this Index for Games; it is a candidate for the Index for Apps.

Note that the ranking approach used in the App Annie Index differs from that used in the iOS App Store. In the latter, app rankings for a given category will include all apps whose Primary Category or Secondary Category matches that given category. So an app can appear in the rankings for more than one category within the iOS App Store or in App Annie Store Stats rankings.

In Google Play, an app can be categorized under only one category, so there is no double-categorization.

Occasionally, a publisher may decide to shift an existing app from one category to another category. In these cases, the App Annie Index will rank that app based on its categorization in the subsequent month. Given that the App Annie Index has a Games report and an Apps report, the only scenario where an app's recategorization could shift it from one Index to another is if its category changes from Games to a category other than Games or vice versa.
In the App Annie Index, all apps and publishers are reported under their parent companies, where available; for example, the Plants vs. Zombies™ 2 app is reported under its parent company Electronic Arts, rather than its direct publisher PopCap. Note that if you view the Electronic Arts parent company page on Store Stats, you will see the publishers that roll under the parent company Electronic Arts, including PopCap. The Plants vs. Zombies™ 2 app will be listed under the PopCap

publisher page.

Company and app rankings are based on the App Annie DNA relationships at the time of publications. App Annie DNA relationships are subject to change over time.

App Annie Index revenue rankings are based on revenue that the iOS App Store and Google Play earned from paid downloads and in-app purchases. They do not include revenue earned from in-app advertising.

Certain trademarks and/or images used in this report may belong to third parties and are the property of their respective owners. App Annie claims no rights in such trademarks or images.