Pokémon GO dominated the app charts while Farm Heroes Super Saga rose thanks to paid UA, and My Talking Tom expanded into endless runners.
Worldwide App Annie Index for Games July 2016

App Annie is the industry standard for professionals looking to track the app economy and benchmark performance against leading apps and publishers. Each month, the App Annie Index highlights the top-performing games and apps for the iOS App Store and Google Play. Our analysis covers trends among the leading apps across countries and categories.

You might also be interested in:
Downloads and Revenue: Niantic Caught 'Em All With Pokémon GO
This Month's Top Games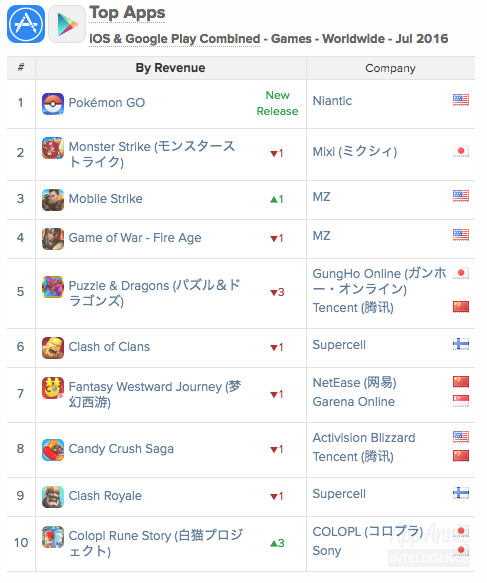 Niantic's Pokémon GO made a historic debut, catching the top spot for both downloads and revenue on both iOS and Google Play. Furthermore, within the first three weeks of its July launch, it achieved this feat in all 37 countries where it has been released on iOS. To date, it is the best-performing game this year in terms of combined iOS and Google Play downloads and revenue generated during the month of launch.
In Japan, where the game was only available in the later half of July, usage penetration among iPhone users grew at an unprecedented rate and was around twice that of the US during the last week of July.
Niantic first introduced location-based augmented reality (AR) capabilities in 2012 with their less-mainstream hit Ingress. By refining the same technology in Pokémon GO, Niantic has popularized AR for a mass audience and leveraged the widely successful Pokémon franchise which celebrated its 20th anniversary in February. Faithful to the franchise's theme, players are immediately drawn to the endless exploration of real world locations and the excitement of capturing their favorite Pokémon with their mobile devices.
In July, the app led all demographic segments of iPhone users in the US, skewing most heavily towards 13- to 24-year-olds. Coincidentally, Pokémon GO has created renewed interest in Ingress — in Japan, the game climbed to #9 in iPhone monthly active user (MAU) rankings for the month of July. We're looking forward to seeing how other apps use AR technology in innovative ways to drive success.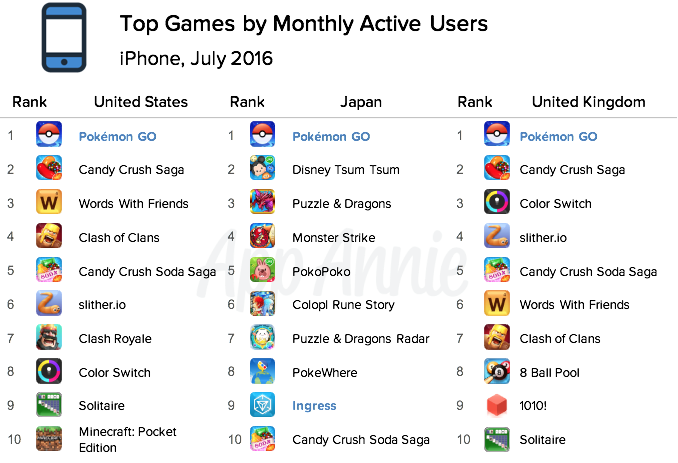 In July 2016, Pokémon GO was the highest ranking game by monthly active users in the US, Japan and UK.
Pokémon GO's monetization draws on players' desire to get the most out of the time they spend outside hunting for Pokémon and other valuable in-game items. In Japan, Pokémon GO topped the revenue rankings surrounded by locally produced games, many of which monetize using the popular gacha lottery system for collecting rare game characters and items.
As opposed to a lottery system, Pokémon GO introduced a 'Lure' in-app purchase that allows players and business owners to attract Pokémon to a particular location for a limited time, opening up a new wave of marketing and monetization opportunities. As the game launches in more countries, Niantic will have numerous possibilities to add and expand game features, which could lead to even greater engagement and increased revenue opportunities.
Farm Heroes Super Saga Returns With Supersized Cropsies
Pokémon GO's incredible success has not come at the expense of other games, and there were indeed other strong releases in July. Farm Heroes Super Saga, which was released in late June, quickly climbed up the ranks to reach #3 for worldwide iOS and Google Play combined downloads in July.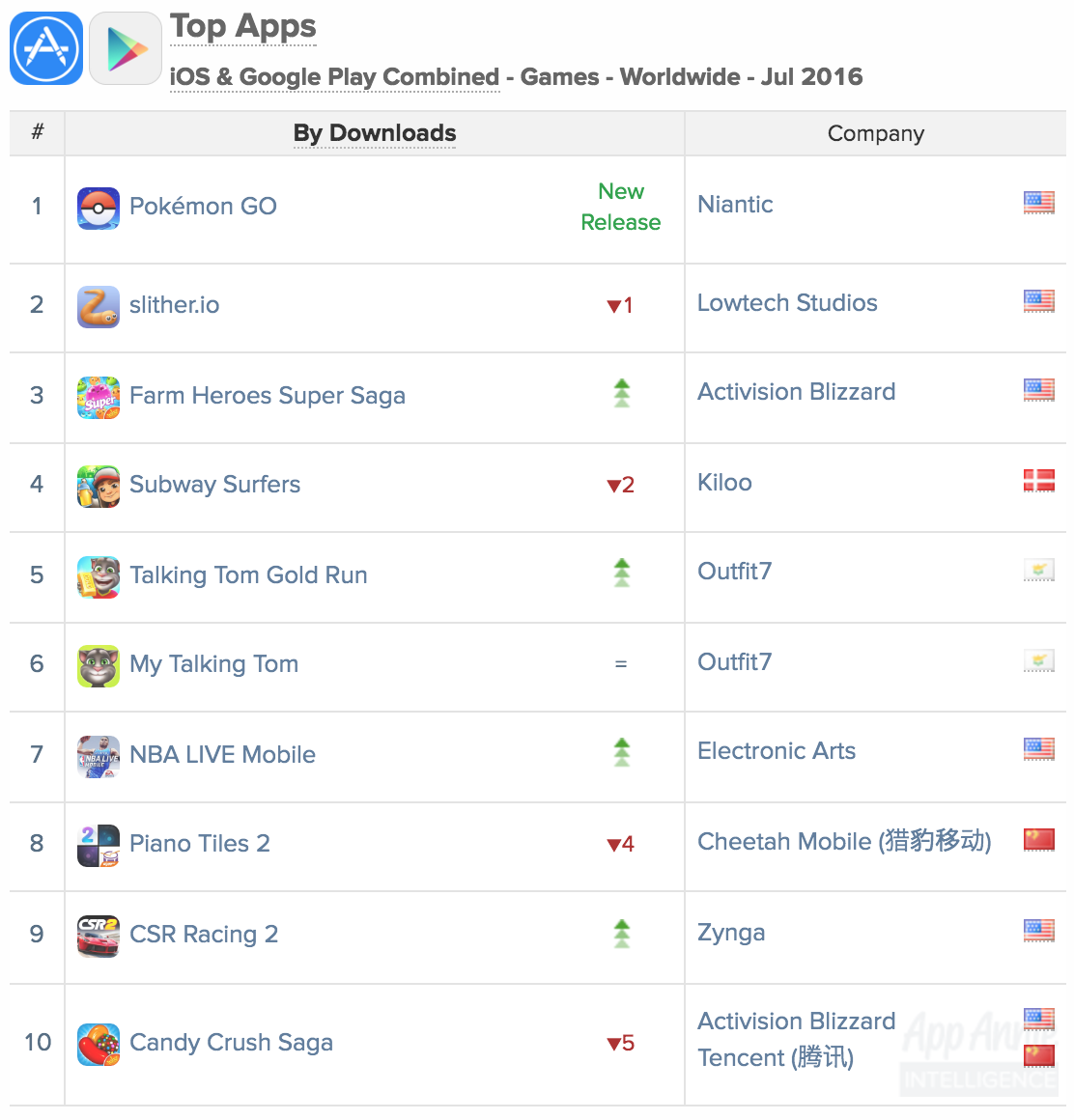 Farm Heroes Super Saga builds on the farming-themed match-three puzzle gameplay of its popular predecessor Farm Heroes Saga. The latest incarnation introduced a number of new features to boost engagement, such as 'Growth Mode' which allows players to create and collect adorable jumbo-sized Super Cropsies when they match four of the same cropsies instead of three.
Also new to the series is a computer-controlled enemy named Rancid the Raccoon, which must be defeated, further motivating players to improve and progress. The game's graphics have received rave reviews and are one of the top reasons for its 4.3-star rating on Google Play in July.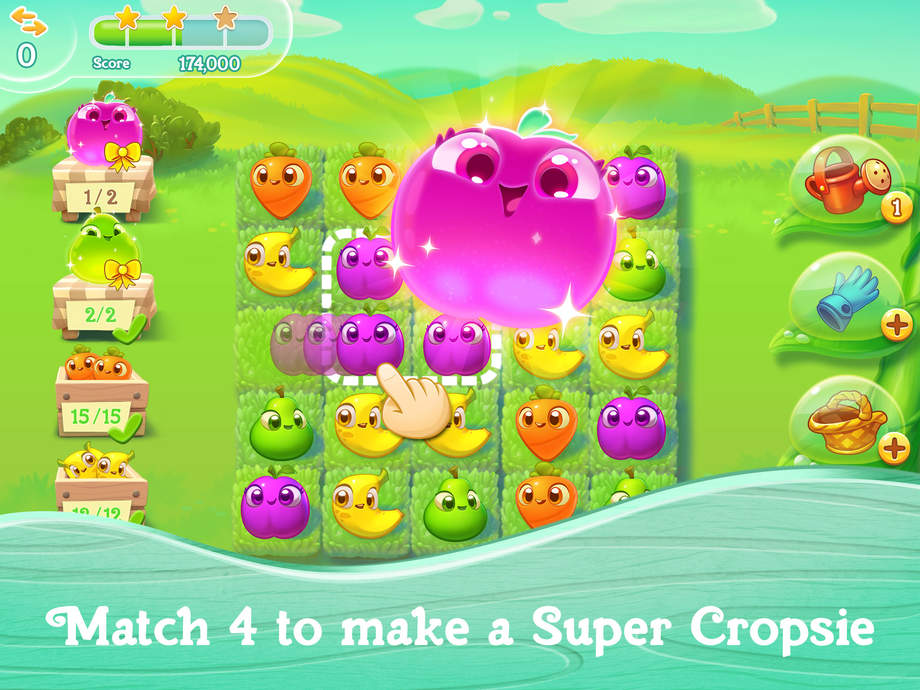 Super Cropsie is one of the highlights of the sequel.
As covered in our spotlight on top game publishers, King (now part of Activision Blizzard) has been particularly successful at utilizing cross promotion and paid acquisition to fuel its user growth strategy. This was no different for Farm Heroes Super Saga as the game was heavily promoted across leading ad networks following its launch. In fact, the game received the most Android Phone ad impressions on Chartboost in the US in July.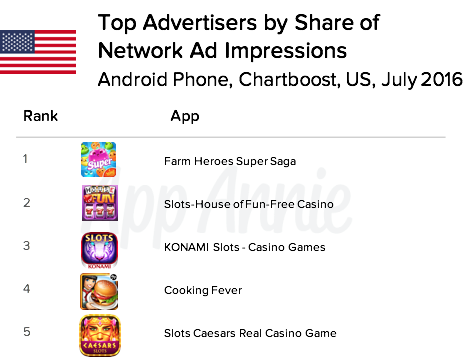 In July, Farm Heroes Super Saga had the highest share of ad impressions on Chartboost in the US, indicating a strong investment in user acquisition.
Farm Heroes Super Saga once again demonstrates Activision Blizzard's ability to launch hit after hit. The combination of familiar gameplay, established franchises, cross-promotion and effective paid acquisition continues to be a winning formula.
Outfit7 Goes for Gold With Talking Tom Gold Run
Released in mid-July, Talking Tom Gold Run landed at #5 for worldwide downloads on  iOS and Google Play combined. It surpassed My Talking Tom, the franchise's top virtual pet simulator game, which still had a strong performance at #6. Talking Tom Gold Run has achieved global success, with China contributing the most downloads for iPhone in July. This helped its Cyprus-based publisher Outfit7 rise to #3 rank of companies by iOS downloads in China in July. This is a notable achievement as China's top 10 rankings are largely comprised of local publishers.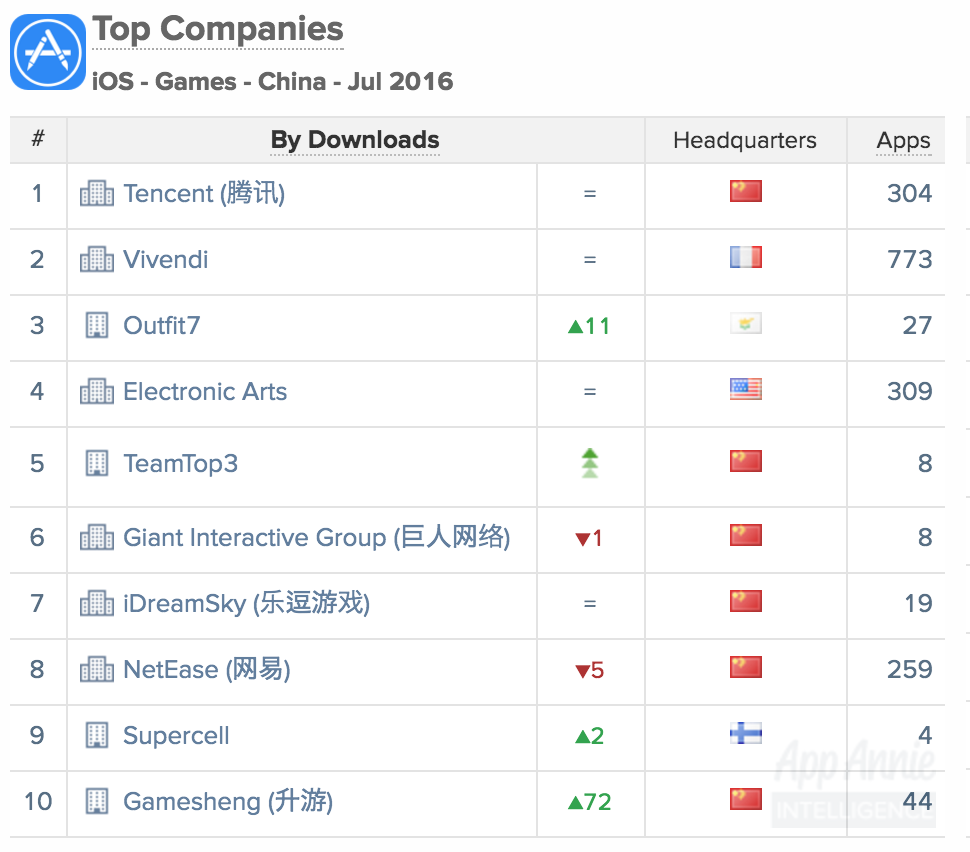 Outfit7 has been expanding its Talking Tom games franchise beyond their focus on virtual pet gameplay by releasing different types of casual games such as Talking Tom Bubble Shooter and Talking Tom Jetski. This continues with Talking Tom Gold Run, which uses endless runner mechanics to put the player in control of their favorite Talking Tom characters. These characters traverse endless circuits to avoid obstacles and collect gold bars. The gold bars, which are also attainable through in-app purchases, can be used to unlock in-game boosts, new characters, content and items for the house decoration component of the game. House decoration mode proves to be a real draw and was one of the top reasons for the game's 4.6-star average rating on iOS in July. With Talking Tom Gold Run, Outfit7 shows how publishers can build off of existing franchises with new gameplay to engage its fan base and capture new casual gamers.
The Technology Behind the Index
The information contained in this report is compiled from App Annie Intelligence, the leading market data solution for the app store economy. To see how our app store download, revenue, demographic and usage estimates can help guide your critical business decisions, request a demo today.
---

---

For the complete list of July's top apps and app publishers around the world, click the chart above.
Notes and Methodology here.