Worldwide App Annie Index for Apps January 2016

Each month, the App Annie Index highlights the top-performing games and apps for the iOS App Store and Google Play. Our analysis covers trends among the leading apps across countries and categories, and is the industry standard for professionals looking to compare leading apps and publishers.

You might also be interested in:
This Month's Top Games
First-Person Racer Traffic Rider Rolls Into the Top 10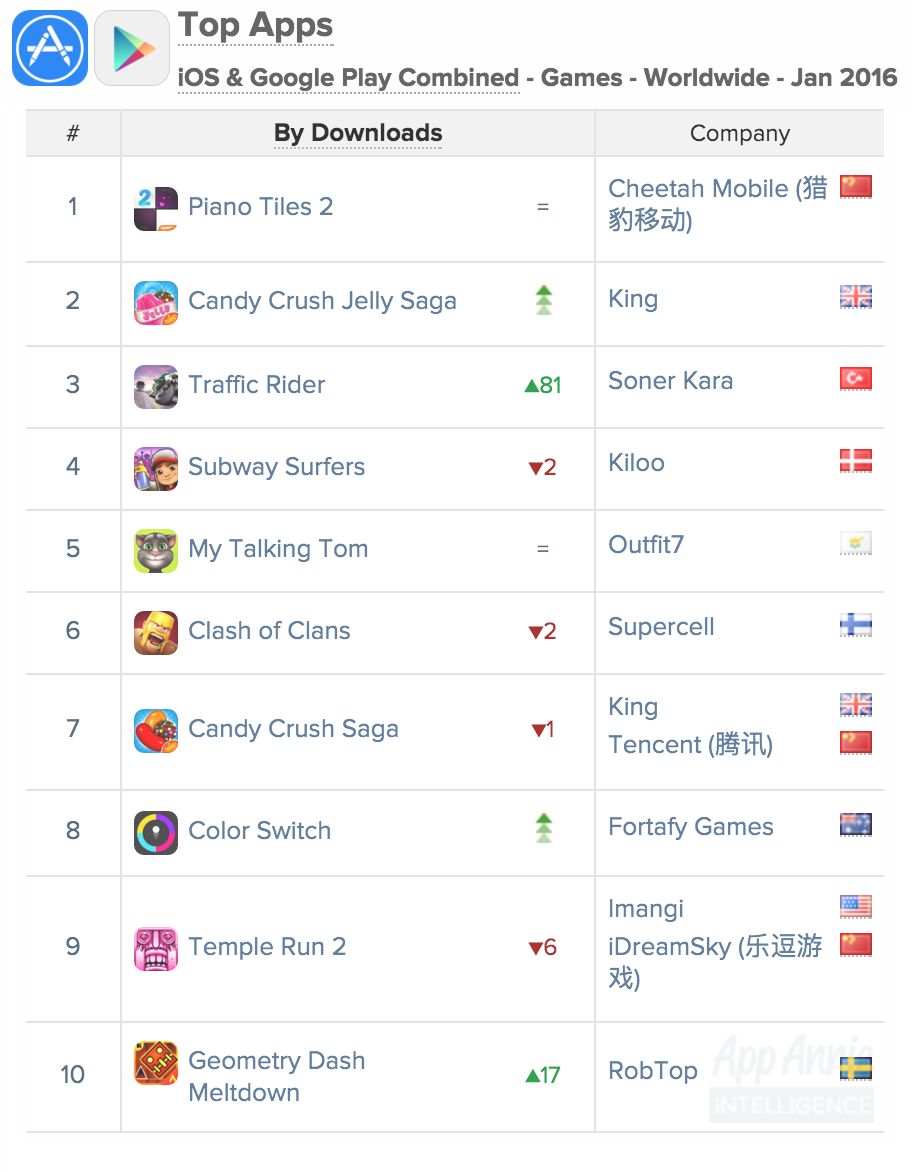 Traffic Rider, a hair-raising first-person driving game that features weaving through traffic on a motorcycle, had a strong showing in January. The thrill ride, published by Soner Kara, capitalized on the popularity of its 2012 predecessor Traffic Racer.  Following its iOS launch at the end of December and its release on Google Play in the second week of January, Traffic Rider's performance secured it a top 10 spot on January's worldwide download charts for both stores. In early January, it was featured on the main banner of the iTunes homepage in a number of Middle Eastern countries, including Saudi Arabia and Egypt.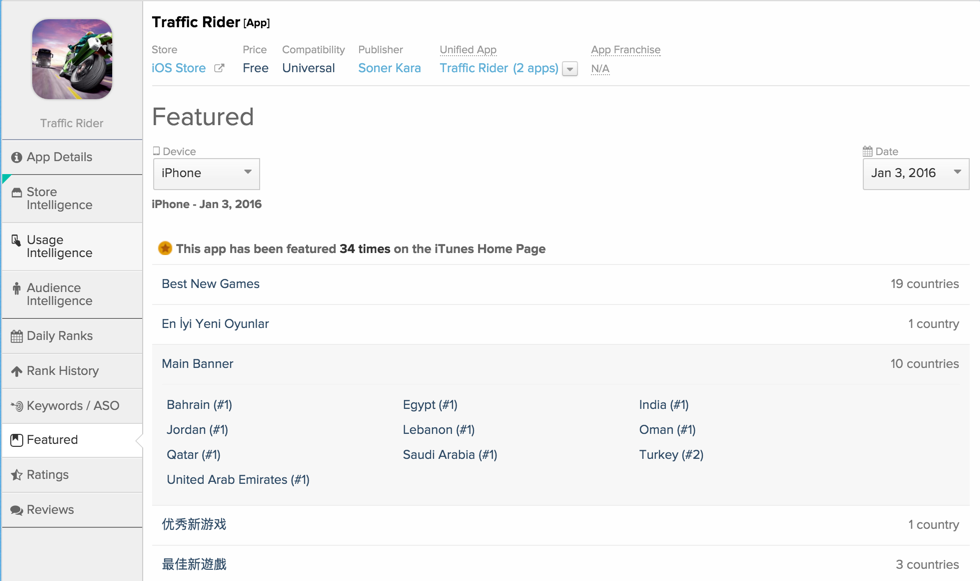 In early January, Traffic Rider was featured more than 30 times on the iTunes Home Page, including placement on the main banner in 10 countries.
Traffic Rider's impressive January also propelled Soner Kara into the top 10 company charts by worldwide downloads on both iOS and Google Play. Its modern graphics serve as a reminder that there's appetite for more realistic mobile driving experiences in addition to the retro stylings delivered by games like Smashy Road: Wanted. Given that these types of games really shine on a larger display, Traffic Rider could be a natural fit for Apple TV, where Gameloft's Asphalt 8: Airborne closed out January at #3 for free downloads and revenue.
Card Battle Game Fate/Grand Order Monetizes in Japan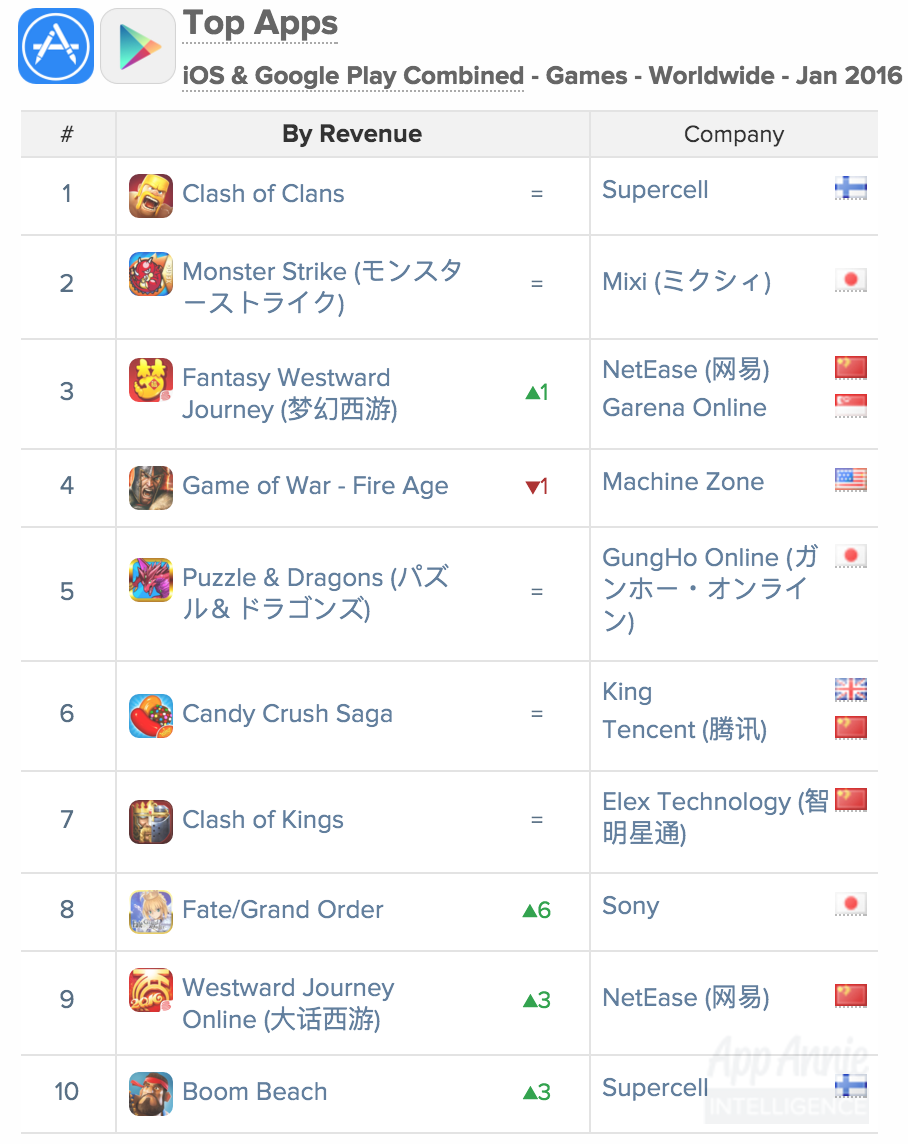 In January, the anime-styled RPG card battle game Fate/Grand Order flew into both the iOS and Google Play worldwide revenue charts despite only being available in Japan. The game is part of the Fate franchise, which includes manga, anime and videogame adaptations. This franchise boasts a cult following which has likely been instrumental in Fate/Grand Order's popularity.
The game successfully monetizes using the "gacha" mechanic, which allows players to spend small amounts of money via in-app purchases for the chance of receiving a rare character card. This lottery-style monetization model has previously been successfully implemented in many Japanese mobile games, most notably in Puzzle & Dragons which is one of the top revenue-generating mobile games of all time. While the gacha model had already helped Fate/Grand Order achieve impressive levels of revenue every month since its July release, numerous limited-time only gacha events in January appear to have pushed it over the top and into the top 10 revenue rankings.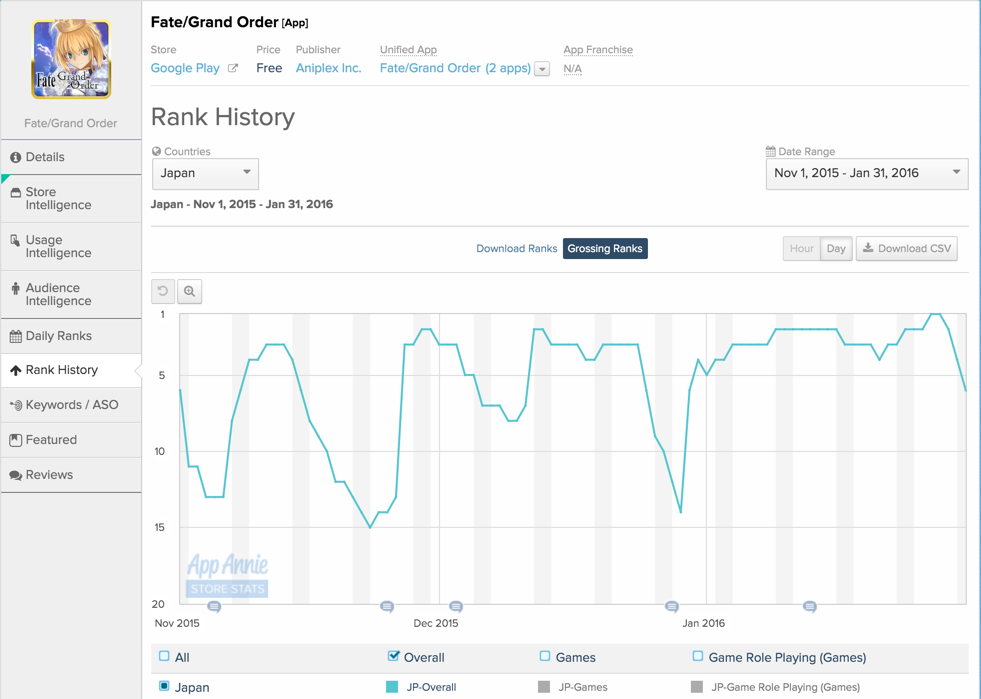 Fate/Grand Order remained in Japan's top 5 overall daily grossing ranks on Google Play throughout most of January.
Fate/Grand Order joins NetEase's Fantasy Westward Journey and a host of others in the pantheon of homegrown mobile RPG hits from Asian countries.
Candy Crush Jelly Saga Awards King a Match Three in MAU
Debuting globally in early January, Candy Crush Jelly Saga soared to the #2 spot in both the iOS and Google Play combined worldwide downloads chart.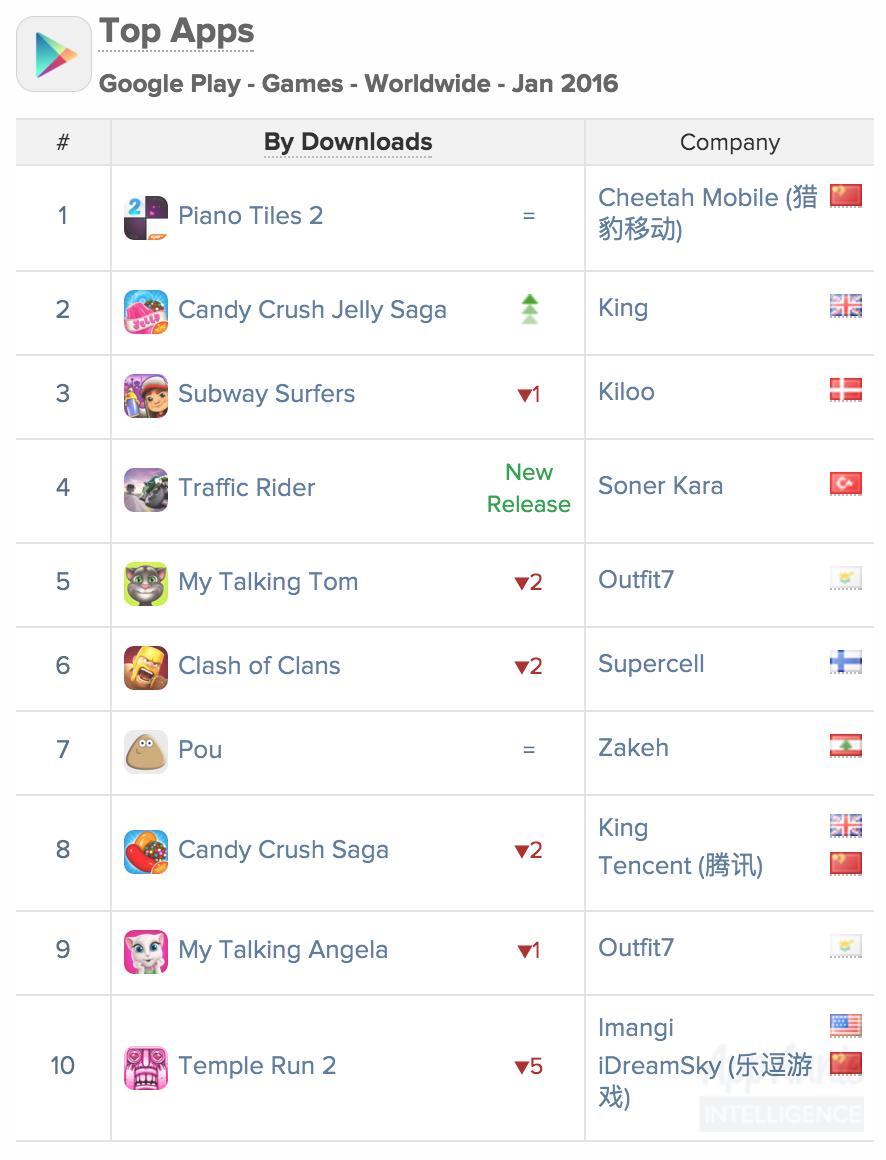 Building off the success of its predecessors, Candy Crush Saga and Candy Crush Soda Saga, Candy Crush Jelly Saga continues the familiar gameplay of matching candies. However, it brings a new level of complexity allowing users to spread jelly based on strategic matches, upping the ante on the traditional matching gameplay. The franchise's popularity coupled with its new jelly spin led Candy Crush Jelly Saga to claim the #7 spot by monthly active users in the US on Android Phone in January, approaching the ranks of its predecessors.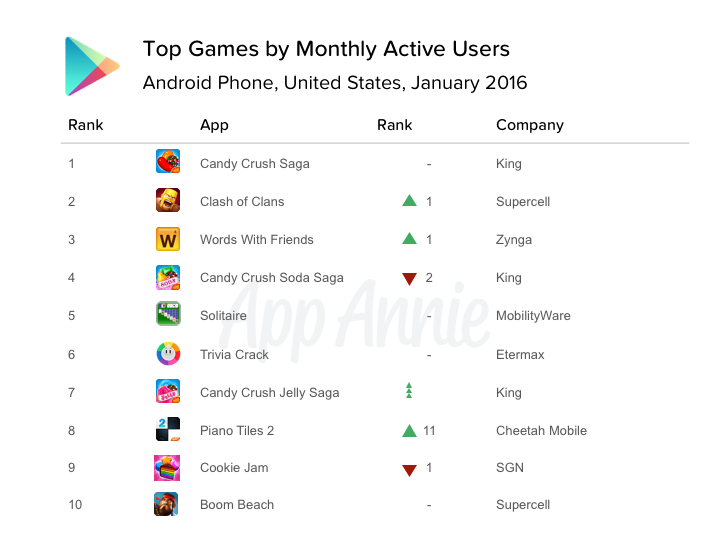 King dominates the monthly active users chart for games on Android Phones in the US, occupying 3 of the 10 spots with its Candy Crush franchise.
As King's apps are no stranger to success among its user base, we are interested to see how sticky its new sequel will be in the months to come.
The Technology Behind the Index
The information contained in this report is compiled from App Annie Intelligence, the leading market data solution for the app store economy. To see how our app store download, revenue, demographic and usage estimates can help guide your critical business decisions, request a demo today.
---

---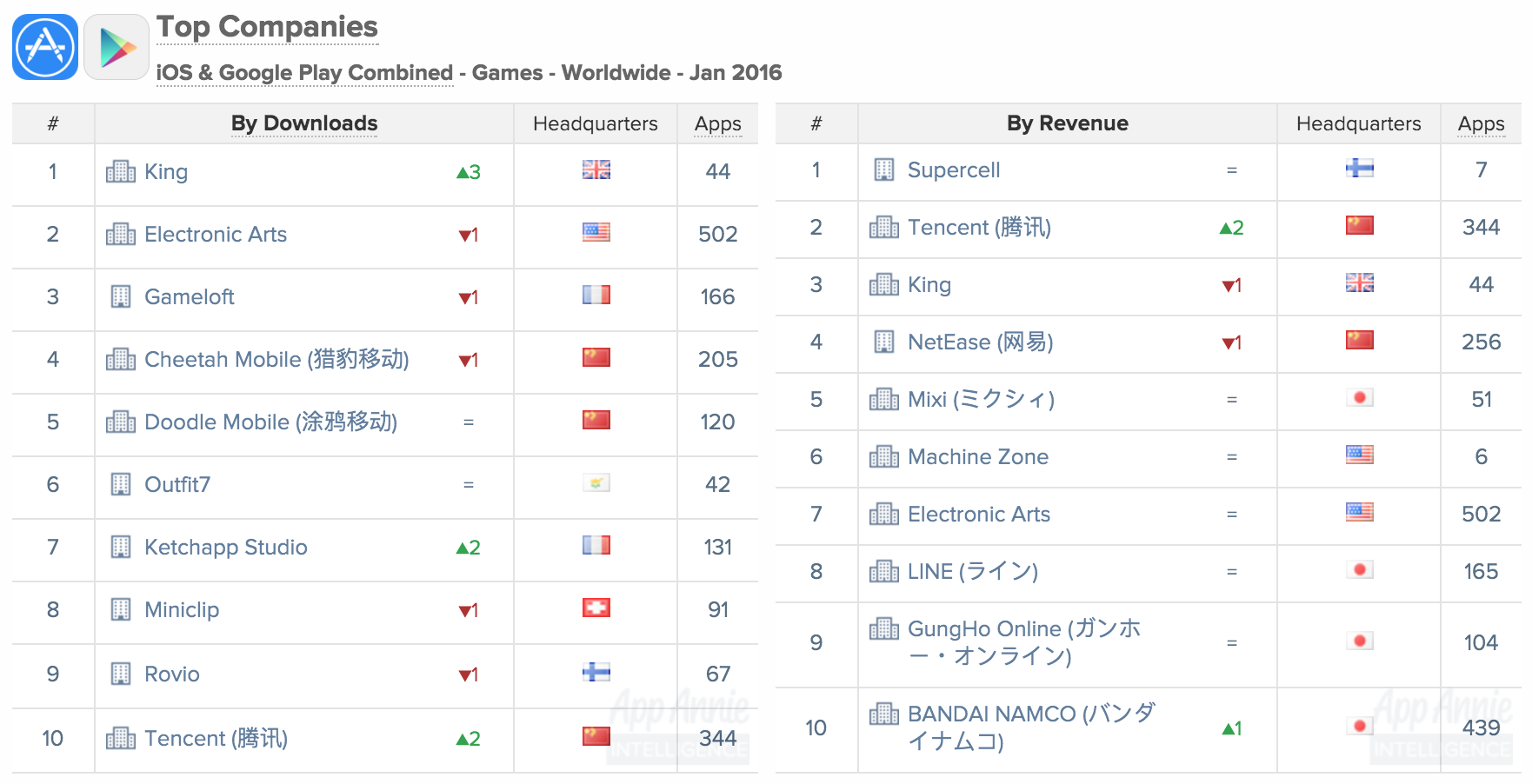 For the complete list of January's top apps and app publishers around the world, click the chart above.
Notes:
The publisher and app rankings reported in the App Annie Index are based on the download and revenue estimates available through App Annie Intelligence. The daily rank history charts and the homepage feature app data are available to all users through App Annie's app tracker solution, Store Stats.
App Annie Intelligence is currently available for the iOS App Store and Google Play. It does not currently provide estimates for other app stores, such as the Amazon Appstore. While iOS and Google Play represent a significant portion of the app market in many countries, that is not the case for some countries. For example, China has a number of sizable third-party Android app stores.

While the Index for Games covers games, the Index for Apps provides app tracking on everything but games. Note that the Top Company rankings in the Index for Games are based solely on the publishers' games downloads and revenue, while the Top Company rankings in the Index for Apps are based on the company's downloads and revenue from apps excluding games.

Company and unified app rankings in the App Annie Index for Games and Index for Apps are based on individual apps that ranked in the Top 1,000.

Download rankings are based on individually downloaded apps and exclude downloads of app bundles. Revenue rankings are based on download revenue from individually downloaded paid apps as well as in-app purchase revenue from both individually downloaded apps and app bundles.

In the first month in which an app becomes unified, its rank change in the Index will compare the unified app that month vs. its highest-ranking individual app in the month prior. As a result, rank changes for newly unified apps may overstate ranking increases from June 2015 to July 2015.

In the iOS App Store, an app can be categorized under a Primary Category as well as an optional Secondary Category. If an app has a Primary Category of Games and a Secondary Category of Entertainment, it is a candidate to be included in this Index for Games. If the app's Primary Category is Entertainment and its Secondary Category is Games, then it will not be included in this Index for Games; it is a candidate for the Index for Apps.

Note that the ranking approach used in the App Annie Index differs from that used in the iOS App Store. In the latter, app rankings for a given category will include all apps whose Primary Category or Secondary Category matches that given category. So an app can appear in the rankings for more than one category within the iOS App Store or in App Annie Store Stats rankings.

In Google Play, an app can be categorized under only one category, so there is no double-categorization.

Occasionally, a publisher may decide to shift an existing app from one category to another category. In these cases, the App Annie Index will rank that app based on its categorization in the subsequent month. Given that the App Annie Index has a Games report and an Apps report, the only scenario where an app's recategorization could shift it from one Index to another is if its category changes from Games to a category other than Games or vice versa.
In the App Annie Index, all apps and publishers are reported under their parent companies, where available; for example, the Plants vs. Zombies™ 2 app is reported under its parent company Electronic Arts, rather than its direct publisher PopCap. Note that if you view the Electronic Arts parent company page on Store Stats, you will see the publishers that roll under the parent company Electronic Arts, including PopCap. The Plants vs. Zombies™ 2 app will be listed under the PopCap publisher page.
Company and app rankings are based on the App Annie DNA relationships at the time of publications. App Annie DNA relationships are subject to change over time.

App Annie Usage Intelligence data for smartphones and tablets were derived from mobile usage data collected from a large sample of real-world users, combined with additional proprietary data sets.

App Annie tracks usage at the device level using a privacy-protective hashed device ID. Data is only reported to third parties in aggregated format.

App Annie Index revenue rankings are based on revenue that the iOS App Store and Google Play earned from paid downloads and in-app purchases. They do not include revenue earned from in-app advertising.

Certain trademarks and/or images used in this report may belong to third parties and are the property of their respective owners. App Annie claims no rights to such trademarks or images.