The App Annie Games Index brings you the hottest mobile gaming properties across both the iOS App Store and Google Play based on market data from App Annie Intelligence.  To find out what's happening with apps outside of games, please check out our January 2014 Apps Index.
Flappy Bird Flies to #1
Viral hit Flappy Bird shot up the rankings in January, becoming the most downloaded and most talked about iOS game in January. The game's meteoric rise helped .Gears Studios swoop into the Top 10 publishers by iOS game downloads for the month. However, Flappy Bird's stay at the top of the charts is guaranteed to be short-lived, as the publisher pulled the game from the app stores in early February.
Top Publishers Cultivate Hit Farm-Themed Games
Perennial chart-topping publishers King and Supercell both saw recently released farm-themed games enter the top ranks in January. King released match-three puzzler Farm Heroes Saga worldwide in January, reaching the Top 10 game downloads on both Google Play and the iOS App Store. Supercell's farm simulator Hay Day has been a hit on the iOS App Store for months, but was only released on Google Play in November. In January, it climbed into the Top 10 for monthly Google Play game revenue, and, along with Clash of Clans, pushed Supercell into the top three publishers by Google Play revenue for the month.
COLOPL and Glu Team Up To Take Games Worldwide
After a successful January for both publishers, Glu and COLOPL announced a partnership that will see the two publishing giants co-produce a new title for Japan, as well as utilize each others' experience to take on the difficult task of bringing successful games across the cultural divide between Japan and Western markets.
Flappy Bird publisher .Gears Studios shot up the rankings in January, propelled by the phenomenal viral success of the hit game. However, while Flappy Bird dominated the headlines, it wasn't the only app that helped .Gears Studios into the Top 10. Super Ball Juggling and Shuriken Block both featured in the top charts at various times during January. Their rise followed in the wake of Flappy Bird's success, hitting the top ranks at the end of January.
Glu and Tencent, other big movers within the Top 10, were largely driven by downloads of apps recently released into the iOS App Store. Glu found considerable success with the release of RoboCop™ and dirt bike racing game Motocross Meltdown.  RoboCop™ hit the iOS App Store in early January, a month before the reboot of the iconic movie franchise came to theaters, and Motocross Meltdown arrived in late January. Both games featured extensively on the iOS App Store home page, with Motocross Meltdown featured in over 150 countries shortly after release.
Tencent made steady gains thanks to the release of aircraft-based shooter 全民飞机大战  (Massive Plane Warz) in January, and racing game 天天飞车 (Flying Carz) in mid-December. Both titles performed strongly in China throughout January, following on from Tencent's rise in late 2013, and boding well for the remainder of 2014.
In Google Play, softwego, publisher of games designed primarily for practical jokes, made big strides to join the Top 10 by monthly downloads. While it received a significant boost from the strong performance of Fingerprint/Keypad Lock Screen, other apps also contributed to its rise. In particular, Crack My Screen made substantial gains, proving popular in markets such as Brazil and Mexico after rising rapidly in December.
In the iOS App Store revenue rankings, COLOPL made significant gains to return to the Top 10 iOS publishers in the Games Index for the first time since October 2013. The continued gains for the publisher were highlighted in a recent earnings announcement that showed 4-fold year-over-year growth in revenue for the quarter ending in December. While COLOPL's recent success has been focused primarily on Japan, a recent strategic partnership with Glu may help it expand into international markets and provide Glu with access to the Japanese market. The deal will see the two publishers co-produce a new game for Japan, in addition to publishing games developed by the other in their more familiar markets. Glu's President of Publishing, Chris Akhavan, spoke to App Annie about the upcoming collaboration:
"We're excited about working with COLOPL to create content for the Japanese market. We're confident that our collective experience and access to each others' local market knowledge will make this relationship a success. In addition to the insights provided by the team at COLOPL, App Annie Intelligence has been a valuable tool for our understanding of the Japanese market and will continue to inform our international efforts." - Chris Akhavan, President of Publishing, Glu
After a considerable wait for Supercell's games to become available on Google Play, the publisher is now making consistent strides towards the top ranks. In January, it reached the top three, receiving extensive publicity through a series of Clash of Clans TV commercials in the United States in January, culminating in an advertising slot in the Super Bowl in early February. This was followed by news of remarkable revenue gains for Supercell in 2013, increasing nine-fold over its 2012 revenue to $892 million. With its Google Play titles growing rapidly, and continued success in the iOS App Store, early 2014 is looking bright for Supercell.
For iOS games in January, almost all the buzz was about one app - Flappy Bird. Despite being released back in May 2013, and not featured at all on the iOS App Store home page in January, the app experienced phenomenal growth throughout the month. The simplicity of the game and difficulty of the gameplay created a viral sensation, taking it comfortably to the #1 position for iOS App Store game downloads in January. Flappy Bird first took off in the United States, followed by markets such as Canada and the United Kingdom.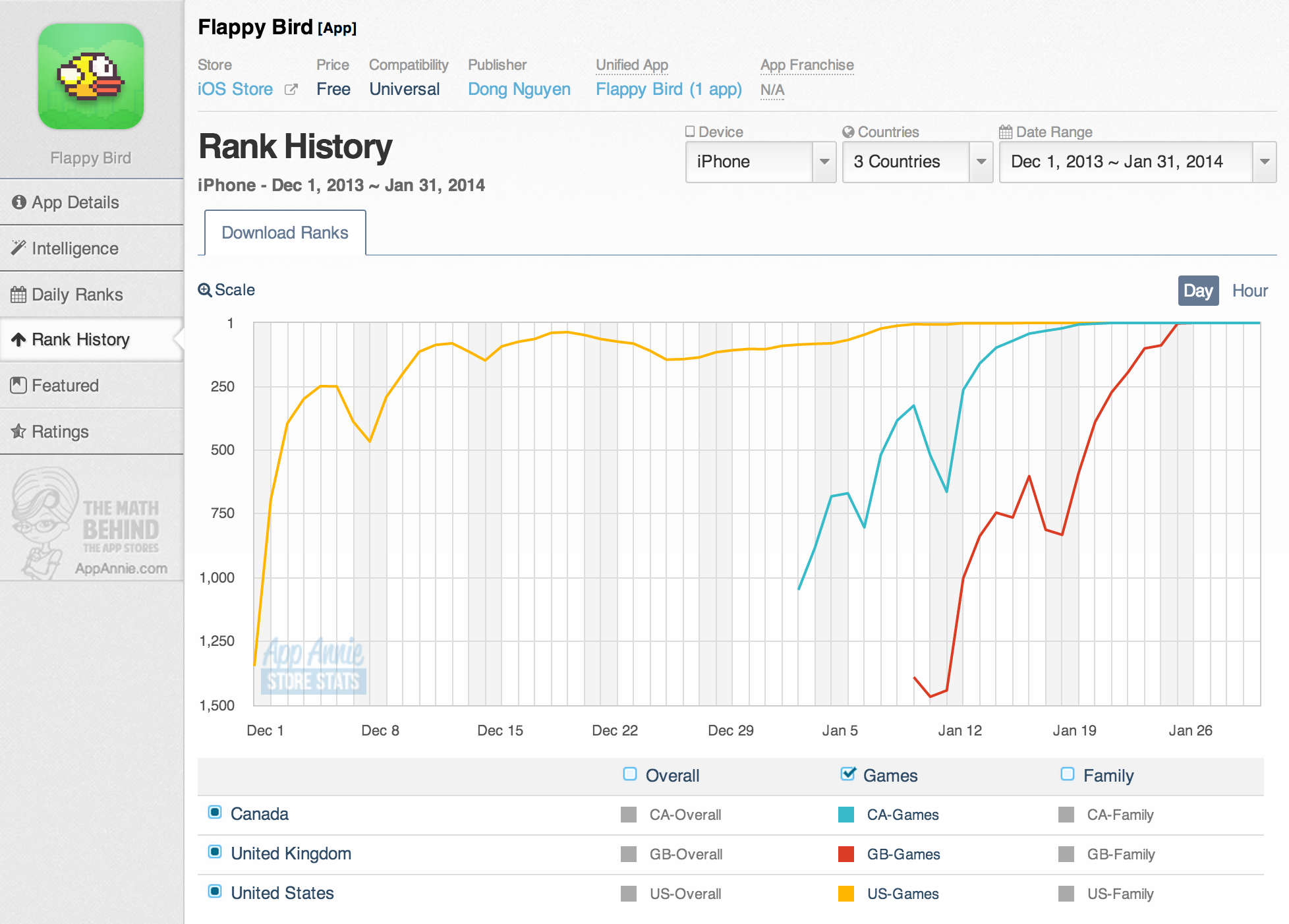 Flappy Bird climbed rapidly in the US, and soon followed in other major markets.
According to the one-man developer Dong Nguyen, the game generated over $50,000 a day in advertising revenue. However, a tweet from Nguyen confirmed the game would be removed from the app stores on February 9. Although the game was removed, its impact was still evident in the iOS App Store, with several Flappy Bird clones appearing in the top positions in the days following its removal.
Another significant new entrant into the Top 10 in January was King's latest release for mobile devices - Farm Heroes Saga. As with King's previous releases, Farm Heroes Saga began as a successful Facebook game, and draws on some of the match-three puzzle gameplay elements from Candy Crush Saga. After being released in limited countries in December, the game became widely available in January and found rapid success, particularly in European markets such as France, Germany, and Italy. This will be welcome news for King as they prepare for their recently announced IPO.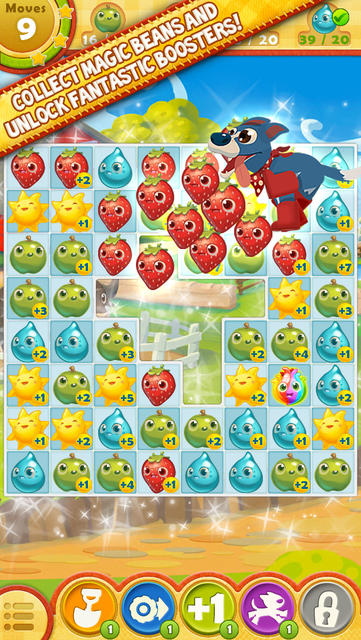 King's Farm Heroes Saga implements some of the match-three puzzle elements from its runaway hit Candy Crush Saga.
The prominence of movie tie-in games was noted in the Games Index back in May 2013, and titles such as Despicable Me and The Hobbit: Kingdoms featured in the Games Index throughout 2013. In January 2014, RoboCop™ found considerable success, reaching the #1 rank in several countries shortly after its release. The third-person shooter featured on the iOS App Store home page in over 150 countries during January.
In addition to its success in the iOS App Store, Farm Heroes Saga also had a strong month in Google Play. Again, the game proved popular in many of the European markets.
The only other game to make significant gains into the Top 10 for Google Play downloads in January was softwego's Fingerprint/Keypad Lock Screen. The app, released in late December, gives the appearance of a fingerprint scanner on Android devices for entertainment purposes, and proved particularly popular in Brazil.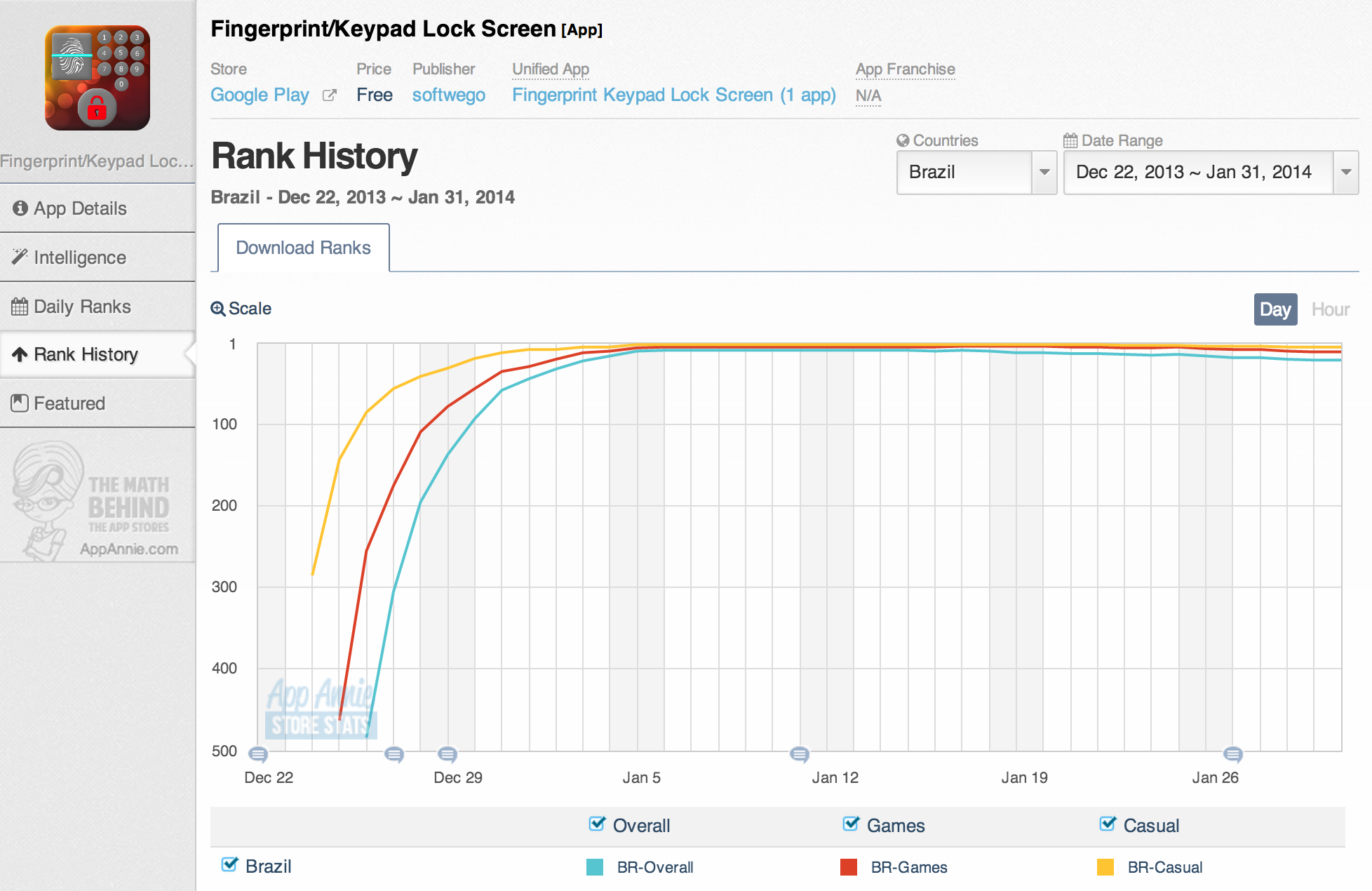 Google Play users in Brazil appreciated Fingerprint/Keypad Lock Screen's humor, climbing rapidly after release.
The big movers within the iOS App Store Top 10 by revenue in January received the majority of their revenue from key Asian markets. Tencent's aircraft-based shooter 全民飞机大战 (Massive Plane Warz) achieved immediate revenue success, going straight to #1 for daily iOS revenue in China upon its release in January. COLOPL's 魔法使いと黒猫のウィズ (The World of Mystic Wiz) made strong gains in Japan, moving it back into the iOS Top 10 by revenue in the Games Index for the first time since hitting #10 in October 2013. This rise coincided with a fifth TV advertising campaign for 魔法使いと黒猫のウィズ (The World of Mystic Wiz) that began airing in Japan in January.
Supercell's games have been incredibly successful in the iOS App Store, and Clash of Clans has remained consistently in the Top 10 by monthly Google Play revenue since entering in October 2013. Hay Day was released for Google Play in November, and grew steadily through December into January, particularly in markets such as the United States and Germany.
For those of you who also are looking for an update on top apps other than games, please check out the January 2014 Apps Index.
Notes:
The publisher and app rankings reported in the App Annie Index are based on the download and revenue estimates available through App Annie

Intelligence

.  The daily rank history charts and the home page feature app data are available to all users through App Annie's app tracker solution,

Store Stats

.

While the Games Index covers games, the Apps Index provides app tracking on everything but games.  Note that the Top Publishers rankings in the Games Index are based solely on the publishers' games downloads and revenue, while the Top Publishers rankings in the Apps Index are based on the publishers' downloads and revenue from apps excluding games.

Through August 2013, publisher rankings in the App Annie Games Index and Apps Index were based on apps that ranked in the Top 1000.  Effective with September data, publisher rankings are based on publishers' full set of apps.

Through September 2013, similar versions of the same app with different names (e.g., Angry Birds and Angry Birds HD) were ranked separately. Effective with October data, similar versions of the same app with different names are unified (e.g., Angry Birds and Angry Birds HD are now aggregated and ranked as a single Angry Birds unified app).

Unified apps are ranked based on estimates from all versions of the app that appear in the Top 1000 in the Overall category.

In the first month in which an app becomes unified, its rank change in the Index will compare the unified app that month vs. its highest-ranking individual app in the month prior.  As a result, rank changes for newly unified apps may overstate ranking increases from December 2013 to January 2014.

In the iOS App Store, an app can be categorized under a Primary Category as well as an optional Secondary Category.  If an app has a Primary Category of Games and a Secondary Category of Entertainment, it is a candidate to be included in this Games Index.  If the app's Primary Category is Entertainment and its Secondary Category is Games, then it will not be included in this Games Index; it is a candidate for the Apps Index.

Note that the ranking approach used in the App Annie Index differs from that used in the iOS App Store.  In the latter, app rankings for a given category will include all apps whose Primary Category or Secondary Category matches that given category.  So an app can appear in the rankings for more than one category within the iOS App Store or in App Annie Store Stats rankings.

In Google Play, an app can be categorized under only one category, so there is no double-categorization.

Occasionally, a publisher may decide to shift an existing app from one category to another category.  In these cases, the App Annie Index will rank that app based on its categorization in the subsequent month.  Given that the App Annie Index now has a Games report and an Apps report, the only scenario where an app's recategorization could shift it from one Index to another is if its category changes from Games to a category other than Games or vice versa.
In the App Annie Index, all apps and publishers are reported under their parent publishers, where available; for example, the Plants vs. Zombies™ 2 app is reported under its parent publisher Electronic Arts, rather than its direct publisher PopCap. Note that if you view the Electronic Arts parent publisher page on Store Stats, you will see the publishers that roll under the parent publisher Electronic Arts, including PopCap. The Plants vs. Zombies™ 2 app will be listed under the PopCap

publisher page.

App Annie Index revenue rankings are based on revenue that the iOS App Store and Google Play earned from paid downloads and in-app purchases.  They do not include revenue earned from in-app advertising.

Any non-App Annie trademarks or images used in this report are the property of their respective owners.  App Annie claims no rights in those trademarks.