Worldwide App Annie Index for Games February 2016

Each month, the App Annie Index highlights the top-performing games and apps for the iOS App Store and Google Play. Our analysis covers trends among the leading apps across countries and categories, and is the industry standard for professionals looking to compare leading apps and publishers.

You might also be interested in:

This Month's Top Games
Color Switch Skyrockets Into the Top Downloads Chart on Google Play
Launched in early December, Color Switch made its mark on the top games charts on both the iOS App Store and Google Play, rapidly climbing the downloads charts. In February, Color Switch shot up the charts on Google Play, landing the game at #6 for worldwide game downloads.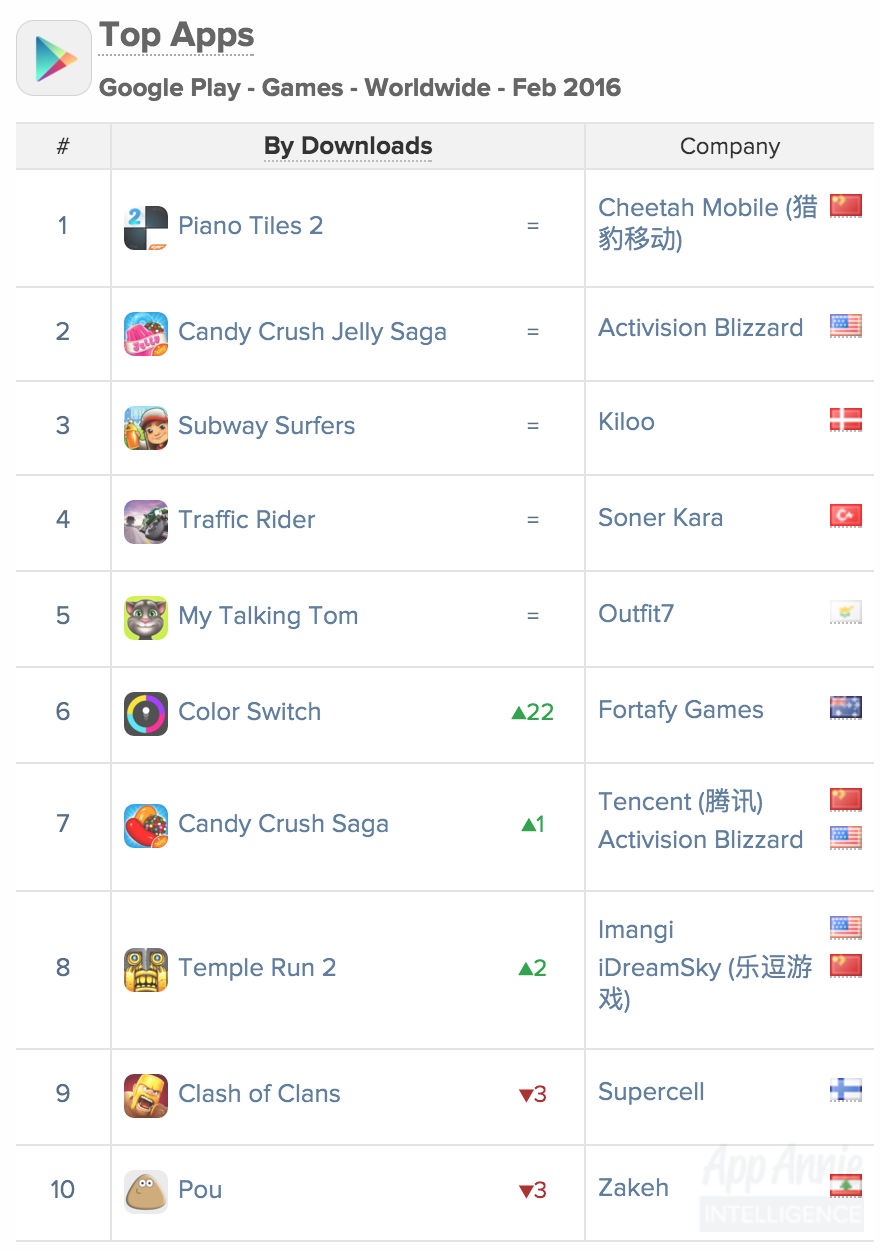 Similar to Agar.io, which we've previously covered, Color Switch utilizes dead-simple design and arcade-style gameplay to attract and engage users. The game features a color-changing ball which bounces through twisting colored obstacles to reach the end of the level. The United States drove the majority of the download growth on Google Play; however, the arcade-style game demonstrated its global appeal on Google Play with strong performance in the United Kingdom and the Philippines.
The addictive nature of Color Switch helped it jump into the top 10 games by MAU for Android Phone in the US. Since Color Switch first saw download success among iOS gamers, it's not surprising that it ranks even higher by MAU for US iPhone games, coming in at #4.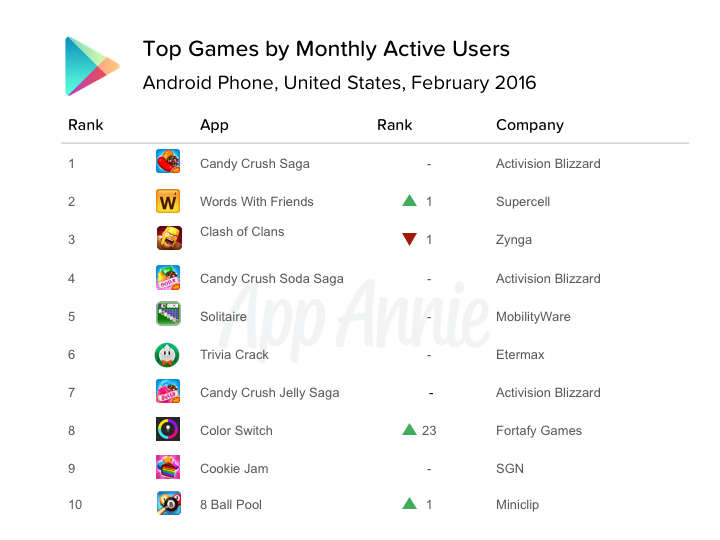 Color Switch shook up the top 10 games by MAU by gaining 23 ranks in February 2016, coinciding with a large increase in Google Play downloads.
Fortafy Games, the publisher of Color Switch, began testing the monetization waters with in-app purchases on its Google Play app in March. We are interested to see how this evolves in the months to come.
Mobile Strike Cashes in on iOS Revenue
Four months after its full global release, Mobile Strike climbed onto the worldwide iOS revenue chart. Mobile Strike built off Machine Zone's existing successful title, Game of War – Fire Age to monetize its user base quickly. Similar to its predecessor, Mobile Strike features a celebrity endorsement and a big-budget television advertising campaign. This time, however, the multiplayer strategy game replaced fantasy warfare with modern military battles and Mariah Carey/Kate Upton with Arnold Schwarzenegger.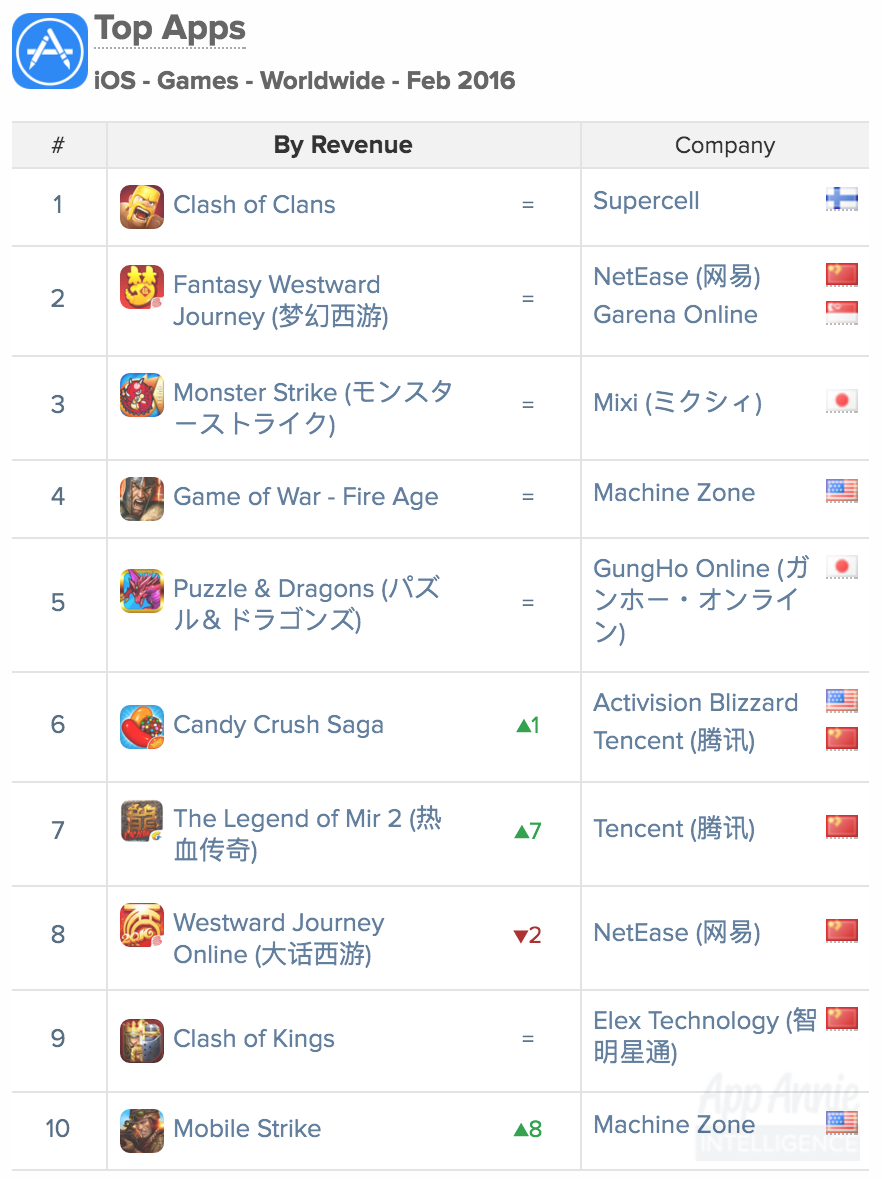 Mobile Strike's prime-time Super Bowl commercial apparently struck a chord with the US market as the lion's share of February's iOS revenue growth came from the publisher's home soil. Garnering over 35 million YouTube views since its premier, the video ad has reached a large market that is likely to be familiar with the style of gameplay from Game of War – Fire Age. Like its predecessor, Mobile Strike also monetized well in Japan — no easy feat for an international publisher.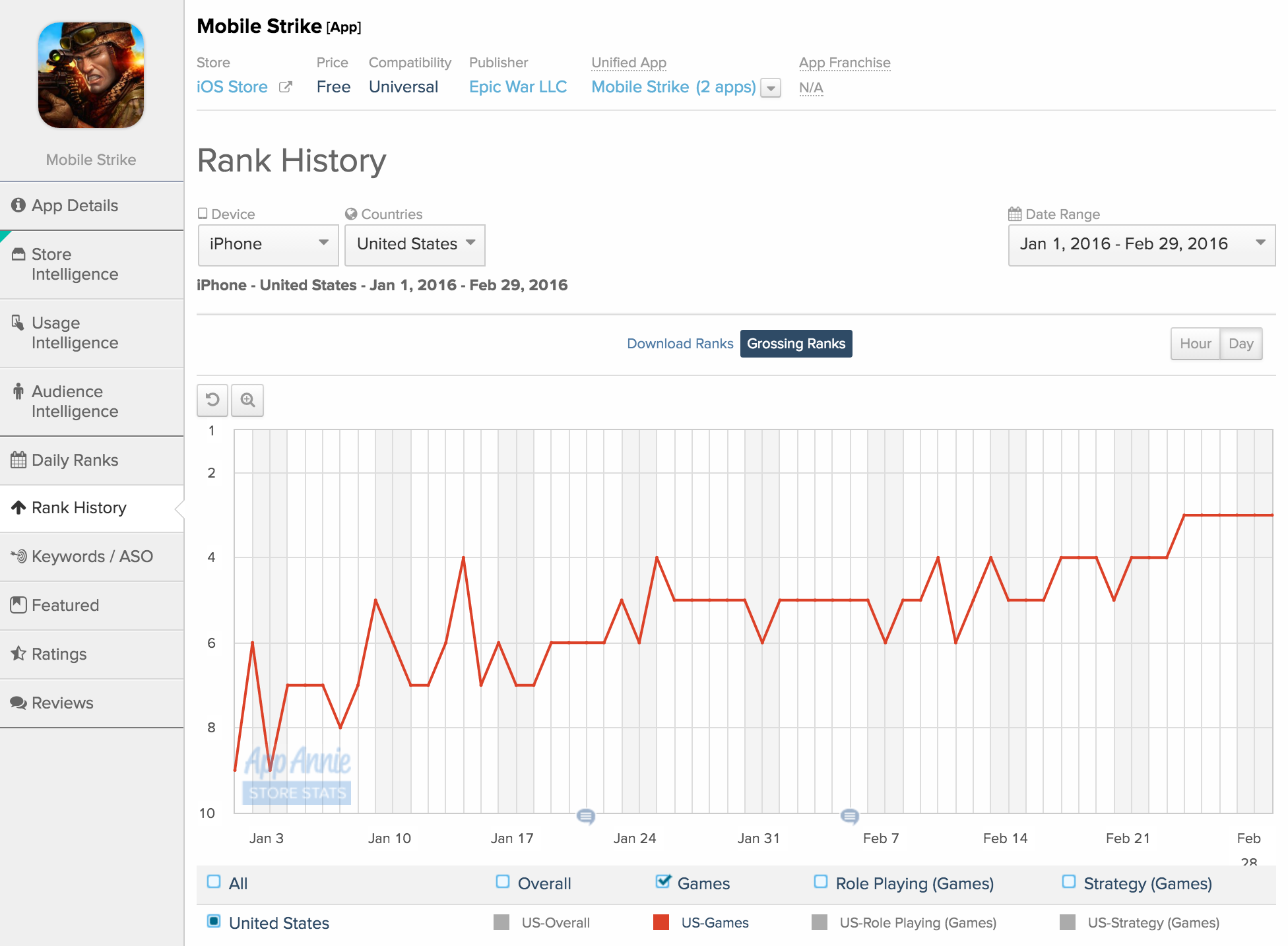 Mobile Strike saw a gradual boost up the revenue ranks since January reaching #3 for games in the US in the weeks following the premiere of its Super Bowl ad.
Kendall and Kylie Prove Game Success Runs in the Family  
Kendall and Kylie joined the ranks of the top downloaded games on iOS by snagging the #8 spot in less than two weeks since its mid-February release. The majority of downloads came from the US and UK, where the Jenner sisters have developed a large fanbase.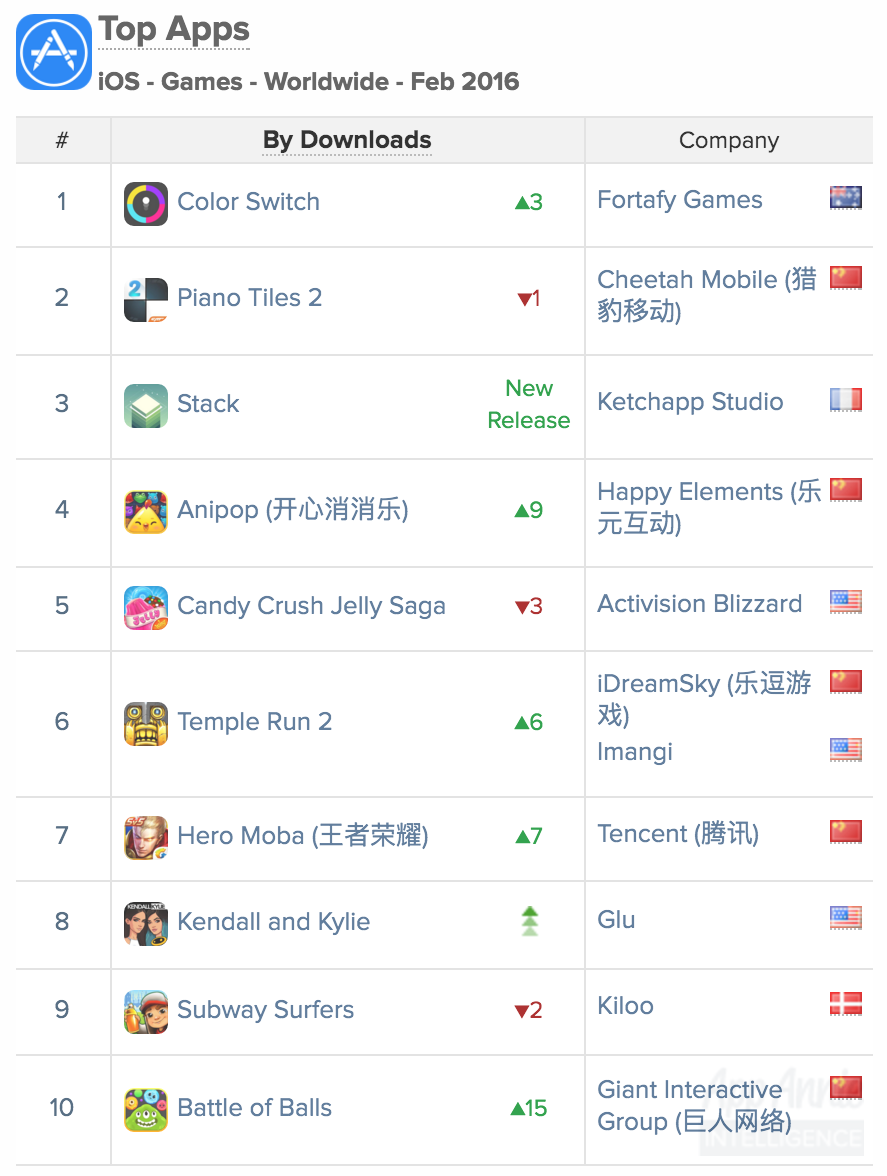 The game features customizable avatars, "K-gem" packs available through in-app purchase to unlock new features, an addictive storyline and a social picture-sharing component similar to Instagram. The Instagram-like feature is no accident, as the Jenner sisters have relied heavily on that network to create widespread publicity for their app. With over 50 million followers each, the sisters have expertly leveraged word of mouth to drive awareness and traffic to the app's download pages.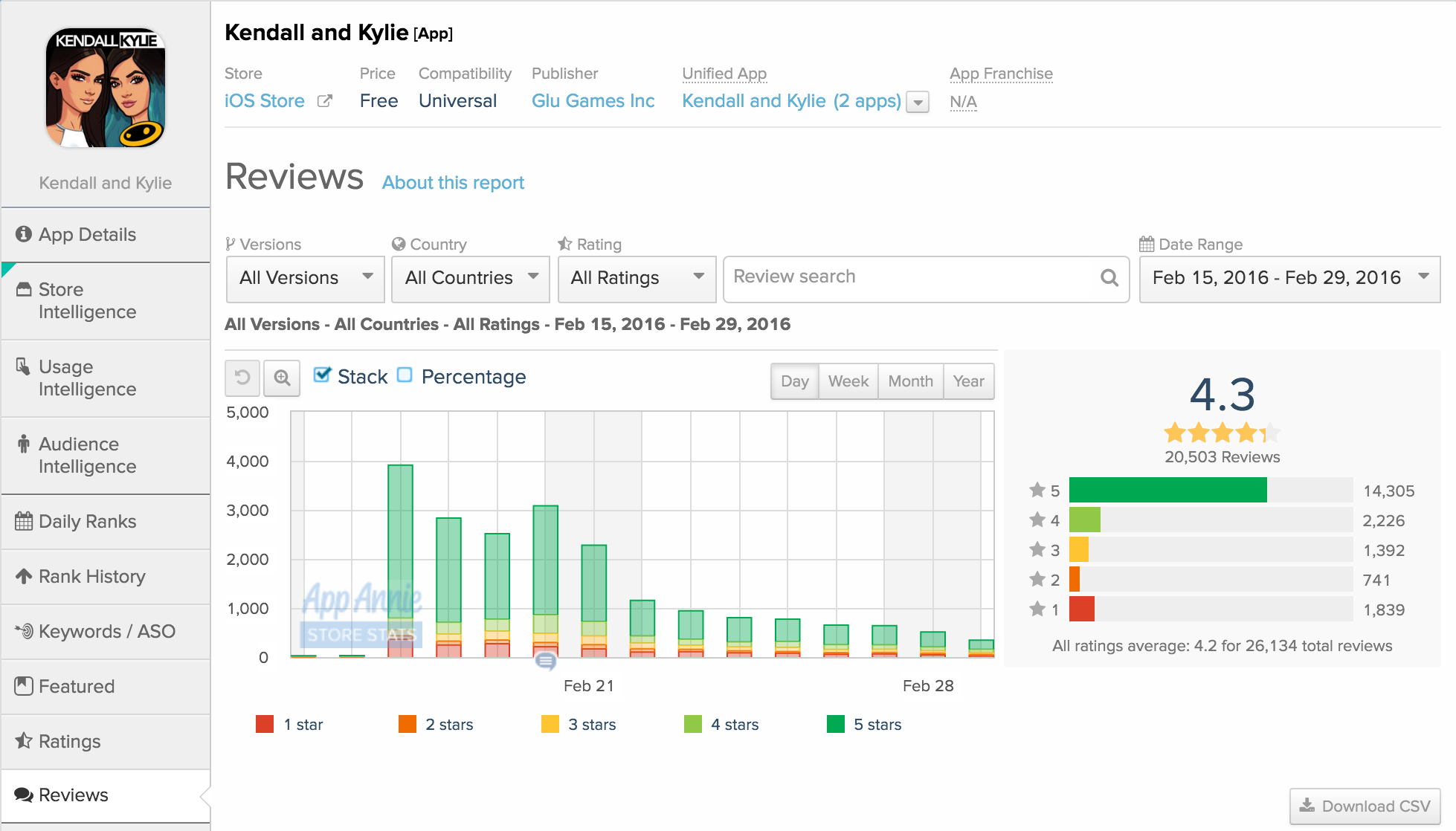 Kendall and Kylie resonated well among users, with 70% of 20,503 reviewers giving it a perfect score.
Kendall and Kylie utilizes the addictive appeal of their sister's game, Kim Kardashian: Hollywood, which also rates highly among users. The Kardashian-Jenner clan has been one of the most successful of Glu's celebrity-themed games by downloads, revenue and ratings. The months to come will tell if Kendall and Kylie can keep up with or surpass the positive reviews and monetization of their elder sister's game.
The Technology Behind the Index
The information contained in this report is compiled from App Annie Intelligence, the leading market data solution for the app store economy. To see how our app store download, revenue, demographic and usage estimates can help guide your critical business decisions, request a demo today.
---

---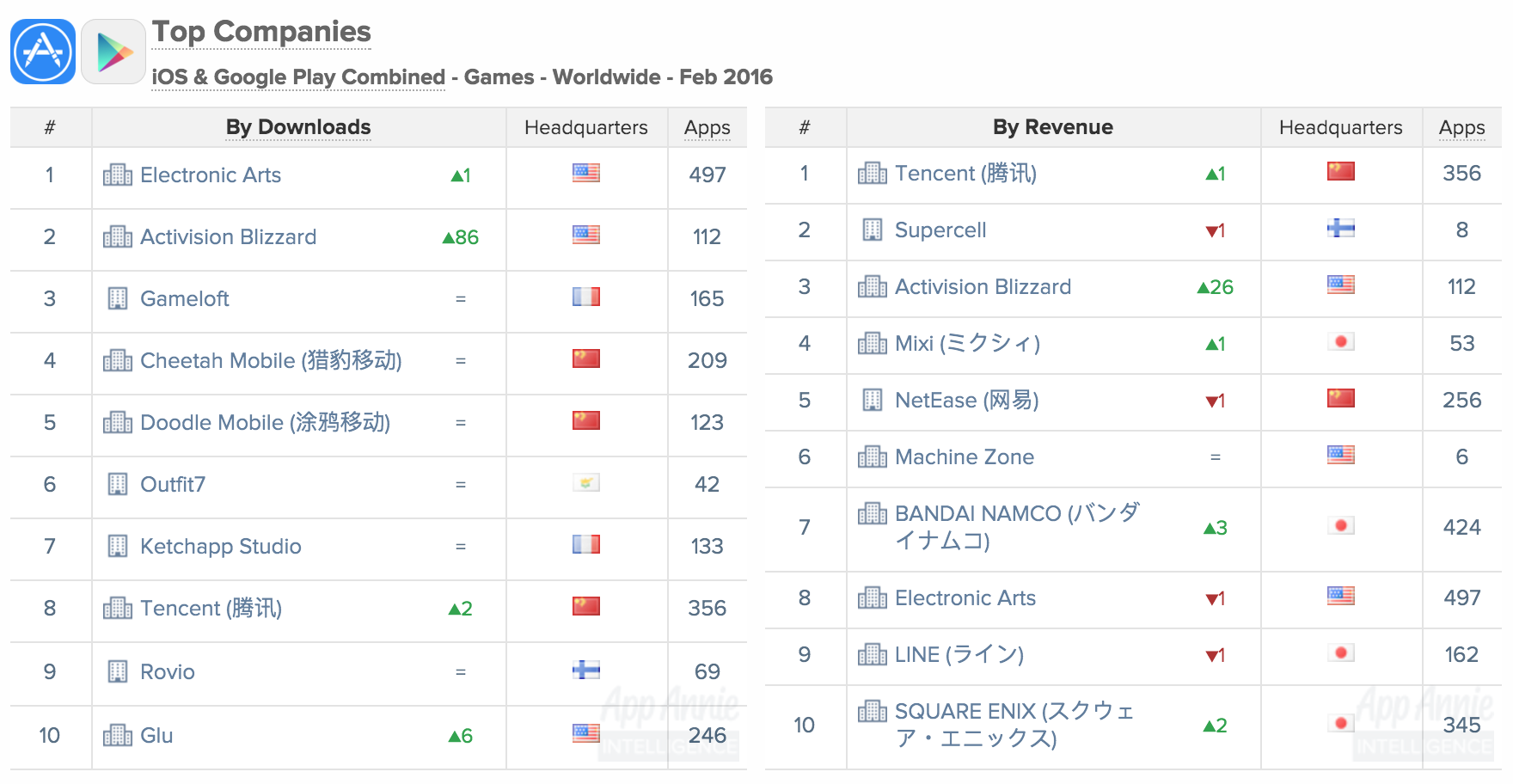 For the complete list of February's top apps and app publishers around the world, click the chart above.
Notes:
The publisher and app rankings reported in the App Annie Index are based on the download and revenue estimates available through App Annie Intelligence. The daily rank history charts and the homepage feature app data are available to all users through App Annie's app tracker solution, Store Stats.
App Annie Intelligence is currently available for the iOS App Store and Google Play. It does not currently provide estimates for other app stores, such as the Amazon Appstore. While iOS and Google Play represent a significant portion of the app market in many countries, that is not the case for some countries. For example, China has a number of sizable third-party Android app stores.

While the Index for Games covers games, the Index for Apps provides app tracking on everything but games. Note that the Top Company rankings in the Index for Games are based solely on the publishers' games downloads and revenue, while the Top Company rankings in the Index for Apps are based on the company's downloads and revenue from apps excluding games.

Company and unified app rankings in the App Annie Index for Games and Index for Apps are based on individual apps that ranked in the Top 1,000.

Download rankings are based on individually downloaded apps and exclude downloads of app bundles. Revenue rankings are based on download revenue from individually downloaded paid apps as well as in-app purchase revenue from both individually downloaded apps and app bundles.

In the first month in which an app becomes unified, its rank change in the Index will compare the unified app that month vs. its highest-ranking individual app in the month prior. As a result, rank changes for newly unified apps may overstate ranking increases from June 2015 to July 2015.

In the iOS App Store, an app can be categorized under a Primary Category as well as an optional Secondary Category. If an app has a Primary Category of Games and a Secondary Category of Entertainment, it is a candidate to be included in this Index for Games. If the app's Primary Category is Entertainment and its Secondary Category is Games, then it will not be included in this Index for Games; it is a candidate for the Index for Apps.

Note that the ranking approach used in the App Annie Index differs from that used in the iOS App Store. In the latter, app rankings for a given category will include all apps whose Primary Category or Secondary Category matches that given category. So an app can appear in the rankings for more than one category within the iOS App Store or in App Annie Store Stats rankings.

In Google Play, an app can be categorized under only one category, so there is no double-categorization.

Occasionally, a publisher may decide to shift an existing app from one category to another category. In these cases, the App Annie Index will rank that app based on its categorization in the subsequent month. Given that the App Annie Index has a Games report and an Apps report, the only scenario where an app's recategorization could shift it from one Index to another is if its category changes from Games to a category other than Games or vice versa.
In the App Annie Index, all apps and publishers are reported under their parent companies, where available; for example, the Plants vs. Zombies™ 2 app is reported under its parent company Electronic Arts, rather than its direct publisher PopCap. Note that if you view the Electronic Arts parent company page on Store Stats, you will see the publishers that roll under the parent company Electronic Arts, including PopCap. The Plants vs. Zombies™ 2 app will be listed under the PopCap publisher page.
Company and app rankings are based on the App Annie DNA relationships at the time of publications. App Annie DNA relationships are subject to change over time.

App Annie Usage Intelligence data for smartphones and tablets were derived from mobile usage data collected from a large sample of real-world users, combined with additional proprietary data sets.

App Annie Usage Intelligence data for smartphones and tablets were derived from mobile usage data collected from a large sample of real-world users, combined with additional proprietary data sets.

App Annie tracks usage at the device level using a privacy-protective hashed device ID. Data is only reported to third parties in aggregated format.

App Annie Index revenue rankings are based on revenue that the iOS App Store and Google Play earned from paid downloads and in-app purchases. They do not include revenue earned from in-app advertising.

Certain trademarks and/or images used in this report may belong to third parties and are the property of their respective owners. App Annie claims no rights to such trademarks or images.