The App Annie Games Index brings you the hottest mobile gaming properties across both the iOS App Store and Google Play based on market data from App Annie Intelligence.  To find out what's happening with apps outside of games, please check out our February 2014 Apps Index.
Flappy Bird Shakes Up the iOS App Store
Even though it was only available for nine days in February, Flappy Bird accumulated a huge number of downloads in that time, taking it to the top of the monthly rankings on both iOS and Google Play. However, its influence extended beyond its own rank, as publishers battled to fill the void left in its wake. This was particularly evident on iOS, where an additional four games inspired by the phenomenon appeared in the Top 10.
TV Commercials Become Increasingly Common
Television advertising appears to be becoming an increasingly common marketing channel for mobile game publishers. While successes have been evident in Japan for some time, including titles such as パズル&ドラゴンズ (Puzzle & Dragons), the practice is now spreading to Western markets. In February, Farm Heroes Saga, Big Fish Casino, and Clash of Clans all saw gains in rankings following TV commercials aired in the United States.
Mobile Game Franchises Expand Beyond Apps
The January Apps Index noted that Outfit 7's Talking Tom franchise is extending beyond apps and into merchandise and other related items, much as Angry Birds has done successfully. Another successful mobile gaming franchise, Temple Run, is now taking a similar approach as publishers seek additional revenue streams to extract further value from the strong brands built on mobile.
Flappy Bird publisher .Gears Studios led iOS publishers by monthly games downloads in February, spurred largely by the viral hit. However, Flappy Bird was withdrawn from the iOS App Store on February 9, and .Gears Studios continued to perform well, particularly with Super Ball Juggling. After Flappy Bird was removed from the app store, several other publishers were able to benefit from its absence. redBit's Splashy Fish, released just after Flappy Bird was withdrawn, went straight to the top ranks, and Jumpy Jack, released at the end of February, also boosted the publisher's ranking. The success of these new games had a halo effect on the publisher's older games, with Cookie Clickers in particular gaining considerably in late February.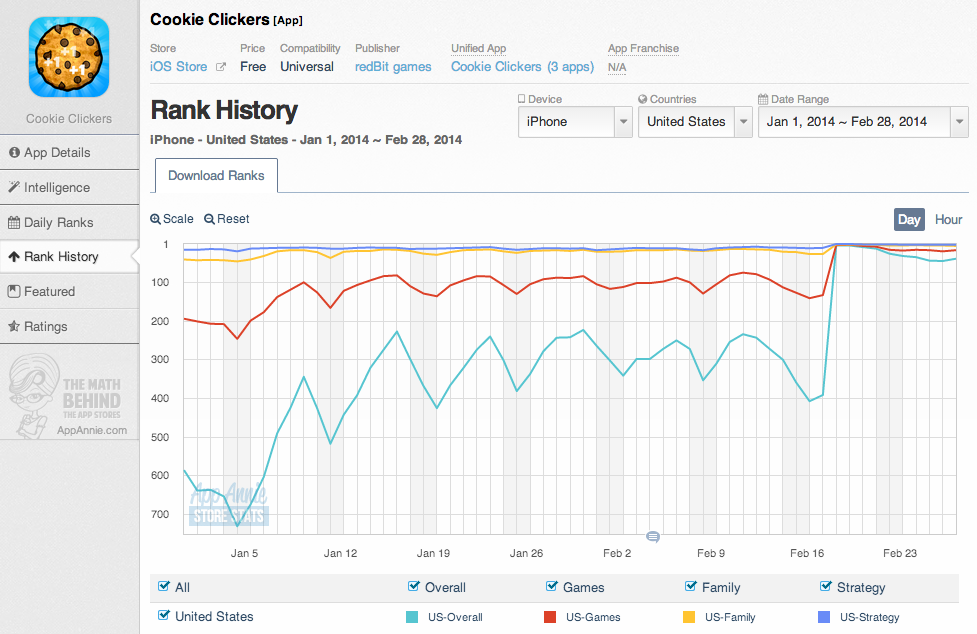 Cookie Clickers saw a jump in downloads following publisher redBit's success with the Flappy Bird-inspired Splashy Fish.
Turbo Chilli made considerable gains in February to join the Top 10 iOS game publisher by monthly downloads. Its success was largely driven by puzzle game Unroll Me, which hit the top ranks in late January and stayed there throughout February. The gains were complemented by another Flappy Bird-style title, Hoppy Frog, which found considerable success after its mid-February release.
.Gears Studios also made major moves on Google Play, with Flappy Bird occupying the top position for game downloads throughout early February until it was withdrawn. Flappy Bird was the only .Gears Studios title available on Google Play, but its nine days there were still sufficient to carry the publisher to the top five. Candy Mobile also made major gains to enter the Top 10, primarily from the release of Clumsy Bird, which was popular in Russia, the United States, and Brazil.
LINE has been a regular fixture in the top Google Play games publisher by monthly Google Play game revenue in the Games Index, but this month it also climbed into the Top 10 for Google Play game downloads. Its rapid rise largely came from a series of successful recent releases, led by LINE Cookie Run, a licensed version of the popular South Korean game. LINE Cookie Run was released in late January and proved a hit in Thailand and Japan. Also making a big impact for LINE this month was LINE ディズニー ツムツム (Disney Tsum Tsum), a match-three puzzle game featuring the stuffed toy versions of famous Disney characters. The game was released in late January and outranked LINE Cookie Run for much of the month in Japan. Racing game LINE Go!Go!Go!, released in early January, also performed strongly throughout February. Again, it was particularly strong in Thailand, where the messaging app's dominance appears to be converting to a substantial source of gaming revenue.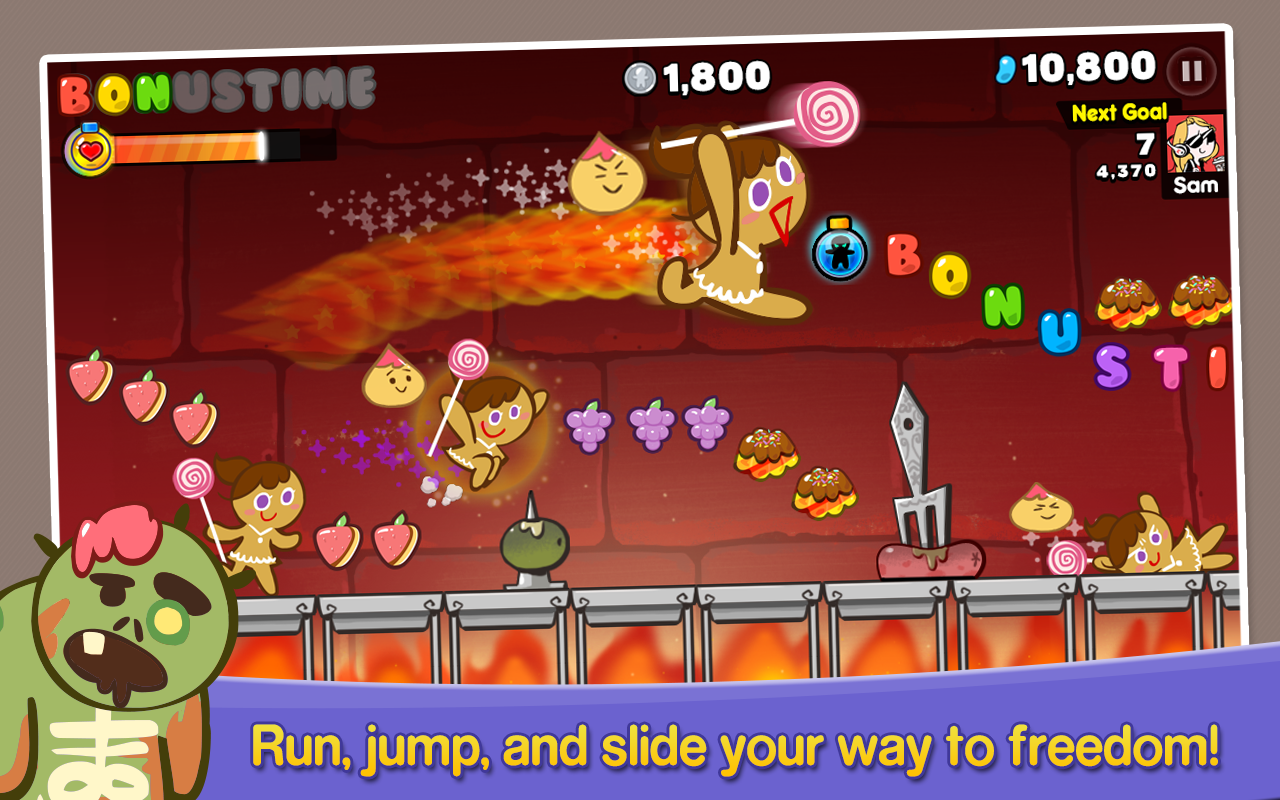 LINE Cookie Run and LINE Go!Go!Go! demonstrated the value of LINE's expanding user base in Thailand.
For iOS game revenue in February, it was once again LINE making some significant strides. While growth was particularly strong in Japan, Thailand played a key role in the growth of LINE's game offerings, and Taiwan also contributed. In Thailand, LINE Cookie Run performed well throughout February to lead revenue for LINE games in the country.
Storm8 also returned to the Top 10 publishers by monthly iOS App Store game revenue in February, driven largely by the release of seasonal versions of its games. Farm Story 2: Valentines and Candy Blast Mania: Valentines were the two best performing of a series of Valentines-themed games released by the publisher in late January.
The biggest rank gains within the Top 10 publishers by monthly Google Play game revenue in December were made by South Korea's SundayToz. Its revenue growth was largely a result of the dramatic success of 애니팡 (Anipang) 2 on the Kakao gaming platform in South Korea. The match-three puzzle sequel to the hugely popular Anipang was released in mid-January, and rapidly rose to #1 in South Korea, where it stayed for most of February.
Despite its shortened stay, Flappy Bird amassed enough downloads to remain in the top spot for monthly downloads on the iOS App Store. Its influence extended much further than that though, with one analysis finding a Flappy Bird-style game being added to the iOS App Store every 24 minutes. Splashy Fish was the most successful of these in terms of downloads, and publisher redBit stated it was being played 250 million times per day. The phenomenon also brought three more similar titles - Ironpants, Fly Birdie, and Flappy Wings - into the Top 10 for February. In addition, another of .Gears Studios' titles, Super Ball Juggling, extended its strong performance from late January to join the Top 10 in February. Even a month after it was  withdrawn, Flappy Bird mania hadn't subsided - four of the top ten titles by daily downloads in the United States were inspired by the game. For those who missed the original the first time around, there may still be hope - creator Dong Nguyen has suggested that he might restore Flappy Bird to the app stores.
Unroll Me was the only game unrelated to Flappy Bird to join the Top 10 this month. The puzzle game, released in late January, first climbed the ranks in the United States, followed by other major markets such as the United Kingdom.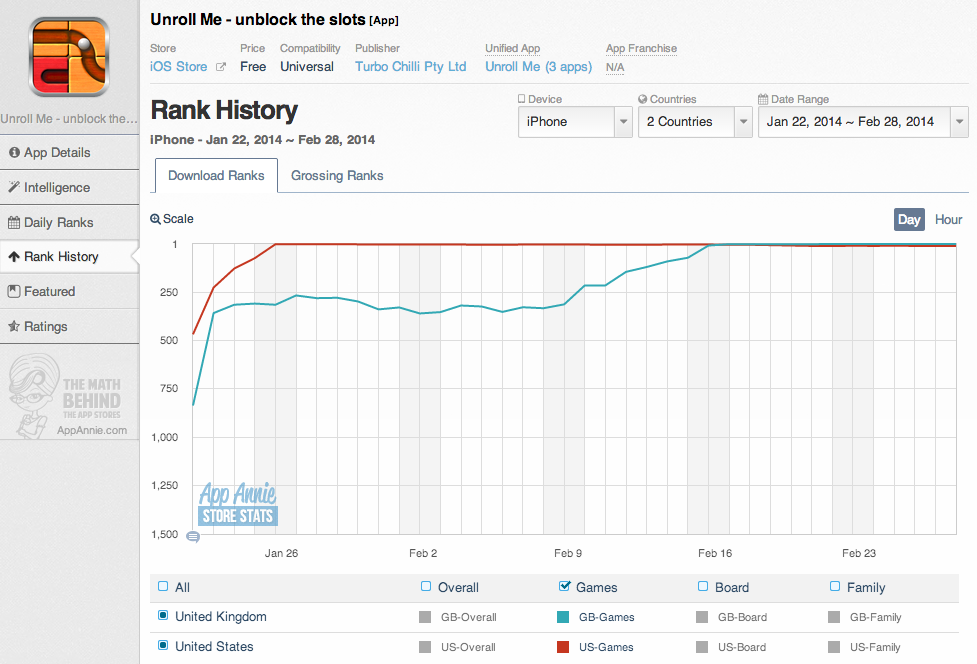 Unroll Me climbed into the top ranks in the United States soon after release, before gaining traction in other major markets.
Flappy Bird's short stint in February also generated enough downloads to take the #1 spot in Google Play monthly downloads. While Flappy Bird completely shook up the Top 10 downloaded games in February in the iOS App Store, it had a lighter influence on  Google Play. Only one other Flappy Bird-inspired game, Candy Mobile's Clumsy Bird,  joined the Top 10 in February on Google Play.
The January Apps Index noted that My Talking Tom publisher Outfit 7 is expanding the franchise beyond apps to include videos and merchandise. Another regular in the Games Index is now doing the same. Imangi is expanding the Temple Run franchise into plush toys and an LCD handheld game. The move is a further example of mobile publishers building extensive brands to extract further value from their creations, as Rovio has achieved with Angry Birds.
Farm Heroes Saga made major gains in iOS revenue in February, giving publisher King three of the Top 10 positions. This will be good news for King as it seeks to demonstrate its longevity to support its upcoming IPO. The expected share price at this IPO is likely to value King at around $7.6 billion. Farm Heroes Saga received extensive TV and print campaigns in the United Kingdom and United States, and performed strongly in both markets.
Another app receiving extensive TV commercials in the United States in February was Big Fish Casino, which made significant gains to join the Top 10 games by iOS revenue. It was interesting to note that the commercials for Big Fish Casino targeted female players, a marketing stance that has been adopted by several big game publishers in 2014. Rovio launched an Angry Birds spinoff Stella, based on a strong female character, and GungHo Online introduced a Hello Kitty cross-promotion in パズル&ドラゴンズ (Puzzle & Dragons). Publishers have clearly realized the value of female gamers, and are taking a more proactive approach to appeal to this market sector.
The January Games Index noted the TV advertising campaign run in late January and early February for Clash of Clans, and February saw a rise in the revenue ranks on both Google Play and iOS for the game. Farm Heroes Saga also saw gains in the revenue ranks on both platforms after receiving significant exposure in February through its own advertising campaign and featuring on the Google Play homepage in several countries.
For those of you who also are looking for an update on top apps other than games, please check out the February 2014 Apps Index.
Notes:
The publisher and app rankings reported in the App Annie Index are based on the download and revenue estimates available through App Annie

Intelligence

.  The daily rank history charts and the home page feature app data are available to all users through App Annie's app tracker solution,

Store Stats

.

While the Games Index covers games, the Apps Index provides app tracking on everything but games.  Note that the Top Publishers rankings in the Games Index are based solely on the publishers' games downloads and revenue, while the Top Publishers rankings in the Apps Index are based on the publishers' downloads and revenue from apps excluding games.

Through August 2013, publisher rankings in the App Annie Games Index and Apps Index were based on apps that ranked in the Top 1,000.  Effective with September data, publisher rankings are based on publishers' full set of apps.

Through September 2013, similar versions of the same app with different names (e.g., NYTimes and NYTimes for iPad) were ranked separately. Effective with October data, similar versions of the same app with different names are unified (e.g., NYTimes and NYTimes for iPad are now aggregated and ranked as a single NYTimes unified app).

In the first month in which an app becomes unified, its rank change in the Index will compare the unified app that month vs. its highest-ranking individual app in the month prior.  As a result, rank changes for newly unified apps may overstate ranking increases from January 2014 to February 2014.

In the iOS App Store, an app can be categorized under a Primary Category as well as an optional Secondary Category.  If an app has a Primary Category of Games and a Secondary Category of Entertainment, it is a candidate to be included in this Games Index.  If the app's Primary Category is Entertainment and its Secondary Category is Games, then it will not be included in this Games Index; it is a candidate for the Apps Index.

Note that the ranking approach used in the App Annie Index differs from that used in the iOS App Store.  In the latter, app rankings for a given category will include all apps whose Primary Category or Secondary Category matches that given category.  So an app can appear in the rankings for more than one category within the iOS App Store or in App Annie Store Stats rankings.

In Google Play, an app can be categorized under only one category, so there is no double-categorization.

Occasionally, a publisher may decide to shift an existing app from one category to another category.  In these cases, the App Annie Index will rank that app based on its categorization in the subsequent month.  Given that the App Annie Index now has a Games report and an Apps report, the only scenario where an app's recategorization could shift it from one Index to another is if its category changes from Games to a category other than Games or vice versa.
In the App Annie Index, all apps and publishers are reported under their parent publishers, where available; for example, the Plants vs. Zombies™ 2 app is reported under its parent publisher Electronic Arts, rather than its direct publisher PopCap. Note that if you view the Electronic Arts parent publisher page on Store Stats, you will see the publishers that roll under the parent publisher Electronic Arts, including PopCap. The Plants vs. Zombies™ 2 app will be listed under the PopCap

publisher page.

App Annie Index revenue rankings are based on revenue that the iOS App Store and Google Play earned from paid downloads and in-app purchases.  They do not include revenue earned from in-app advertising.

Any non-App Annie trademarks or images used in this report are the property of their respective owners.  App Annie claims no rights in those trademarks.