Worldwide App Annie Index for Games December 2015

Each month, the App Annie Index highlights the top-performing games and apps for the iOS App Store and Google Play. Our analysis covers trends among the leading apps across countries and categories, and is the industry standard for professionals looking to compare leading apps and publishers.

You might also be interested in:
This Month's Top Games
Star Wars Fever Encourages App Success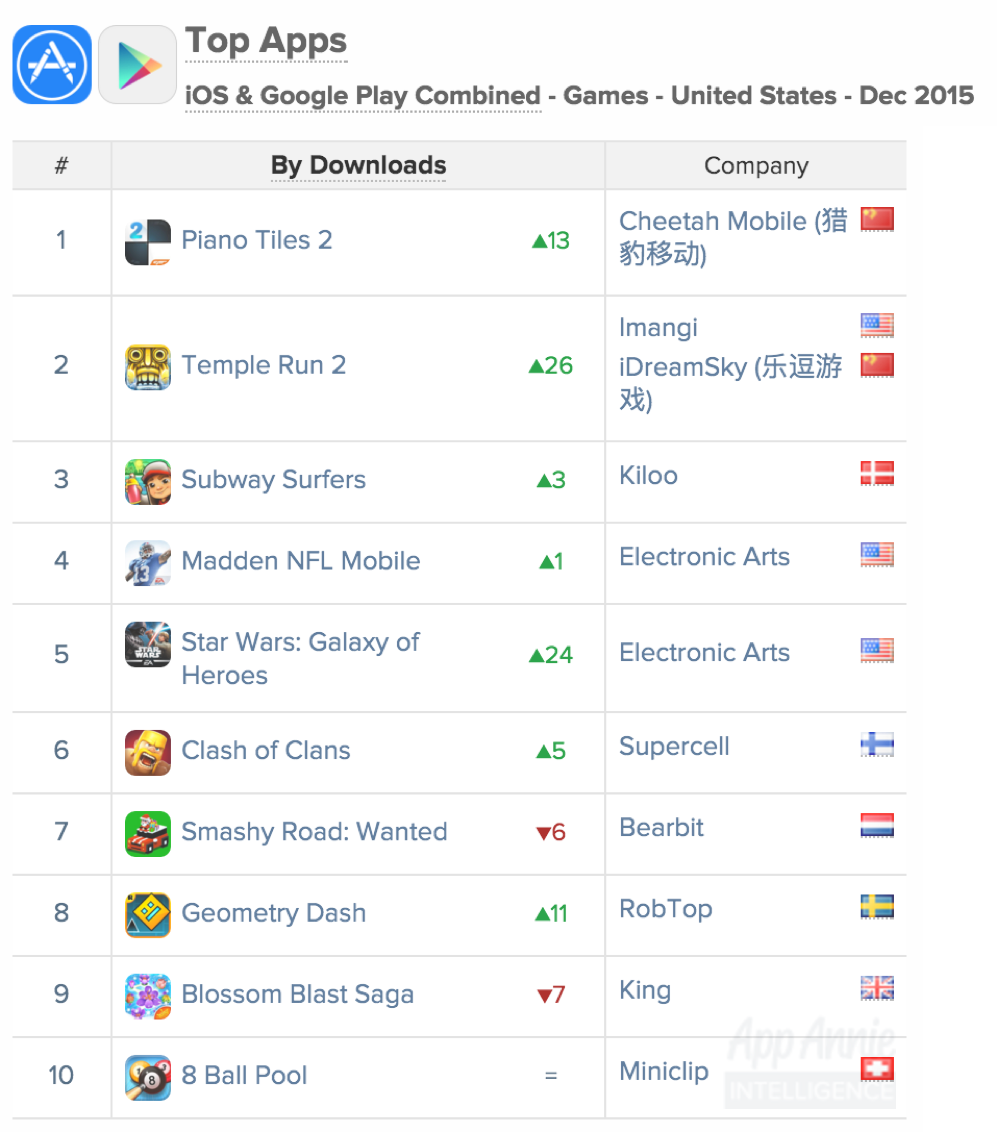 Building on the success of its international launch at the end of November, EA's Star Wars: Galaxy of Heroes shot up the download rankings in December. Drawing from the history of the franchise, Galaxy of Heroes allows users to unlock famous characters, through gameplay or in-app purchases (IAPs), and use them in turn-based battles across iconic locations from the Star Wars universe.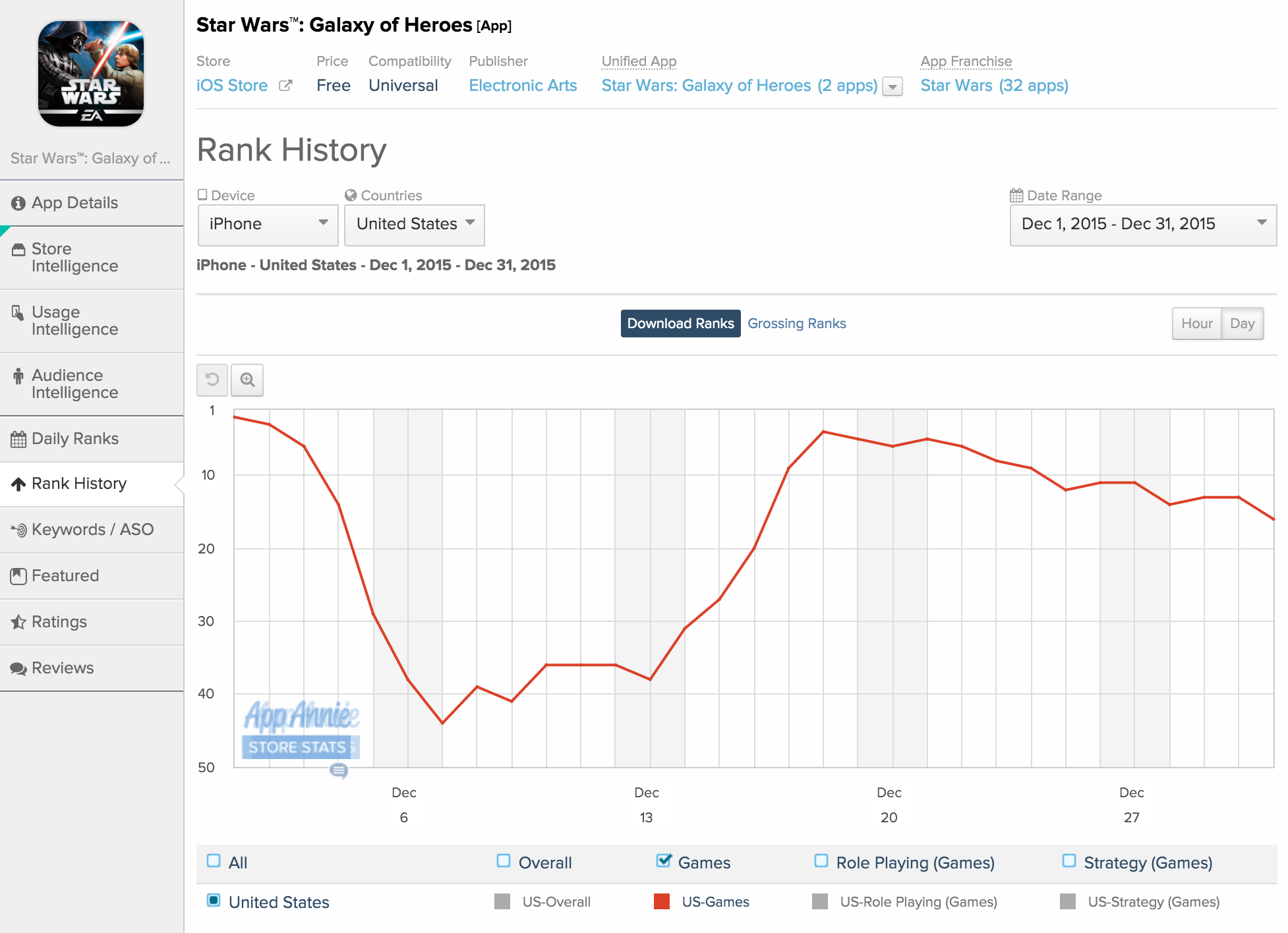 As predicted in our recent analysis of Star Wars games, excitement surrounding the mid-December launch of Star Wars: The Force Awakens coincided with the app reaching a second peak in the download rankings. EA further capitalized on this Star Wars fever by releasing an update, featuring characters from the new film, just in time for the cinematic release.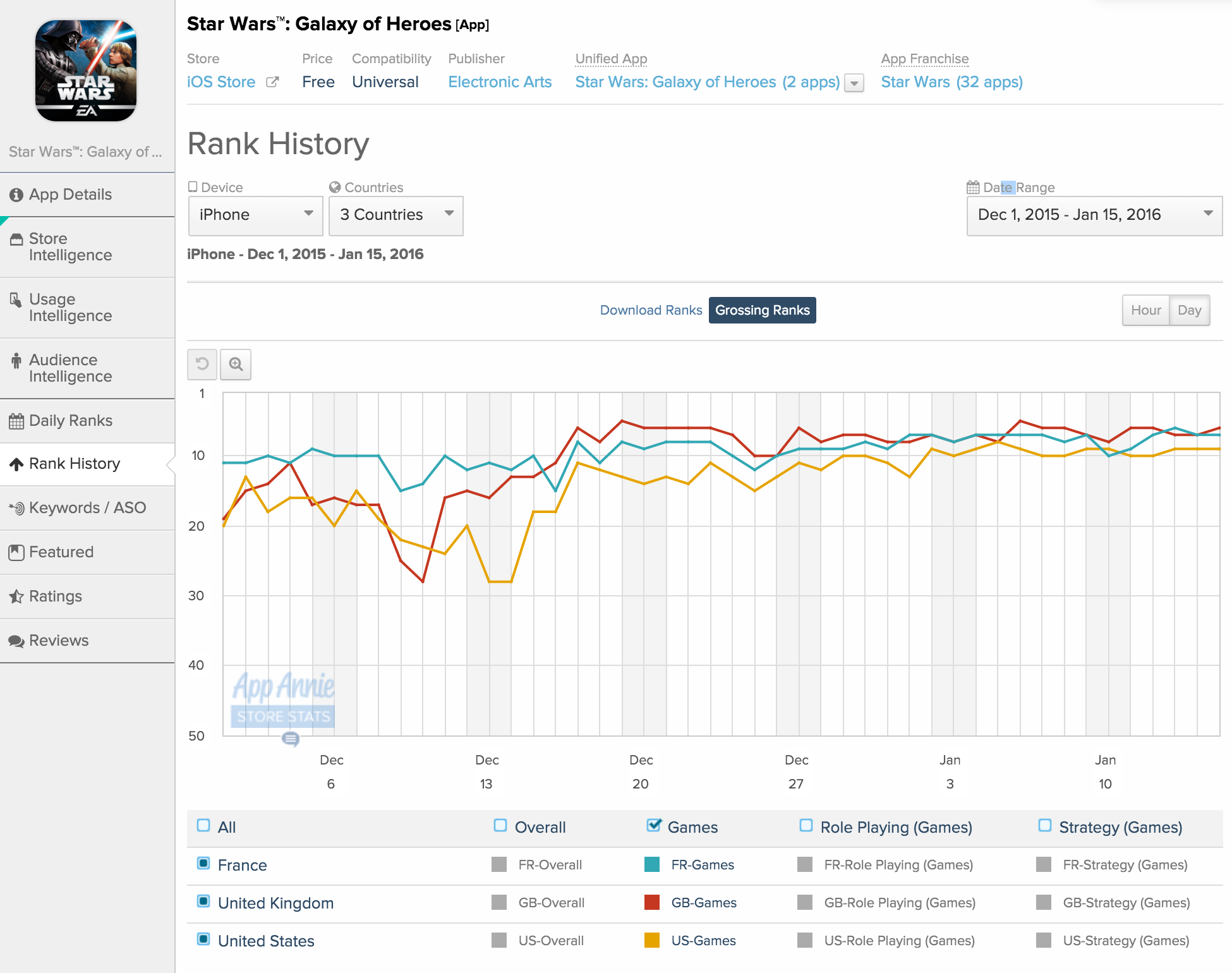 Though search interest peaked and then waned following the film release, Galaxy of Heroes showed a steady climb in the revenue rankings, for both iOS and Google Play, gaining a top 15 position on both stores in a number of Western countries (including the United States, the United Kingdom and France). This trend is continuing into January, and bodes well for the game's ongoing success.
EA may not be the only publisher to benefit from the buzz around Star Wars. As with its 2015 Super Bowl commercial, Supercell has once again taken advantage of a prime advertising slot, A-list casting, and high production values by showing their Clash of Clans ad — The Legend of the Last Lava Pup — in cinemas before The Force Awakens screened. Clans climbed the US download ranks on both iOS and Google Play in the second half of December. We'll be keeping an eye on how this high-profile endorsement strategy pans out going forward.
Incidentally, Supercell also soft-launched its latest game, Clash Royale, on January 4 and it has already entered the 10 for revenue in 8 countries. Combining elements from realtime strategy, tower defense and collectable card games, Supercell is fusing a number of popular genres to expand its Clash of Clans franchise. With a worldwide iOS launch expected later this year, early indications suggest this could well be another major hit for Supercell.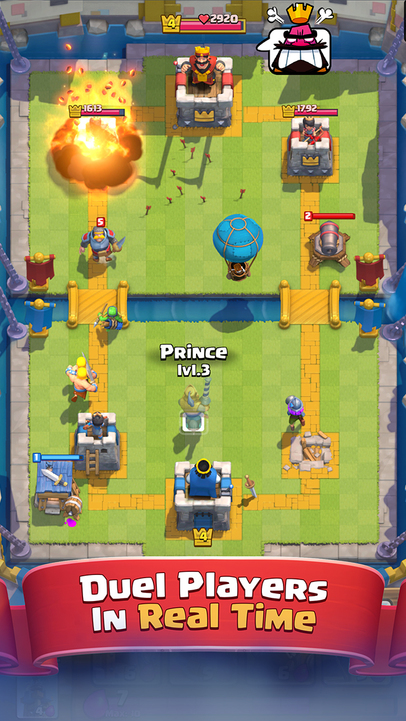 NEXON's New Game HIT is a Smash H… Success!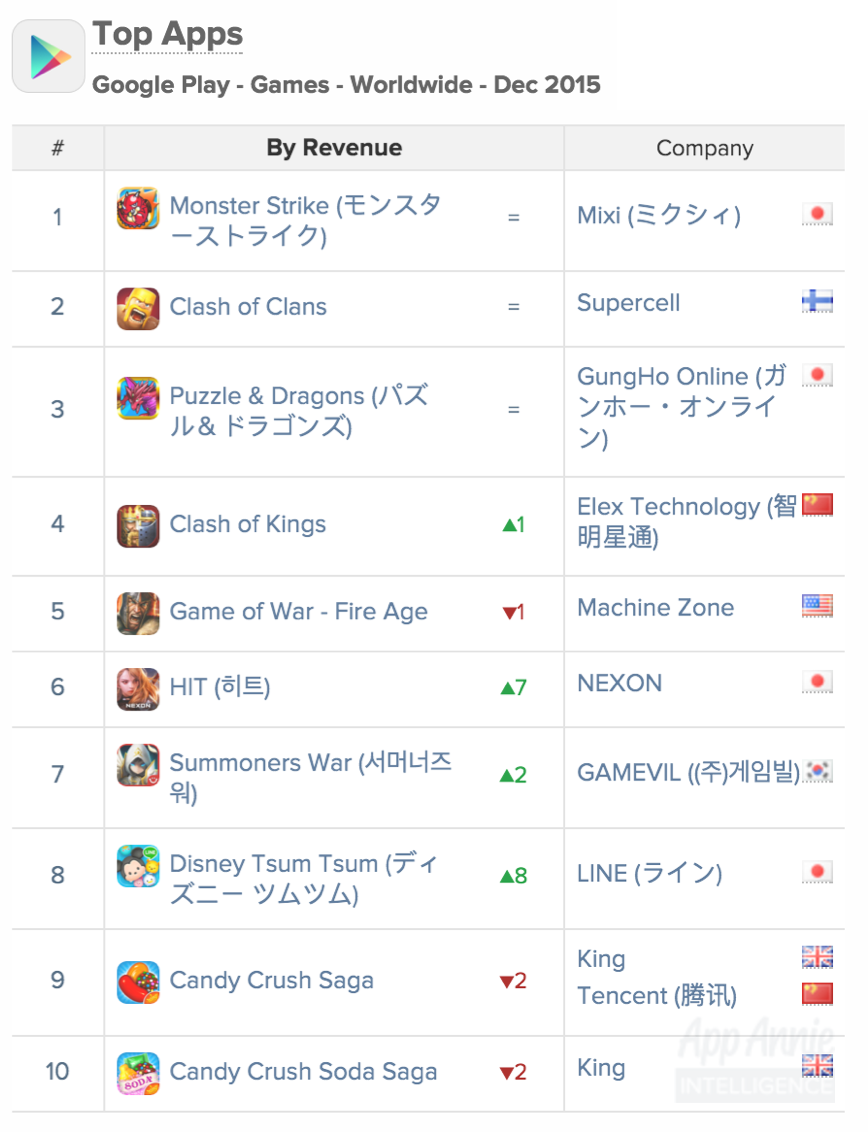 Continuing the trend of core gaming moving onto mobile in Asia, South Korean Action RPG HIT has been climbing the Google Play revenue charts following its release on November 15. Featuring high-quality graphics powered by the Unreal 4 Engine, realtime multiplayer and a voice-acted story, HIT is pushing technological boundaries and capturing gamers' attention.
Entering the top 10 for revenue, driven almost entirely by South Korea, HIT gained particular attention as developer Yong-Hyun Park, well known for his work on popular desktop MMORPGs Lineage 2 and Terra, was at the helm.
Engagement is high, with HIT falling within the top 15 most-used games on Android phones in South Korea in December, and publisher NEXON jumping into the top 10 companies by revenue on Google Play.
Popular Games Get a Holiday Makeover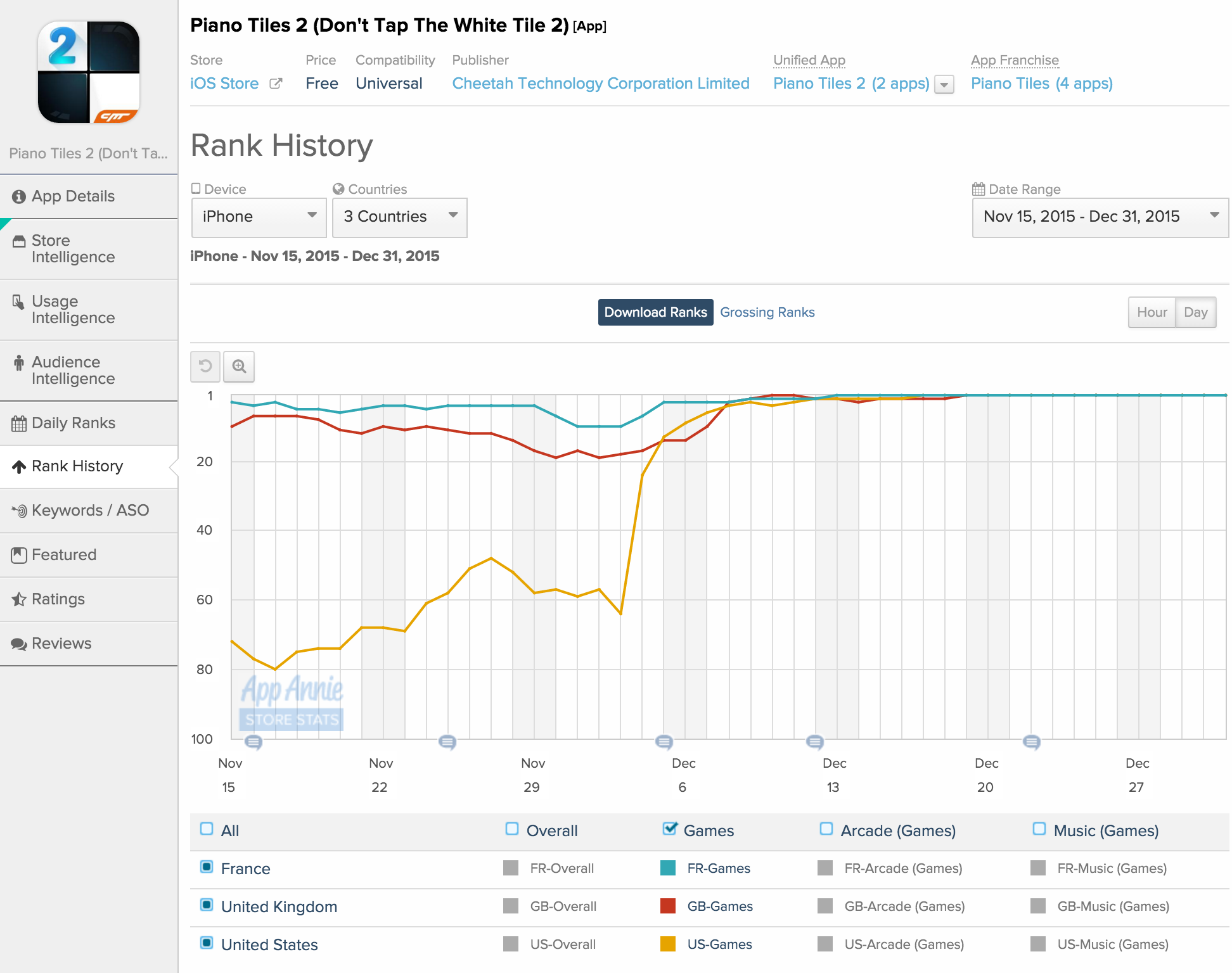 Beginning in early December, Piano Tiles 2 and Temple Run 2 both rose in the global download rankings.
Following the addition of holiday songs in late November, Piano Tiles 2 saw a dramatic rank increase in the US and its download ranking is now in line with what we've seen in other countries.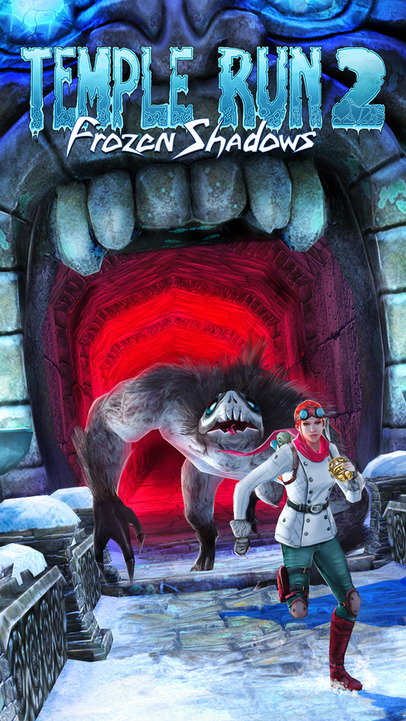 Three years since the original release, Imangi released the Frozen Shadows update to the ever-popular Temple Run 2. Excitement surrounding the release led to a considerable and sustained increase in its position in our Downloads Index and usage rose significantly in a number of countries. As the first of a number of new world expansions planned for 2016, we could be seeing Temple Run 2 continue to pop up.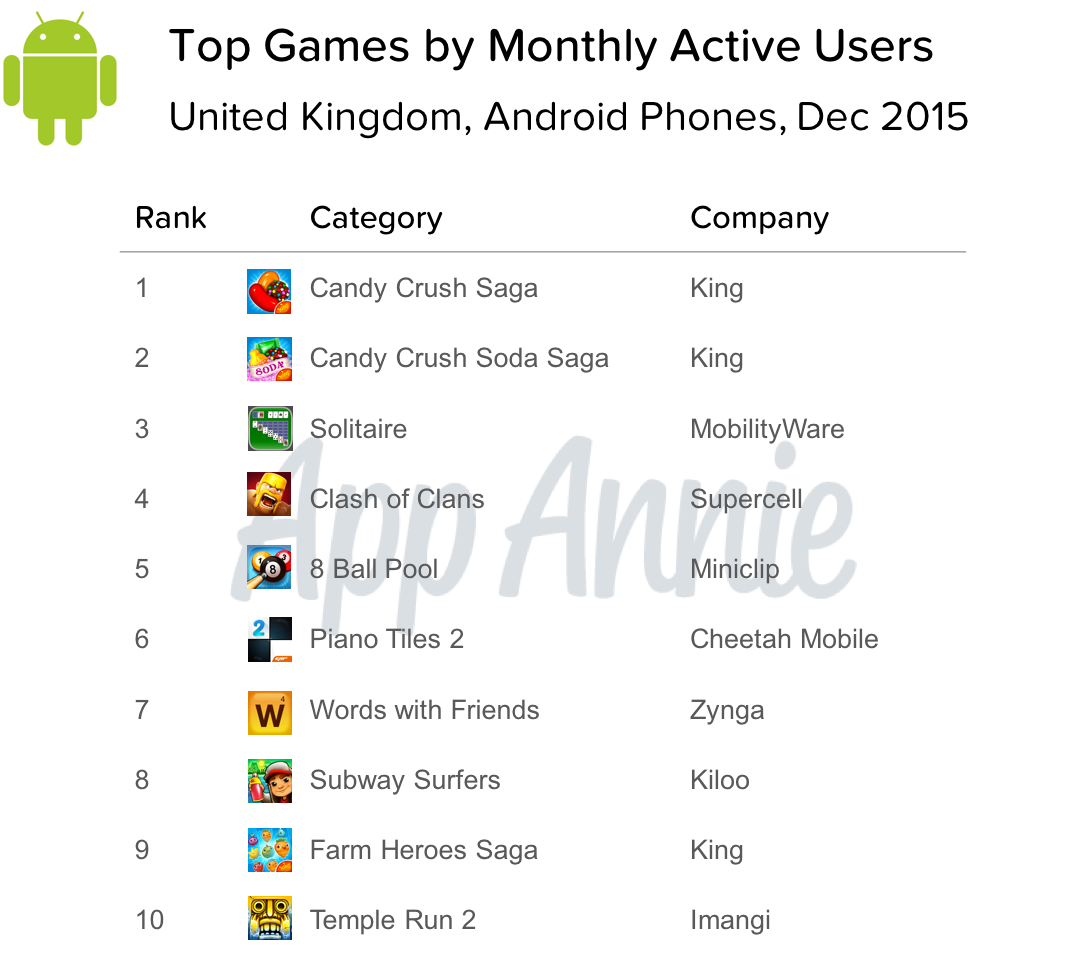 Alongside iOS and Google Play success, Rayman Adventures hits number 1 spot on Apple TV in France
Released in early December, the latest iteration in Ubisoft's ever-popular Rayman franchise, Rayman Adventures, was one of the top 10 most downloaded apps across Google Play and iOS globally.
Unlike Rayman Jungle Run and Rayman Fiesta Run, which followed a paid download pricing strategy, Adventures is a freemium experience allowing users to purchase speed ups, costumes and power ups for in-game characters.
In addition to its success on iOS and Google Play, Rayman's quest to rescue the Incrediballs was also received well on Apple TV where it was the number 1 app (among games and non-games) in Ubisoft's native France by the end of the year. Ubisoft took full advantage of Apple TV's features, allowing users to control Rayman's action using the touchpad on the Siri Remote.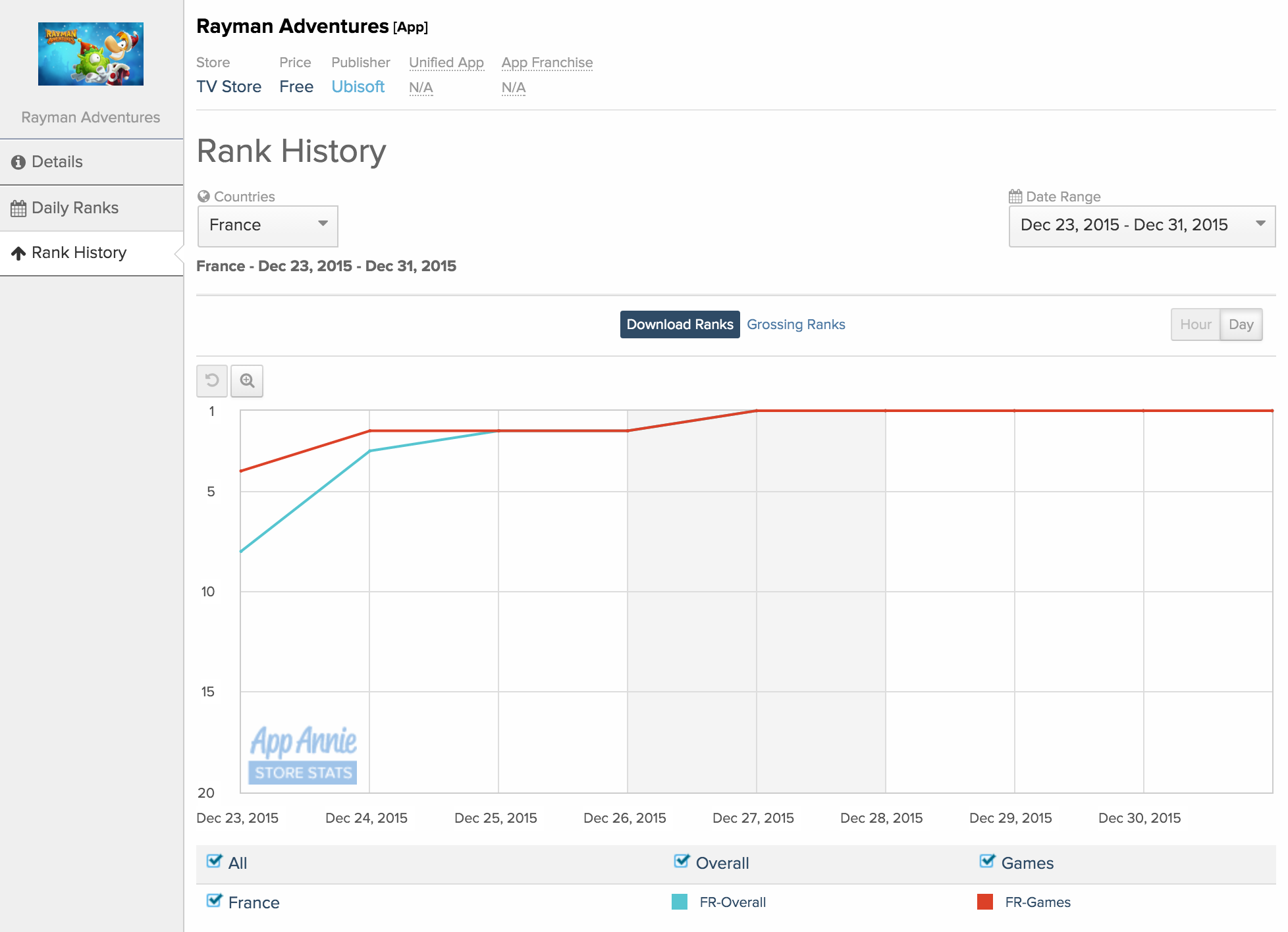 The Technology Behind the Index
The information contained in this report is compiled from App Annie Intelligence, the leading market data solution for the app store economy. To see how our app store download, revenue, demographic and usage estimates can help guide your critical business decisions, request a demo today.
---

---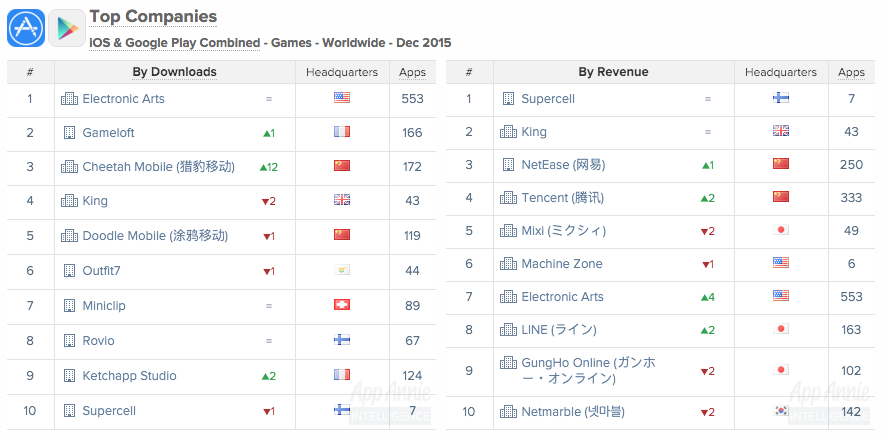 For the complete list of December's top apps and app publishers around the world, click the chart above.
Notes:
The publisher and app rankings reported in the App Annie Index are based on the download and revenue estimates available through App Annie Intelligence. The daily rank history charts and the homepage feature app data are available to all users through App Annie's app tracker solution, Store Stats.
App Annie Intelligence is currently available for the iOS App Store and Google Play. It does not currently provide estimates for other app stores, such as the Amazon Appstore. While iOS and Google Play represent a significant portion of the app market in many countries, that is not the case for some countries. For example, China has a number of sizable third-party Android app stores.

While the Index for Games covers games, the Index for Apps provides app tracking on everything but games. Note that the Top Company rankings in the Index for Games are based solely on the publishers' games downloads and revenue, while the Top Company rankings in the Index for Apps are based on the company's downloads and revenue from apps excluding games.

Company and unified app rankings in the App Annie Index for Games and Index for Apps are based on individual apps that ranked in the Top 1,000.

Download rankings are based on individually downloaded apps and exclude downloads of app bundles. Revenue rankings are based on download revenue from individually downloaded paid apps as well as in-app purchase revenue from both individually downloaded apps and app bundles.

In the first month in which an app becomes unified, its rank change in the Index will compare the unified app that month vs. its highest-ranking individual app in the month prior. As a result, rank changes for newly unified apps may overstate ranking increases from June 2015 to July 2015.

In the iOS App Store, an app can be categorized under a Primary Category as well as an optional Secondary Category. If an app has a Primary Category of Games and a Secondary Category of Entertainment, it is a candidate to be included in this Index for Games. If the app's Primary Category is Entertainment and its Secondary Category is Games, then it will not be included in this Index for Games; it is a candidate for the Index for Apps.

Note that the ranking approach used in the App Annie Index differs from that used in the iOS App Store. In the latter, app rankings for a given category will include all apps whose Primary Category or Secondary Category matches that given category. So an app can appear in the rankings for more than one category within the iOS App Store or in App Annie Store Stats rankings.

In Google Play, an app can be categorized under only one category, so there is no double-categorization.

Occasionally, a publisher may decide to shift an existing app from one category to another category. In these cases, the App Annie Index will rank that app based on its categorization in the subsequent month. Given that the App Annie Index has a Games report and an Apps report, the only scenario where an app's recategorization could shift it from one Index to another is if its category changes from Games to a category other than Games or vice versa.
In the App Annie Index, all apps and publishers are reported under their parent companies, where available; for example, the Plants vs. Zombies™ 2 app is reported under its parent company Electronic Arts, rather than its direct publisher PopCap. Note that if you view the Electronic Arts parent company page on Store Stats, you will see the publishers that roll under the parent company Electronic Arts, including PopCap. The Plants vs. Zombies™ 2 app will be listed under the PopCap publisher page.
Company and app rankings are based on the App Annie DNA relationships at the time of publications. App Annie DNA relationships are subject to change over time.

App Annie Usage Intelligence data for smartphones and tablets were derived from mobile usage data collected from a large sample of real-world users, combined with additional proprietary data sets.

App Annie tracks usage at the device level using a privacy-protective hashed device ID. Data is only reported to third parties in aggregated format.

App Annie Index revenue rankings are based on revenue that the iOS App Store and Google Play earned from paid downloads and in-app purchases. They do not include revenue earned from in-app advertising.

Certain trademarks and/or images used in this report may belong to third parties and are the property of their respective owners. App Annie claims no rights to such trademarks or images.