iQIYI is still showing aggressive growth, YouTube increases support for creators, and Tinder continues to dominate as it explores new features.
Worldwide App Annie Index for Apps June 2016

Each month, the App Annie Index highlights the top-performing games and apps for the iOS App Store and Google Play. Our analysis covers trends among the leading apps across countries and categories, and is the industry standard for professionals looking to compare leading apps and publishers.

You might also be interested in:
This Month's Top Apps
Tinder Treads New Ground as it Climbs the Revenue Ranks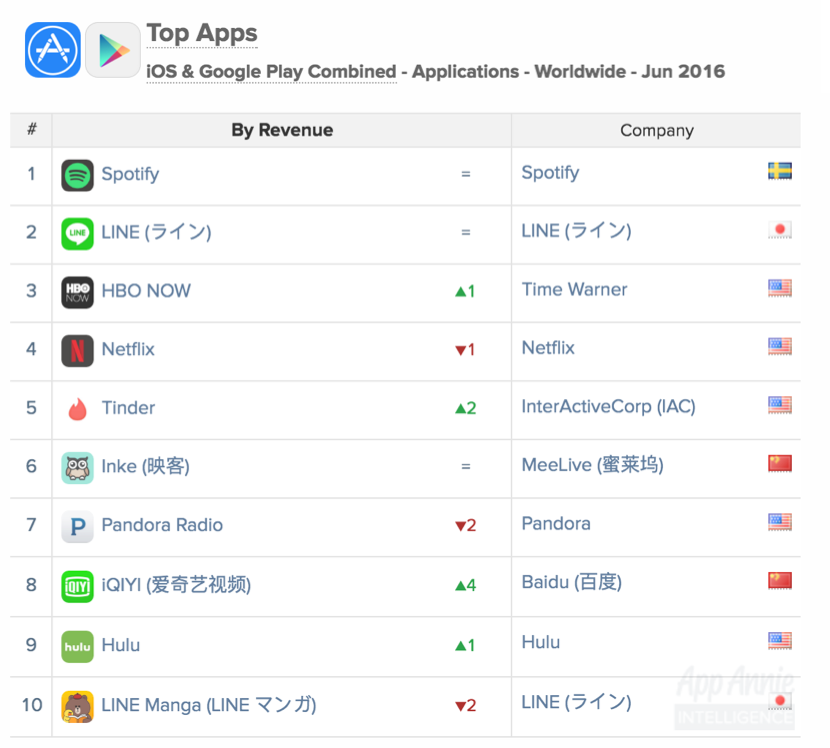 Tinder climbed the revenue ranks this month, and is now in the top five apps for combined Google Play and iOS revenue worldwide. This places it comfortably as the highest-grossing dating app in the world.
Engagement with Tinder remains high, especially with younger users. In June, it was the most-used app in the Lifestyle category on iPhone in the 13–24 year old demographic in the US, with Bumble listed as the only other dating app in the top five. This is especially impressive for an app reserved for those aged 18+ — it's competing against apps that serve the entire demographic range.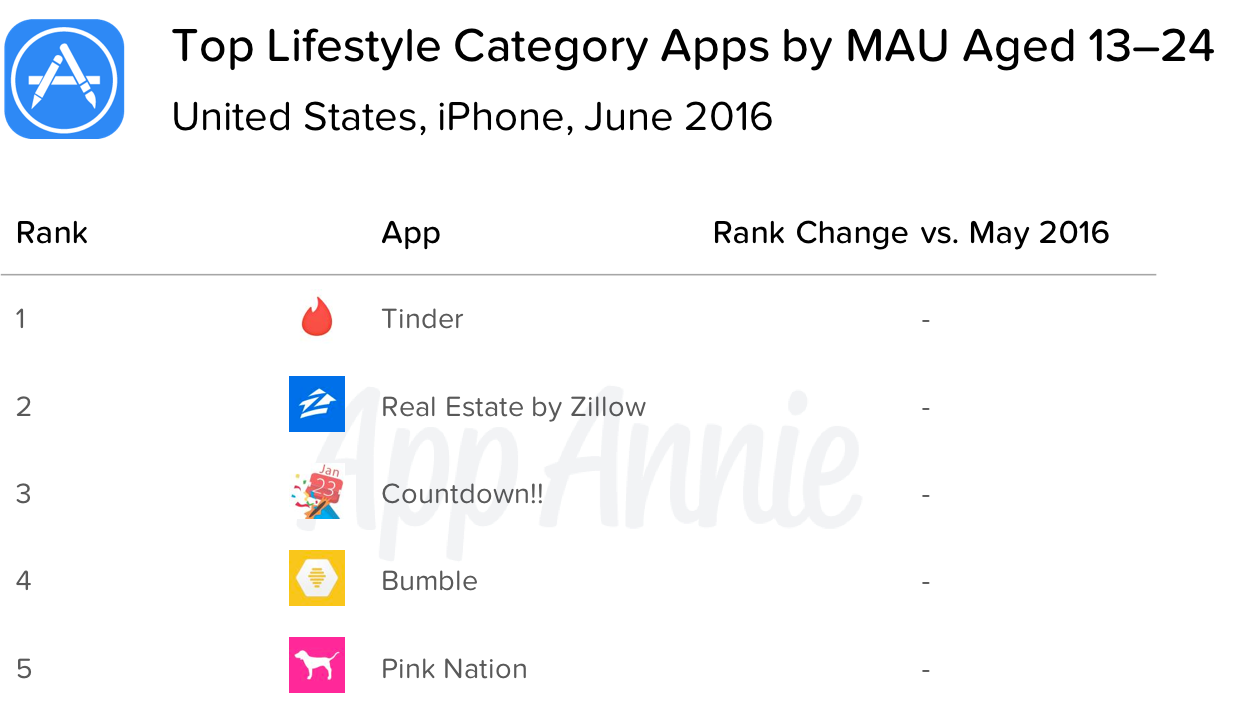 Tinder is the most-used Lifestyle app within the 13–24 year-old demographic on iPhone in the US.
Tinder recently announced a number of new initiatives, features and policies aimed to further cement its dominant position. Showing its commitment to building engagement outside of the core dating proposition, Tinder brought back its Swipe the Vote feature — previously used in the US Presidential primaries — ahead of the UK's Brexit referendum. The service tests voters' political knowledge and prompts them to register to vote. Continuing this move toward incorporating non-dating services, Tinder Social was recently launched following initial testing in Australia. This new feature allows groups of friends to schedule a night out and meet other groups with similar interests. Finally, the brand recently announced plans to make the app more friendly for transgender users, and also to block users under 18 from the service.
iQIYI Gains Ground on Netflix and HBO NOW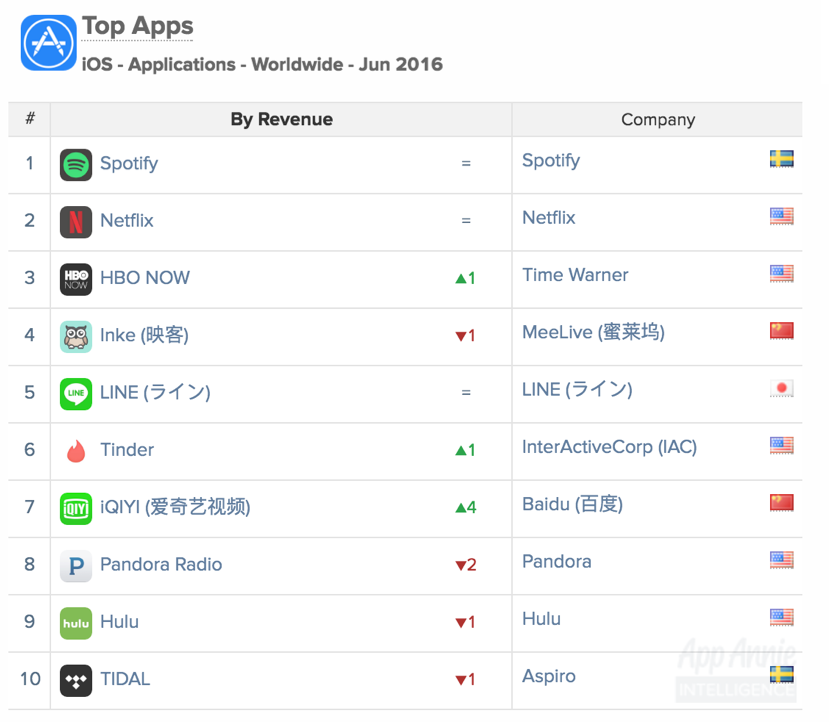 Chinese video streaming app iQIYI re-entered the top 10 iOS apps for revenue this month, which also helped publisher Baidu climb the worldwide company revenue charts. This jump was almost entirely driven by China, where iQIYI has been steadily climbing the iPhone grossing charts since the end of April.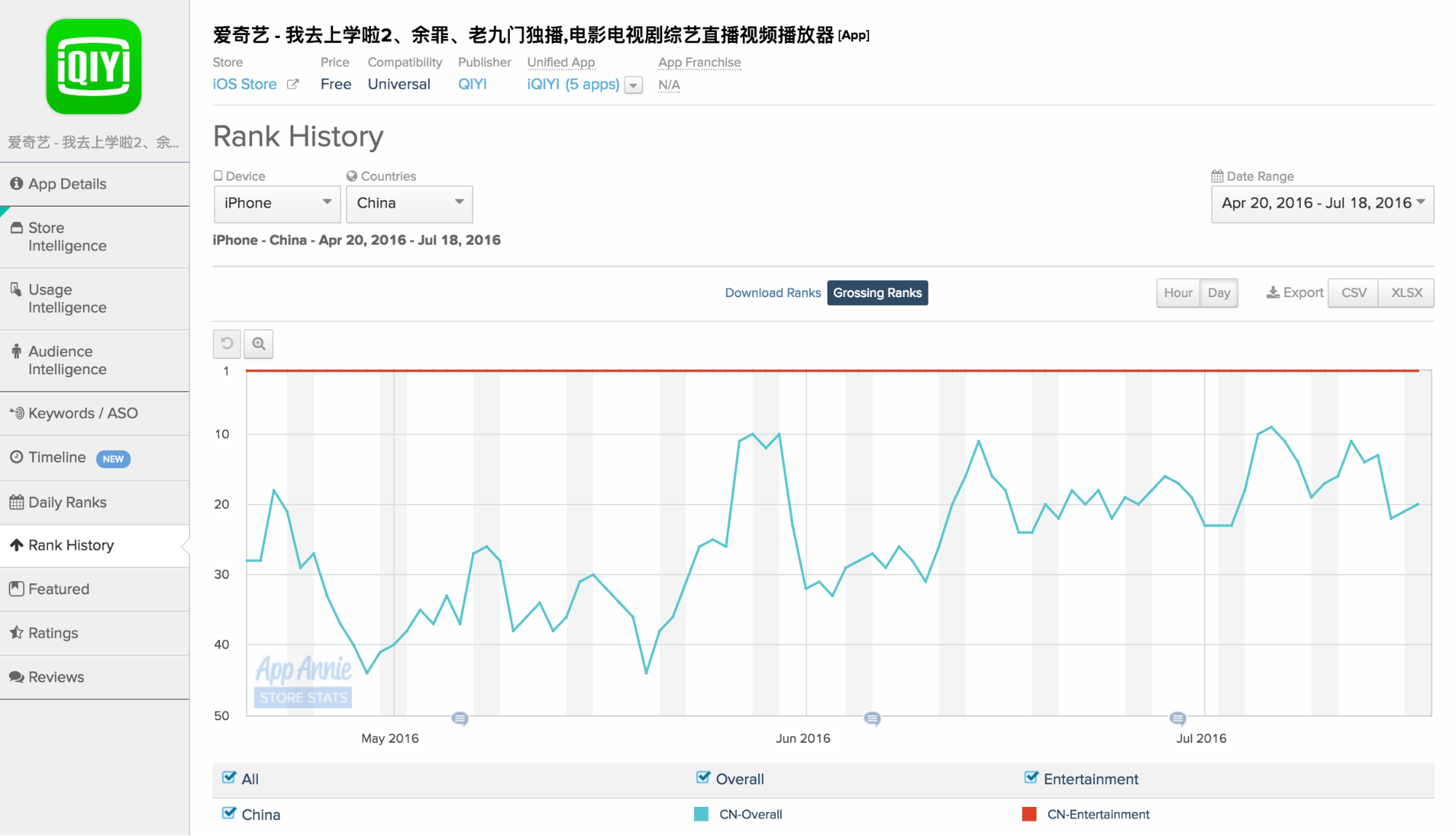 iQIYI continues to climb the iPhone grossing ranks in China.
iQIYI is China's most popular subscription-based video streaming service. In June it announced 20 million subscribers, only six months after first reaching 10 million, and a 765% increase in paying subscribers over the last year. It remains the #1 app in the Entertainment category by monthly active users (MAU) on iPhone in China.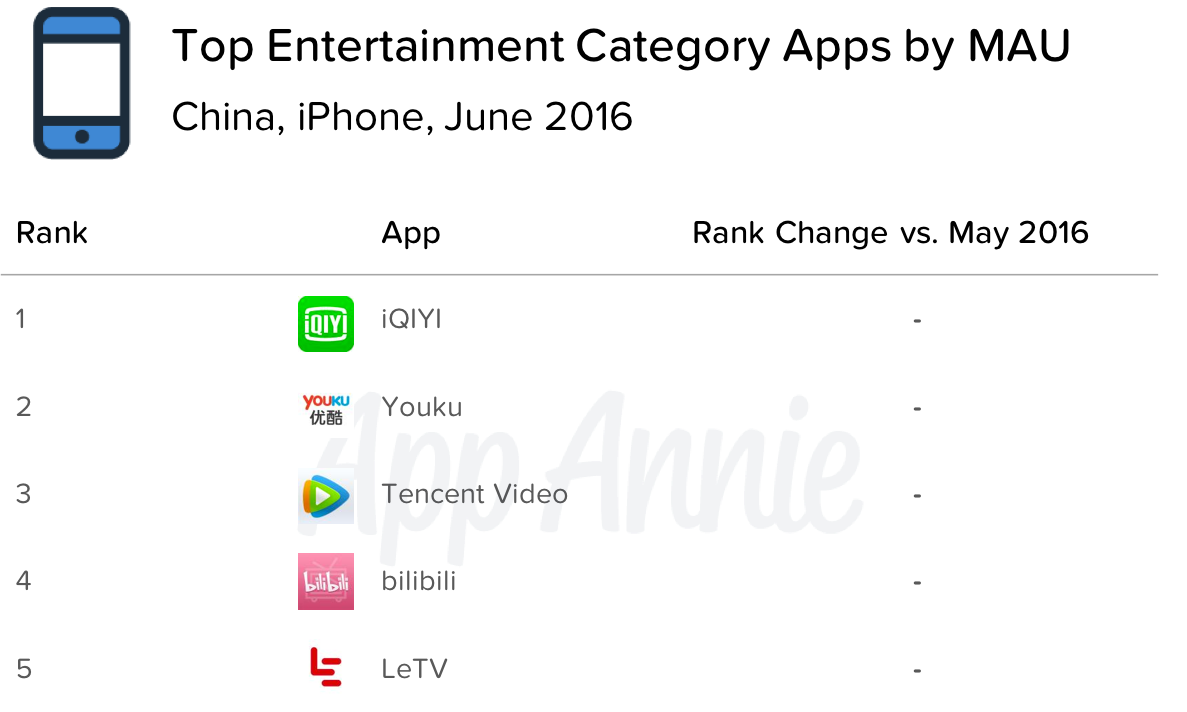 iQIYI is the most used Entertainment app on iPhone in China.
iQIYI, and video streaming in general, has continued to prove hugely successful in China. Streamers can currently enjoy reduced restrictions on content, and iQIYI often hosts popular international programs such as those from content agreements with Universal Pictures and Fox. Recently, popular South Korean drama Descendents of the Sun, which was partially funded by Chinese investors and saw limited censorship in China, gained close to half a billion views on iQIYI by the end of March.
New developments on the horizon for iQIYI could help maintain its rapid rate of growth. Earlier this year a Taiwanese version of iQIYI was made available to better serve its second-largest market with localized content and subscription plans. They have also announced plans to move into the VR space for both games and movies, including the development of dedicated VR apps and original VR content. With aggressive targets to reach 10 million users in China in the next 12 months, iQIYI may soon be the king of VR in China. We expect this is a developing trend, as more content players enter the AR/VR markets.
However, iQIYI isn't the only video streaming app to climb the ranks this month. Hulu and HBO NOW both ascended the combined Google Play and iOS revenue rankings. As we predicted last month, Game of Thrones' latest season has continued to draw revenue for HBO NOW, and its success once again demonstrates the importance exclusive and original content holds to video streamers.
YouTube Climbs the Ranks, Increases Support for Creators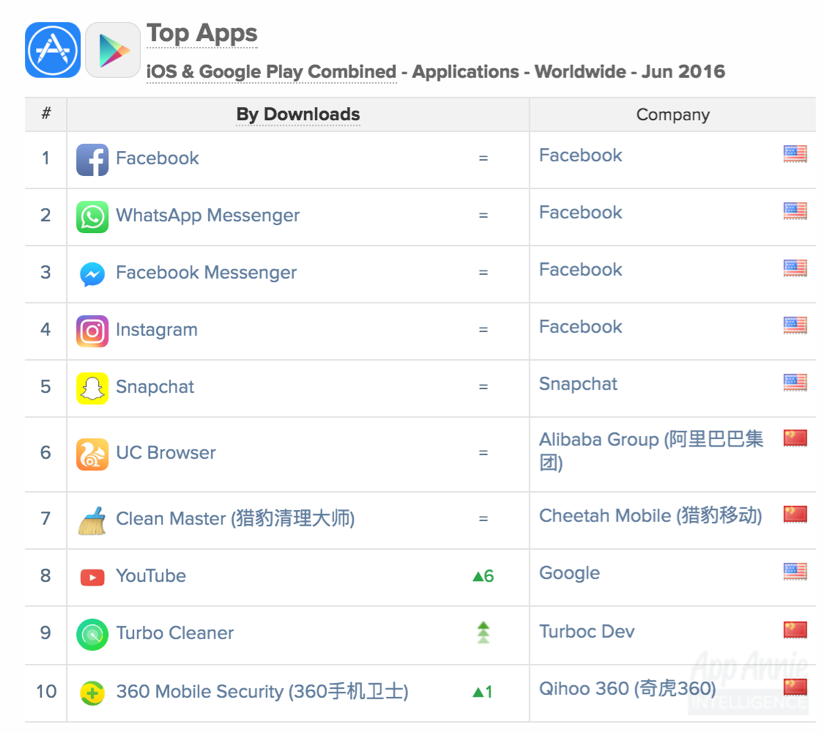 YouTube also saw a significant rise in the worldwide combined Google Play and iOS download ranks this month, largely driven by the United States.
They recently announced a number of new features to support users creating and managing video content via the service. This includes the consolidation of creator resources into a single Creator Hub, the announcement of Director onsite (a service to help small businesses make ads for the platform) and the rollout of a mobile live streaming service for content creators.
As competition among video services continues to heat up, supporting the creation of high-quality content remains key to attracting and retaining users. We're interested to see how YouTube's new initiatives influence engagement over the coming months.
The Technology Behind the Index
The information contained in this report is compiled from App Annie Intelligence, the leading market data solution for the app store economy. To see how our app store download, revenue, demographic and usage estimates can help guide your critical business decisions, request a demo today.
---

---

For the complete list of June's top apps and app publishers around the world, click the chart above.
Notes:
The publisher and app rankings reported in the App Annie Index are based on the download and revenue estimates available through App Annie Intelligence. The daily rank history charts and the homepage feature app data are available to all users through App Annie's app tracker solution, Store Stats.
App Annie Intelligence

is currently available for the iOS App Store and Google Play. It does not currently provide estimates for other app stores, such as the Amazon Appstore. While iOS and Google Play represent a significant portion of the app market in many countries, that is not the case for some countries. For example, China has a number of sizable third-party Android app stores.
While the Index for Games covers games, the Index for Apps provides app tracking on everything but games. Note that the Top Company rankings in the Index for Games are based solely on the publisher's games downloads and revenue, while the Top Company rankings in the Index for Apps are based on the company's downloads and revenue from apps excluding games.
Company and unified app rankings in the App Annie Index for Games and Index for Apps are based on individual apps that ranked in the Top 1,000.
Download rankings are based on individually downloaded apps and exclude downloads of app bundles. Revenue rankings are based on download revenue from individually downloaded paid apps as well as in-app purchase revenue from both individually downloaded apps and app bundles.
In the first month in which an app becomes unified, its rank change in the Index will compare the unified app that month vs. its highest-ranking individual app in the month prior. As a result, rank changes for newly unified apps may overstate ranking increases from May 2016 to June 2016.

In the iOS App Store, an app can be categorized under a Primary Category as well as an optional Secondary Category. If an app has a Primary Category of Games and a Secondary Category of Entertainment, it is a candidate to be included in this Index for Games. If the app's Primary Category is Entertainment and its Secondary Category is Games, then it will not be included in this Index for Games; it is a candidate for the Index for Apps.

Note that the ranking approach used in the App Annie Index differs from that used in the iOS App Store. In the latter, app rankings for a given category will include all apps whose Primary Category or Secondary Category matches that given category. So an app can appear in the rankings for more than one category within the iOS App Store or in App Annie Store Stats rankings.

In Google Play, an app can be categorized under only one category, so there is no double-categorization.

Occasionally, a publisher may decide to shift an existing app from one category to another category. In these cases, the App Annie Index will rank that app based on its categorization in the subsequent month. Given that the App Annie Index has a Games report and an Apps report, the only scenario where an app's recategorization could shift it from one Index to another is if its category changes from Games to a category other than Games or vice versa.
In the App Annie Index, all apps and publishers are reported under their parent companies, where available; for example, the Plants vs. Zombies™ 2 app is reported under its parent company Electronic Arts, rather than its direct publisher PopCap. Note that if you view the Electronic Arts parent company page on Store Stats, you will see the publishers that roll under the parent company Electronic Arts, including PopCap. The Plants vs. Zombies™ 2 app will be listed under the PopCap publisher page.
Company and app rankings are based on the App Annie DNA relationships at the time of publications. App Annie DNA relationships are subject to change over time.
App Annie Usage Intelligence data for smartphones and tablets were derived from mobile usage data collected from a large sample of real-world users, combined with additional proprietary data sets.
App Annie tracks usage at the device level using a privacy-protective hashed device ID. Data is only reported to third parties in aggregated format.
App Annie Index revenue rankings are based on revenue that the iOS App Store and Google Play earned from paid downloads and in-app purchases. They do not include revenue earned from in-app advertising.

Certain trademarks and/or images used in this report may belong to third parties and are the property of their respective owners. App Annie claims no rights to such trademarks or images.