The App Annie Index for Apps offers the hottest mobile app properties outside of games for both the iOS App Store and Google Play. To find out what's hot in other app categories, please check out the App Annie & Internet Retailer Index and App Annie's May 2014 Index for Games and Index for General & Business News.
TABLE OF CONTENTS
1. The Technology Behind the Index
The information contained in this report was compiled from App Annie Intelligence, the leading market data solution for the app store economy. To see how our app store download and revenue estimates can help guide your critical business decisions, take a tour or request a demo today.
---

---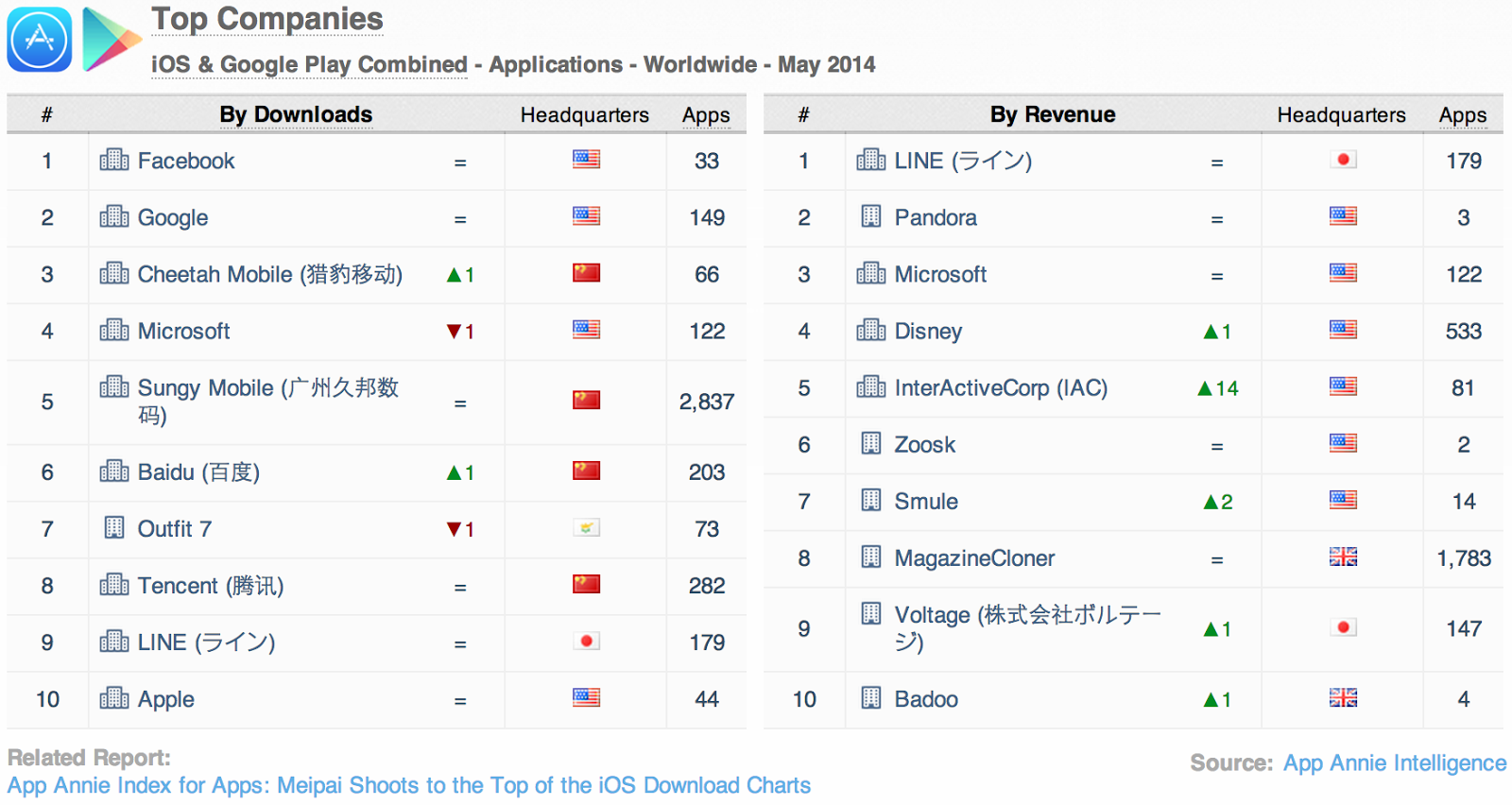 For the complete list of May's top apps and publishers, see our App Annie Index product page (no login required).
2. This Month's App Superstars
Meipai Proves a #1 Hit on the iOS Download Charts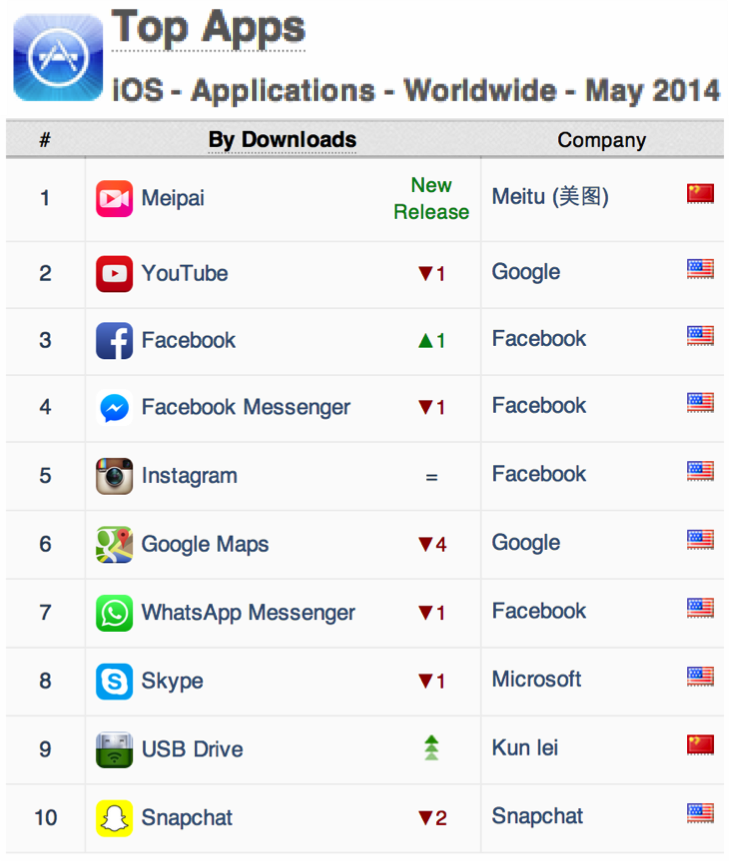 The Q1 2014 Market Index noted the increasing prominence of China in the iOS App Store. In May, China-based photo service provider Meitu moved into the Top 10 iOS publishers by monthly downloads, as its video-editing app Meipai took the top spot for monthly iOS downloads.
Meitu had previously found success on the iOS App Store with photo-editing app MeituPic (美图秀秀), which reached the #1 rank in China in early 2011. Meipai, which was released in early May 2014, allows users to add filters, effects and music to video clips to create music video-like results. The app was particularly big in China, but its success also extended to other Asian markets as Meitu seeks to expand internationally. Founder and CEO Xinhong Wu spoke with App Annie about the company's intentions and hopes for Meipai:
"Nowadays, smartphones can easily realize our creative ideas in our everyday lives. Meitu developed MeituPic, BeautyPlus and a range of other apps that allow users to instantly beautify their photos. However, we also wanted to empower our users to make gorgeous videos. So we launched Meipai, dubbed "MeituPic for Videos." With its innovative video effects, users could transform ordinary videos into stunning music videos with filters, all done instantly with no extra editing needed. We hope users will love Meipai and adopt it as a new way for recording and sharing life's moments." - Xinhong Wu, Founder & CEO of Meitu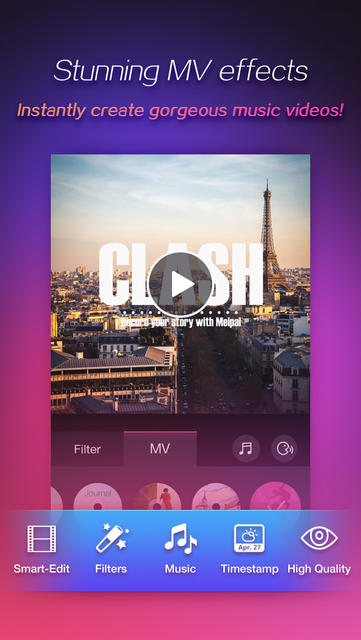 Meitu's Meipai allows users to edit video clips by adding filters, music and more.
Beyond the app stores, Meitu continued its advance into the mobile space with the release of an Android-powered handset. Meitu appears to have identified female users as a key target audience, and have adopted a wide-ranging strategy accordingly.
Dating Apps Feel the iOS Revenue Love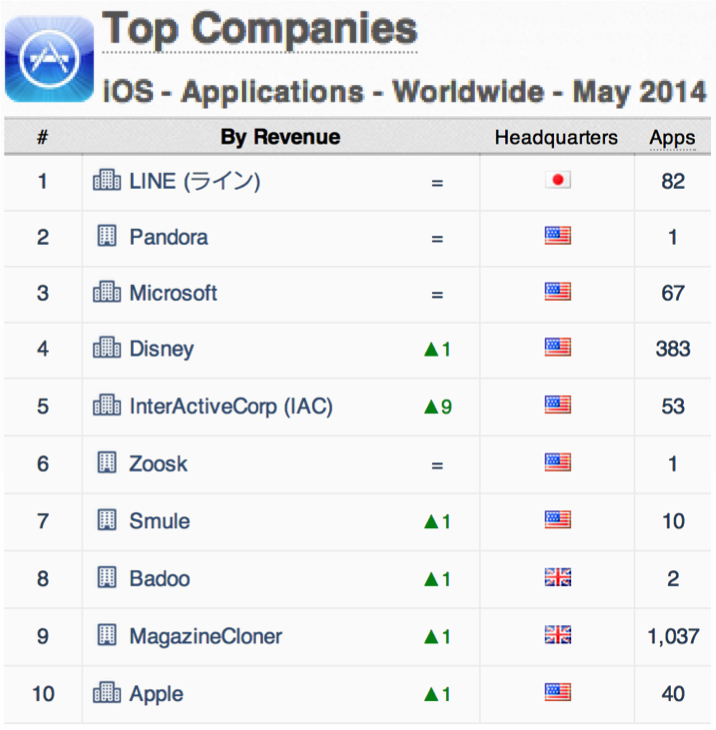 A number of dating apps made advances in May on the iOS revenue charts. Publisher InterActiveCorp (IAC) had an exceptionally strong month, joining the top five iOS publishers by monthly revenue outside of games. These gains came largely from the revamped version of its Match.com app, which was introduced in late April and subsequently featured on the iOS App Store home page. The updated app pays tribute to Tinder (also published by IAC), most notably with its swipe feature for browsing potential dates. While the update made an immediate impact on Match.com's download rank, it also introduced app store revenue to the app by offering in-app subscription purchases. The move appears to have been popular, bringing Match.com into the top revenue ranks for Social Networking apps in the United States in May. Match CEO Sam Yagan spoke to App Annie about the app's successes and plans for the future:
"We're thrilled to be named in App Annie's top publisher list after releasing our new iOS app -- but this is only the beginning for us as we begin to redefine the mobile dating experience at Match. We'll continue to push the envelope in design aesthetics, usability and new features to create exciting, innovative opportunities for singles to discover and connect with other singles on their mobile devices." - Sam Yagan, CEO, Match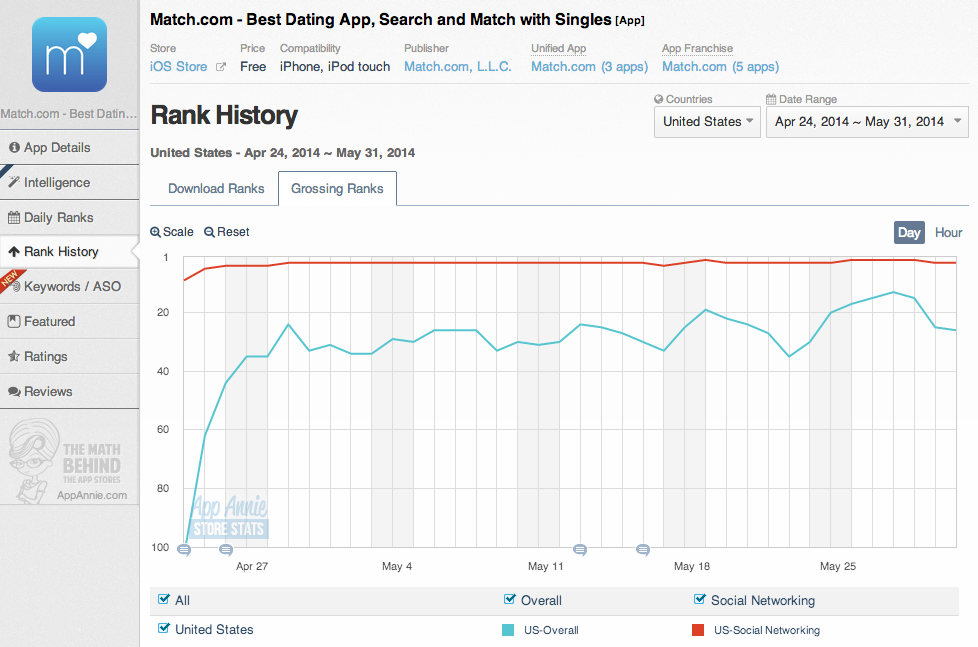 Match.com climbed the revenue ranks in the United States after an update introduced in-app subscription purchases.
Badoo also had a strong month on iOS in May, entering the top five iOS apps by monthly revenue outside of games. While France remains the strongest market for Badoo, it performed strongly in the United States and United Kingdom throughout May.
Messaging Apps Make Gains on Google Play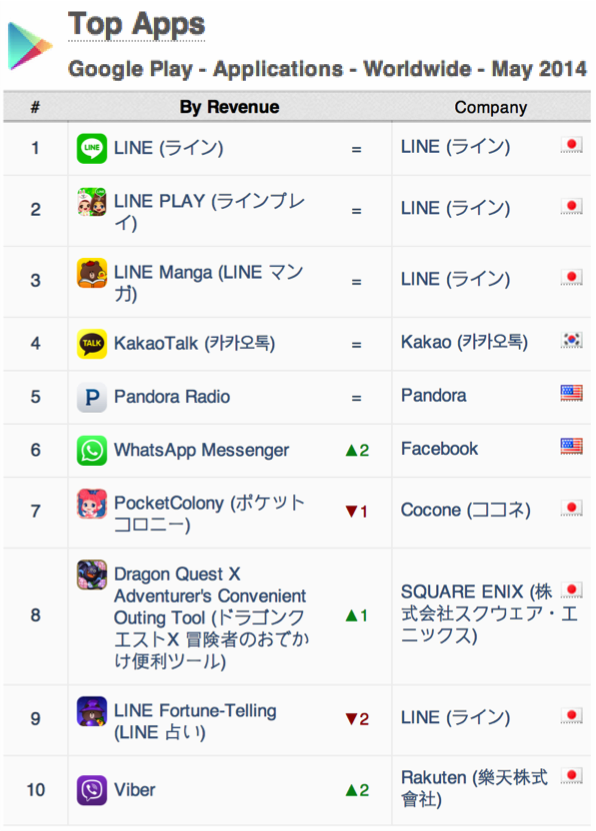 Messaging continues to be a competitive space for publishers in 2014. While Asian messaging apps such as LINE, WeChat and KakaoTalk appear to be well-established in their home markets, Europe and the Americas still seem to be an open battleground. WhatsApp Messenger claimed the top spot for overall Google Play downloads in May, with growth in both Brazil and Mexico.
In addition, Viber and WhatsApp Messenger both made strides in Google Play revenue. WhatsApp Messenger saw its largest growth in May in Italy, with strong growth in the United Kingdom as well. Viber saw significant growth in the United Kingdom and United States, bringing it into the Top 10 by monthly Google Play revenue outside of games in the Index for Apps for the first time. As a result of the growth from these apps, their respective publishers Facebook and Rakuten also moved up in the Google Play publisher revenue rankings.
3. More Movers and Shakers
USB Drive Flashes Into the iOS Top Downloaded Apps
USB Drive was released by Chinese publisher Kun Lei in mid-March, but it shot up the iOS download rankings in late April. The majority of downloads were for the 'Pro' version of the app, which started gaining after it became free in mid-April. USB Drive hit the top ranks in China at the end of April, and stayed there throughout most of May. However, the 'Pro' version of the app was removed from the iOS App Store at the end of May. This sparked a rise in the free version's download rank, though it is yet to reach the same heights as its now-removed 'Pro' version.
Outfit 7 Talks Its Way Up the Publisher Ranks
Outfit 7 moved up the publisher download ranks for both iOS and Google Play in May. This was largely driven by a strong performance from Talking Ginger 2, which rose in late April shortly after a significant update that changed the name from Ginger's Birthday to Talking Ginger 2. The gains for Outfit 7 outside of games follows recent success in the Index for Games. When talking with App Annie about the publisher's app development strategy, Outfit 7 co-founder Rok Zorko had this to say:
"Life-like characters, deep emotional attachment, heart-meltingly cute graphics, months of gameplay and engagement are our key ingredients to win the hearts of more than 230 million monthly active users worldwide. Talking Tom Cat and Talking Tom 2 both went viral, and My Talking Tom is the next step in the evolution of the Talking Tom series. And here at Outfit7, we are only at the beginning of our journey with our beloved friends." - Rok Zorko, Co-founder & VP of Products, Outfit7
Deezer Continues to Rock the iOS Revenue Charts
Deezer first entered the iOS revenue charts in the Index for Apps back in January, and has become a relatively regular feature since. In May, it climbed to #7 for iOS revenue outside of games, driven largely by growth in the United Kingdom. This is a notable shift from previous months in which growth was concentrated in France, Brazil and Mexico. It will be interesting to see if Deezer can climb the charts further as it expands in other international markets.
Clean Master Sweeps Up the Google Play Ranks
Clean Master made gains in the Google Play download ranks, returning to the top five apps outside of games in May. The United States led growth for the app, with its download ranking seeing a significant boost late in the month.
After the continued success of apps such as Clean Master and Clean Master Security, publisher Cheetah Mobile launched its IPO on the New York Stock Exchange on May 8. The offering raised $168 million for Kingsoft's mobile-focused spinoff company. It is the latest in a series of high-profile Chinese tech IPOs in the United States, following companies such as Weibo and JD.com, and ahead of the upcoming Alibaba IPO.
Retrica Continues Its Climb on Google Play
April's Index for Apps noted the rise of photo editing app Retrica on Google Play. The app continued to climb the Google Play download charts in May, reaching #7 by monthly downloads outside of games. Growth was again driven primarily by Brazil and Mexico, where it ranked in the top five in the Overall category throughout May. It is interesting to note that it reached its highest rank in both countries at the end of the month, coinciding with a featured position on the Google Play home page.
---
| | |
| --- | --- |
| | Want to get even more advanced with your app store market analysis? Check out our enterprise product App Annie Intelligence. |
---
For those of you who also are looking for an update on top apps in gaming, please check out our May 2014 Index for Games. To keep up-to-date with all the changes at the top of the app and publisher charts, check out the complete set of App Annie Index tables.
Notes:
The company and app rankings reported in the App Annie Index are based on the download and revenue estimates available through App Annie

Intelligence

. The daily rank history charts and the home page feature app data are available to all users through App Annie's app tracker solution,

Store Stats

.

While the Index for Games covers games, the Index for Apps provides app tracking on everything but games. Note that the Top Company rankings in the Index for Games are based solely on the company's games downloads and revenue, while the Top Company rankings in the Index for Apps are based on the company's downloads and revenue from apps excluding games.

Through September 2013, similar versions of the same app with different names (e.g., NYTimes and NYTimes for iPad) were ranked separately. Effective with October data, similar versions of the same app with different names will be unified (e.g., NYTimes and NYTimes for iPad are now aggregated and ranked as a single NYTimes unified app).

Company and unified app rankings in the App Annie Index for Games and Index for Apps are based on individual apps that ranked in the Top 1,000.

In the first month in which an app becomes unified, its rank change in the Index will compare the unified app that month vs. its highest-ranking individual app in the month prior. As a result, rank changes for newly unified apps may overstate ranking increases from April 2014 to May 2014.

In the iOS App Store, an app can be categorized under a Primary Category as well as an optional Secondary Category. If an app has a Primary Category of Entertainment and a Secondary Category of Games, it is a candidate to be included in this Index for Apps. If the app's Primary Category is Games and its Secondary Category is Entertainment, then it will not be included in this Index for Apps; it is a candidate for the Index for Games.

Note that the ranking approach used in the App Annie Index differs from that used in the iOS App Store. In the latter, app rankings for a given category will include all apps whose Primary Category or Secondary Category matches that given category. So an app can appear in the rankings for more than one category within the iOS App Store or in App Annie Store Stats rankings.

In Google Play, an app can be categorized under only one category, so there is no double-categorization.

Occasionally, a publisher may decide to shift an existing app from one category to another category. In these cases, the App Annie Index will rank that app based on how it is categorized in the subsequent month. Given that the App Annie Index has a Games report and an Apps report, the scenario where an app's recategorization could shift it from one Index to another is if its category changes from the Games category to a category other than Games or vice versa.
In the App Annie Index, all apps and publishers are reported under their parent company, where available; for example, the Instagram app is reported under its parent company Facebook, rather than its direct publisher Instagram. Note that if you view the Facebook parent company page on Store Stats, you will see the publishers under the parent company Facebook, including Instagram. The Instagram app will be listed under the Instagram

publisher page.

Company and app rankings are based on the App Annie DNA relationships at the time of publications. App Annie DNA relationships are subject to change over time.

App Annie Index revenue rankings are based on revenue that the iOS App Store and Google Play earned from paid downloads and in-app purchases. They do not include revenue earned from in-app advertising.

Certain trademarks and/or images used in this report may belong to third parties and are the property of their respective owners. App Annie claims no rights in such trademarks or images.