Worldwide App Annie Index for Apps March 2016

Each month, the App Annie Index highlights the top-performing games and apps for the iOS App Store and Google Play. Our analysis covers trends among the leading apps across countries and categories, and is the industry standard for professionals looking to compare leading apps and publishers.

You might also be interested in:
This Month's Top Apps
MSQRD Launches on Android, Gets Acquired by Facebook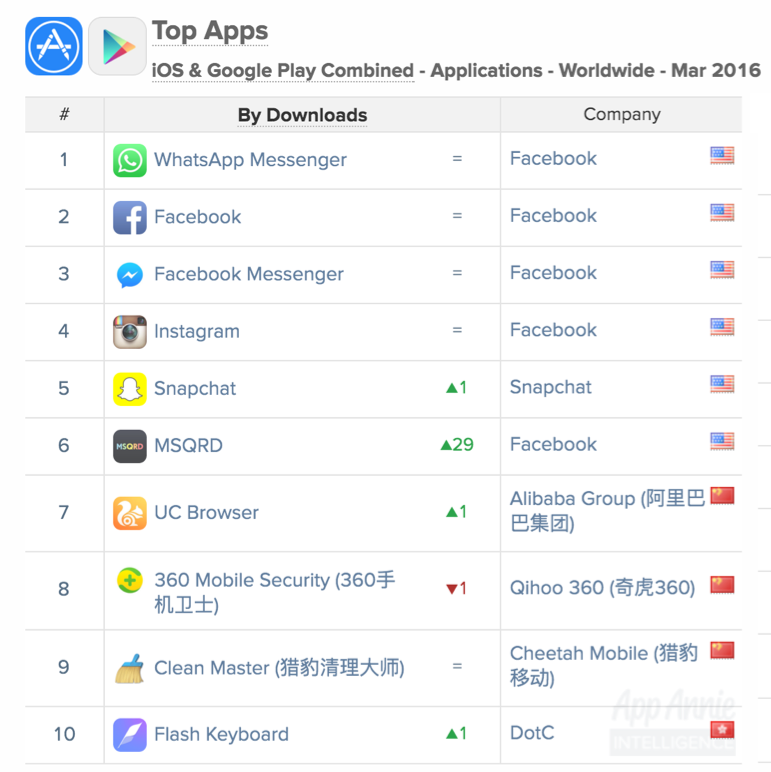 Self-expression and communication are core to the mobile experience. In March, apps focused on sharing text, photos and video commanded the top five app download slots worldwide in App Annie's combined iOS App Store and Google Play rankings.
Among the leading photo sharing apps, Instagram and Snapchat have accounted for countless selfies traversing mobile networks. However, it was MSQRD — an app that creates whimsical facial overlays that can be shared via other social apps — that saw the largest jump in March as it launched on Android. The app hopped an impressive 29 ranking slots as its publisher was acquired by Facebook during March, inching close to its complementary new siblings Facebook Messenger and WhatsApp Messenger. Facebook recently noted that those services now carry a combined 60 billion messages per day, dwarfing the number of SMS messages at their peak daily rate.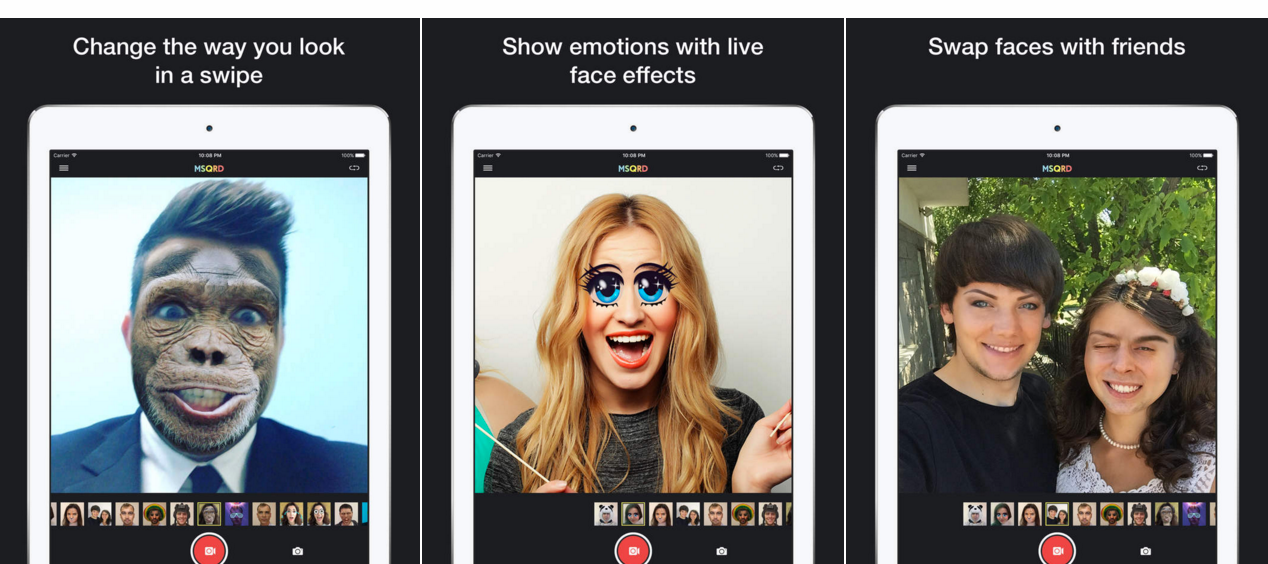 MSQRD's filters include many comical effects that can be shared as photos or video clips.
MSQRD is Facebook's answer to Snapchat's popular selfie lenses, allowing users to apply a selection of face filters — including the wildly viral face swap — and share them with their contacts list or across major social networks.
With Facebook's strong presence in messaging apps, its plans for the category stand to greatly influence the space. Based on announcements at its F8 developer conference, those could include a lot more video, more VR, and more chatbot interaction. The company has opened up its Facebook Live broadcasting feature and is embracing 360-degree video in partnership with its VR subsidiary Oculus. It has also gotten off to an early start in chatbot experimentation by integrating them into Facebook Messenger.
A Revenue TIDAL Wave for iOS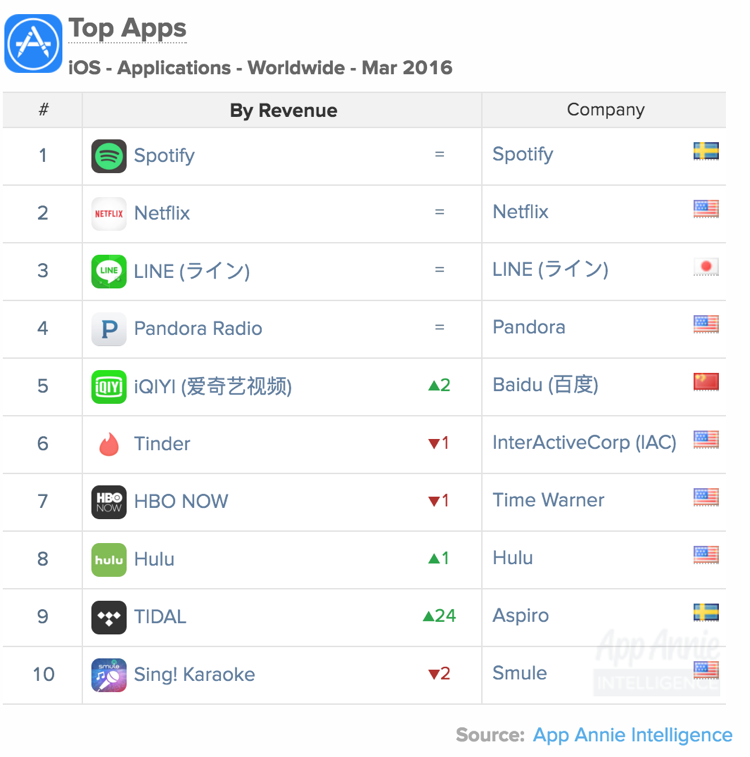 Messaging and sharing may top the download list, but the top 10 apps by revenue includes a different mix of categories. With streaming entertainment providers facing great competition and great opportunity, exclusivity can help in acquiring new users and driving revenue.
Exclusive content contributed heavily to the growth of the TIDAL music streaming service. In February, Kanye West, one of its superstar investors, debuted his album The Life of Pablo on the service. TIDAL's revenue ranking increased significantly in March as the 30-day free trials of those signing up in February expired. According to App Annie Store Intelligence, TIDAL's downloads surged in February and a larger surge in revenue followed in March. The service's pop mirrored a similar one last May in which HBO NOW experienced large gains with the fifth season premiere of its popular series Game of Thrones. We anticipate that the April release of Beyoncé's Lemonade — which is streaming exclusively on TIDAL — will have a similar downstream benefit in May.
Starting in April The Life of Pablo appeared on other services such as Spotify and Apple Music and became available for purchase from Kanye's site. While TIDAL's exclusivity turned out to be short-lived, the service stands to gain in the long term from those who stick around.
College Basketball Causes March Madness Apps to Soar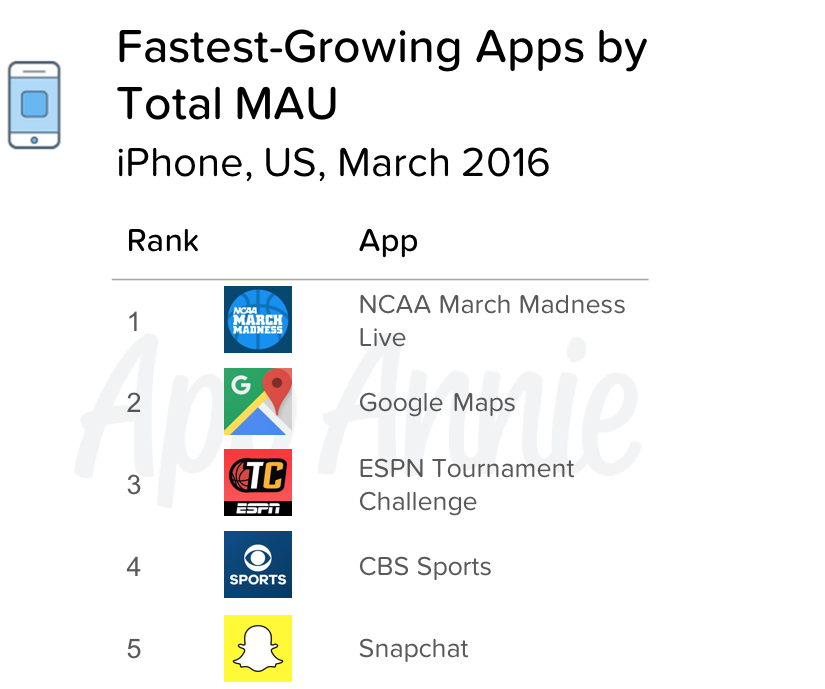 The annual NCAA March Madness drove download spikes for iPhone apps from sports broadcasters.
For US sports fans, March belongs to basketball. March Madness — the annual college basketball tournament — led to increased interest in sports broadcasting and companion apps.  As a result, event-specific apps like Turner Broadcasting's NCAA March Madness Live and ESPN Tournament Challenge were two of the fastest-growing iPhone apps by active users for the month.
Facebook had a hand in coverage of the tournament as well. Turner teamed up with CBS Sports and Facebook-owned Oculus to offer a VR-enhanced version of the app to Oculus Rift owners and offered 2D 180-degree video elsewhere. Such experimentation may come to smartphone-based systems like Google Cardboard in the future.
The Technology Behind the Index
The information contained in this report is compiled from App Annie Intelligence, the leading market data solution for the app store economy. To see how our app store download, revenue, demographic and usage estimates can help guide your critical business decisions, request a demo today.
---

---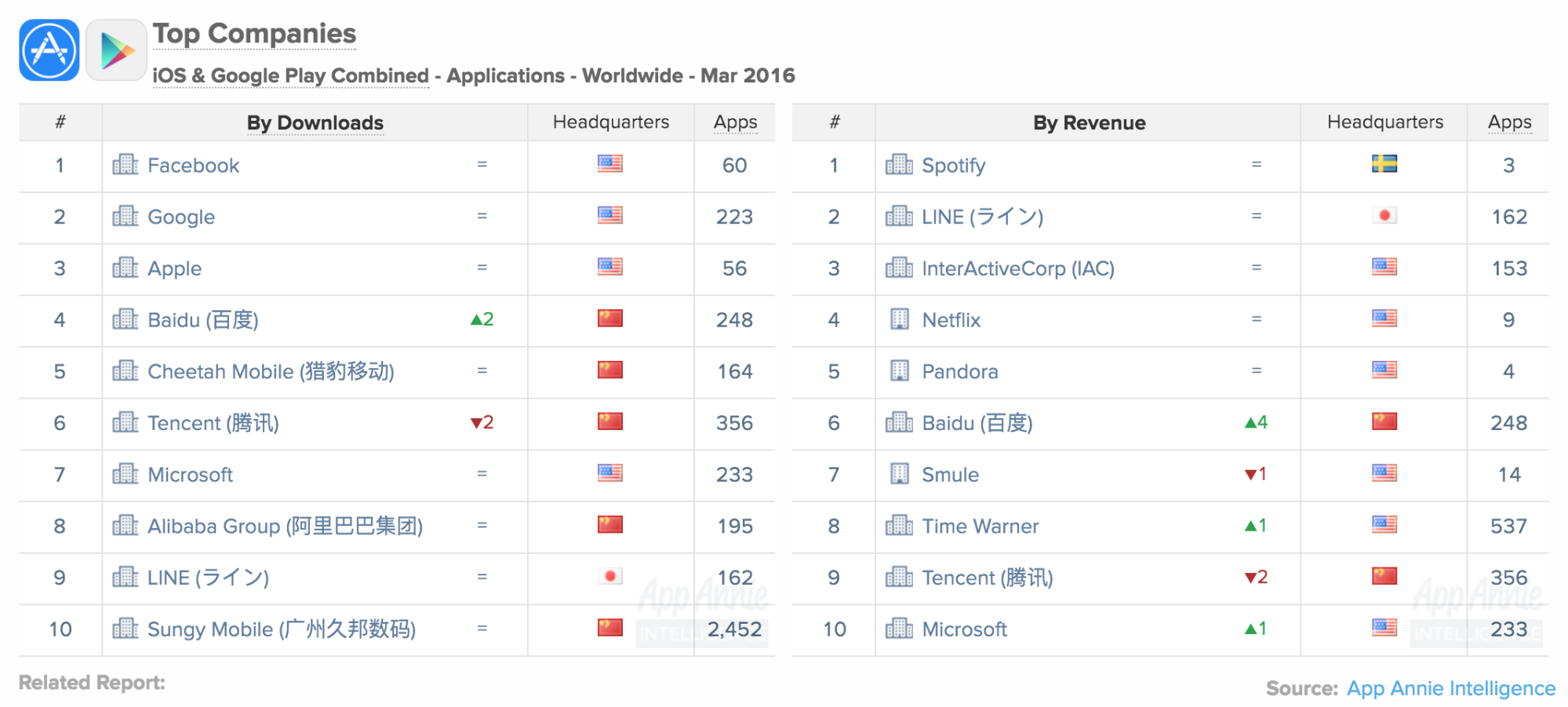 For the complete list of March's top apps and app publishers around the world, click the chart above.
Notes:
The publisher and app rankings reported in the App Annie Index are based on the download and revenue estimates available through App Annie Intelligence. The daily rank history charts and the homepage feature app data are available to all users through App Annie's app tracker solution, Store Stats.
App Annie Intelligence is currently available for the iOS App Store and Google Play. It does not currently provide estimates for other app stores, such as the Amazon Appstore. While iOS and Google Play represent a significant portion of the app market in many countries, that is not the case for some countries. For example, China has a number of sizable third-party Android app stores.

While the Index for Games covers games, the Index for Apps provides app tracking on everything but games. Note that the Top Company rankings in the Index for Games are based solely on the publishers' games downloads and revenue, while the Top Company rankings in the Index for Apps are based on the company's downloads and revenue from apps excluding games.

Company and unified app rankings in the App Annie Index for Games and Index for Apps are based on individual apps that ranked in the Top 1,000.

Download rankings are based on individually downloaded apps and exclude downloads of app bundles. Revenue rankings are based on download revenue from individually downloaded paid apps as well as in-app purchase revenue from both individually downloaded apps and app bundles.

In the first month in which an app becomes unified, its rank change in the Index will compare the unified app that month vs. its highest-ranking individual app in the month prior. As a result, rank changes for newly unified apps may overstate ranking increases from June 2015 to July 2015.

In the iOS App Store, an app can be categorized under a Primary Category as well as an optional Secondary Category. If an app has a Primary Category of Games and a Secondary Category of Entertainment, it is a candidate to be included in this Index for Games. If the app's Primary Category is Entertainment and its Secondary Category is Games, then it will not be included in this Index for Games; it is a candidate for the Index for Apps.

Note that the ranking approach used in the App Annie Index differs from that used in the iOS App Store. In the latter, app rankings for a given category will include all apps whose Primary Category or Secondary Category matches that given category. So an app can appear in the rankings for more than one category within the iOS App Store or in App Annie Store Stats rankings.

In Google Play, an app can be categorized under only one category, so there is no double-categorization.

Occasionally, a publisher may decide to shift an existing app from one category to another category. In these cases, the App Annie Index will rank that app based on its categorization in the subsequent month. Given that the App Annie Index has a Games report and an Apps report, the only scenario where an app's recategorization could shift it from one Index to another is if its category changes from Games to a category other than Games or vice versa.
In the App Annie Index, all apps and publishers are reported under their parent companies, where available; for example, the Plants vs. Zombies™ 2 app is reported under its parent company Electronic Arts, rather than its direct publisher PopCap. Note that if you view the Electronic Arts parent company page on Store Stats, you will see the publishers that roll under the parent company Electronic Arts, including PopCap. The Plants vs. Zombies™ 2 app will be listed under the PopCap publisher page.
Company and app rankings are based on the App Annie DNA relationships at the time of publications. App Annie DNA relationships are subject to change over time.

App Annie Usage Intelligence data for smartphones and tablets were derived from mobile usage data collected from a large sample of real-world users, combined with additional proprietary data sets.

App Annie tracks usage at the device level using a privacy-protective hashed device ID. Data is only reported to third parties in aggregated format.

App Annie Index revenue rankings are based on revenue that the iOS App Store and Google Play earned from paid downloads and in-app purchases. They do not include revenue earned from in-app advertising.

Certain trademarks and/or images used in this report may belong to third parties and are the property of their respective owners. App Annie claims no rights to such trademarks or images.