The Worldwide App Annie Index for Apps highlights the hottest mobile app properties outside of games for both the iOS App Store and Google Play. To find out what's hot in other app categories, please check out the App Annie Index - Market Q2 2014, the Index for General & Business News and the June 2014 Worldwide Index for Games.
TABLE OF CONTENTS
1. The Technology Behind the Index
The information contained in this report was compiled from App Annie Intelligence, the leading market data solution for the app store economy. To see how our app store download and revenue estimates can help guide your critical business decisions, take a tour or request a demo today.
---

---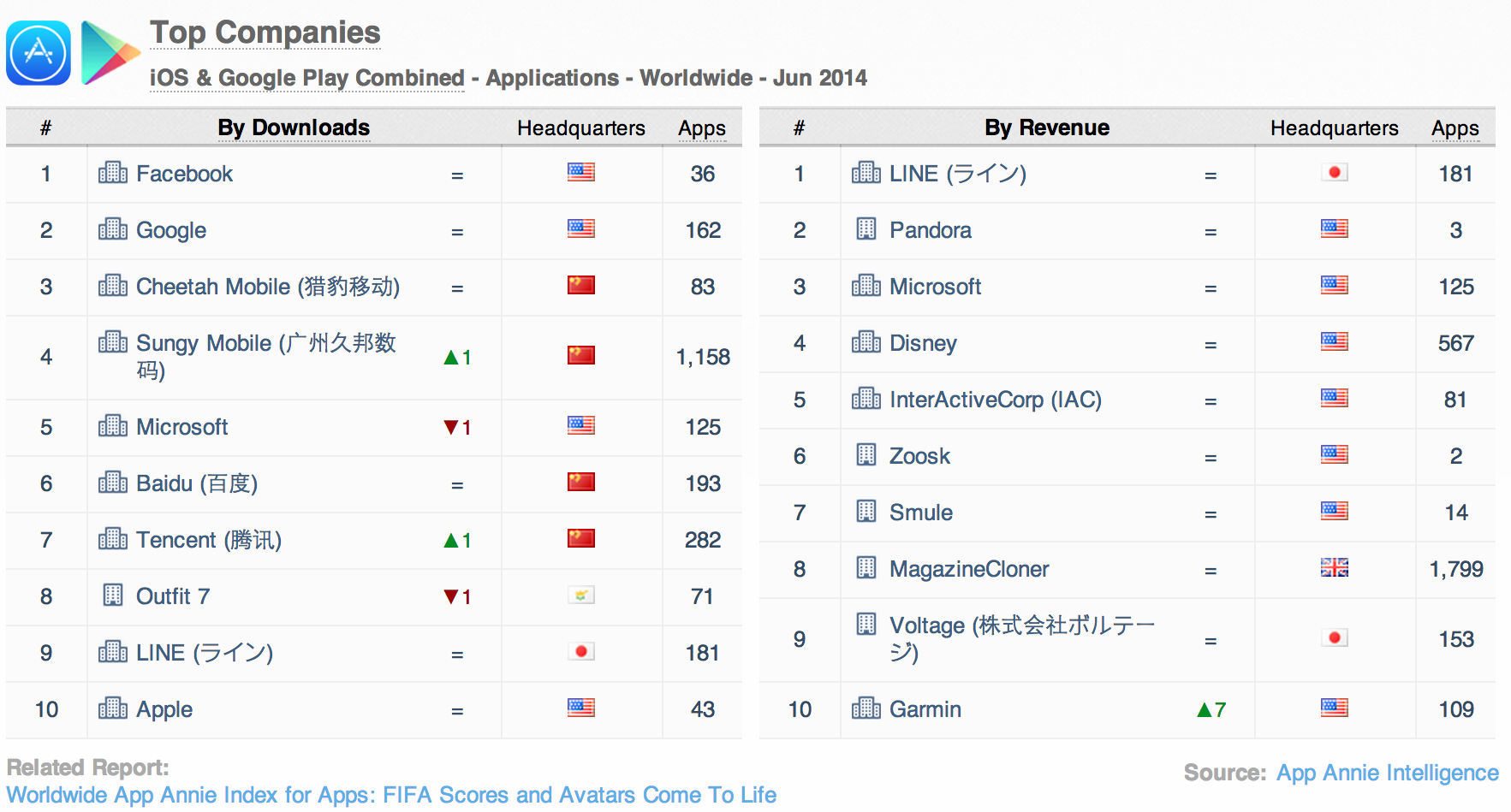 For the complete list of June's top apps and publishers, click the chart above.
2. This Month's App Superstars
Avatars Come to Life on iOS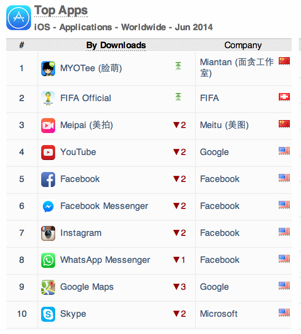 Avatar creation app MYOTee shot to #1 on the iOS download charts in June despite ranking well outside the Top 100 in previous months. The app allows users to design unique, custom avatars which can then be shared via messaging and social media apps.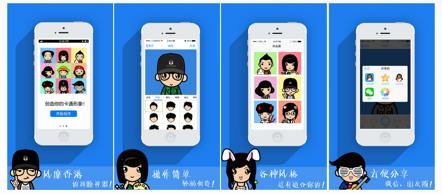 Users design personalized, playful avatars on MYOTee.
MYOTee initially launched in China in December 2013, but began gaining popularity after a significant redesign in May that upgraded avatar characters and the app interface. Similar to other viral success stories in China, the app gained tremendous momentum through popular social platforms WeChat, Weibo and QQ. MYOTee is now available in other countries, yet the lion's share of downloads is still coming from China. It will be interesting to see how the app takes off in other markets, and how the company sustains this initial success.
MYOTee's strong performance drove Miantan's ascent into the Top 10 iOS publisher rankings. While single-app publishers have cracked top charts in gaming with wildly popular hits, it's a more unique feat for apps in other categories.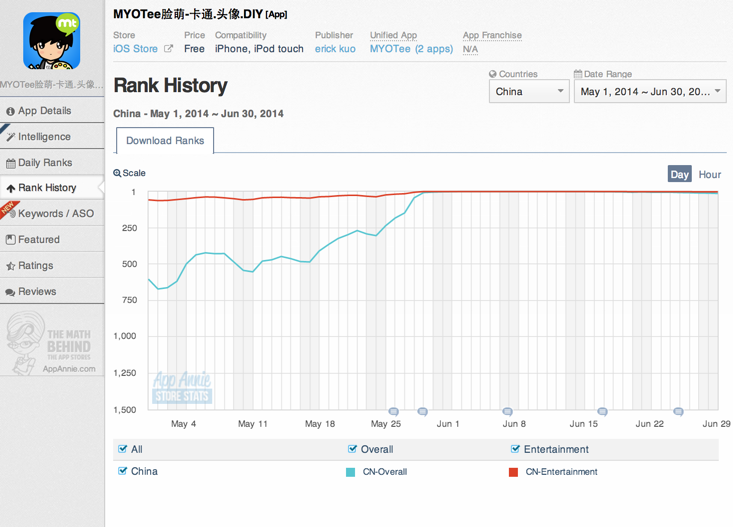 In June, MYOTee remained a top downloaded app in China in Overall and Entertainment rankings.
World Cup Mania Drives FIFA Up the Charts
In June, the official FIFA app made its first appearance in the Index, skyrocketing to #2 behind MYOTee in the iOS App Store. The rapid increase in downloads began prior to the football festivities kicking off on June 12, and rose further over the course of the month. According to FIFA, the app reached a record-breaking 18 million downloads in the first three weeks of the month. App Annie Intelligence revealed these downloads were concentrated in the United States, yet the app was also popular in Brazil, Canada and France, among others. The app was embraced globally — ultimately reaching #1 in overall ranks in 135 countries.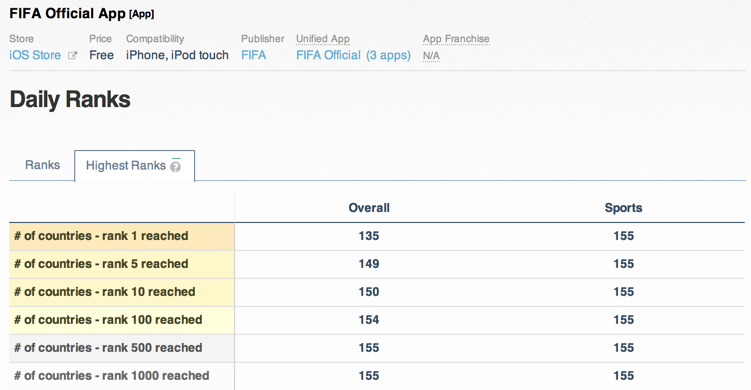 The FIFA Official App reached the #1 overall rank in 135 countries.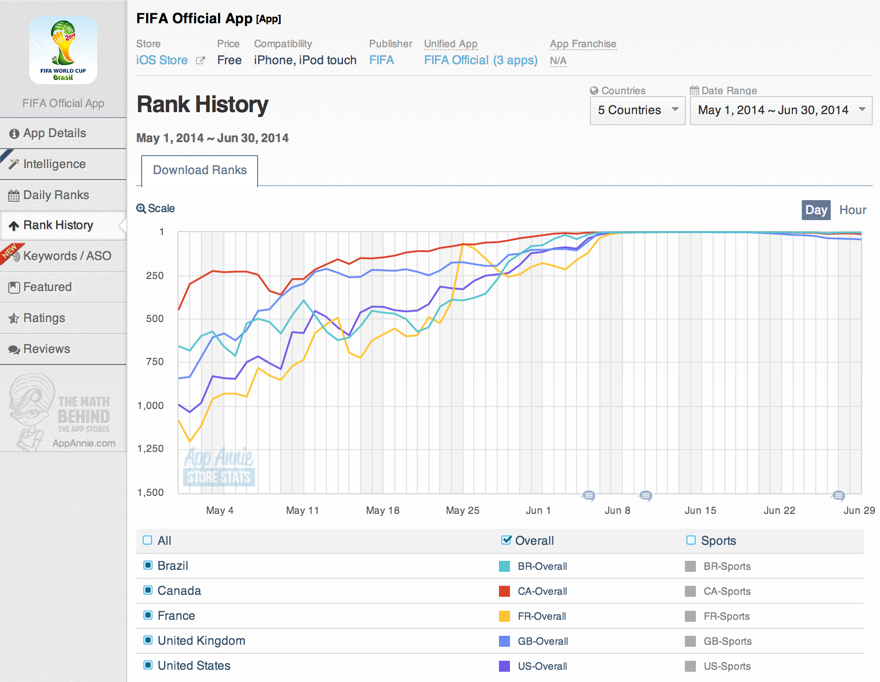 Fans worldwide downloaded the FIFA Official App in preparation for the tournament.
To read App Annie's coverage of the most popular World Cup apps by platform and country, check out our kickoff and wrap-up blog posts.
Performance Boosting Apps Grow Their Presence on Google Play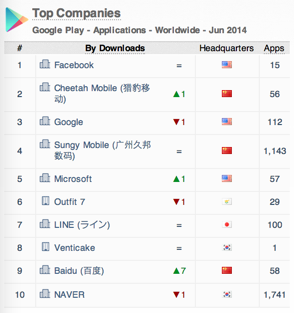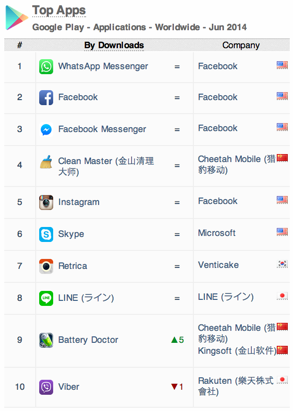 Chinese developer and search engine giant Baidu climbed seven spots in June to join the Top 10 Google Play publishers by downloads. The company's rise to the top was driven primarily by smartphone optimization apps DU Speed Booster and DU Battery Saver & Widgets.
Downloads for battery-saving app DU Battery Saver showed consistent growth, coinciding with a new version release at the beginning of the month. Indonesia, the app's largest country by download share, reported considerable gains after the app was featured on its Google Play homepage during the third week of June. DU Battery Saver reached an impressive milestone of 10 million downloads since its release in September 2012. In addition to standard battery-saving features, the app offers widgets, customization, and intelligent power-saving settings. The app also supports numerous languages, which is likely upping its appeal internationally.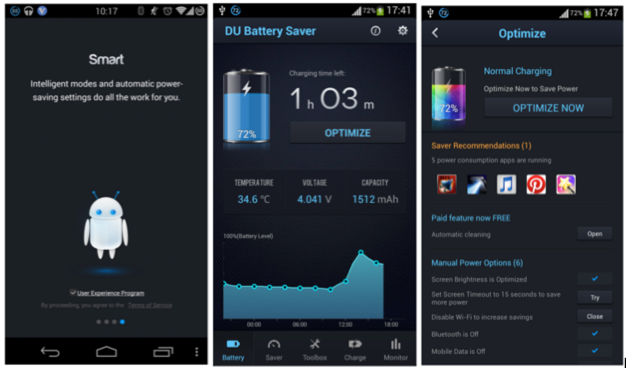 Smart mode and battery optimization features increase smartphone performance with DU Battery Saver.
The other high-performing Baidu app this month, DU Speed Booster, is another performance boosting tool which diagnoses and fixes inefficiencies to optimize performance and speed. The app saw growth internationally, with the most notable market share gains in Mexico, Thailand, Brazil and the United States.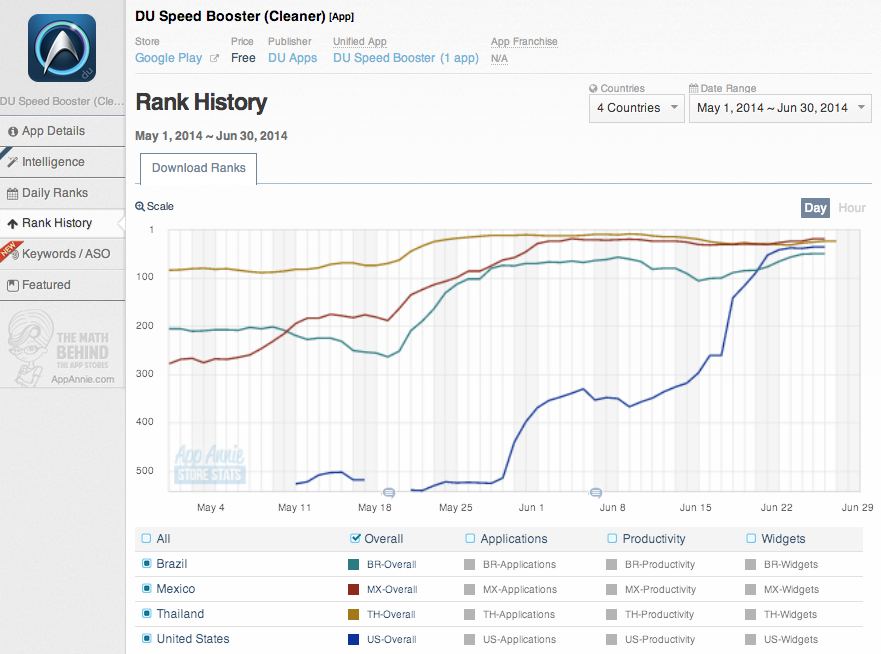 DU Speed Booster experienced notable growth in Google Play download rankings in Brazil, Mexico, Thailand and the United States.
Cheetah Mobile's battery optimization tool Battery Doctor joined Clean Master Security as its second performance management app in the Google Play top download ranks. The app experienced significant advancements in India, Mexico and Brazil, yet performed strongly in other countries as well. The growing popularity of smartphone management tools on Google Play may be accompanying increases in Android penetration, particularly in emerging markets. It's a trend we will be keeping a close eye on.
Maps Navigate Up the Revenue Ranks
Maps and Navigation apps made their way into the top worldwide grossing ranks in June. Garmin climbed seven ranks to become the #10 grossing publisher across iOS and Google Play combined. Revenue gains were driven in part by new release Garmin Viago, an advanced navigation app available for $1.99 in both app stores. Viago takes mobile navigation to the next level with premium features such as speed limit displays, photoreal junction views, and seamless transition between car and pedestrian navigation.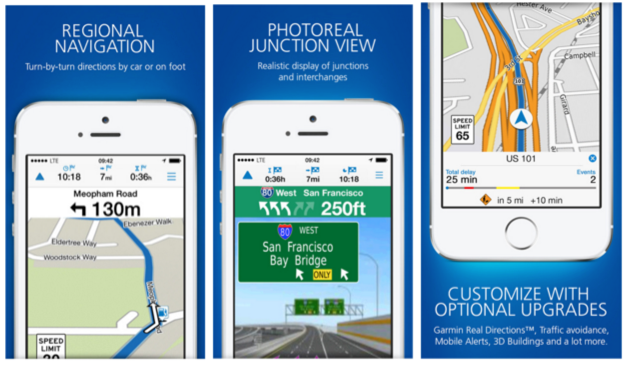 Garmin Viago boosts revenue rankings with advanced navigation features.
Marine navigation publisher Navionics also entered the Index this month as the #10 grossing publisher on Google Play. The company's growth in revenue coincided with a significant update to the Navionics Boating app in late June, enhancing the app with new content such as NOAA vector data and US government nautical charts. Prior to its Google Play update, Navionics launched a similar update for iOS which had great success. Navionics' growth suggests that there's a lucrative audience on Google Play for highly specialized navigation tools.
3. More Movers and Shakers
Music Apps Continue Carrying Their Tune
Pandora maintained its #2 spot in the Top 10 apps outside of games by combined iOS and Google Play revenue for June. The music company has seen rapid adoption in Australia and New Zealand, where the overall listener base grew to two million registered users in under two years. It will be interesting to see how this expanded customer base influences future mobile revenue for the company. Chief Marketing Officer Simon Fleming-Wood spoke with App Annie about the key to Pandora's continued success:
"For Pandora, building a great app has been about a relentless focus on delivering the best music to each of our listeners. It started 14 years ago with the Music Genome Project, a hand-crafted database of musicological DNA that allows people to discover music they love, almost magically. We've since built on this foundation to ensure that music discovery is both effortless and endless for our listeners. When you are true to your brand purpose and keep your audience as your focus -- the marketing comes naturally." --Simon Fleming-Wood, Chief Marketing Officer at Pandora
Smule also retained its position as the #7 grossing parent company outside of games, across iOS and Google Play. In June, its popular app Magic Piano launched an update with the release of Sing! Jams, which enables users to play piano along with performances from Sing! Karaoke. The company continues to innovate and has recently been developing projects from Smule's annual Smackathon 2014. Smule shared their company's focus on inspiration and collaboration with App Annie:
"Smule's success has been built on not just creating engaging and fun apps, but also focusing on the people who use the apps. Our mission is to connect people through music by giving them tools that inspire creativity and collaboration. We believe these interactions and social connections have provided the critical fuel to our growth." --Jeannie Yang, Chief Product & Design Officer at Smule
MagazineCloner Keeps the Presses Rolling
In June, MagazineCloner jumped one spot in Google Play revenue to secure the #8 publisher rank. This month there was notable growth in Hong Kong and India, yet the company's thousands of digital magazine apps continue to bring in consistent revenue worldwide. As the publisher branches out to the Windows platform, it will be interesting to see how the company develops further. Strategic Development Director Patrick Knight shed light into MagazineCloner's subscription-based monetization strategy:
"We are delighted to once again be recognized by App Annie as one of the world's Top 10 non-game app developers. It's a testament to the strength of our products, the Pocketmags brand and the fantastic content which our publishing partners deliver through our apps.


"Digital publishing allows publishers to deliver their specialized content globally while monetizing new and existing audiences. We strive to produce the best tools, both inside and outside the app, to allow publishers to continue to monetize and grow. As with any other category, an intuitive, reliable and consistent experience remains key through our various iterations. Since so much of our revenue is subscription-based, the continued use of the available marketing tools is vital to keep publishing brands top of mind." --Patrick Knight, Strategic Development Director at MagazineCloner
---
| | |
| --- | --- |
| | Want to get even more advanced with your app store market analysis? Check out our enterprise product App Annie Intelligence. |
---
For those of you who also are looking for an update on top apps in gaming, please check out our June 2014 Index for Games. To keep up-to-date with all the changes at the top of the app and publisher charts, check out the complete set of App Annie Index tables.
Notes:
The company and app rankings reported in the App Annie Index are based on the download and revenue estimates available through App Annie

Intelligence

. The daily rank history charts and the home page feature app data are available to all users through App Annie's app tracker solution,

Store Stats

.

While the Index for Games covers games, the Index for Apps provides app tracking on everything but games. Note that the Top Company rankings in the Index for Games are based solely on the company's games downloads and revenue, while the Top Company rankings in the Index for Apps are based on the company's downloads and revenue from apps excluding games.

Through September 2013, similar versions of the same app with different names (e.g., NYTimes and NYTimes for iPad) were ranked separately. Effective with October data, similar versions of the same app with different names will be unified (e.g., NYTimes and NYTimes for iPad are now aggregated and ranked as a single NYTimes unified app).

Company and unified app rankings in the App Annie Index for Games and Index for Apps are based on individual apps that ranked in the Top 1,000.

In the first month in which an app becomes unified, its rank change in the Index will compare the unified app that month vs. its highest-ranking individual app in the month prior. As a result, rank changes for newly unified apps may overstate ranking increases from May 2014 to June 2014.

In the iOS App Store, an app can be categorized under a Primary Category as well as an optional Secondary Category. If an app has a Primary Category of Entertainment and a Secondary Category of Games, it is a candidate to be included in this Index for Apps. If the app's Primary Category is Games and its Secondary Category is Entertainment, then it will not be included in this Index for Apps; it is a candidate for the Index for Games.

Note that the ranking approach used in the App Annie Index differs from that used in the iOS App Store. In the latter, app rankings for a given category will include all apps whose Primary Category or Secondary Category matches that given category. So an app can appear in the rankings for more than one category within the iOS App Store or in App Annie Store Stats rankings.

In Google Play, an app can be categorized under only one category, so there is no double-categorization.

Occasionally, a publisher may decide to shift an existing app from one category to another category. In these cases, the App Annie Index will rank that app based on how it is categorized in the subsequent month. Given that the App Annie Index has a Games report and an Apps report, the scenario where an app's recategorization could shift it from one Index to another is if its category changes from the Games category to a category other than Games or vice versa.
In the App Annie Index, all apps and publishers are reported under their parent company, where available; for example, the Instagram app is reported under its parent company Facebook, rather than its direct publisher Instagram. Note that if you view the Facebook parent company page on Store Stats, you will see the publishers under the parent company Facebook, including Instagram. The Instagram app will be listed under the Instagram

publisher page.

Company and app rankings are based on the App Annie DNA relationships at the time of publications. App Annie DNA relationships are subject to change over time.

App Annie Index revenue rankings are based on revenue that the iOS App Store and Google Play earned from paid downloads and in-app purchases. They do not include revenue earned from in-app advertising.

Certain trademarks and/or images used in this report may belong to third parties and are the property of their respective owners. App Annie claims no rights in such trademarks or images.