Uber aggressively scales in China, a Bitmoji integration snaps up new users, and original content keeps iQIYI and Netflix on top.
Worldwide App Annie Index for Apps July 2016

App Annie is the industry standard for professionals looking to track the app economy and benchmark performance against leading apps and publishers. Each month, the App Annie Index highlights the top-performing games and apps for the iOS App Store and Google Play. Our analysis covers trends among the leading apps across countries and categories.

You might also be interested in:
This Month's Top Apps
Uber Drove Its Way up the Download Ranks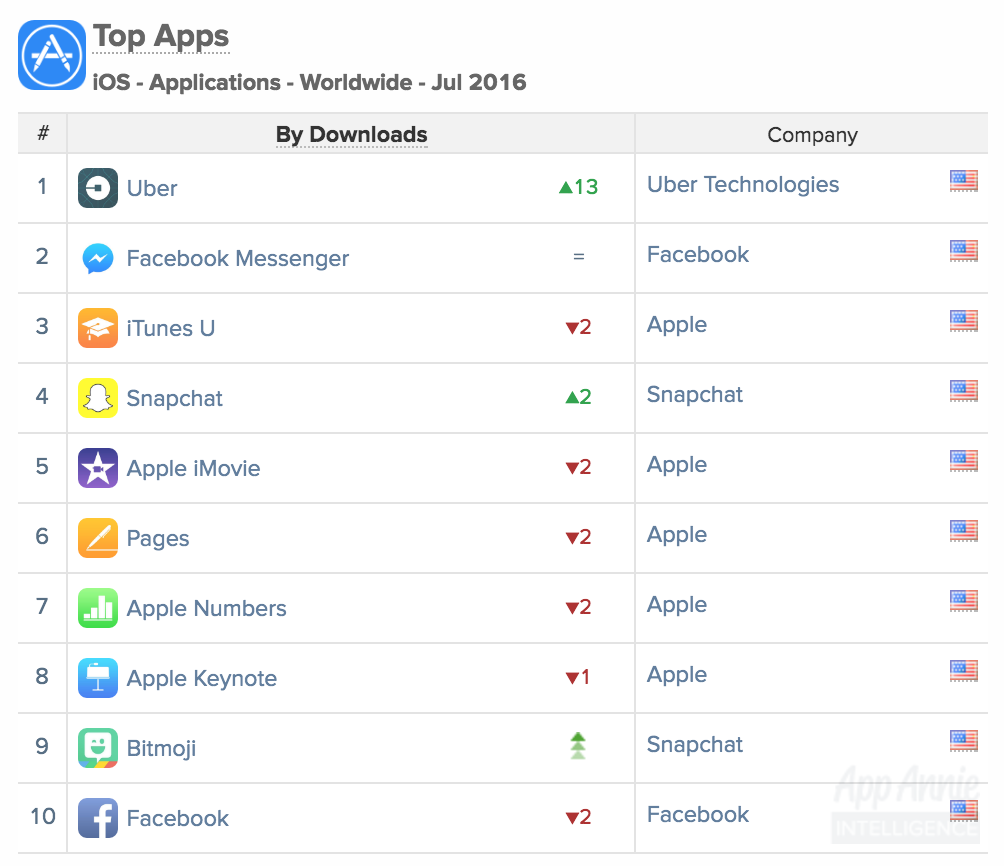 Uber shot up to the top spot for iOS downloads worldwide — a first-time accomplishment for the ride-hailing app. While Uber experienced download rank growth in several countries, including the United States, India, Brazil and Mexico, the main driver responsible for its worldwide gain was China.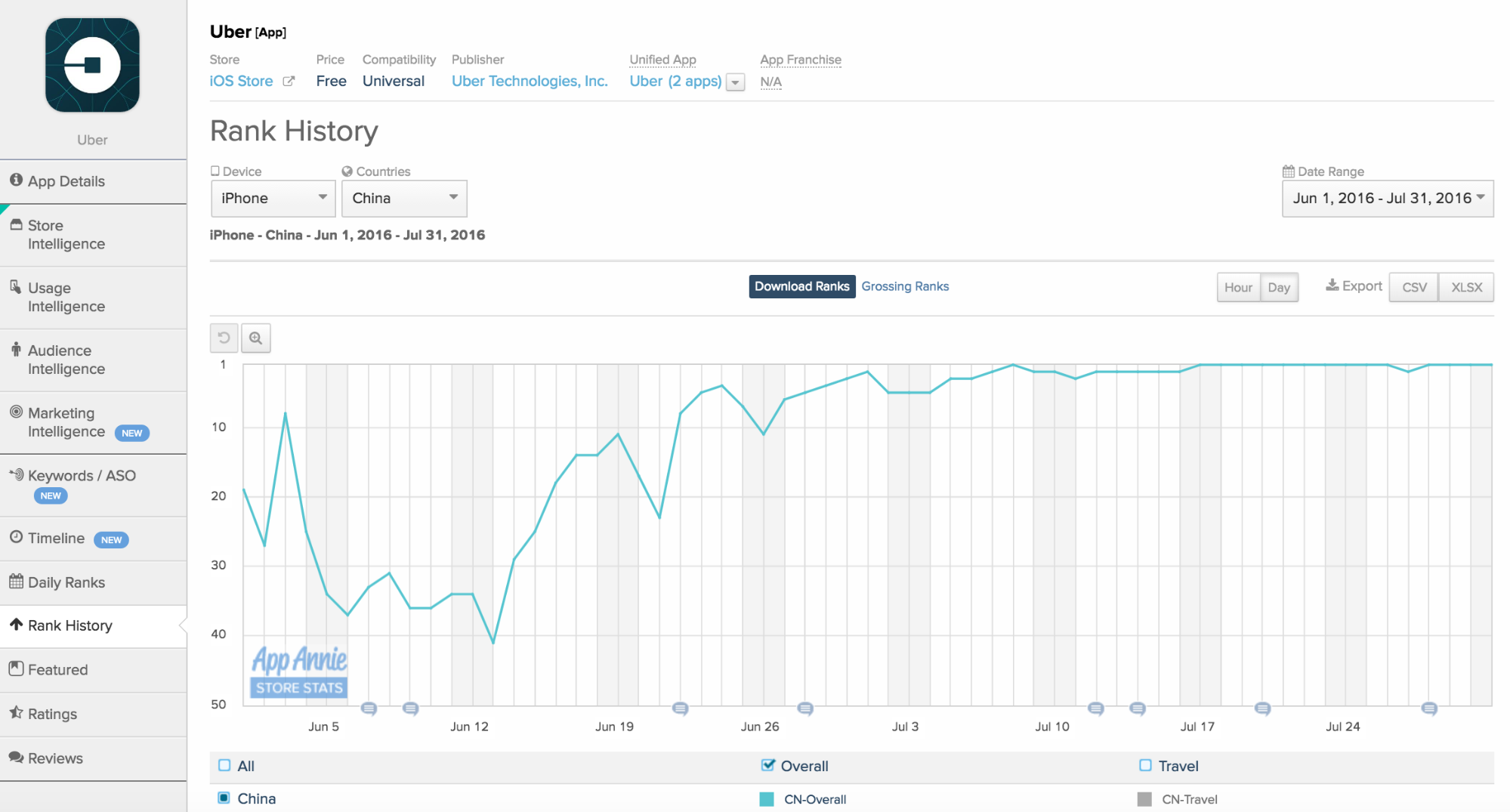 User acquisition efforts propelled Uber to reach the top download ranks in July 2016 and maintain its momentum in China.
Uber's user acquisition (UA) push in China likely drove its high download ranking growth. With recent news that Uber China sold its operations to Didi Chuxing, it is likely that this strategy of aggressively scaling their Chinese user base was linked to accelerating negotiations with Didi. Uber's UA push included July promotions like ride discounts, driver incentives and a day of free ice cream delivery, as well as continued investment in in-app advertising to drive installs.
Uber invested in several creative campaigns in China, indicating an investment in UA in July.
Simultaneously, Didi's prices rose by one-third in several Chinese cities while also reducing driver subsidies by one-third. The price increase didn't discourage people from downloading the app, as it re-entered the top 10 iOS download rankings for China for the first time since July 2015. As for usage, Uber's monthly active users increased without eating into Didi's usage. This likely indicates that while Uber's UA push attracted new users, Didi felt little impact as they comfortably retained their user base.
Bitmoji Snaps Into the Top Download Charts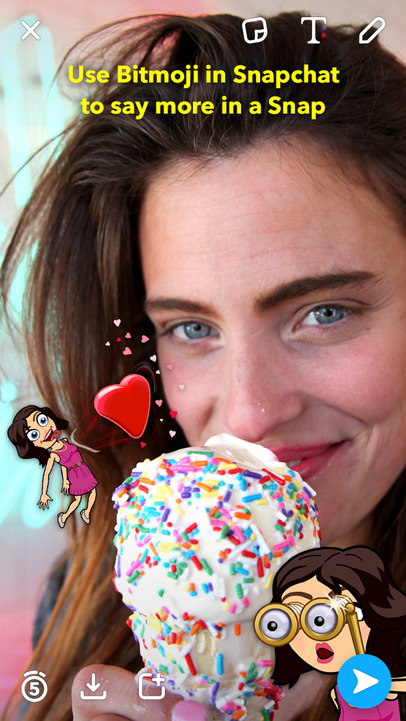 Bitmoji, an app for customizing a personal cartoon avatar, jumped into the worldwide iOS download ranks this month, due to its integration on Snapchat on July 19. Bitmoji's worldwide rank growth is largely driven by the United States — which is tied to the US claiming a large share of Snapchat's downloads as well. We anticipated this integration after Snapchat's purchase of Bitstrips, Bitmoji's publisher, in March 2016.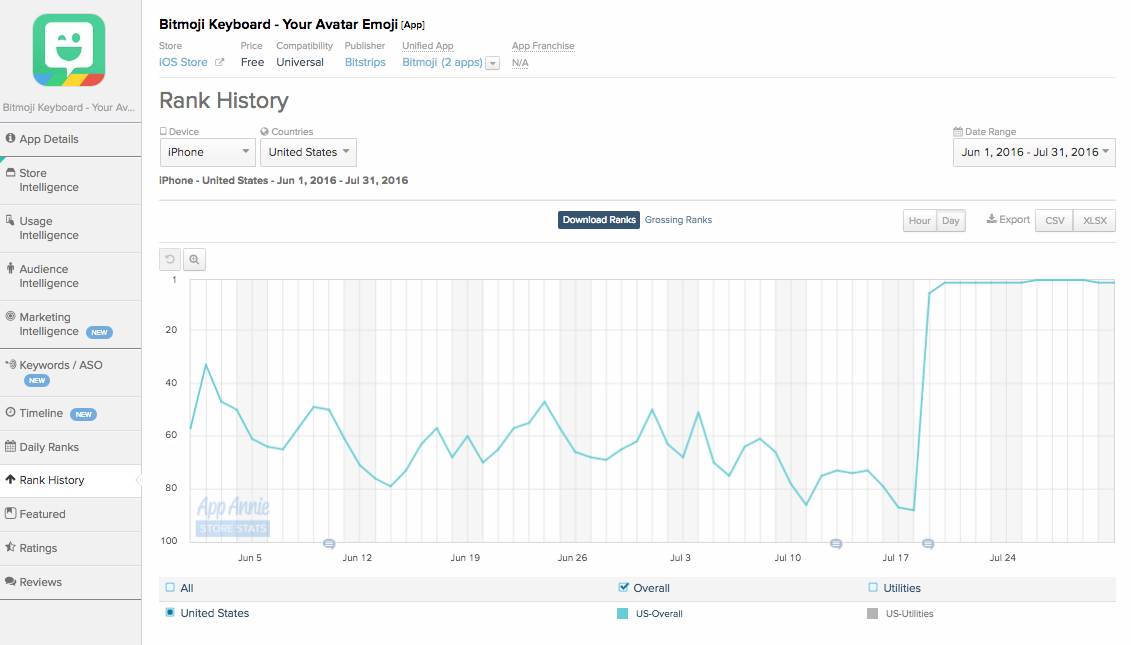 Snapchat's acquisition and integration of Bitmoji helped the app's download rank skyrocket in the US, demonstrating Snapchat's ability to popularize apps through integrations.
In order to activate the integration of Bitmoji in Snapchat, users must first download the Bitmoji app. However, users can "Log in with Snapchat" instead of creating a new Bitmoji account. Users can use their personal Bitmoji (an avatar created in their likeness) on Snapchat, and overlay their character on photos or videos taken with the app. Sending a "snap" to Snapchat friends who also have a linked Bitmoji avatar will unlock special "friendmojis" featuring both characters — leading to strong word-of-mouth referrals for Bitmoji downloads. This marks Snapchat's first time offering its login option on a different app, and opens the door to future integrations, similar to the Facebook or Google login that users are familiar with.
Original Content Propels iQIYI and Netflix Revenue Ranks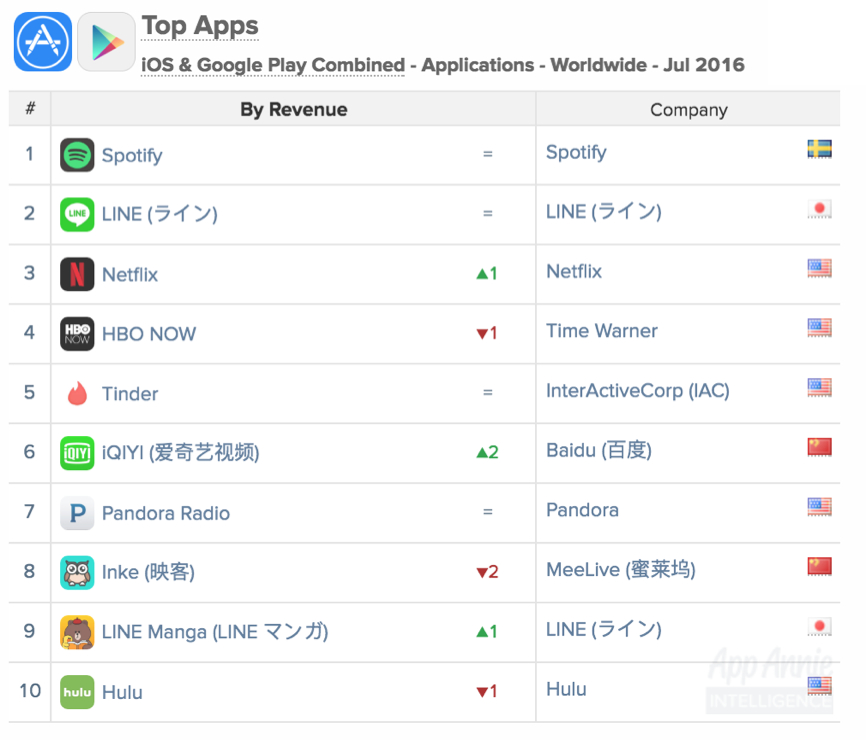 Chinese video-streaming app iQIYI ascended July's top 10 worldwide revenue rankings for apps on iOS and Google Play combined, and is continuing to help publisher Baidu climb the worldwide company revenue charts on iOS. iQIYI's recent revenue growth is primarily driven by China.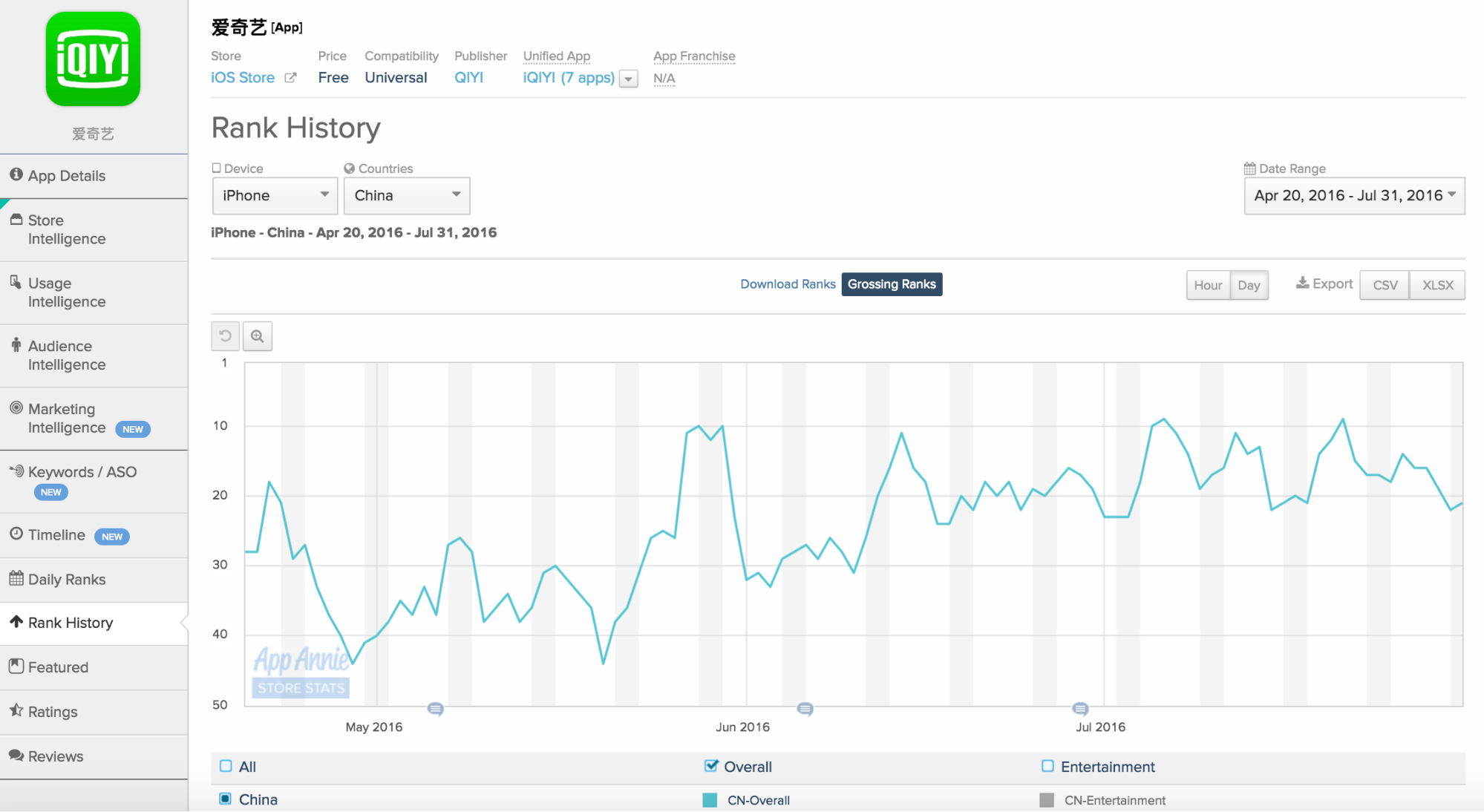 iQIYI continues to climb the iPhone grossing ranks in China.
iQIYI has continued the momentum of its success from the popular South Korean drama Descendents of the Sun by adding a slew of original content this month, including TV shows Unforgiven, Back to School Season 2 and My Fair Lady.
While iQIYI follows in the strategic footsteps of content revenue kings in the United States, we saw Netflix continue to move up the worldwide revenue ranks. Netflix's latest instant hit, a sci-fi mystery series called Stranger Things, was released in mid-July and coincides with the increase in downloads and revenue.
As video-streaming apps continue to monetize on original content, virtual reality (VR) presents some very interesting growth opportunities. While iQIYI announced plans to move into the VR space for both games and movies, including the development of dedicated VR apps and original VR content, Netflix is taking some initial steps in the VR experience with its popular Stranger Things series. We expect this is a developing trend, as more content players enter the augmented reality and VR markets to uncover new revenue terrain.
The Technology Behind the Index
The information contained in this report is compiled from App Annie Intelligence, the leading market data solution for the app store economy. To see how our app store download, revenue, demographic and usage estimates can help guide your critical business decisions, request a demo today.
---

---

For the complete list of July's top apps and app publishers around the world, click the chart above.
Notes and Methodology here.